East Cork AC Men and Youghal AC Women to Run European Champions Club Cup Cross-Country Championships 2023
Youghal AC Women and East Cork AC Men Run in Sunday's ECCC Cross-Country Championship
Oropesa del Mar, Spain
Sunday February 5th 2023
| | |
| --- | --- |
| | |
| East Cork AC Men | Youghal AC Under 20 Women |
East Cork AC Men and Youghal AC Under 20 Women represent Ireland in Sunday's ECCC Cross-Country Championships, in Oropesa del Mar, Spain, as part of Ireland's eight-team squad. The teams were selected by virtue of their winning and runner-up spots at the 2022 National Cross-Country Championships, in Rosapenna, Donegal, last November, when the Youghal AC women won the Under 20 Title and the East Cork AC men's team were very close runners-up in the Senior Men's Championship
LIVESTREAM Begins at 9am

Schedule

NB: Not sure if these are Spanish Times, in which case the U20 Women, inc Youghal AC, will be off at 9am Irish Time


ECCC Information Page


ECCC Logo

Course Map 1
Course Map 2
Athletics Ireland Release

Eight Irish teams will take to European competition at the European Club Cross Country Championships (ECCC) in Oropesa del Mar in Spain this Sunday (Feb 5th)
In total, 399 athletes from 77 clubs across 22 countries will battle it out for club honours at one of the longest-standing and most established cross country fixtures on the athletics calendar
The eight Irish teams secured their place by virtue of their first and second place team finishes at the 2022 National Cross-Country Championships in Rosapenna, Donegal
Each club will be looking to replicate some of the success enjoyed by Irish teams at last year's edition, including Ennis Track Club's historic day which saw their junior men's team claim gold

Each team's score shall be determined by the aggregate of finishing positions achieved by its 3 (three) best placed athletes

Teams

Senior Men

Clonliffe Harriers
Efrem Gidey
Stephen Cashin
Ian Guiden
Seán O'Leary
Jayme Rossiter
East Cork AC
Paul Hartnett
Frank O'Brien
Kevin O'Brien
Tim O'Donoghue


Senior Women

Dublin City Harriers
Edel Monaghan
Cliona Murphy
Sinead Cronin
Avril Deegan
Faye Dervan
Eimear Fitzpatrick
Letterkenny AC
Natasha Adams
Nakita Burke
Shauna McGeehan
Noeleen Scanlan

Under 20 Men

Ennis Track AC
Barry Conway
Peter Farrel
Niall Murphy
Cian O'Boyle
Colin Ryan
Nenagh Olympic AC
Daniel Ryan Ellis
Luke Purcell
Sean Hayes
Cian Hodgins
Jamie Moloney
Thomas Bergin

Under 20 Women
Youghal AC
Robyn Buckley
Alex Cashman
Avril Cashman
Emma Landers
Avril Millerick
Finn Valley AC
Nuala Bose
Sarah Bradley
Amy Greene
Eimear McCarroll
Sally McMenamin

Related Articles
East Cork Men and Youghal Women Selected for ECCC Cross-Country Championship 2023
Results of Athletics Ireland National Senior Junior and Juvenile Even Age Cross-Country Championships 2022
MTU Track Update - January 2023
MTU Track & Facilities Update
January 31st 2023



Overview of MTU Track

MTU (formetly CIT) Track is due to close in the next few weeks, probably in the third week of February, for the complete resurfacing of the track. The existing track surface, along with the substructure will be completely dug up and replaced. Preparatory work is expected to take 4 weeks, while laying of the track running surface is expected to begin in May and, weather permitting, will take eight weeks, with an expected completion date around late June


A key deadline for the works is that it must be complete in time for the 70th Cork City Sports on Thursday July 20th

A rather tired looking MTU Track eagerly waiting resurfacing

Unfortunately the entire track facility, including the indoor facility under the stand, and the field events area in the centre of the track will be off-limits during the works, as the entire facility will be a construction site. Consequently, Cork Athletics is examining ways in which the regular Track & Field Championships can be facilitated this year. There are several options under review, including delaying many of the Championships until later in July, August and September. Other options include holding them on grass tracks. Some Championships are qualification events for National Championships, so it may be necessary to hold these in the Mardyke, or even Castleisland. It is a pity that other tracks, like Bandon AC's new track, will not be developed by this summer

Trackside lighting is also scheduled to be replaced completely with LED lights, which should be a big improvement on the existing system. The current MTU track surface was relaid in 2001, so will be in great shape once all the work is done and it reopens in the summer


High Performance Facility to Open In February
Design view of new High Performance facility

Athletics Ireland and MTU have been granted funding from the Government's Large Scale Sports Infrastructure Fund, to deliver an indoor community and high performance sports facility adjacent to the track. Work on this has been going on for the past two years or so, and is scheduled to open in the coming days. This facility will replace the existing Gym, which will be demolised to make way for the next phase of the Track Facilities Development

Artist's impression of the view of the Track from inside the High Performance facility
Design work work is progressing on the next Phase, which comprises the demolition of the existing Gym and the construction of another High Performance facility on the site of the Gym. This will include a double height area to facilitate Pole Vault, an indoor Long Jump area, along with a 60m Sprints Track. The buildings footprint will be approx. the size ot the existing Gym
Athletics Ireland Course Measurer Training Programme 2023
Training Courses for Athletics Ireland National Grade Measurer Accreditation
Spring 2023

Online Outline and Details, and Practical Training in Various Locations

| | |
| --- | --- |
| | |
| Mark Gallagher, Beara AC, with Pat Walsh (Chairman Cork Athletics County Board), John Quigley (World Athletics/AIMS Grade A Measurer) and Hamish Adams (CEO Athletics Ireland) | Tommy Hartnett, East Cork AC, with Pat Walsh (Chairman Cork Athletics County Board), John Quigley (World Athletics/AIMS Grade A Measurer) and Hamish Adams (CEO Athletics Ireland) |

Athletics Ireland National Grade Measurer Accreditation Certificates were presented to Mark Gallagher, Beara AC, and Tommy Hartnett, East Cork AC, at Cork Athletics International Awards Night, Kingsley Hotel, Cork, Friday January 27th 2023

Mark has been the driving force in re-establishing Beara AC. Following initial training in April 2019, Mark complete his Measurer training and certification requirements using races around the Beara Peninsula, where he now the 'go to' Measurer.

Tommy was a key member of the Ballycotton 10 organisation during its 40 years, and, along the way, he participated in many measurements, and helped lay down calibration courses, so when it came to measurement training, he took to it 'like a duck to water'. His certification course submission was a challenging one; The 2022 Youghal Ironman Marathon and Half-Marathon courses - literally a 'Baptism of Fire'

IAAF Course participants Laying down a Calibration Course in Suva
Athletics Ireland is to hold several one-day training courses for those interested in becoming accredited Athletics Ireland National Grade Measurers

The practical training courses will be held in various locations around the country, depending on several factors, including need for measurers in a particular region, the number of candidates in the region, candidate availability, and availability of existing accredited measurers
Athletics ireland Release (January 9th 2023)
Road Race Measuring Course – Expression of Interest
Athletics Ireland in conjunction with the Road Racing measuring committee, are hosting a Road Race Measuring Course in Spring 2023
We are inviting expressions of Interest from anyone who is interested in finding out more about the course and taking part. We will be holding an online information session in early Spring with the course taking place in late spring 2023
You must be over 18 years of age to take part in the course
The Course will comprise of an Online introductory/appreciation course (provisionally set for second week of February, with a repeat the following week). This will be followed by a more detailed/in-depth tutorial, again Online, probably in March. Following this, the attendees will be asked again to register for the practical training days. These One-Day courses will be held in various locations around the country, depending on the specific need, as seen by the Measurers Committee - we would like to see at least one accredited measurer in each County/Region. The practical days will be led by World Athletics (formerly IAAF) / AIMS Grade A and B International Measurers, assisted by experienced National Grade Measurers

To date, eighty six (86) people have registered their interest. The online segments can cater for may attendees, however the practical days will be limited to approx. 4 candidates to each Measurer/Trainer, consequently the canditates, in the inital stages at least, will be prioritised, as decided by Regional requirements, among other criteria


Existing Accredited Measurers



Existing accredited measurers are asked, if they have not already done so, to confirm their status (Active or Inactive) with Athletics Ireland

The existing accredited Measurers will be invited to assist at these practical training courses; To help spread the training load, To network with other Measurers, and share Tips & Tricks of measuring


We are also planning to have National Grade Measurers assessed as World Athletics Grade 'B' Measurers, and also have some of our Grade 'B' Measurers elevtaed to Grade 'A'
Practical Measurement Course Essentials

You will need to bring the following with you on the day

Bicycle (Note: As the Jones Counter must be fitted to the front wheel, bikes with disc brakes are NOT suitable)
Bicycle spanner(s) - Required to remove front wheel & fit Jones Counter

Puncture repair kit (Just in case!)
Helmet
Hi-Viz vest
Notebook
Pen/Pencil
Calculator

Jones Counters, tension springs, Measuring Tapes, etc will be supplied for use on the day

Course Costs
The online sections are FREE of charge, there it is a charge (yet to be determined) envisaged for the Practical Course. This charge will be set against the purchase, from Athletics Ireland, of a Jones Counter

Practical - Weather and Course Duration
As we will be out for most of the day, these courses are very weather dependent. For Health & Safety reasons, courses will not be held if the weather on the day is just awful, however weather can be predicted reasonably well within a few days, if not longer. The course is held over one day, generally from around 9:30/10am to 4pm(ish), and covers the theoretical and practical sides of measurement
Course Content
| | |
| --- | --- |
| | |
| Jones Counter | Jones Counter Mounted on Wheel |
Introduction & Safety
Jones Counter Setup
Laying of Measurement Baseline
Calibration of Jones Counter
Measurement Practical
Post Measurement Recalibration
Documentation, Maps and Records
'Tips & Tricks'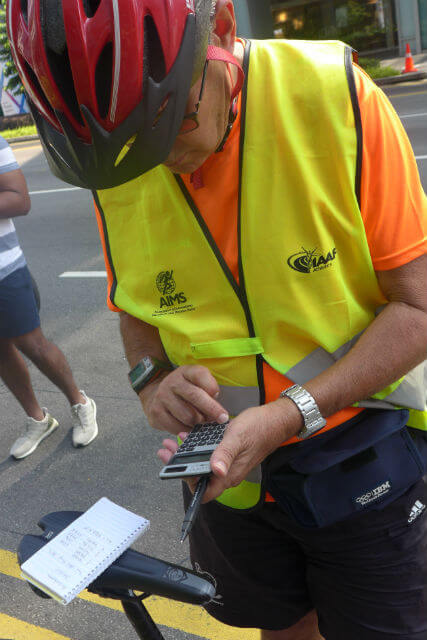 Dave Cundy, AIMS/IAAF Grade A Measurer doing his 'calcs'



Accreditation
Following successful conclusion of the course, candidates are required to submit documentation detailing at least one course measurement that they have undertaken on their own. Assuming all is satisfactory, and it invariably is, candidates then become accredited Athletics Ireland National Grade Measurers

Measurement Line - and the Racing Line - on an unrestricted course
Road Races and Athletics Events Week Ending Sunday January 29th 2023
Cork Athletics Event Listing - Week Ending Sunday January 29th 2023

This Week's Events - Week Ending Sunday January 29th 2023
Next Week's Events - Week Ending Sunday February 5th 2023
Key Event Summary
Admin: Friday January 27th, 8pm - Cork Athletics Annual International Awards Night 2023, Kingsley Hotel, Cork

Indoor T&F: Saturday Jan 28th - Munster Indoor Junior & U23 Chps, Nenagh. Sunday Jan 29th - Indoor AAI Games

Road/Trail: Sunday Jan 29th - North Cork AC 5k Road Race, Doneraile Park

The Events

Dungarvan

Friday Jan 27th, 8pm - Cork Athletics Annual International Awards Night 2023

Kingsley Hotel, Carrigrohane Road, Cork

Saturday Jan 28th, 9:30am - Parkrun - 10 Locations
Bere Island, Glengarriff, Castlehaven, Clonakilty, Macroom, Ballincollig, Tramore Valley Park, Glen River, Mallow Castle, Youghal


Nenagh, Co. Tipperary
Doneraile Park

Register for North Cork AC Doneraile Park 5k

Death of Jim Hayes - St Catherines AC
Jim Hayes R.I.P. - Condolences
January 11th 2023

The Officers and Officials of Cork Athletics County Board extend their condolences and deepest sympathy to the Hayes family; Jim's wife Anne, children Orla, Emer, Frank, Liam, Kevin and Anne-Marie, and his extended family, on the death of our esteemed colleague Jim Hayes, founding member of St Catherine's AC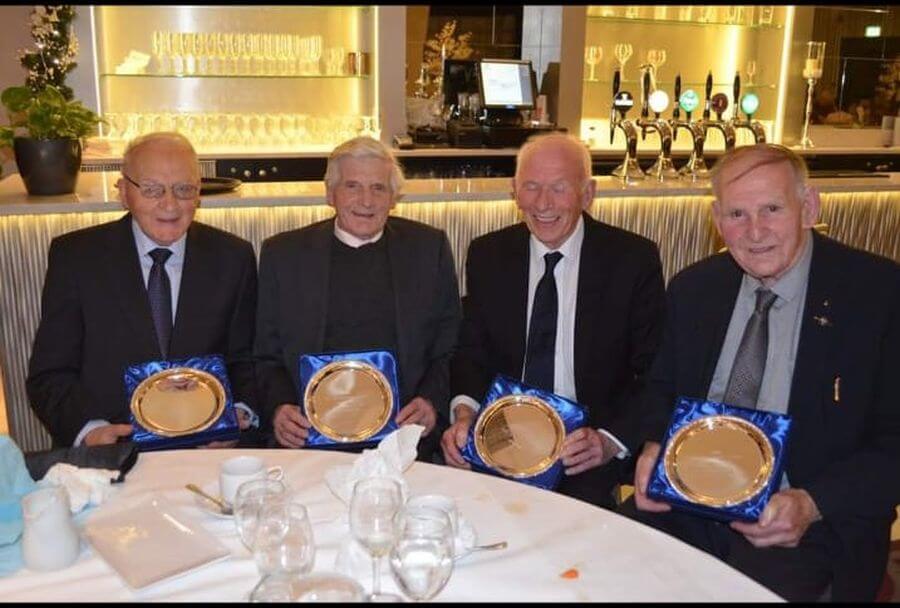 It is with great sadness that yesterday we heard of the passing of Jim Hayes. Jim was a great community man, and an avid supporter of Athletics. Jim, along with Dan Mccarthy, Dermot O'Leary and John Gough, were the founders of the original St. Catherine's Athletics club, back in the late 70s/80s. His enthusiasm for our sport will live long in our club, with many of his family members the cornerstones of the club today. We all have fond memories of meeting Jim at various events, and he was always good for a bit of encouragement, at the right time, during a cross country race. Sincere sympathy to his Wife Anne, sons and daughters; Orla, Emer, Frank, Liam, Kevin, Anne Marie, and all the extended Hayes family. Rest in Peace
The death has occurred of James (Jim) Hayes,

Garryanne, Conna, Cork / Aglish, Waterford
James (Jim) Hayes
James (Jim) Hayes, Garryanne, Conna, Co. Cork, formerly of Aglish, Co. Waterford
Jim passed away peacefully on the 11th Jan 2023, at Cork University Hospital, in the presence of his loving family. Much loved husband of Anne (nee Power), dear father of Orla (Nicholson), Emer (Linehan), Frank, Liam, Kevin and Anne-Marie. Brother of the late Roger. Sadly missed and lovingly remembered by his wife, family, sisters Delma (Lacey) and Alice, cherished grandchildren, Caoimhe, Laura, Natalie, James, Doireann, Conor, Charlie, Sadie, Ciara, Gráinne, Anna and Paudie, sons-in-law, Jeremy and Eoin, daughters-in-law Maura, Siobhan and Linda, nephews, relatives, great neighbours and friends.
Rest in Peace
Reposing at his home in Garryanne on this Friday from 2pm (P51 W8R6), with prayers at 7.30pm. Reception into St. Catherine's Church, Conna on Saturday for Requiem Mass at 12 noon. Burial afterwards in Conna Cemetery.
Family flowers only, donations in lieu if desired to Cork University Hospital (Respiratory) please.
https://www.cuhcharity.ie/donate-page/
Road Races and Athletics Events Week Ending Sunday January 15th 2023
Cork Athletics Event Listing - Week Ending Sunday January 15th 2023

This Week's Events - Week Ending Sunday January 15th 2023
Next Week's Events - Week Ending Sunday January 22nd 2023
Key Event Summary
Admin: Sunday January 15th, 11am - Cork Athletics AGM, Kingsley Hotel, Cork

Indoor T&F: Athletics Ireland National Junior & U23 Indoor T&F Championships, National Indoor Arena, Dublin

The Events

Dungarvan

Saturday Jan 14th, 9:30am - Parkrun - 10 Various Locations
Bere Island, Glengarriff, Castlehaven, Clonakilty, Macroom, Ballincollig, Tramore Valley Park, Glen River, Mallow Castle, Youghal


Sunday January 15th - Athletics Ireland National Junior & U23 Indoor T&F Championships
National Indoor Arena, Dublin

Sunday January 15th, 09:30 - Tom Kelly Memorial 8k - Ardfert (Kerry Race)

Kingsley Hotel, Cork

Dungarvan


Sunday January 15th, 11:00 - Corrin Hill (IMRA - Cork)

Fermoy
Welcome Upgrade Brings Mixed News for Marina and Cork Womens Mini-Marathon
New Route Required for 2023 Cork Womens Mini-Marathon
The Marina as it looks now - Photo: Larry Cummins/Examiner
Yesterday's announcement, by the National Transport Authority (NTA), of €57M funding for walking and cycling infrastructure projects, involving over 130 Active Travel schemes across Cork City and County is very welcome, but brings several 'headaches' for Cork Athletics and the general running community, at least during the development stages.

The works include the development of segregated cycle lanes and widened footpaths, new walking and cycling bridges, and new pedestrian crossings. Three of the major developments are; €1.6m for upgrade works to the Marina Promenade; €4.5m for a new pedestrian and cycle route, from the Grange Road to Tramore Valley Park, including a bridge over the N40 South Ring Road; and €3.4m for the Ballinacurra to Midleton pedestrian and cycle route

Work on the Marina is scheduled to start in May next, with a projected completing date of May 2024. While this is welcome news, the downside is that the Marina will not be available for races/runs during the development. This means that Cork Athletics, organisers of the Cork Womens Mini-Marathon, sponsored by The Echo, must find a new route for this year's event, due to be held on Sunday September 17th


Artist's impression of the completed Marina

The Marina upgrade is long overdue, as the concrete running surface there is quite broken in places. The artistic impression of the finished product looks great, so we look forward to that



Grange/Frankfield link to Tramore Valley Park



Artistic impression of pedestrian bridge over N40 South Ring

The other main Cork City project is the pedestrian bridge over the N40 South Ring Road, linking Grange/Frankfield with Tramore Valley Park. Indeed work is progressing well on the civil engineering works on both sides of the N40, so, hopefully the bridge crossing will be complete in the very near future. In addition, in the past two weeks, most of Tramore Valley Park has been resurfaced with smooth tarmac, and the main circuit around the Park has been widened, and drainage has been improved along the path
Ballinacurra to Midleton pedestrian and cycle route
The town of Midleton, and the general East Cork area, has been a been a hive of athletic activity for several decades, so the Ballinacurra to Midleton pedestrian and cycle route should provide a boost to running there
Road Races and Athletics Events Week Ending Sunday February 5th 2023
Cork Athletics Event Listing - Week Ending Sunday February 5th 2023

This Week's Events - Week Ending Sunday February 5th 2023
Next Week's Events - Week Ending Sunday February 12th 2023
Key Event Summary
Admin: Wed Feb 1st: County Board Monthly Meeting (Zoom); Thurs Feb 2nd: Munster Athletics AGM (Zoom)

Indoor T&F: Wed Feb 1st: Track and Field Live Tour - Athlone; Sat Feb 4th: Track and Field Live Tour - Nenagh; Sun Feb 5th: National Masters Indoor Championships, TUS, Athlone
Road: Wed Feb 1st: Final Race in Forde's Daybreak League (Dungarvan) & Sun Feb 5th: John Treacy Dungarvan 10 Mile, Dungarvan
IMRA: Sun Feb 5th: Mt. Hillary (IMRA - Cork), Glen Theatre, Banteer

The Events

Wednesday Feb 1st - Track and Field Live Tour - Athlone
TUS, Athlone
Dungarvan

Wednesday Feb 1st, 8pm - Cork Athletics County Board Monthly Meeting
OnLine Via Zoom
Thursday Feb 2nd, 8pm - Munster Athletics AGM
OnLine Via Zoom
Saturday Feb 4th, 9:30am - Parkrun - 10 Locations
Bere Island, Glengarriff, Castlehaven, Clonakilty, Macroom, Ballincollig, Tramore Valley Park, Glen River, Mallow Castle, Youghal


Saturday Feb 4th - Track and Field Live Tour - Nenagh

Nenagh Indoor Stadium
TUS, Athlone

Dungarvan
Glen Theatre, Banteer
Cork Athletics International Awards Night 2023
International Awards, Aspiring Young Athletes Bursaries, 1967 National Junior XC Medalist, National Measurer Accreditations and Lifetime Achievement Award 2023
Kingsley Hotel, Carrigrohane Road, Cork
Friday January 27th 2023
Cork Athletics International Award Medals
The Cork Athletics Annual International Awards presentations took place in the Kingsley Hotel, Carrigrohane Road, Cork, on Friday January 27th 2023. The awards are made to Cork athletes who have represented Ireland in athletics, during the previous twelve months, and have been nominated by their clubs
| | | | |
| --- | --- | --- | --- |
| | | | |
| Pat Walsh, Chairman, Cork Athletics County Board | Hamish Adams, CEO, Athletics Ireland, who made the presentations | Enda Kiernan, PRO, Cork Athletics County Board | Some of the International Awards |
| | |
| --- | --- |
| | |
| Paddy Buckley receives his Lifetime Achievement Award from Hamish Adams and Pat Walsh | Pam Buckley receives a bouquet of flowers from Anne Murray, Hon. Secretary, Cork Athletics County Board |
Cork Athletics Aspiring Young Athletes 2023
Cork Athletics Aspiring Young Athletes 2023
Along with the International Awards, training bursaries are presented to Aspiring Young Athletes, selected on several criteria, including significant athletic achievement, progression and application to their chosen athletic discipline(s). This year, additional awards were presented, covering the period 2021 -2023

| | |
| --- | --- |
| | |
| Mark Gallagher, Beara AC, with Pat Walsh, John Quigley and Hamish Adams | Tommy Hartnett, East Cork AC, with Pat Walsh, John Quigley and Hamish Adams |
Presentation of Accreditation Certificates to New Athletics Ireland National Grade Measurers

1967 National Junior Cross-Country Championship Medalist - Batty O'Neill

Batty O'Neill with his family, along with Pat Walsh
Batty O'Neill
Batty O'Neill, Beara AC, was a scoring member of Cork's victorious 1967 National Junior Cross-Country Championship team, in sixth place and 15th overall. Unfortunately Batty never received his medal at that time, but Cork Athletics was pleased to present it to him at the awards night


Awards Function Brochure 2023 - PDF File
2023 Awards Booklet will be uploaded as soon as scanned
Awards Function Brochure 2020 - PDF File
Cork Athletics International Awards 2016
2012 Awards - scroll down page, once link opened

Photos - Cork Athletics Facebook Page

General Photos
International Awards


Aspiring Young Athletes

(Higher quality photos are available from

This email address is being protected from spambots. You need JavaScript enabled to view it.

)


Videos
International Awards Presentations
Presentation of Aspiring Young Athlete Bursaries - Video 1


Presentation of Aspiring Young Athlete Bursaries - Video 2

Lifetime Achievement Award - Baddy Buckley

National Measurer Accreditations & 1967 National Junior Cross-Country Medal Presentation to Batty O'Neill


Road Races and Athletics Events Week Ending Sunday January 22nd 2023
Cork Athletics Event Listing - Week Ending Sunday January 22nd 2023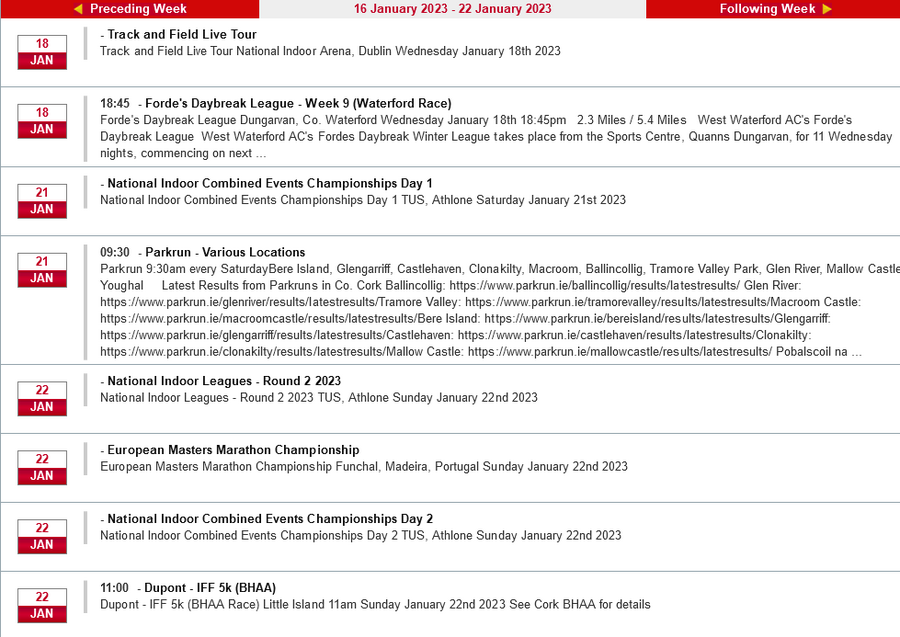 This Week's Events - Week Ending Sunday January 22nd 2023
Next Week's Events - Week Ending Sunday January 29th 2023
Key Event Summary
Very quiet week locally, with no AAI events scheduled

Indoor T&F:National League and Combined Events Championships, Athlone

The Events

Dungarvan

Saturday Jan 21st, 9:30am - Parkrun - 10 Locations
Bere Island, Glengarriff, Castlehaven, Clonakilty, Macroom, Ballincollig, Tramore Valley Park, Glen River, Mallow Castle, Youghal


Sunday January 22nd, 11:00 - Dupont - IFF 5k (BHAA)
Little Island
Denis McCarthy – Man of records
Denis McCarthy - Man of Records



This Article, by John Walshe, appeared in The Echo, on Wednesday January 11th, 2023

Denis McCarthy, East Cork AC
Denis McCarthy, a member of the East Cork Athletic Club, is a man of records – and not all of them are of the running variety, as we shall see
A meticulous keeper of statistics, his running log for the year just gone by shows a total of 2,020 miles ran, an average of just over five-and-a-miles for every single day of the year. This annual total has been the norm for at least the past 40 years and the Ballynoe native reckons he has now clocked up in excess of 100,000 miles
"Since June 5, 1985, I've only missed eight days," says the 60-year-old, before adding, nonchalantly, "but some of them were on crutches." A running streak that began on that date in 1985 finally came to an end 28 years and four days later when a bad fall resulted in a fracture to a bone in his leg
Even while on crutches, he still managed to complete the Shanagarry five-mile race in 71 minutes. "There were eight days in which I actually did nothing, but then there were days trying to train while hobbling around in a medical walking boot until a doctor said to me I'd never heal like that, so I stopped running then and went on crutches."
Last October, another milestone was reached at Macroom when McCarthy competed in the Cork county senior cross-country championship for the 40th time. This includes on two occasions being a scorer on the winning East Cork team of which he's been a member of since its inception in 1985
"The first county I ran was in Castlemartyr back in 1981, when I was with the Youghal club," he recalls. "After that, I just took it one step at a time. I always had a kind of unique interest in the race, going back to the 1970s when there was a great rivalry between the likes of John Hartnett and Donie Walsh. It was a kind of a county versus city rivalry in my eyes; between them they won a total of seven titles so that gave you an idea of the stature of the race
"In the 1980s, Tony O'Leary dominated the championship and that sort of infatuated me as well. In 1989, when I was running and training with Liam O'Brien, to see a man like Liam who had dominated Munster athletics finally come along and win the county senior, and to see what that meant to people. And then I was finding myself on East Cork teams and was a scoring member when the club took the title in 1985 and 1986."
During the 1990s another unique challenge was hatched and came to fruition – that of running a race in each of the 32 counties on this island, before his 32nd birthday. "I was after running a number of national intermediate cross-country races, it took me eight years to get out of that category and I was travelling to a lot of obscure counties, for want of a better word
"When I did my tally, I had something like 18 or 19 counties so I then felt that the 32 was within reach." In an era when races were a lot harder to come by compared to today, for someone in the far south of the country the northern counties would be the hardest to get to
At Christmas 1993, Denis had just three counties to go. On St Stephens Day he travelled to Tyrone, where, on a snow-covered course, he finished third in the Greencastle 10km. A week later, he availed of an invitation to take part in the Derry cross-country championships, thus leaving just Monaghan on his agenda, and this he 'bagged' the following March when he finished fourth in a road race in Glaslough

For most of the races in the far North, it meant leaving his home in Ballynoe (near Conna) at an unearthly hour, and not arriving back until midnight. One of the longest journeys he undertook was to Donegal, a round trip of about 500 miles. He left home at 5:30am, slept for a short while in his car alongside the tomb of W.B. Yeats in Drumcliffe, Sligo, before going on to Donegal Town, where he finished sixth in a 5km
Over the years, Denis has won 179 East Cork championship medals, 94 county medals, 82 Munster medals and 19 national medals in road, track and cross-country – such statistics as those trip readily off the tongue. With personal bests on the track of 8:33 for 3000m and 14:58 for 5000m, he was no mean performer. He won the 5,000m county title in 1986 and of the 2,064 races he has competed in (up to December 2022), he has finished first on 198 occasions
An employee of Glenmar Shellfish Ireland in Curraglass for many years, Denis' other passion – apart from his running - is attending car boot sales and adding to his record collection. And there is also a tie-in here from his travels up north, as he explains: "That same week I was in Belfast I came across a CD single by Brian Adams 'Everything I Do, I Do It for You' which had spent 18 weeks at Number 1 in the UK charts
"So I bought it and when a new record went to Number 1 after that I continued and then I started getting older ones at car boot sales and record fairs and tried to work backwards
"It was the UK charts I was first chasing but then I branched out and started collecting Irish Number Ones which date back to 1962. There have been over 1,000 Irish Number Ones, and I reckon I have them all."

Related Article

Denis McCarthy - Running the Country - Irish Runner September 1995



Cork Athletics Year-End Registration Figures - November 2022
Cork Athletics Registration Figures for Year 2022
Cork Athletics Registrations 2010 - 2023
The year-end registrations for Cork Athletics saw a new record of 8,521, exceeding the previous record of 8,455, set in 2019
It should be noted that 2022 registrations closed unexpectedly, on or about November 22nd, whereas the scheduled date was December 14th. Given that the year-end was approaching, it's not possible to estimate how many more registrations might have been added before the nominal closing date, however, as further championships, along with other events, were still to be held, it s clear that there would have been more registrations

Note: The top image is from Athletics Ireland's Registration page, and shows six more registrations than are in the actual Cork registration data]

| Year | Registrations |
| --- | --- |
| 2022 | 8521 |
| 2021 | 7193 |
| 2020 | 6919 |
| 2019 | 8227 |
| 2018 | 8455 |
| 2017 | 8264 |
| 2016 | 7822 |
| 2015 | 6936 |
| 2014 | 6602 |
| 2013 | 5852 |
Overall Registrations as at November 22nd 2022
Bandon AC and Leevale AC head the table, with 573 and 567 members respectively. North Cork AC are in third place, with a total of 494, while Midleton AC are just one shy of the 400 mark. Fifteen clubs exceed 200 members, while a further 15 clubs have 100 or more registered members

| Club | Juv | You | Jun | Sen | Mas | Total |
| --- | --- | --- | --- | --- | --- | --- |
| Bandon AC | 450 | 14 | 11 | 30 | 68 | 573 |
| Leevale AC | 266 | 71 | 46 | 81 | 103 | 567 |
| North Cork AC | 407 | 16 | 5 | 9 | 57 | 494 |
| Midleton AC | 186 | 18 | 2 | 15 | 178 | 399 |
| Togher AC | 175 | 17 | 3 | 42 | 129 | 366 |
| St. Catherine's AC | 220 | 8 | 1 | 9 | 103 | 341 |
| Youghal AC | 145 | 11 | 6 | 27 | 152 | 341 |
| Grange/Fermoy AC | 120 | 4 | 4 | 14 | 157 | 299 |
| Carraig-Na-Bhfear AC | 140 | 34 | 18 | 32 | 71 | 295 |
| Belgooly AC | 249 | 7 | 1 | 0 | 28 | 285 |
| Riverstick/Kinsale AC | 200 | 15 | 3 | 2 | 15 | 235 |
| Tracton AC | 136 | 3 | 2 | 6 | 83 | 230 |
| West Muskerry AC | 179 | 3 | 1 | 4 | 35 | 222 |
| Carrigaline AC | 117 | 2 | 0 | 10 | 85 | 214 |
| St. Finbarrs AC | 0 | 0 | 2 | 31 | 171 | 204 |
| Mallow AC | 0 | 0 | 0 | 14 | 181 | 195 |
| Bweeng Trail Blazers AC | 111 | 2 | 0 | 4 | 75 | 192 |
| Ballymore Cobh AC | 82 | 2 | 1 | 14 | 91 | 190 |
| Watergrasshill AC | 68 | 0 | 0 | 17 | 102 | 187 |
| Ballincollig AC | 79 | 6 | 5 | 10 | 68 | 168 |
| Eagle AC | 0 | 0 | 0 | 18 | 149 | 167 |
| Blarney/Inniscara AC | 135 | 5 | 2 | 2 | 18 | 162 |
| Millstreet AC | 117 | 3 | 0 | 1 | 34 | 155 |
| Fanahan Mc Sweeney AC | 129 | 3 | 0 | 0 | 10 | 142 |
| Courcey AC | 106 | 1 | 0 | 0 | 31 | 138 |
| St. Nicholas AC | 60 | 1 | 2 | 6 | 64 | 133 |
| Doheny AC | 102 | 0 | 1 | 0 | 8 | 111 |
| Mount Hillary AC | 0 | 0 | 0 | 12 | 94 | 106 |
| Ballintotis Fit4Life AC | 0 | 0 | 0 | 10 | 91 | 101 |
| Skibbereen AC | 82 | 2 | 0 | 1 | 15 | 100 |
| Durrus AC | 58 | 5 | 2 | 2 | 31 | 98 |
| Beara AC | 37 | 0 | 1 | 10 | 43 | 91 |
| Old Abbey AC | 77 | 0 | 1 | 3 | 9 | 90 |
| Aghada Running Club ARC | 0 | 0 | 0 | 2 | 86 | 88 |
| Bantry AC | 61 | 2 | 0 | 1 | 22 | 86 |
| Liscarroll AC | 58 | 4 | 6 | 3 | 14 | 85 |
| Clonakilty Juvenile A.C | 63 | 0 | 0 | 0 | 11 | 74 |
| Bridevale AC | 0 | 0 | 0 | 11 | 58 | 69 |
| Dromahane Road Runners AC | 0 | 1 | 1 | 2 | 50 | 54 |
| Donoughmore AC | 0 | 0 | 0 | 3 | 50 | 53 |
| Rosscarbery Steam Runners AC | 0 | 0 | 0 | 4 | 39 | 43 |
| Cork Track Club | 0 | 0 | 0 | 27 | 12 | 39 |
| Clonakilty Road Runners | 0 | 0 | 0 | 4 | 34 | 38 |
| Buttevant R.C. | 0 | 0 | 0 | 8 | 29 | 37 |
| East Cork AC | 0 | 0 | 1 | 9 | 26 | 36 |
| Doneraile AC | 0 | 0 | 0 | 2 | 29 | 31 |
| Fota Island Running Club | 0 | 0 | 0 | 4 | 24 | 28 |
| The Churchtown Roadrunners AC | 0 | 0 | 0 | 6 | 20 | 26 |
| Carrigtwohill AC | 0 | 0 | 0 | 2 | 19 | 21 |
| Galtee Runners AC | 0 | 0 | 0 | 3 | 18 | 21 |
| Duhallow AC | 0 | 0 | 0 | 3 | 15 | 18 |
| Cork City AC | 6 | 1 | 0 | 1 | 8 | 16 |
| Cork Mental Health AC | 0 | 0 | 0 | 1 | 15 | 16 |
| Rising Sun AC | 0 | 0 | 0 | 0 | 16 | 16 |
| Shandrum AC | 0 | 0 | 0 | 1 | 15 | 16 |
| Abbey Striders AC | 6 | 1 | 2 | 2 | 3 | 14 |
Juvenile/Youth/Junior Registrations as at November 22nd 2022

Bandon AC head the table, with 475 Juvenile registrations, followed by North Cork AC on 428, with Leevale AC on 383. Twenty clubs now have over 100 juvenile members

| Club | Juv | You | Jun | Total |
| --- | --- | --- | --- | --- |
| Bandon AC | 450 | 14 | 11 | 475 |
| North Cork AC | 407 | 16 | 5 | 428 |
| Leevale AC | 266 | 71 | 46 | 383 |
| Belgooly AC | 249 | 7 | 1 | 257 |
| St. Catherine's AC | 220 | 8 | 1 | 229 |
| Riverstick/Kinsale AC | 200 | 15 | 3 | 218 |
| Midleton AC | 186 | 18 | 2 | 206 |
| Togher AC | 175 | 17 | 3 | 195 |
| Carraig-Na-Bhfear AC | 140 | 34 | 18 | 192 |
| West Muskerry AC | 179 | 3 | 1 | 183 |
| Youghal AC | 145 | 11 | 6 | 162 |
| Blarney/Inniscara AC | 135 | 5 | 2 | 142 |
| Tracton AC | 136 | 3 | 2 | 141 |
| Fanahan Mc Sweeney AC | 129 | 3 | 0 | 132 |
| Grange/Fermoy AC | 120 | 4 | 4 | 128 |
| Millstreet AC | 117 | 3 | 0 | 120 |
| Carrigaline AC | 117 | 2 | 0 | 119 |
| Bweeng Trail Blazers AC | 111 | 2 | 0 | 113 |
| Courcey AC | 106 | 1 | 0 | 107 |
| Doheny AC | 102 | 0 | 1 | 103 |
| Ballincollig AC | 79 | 6 | 5 | 90 |
| Ballymore Cobh AC | 82 | 2 | 1 | 85 |
| Skibbereen AC | 82 | 2 | 0 | 84 |
| Old Abbey AC | 77 | 0 | 1 | 78 |
| Liscarroll AC | 58 | 4 | 6 | 68 |
| Watergrasshill AC | 68 | 0 | 0 | 68 |
| Durrus AC | 58 | 5 | 2 | 65 |
| Bantry AC | 61 | 2 | 0 | 63 |
| Clonakilty Juvenile A.C | 63 | 0 | 0 | 63 |
| St. Nicholas AC | 60 | 1 | 2 | 63 |
| Beara AC | 37 | 0 | 1 | 38 |
| Abbey Striders AC | 6 | 1 | 2 | 9 |
| Cork City AC | 6 | 1 | 0 | 7 |
| Dromahane Road Runners AC | 0 | 1 | 1 | 2 |
| St. Finbarrs AC | 0 | 0 | 2 | 2 |
| East Cork AC | 0 | 0 | 1 | 1 |
Adult (Senior/Masters) Registrations as at November 22nd 2022

St Finbarr's AC is the largest adult club, with 202 registrations, followed by Mallow AC, on 195, with Midleton AC closely behind, on 193. Fourteen clubs top the 100 mark
| Club | Sen | Mas | Total |
| --- | --- | --- | --- |
| St. Finbarrs AC | 31 | 171 | 202 |
| Mallow AC | 14 | 181 | 195 |
| Midleton AC | 15 | 178 | 193 |
| Leevale AC | 81 | 103 | 184 |
| Youghal AC | 27 | 152 | 179 |
| Grange/Fermoy AC | 14 | 157 | 171 |
| Togher AC | 42 | 129 | 171 |
| Eagle AC | 18 | 149 | 167 |
| Watergrasshill AC | 17 | 102 | 119 |
| St. Catherine's AC | 9 | 103 | 112 |
| Mount Hillary AC | 12 | 94 | 106 |
| Ballymore Cobh AC | 14 | 91 | 105 |
| Carraig-Na-Bhfear AC | 32 | 71 | 103 |
| Ballintotis Fit4Life AC | 10 | 91 | 101 |
| Bandon AC | 30 | 68 | 98 |
| Carrigaline AC | 10 | 85 | 95 |
| Tracton AC | 6 | 83 | 89 |
| Aghada Running Club ARC | 2 | 86 | 88 |
| Bweeng Trail Blazers AC | 4 | 75 | 79 |
| Ballincollig AC | 10 | 68 | 78 |
| St. Nicholas AC | 6 | 64 | 70 |
| Bridevale AC | 11 | 58 | 69 |
| North Cork AC | 9 | 57 | 66 |
| Beara AC | 10 | 43 | 53 |
| Donoughmore AC | 3 | 50 | 53 |
| Dromahane Road Runners AC | 2 | 50 | 52 |
| Rosscarbery Steam Runners AC | 4 | 39 | 43 |
| Cork Track Club | 27 | 12 | 39 |
| West Muskerry AC | 4 | 35 | 39 |
| Clonakilty Road Runners | 4 | 34 | 38 |
| Buttevant R.C. | 8 | 29 | 37 |
| East Cork AC | 9 | 26 | 35 |
| Millstreet AC | 1 | 34 | 35 |
| Durrus AC | 2 | 31 | 33 |
| Courcey AC | 0 | 31 | 31 |
| Doneraile AC | 2 | 29 | 31 |
| Belgooly AC | 0 | 28 | 28 |
| Fota Island Running Club | 4 | 24 | 28 |
| The Churchtown Roadrunners AC | 6 | 20 | 26 |
| Bantry AC | 1 | 22 | 23 |
| Carrigtwohill AC | 2 | 19 | 21 |
| Galtee Runners AC | 3 | 18 | 21 |
| Blarney/Inniscara AC | 2 | 18 | 20 |
| Duhallow AC | 3 | 15 | 18 |
| Liscarroll AC | 3 | 14 | 17 |
| Riverstick/Kinsale AC | 2 | 15 | 17 |
| Cork Mental Health AC | 1 | 15 | 16 |
| Rising Sun AC | 0 | 16 | 16 |
| Shandrum AC | 1 | 15 | 16 |
| Skibbereen AC | 1 | 15 | 16 |
| Old Abbey AC | 3 | 9 | 12 |
| Clonakilty Juvenile A.C | 0 | 11 | 11 |
| Fanahan Mc Sweeney AC | 0 | 10 | 10 |
| Cork City AC | 1 | 8 | 9 |
| Doheny AC | 0 | 8 | 8 |
| Abbey Striders AC | 2 | 3 | 5 |
Leevale AC top the adult listings, followed by Mallow AC and Midleton AC, with ten clubs topping 100 adult members

Senior Registrations as at November 22nd 2022



Senior registrations rose from 471 to 535. Our Provincial and National Champions and contenders, along with International representatives are more than likely to come from these ranks. The numbers active in this range are disappointingly small, pointing to a significant problem in attracting and retaining athletes, both male and female, in the age range 18 to 34
While the numbers in this category are disappointingly small, Leevale AC outpunch the rest significantly, with 81 Senior members. Togher AC are next, with 42, with several clubs in the 27 to 32 range
| Club | Senior |
| --- | --- |
| Leevale A.C. | 81 |
| Togher A.C. | 42 |
| Carraig-Na-Bhfear A.C. | 32 |
| St. Finbarrs A.C. | 31 |
| Bandon A.C. | 30 |
| Cork Track Club | 27 |
| Youghal A.C. | 27 |
| Eagle A.C. | 18 |
| Watergrasshill A.C. | 17 |
| Midleton A.C. | 15 |
| Ballymore Cobh A.C. | 14 |
| Grange/Fermoy A.C. | 14 |
| Mallow A.C. | 14 |
| Mount Hillary A.C. | 12 |
| Bridevale A.C. | 11 |
| Ballincollig A.C. | 10 |
| Ballintotis Fit4Life A.C. | 10 |
| Beara A.C. | 10 |
| Carrigaline A.C. | 10 |
| East Cork A.C. | 9 |
| North Cork A.C. | 9 |
| St. Catherine's A.C. | 9 |
| Buttevant R.C. | 8 |
| St. Nicholas A.C. | 6 |
| The Churchtown Roadrunners A.C. | 6 |
| Tracton A.C. | 6 |
| Bweeng Trail Blazers A.C. | 4 |
| Clonakilty Road Runners | 4 |
| Fota Island Running Club | 4 |
| Rosscarbery Steam Runners A.C. | 4 |
| West Muskerry A.C. | 4 |
| Donoughmore A.C. | 3 |
| Duhallow A.C. | 3 |
| Galtee Runners A.C. | 3 |
| Liscarroll A.C. | 3 |
| Old Abbey A.C. | 3 |
| Abbey Striders A.C. | 2 |
| Aghada Running Club ARC | 2 |
| Blarney/Inniscara A.C. | 2 |
| Carrigtwohill A.C. | 2 |
| Doneraile A.C. | 2 |
| Dromahane Road Runners A.C. | 2 |
| Durrus A.C. | 2 |
| Riverstick/Kinsale A.C. | 2 |
| Bantry A.C. | 1 |
| Cork City A.C. | 1 |
| Cork Mental Health A.C. | 1 |
| Millstreet A.C. | 1 |
| Shandrum A.C. | 1 |
| Skibbereen A.C. | 1 |
Masters Registrations as at November 22nd 2022

Mallow AC their position at the top of the table, with 169 Masters registrations. Midleton AC and Eagle AC have 155 and 130 respectively, with St Finbarr's AC next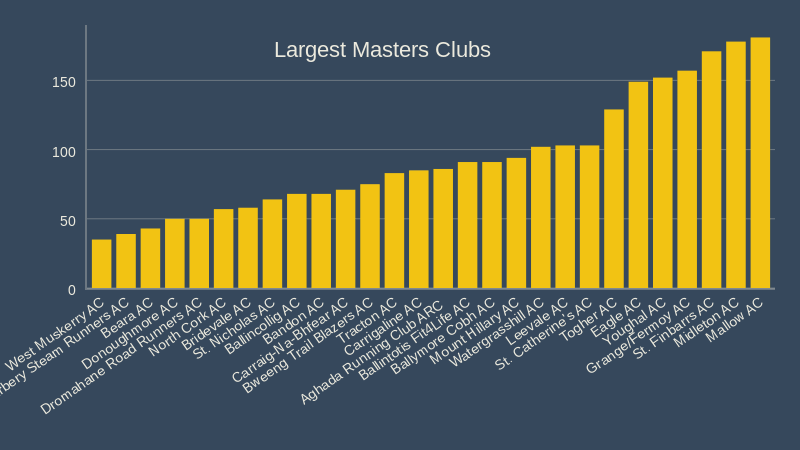 Mallow AC has the largest Masters membership, with Midleton AC close behing, on 178, and St. Finbarr's AC third on 171
| Club | Masters |
| --- | --- |
| Mallow A.C. | 181 |
| Midleton A.C. | 178 |
| St. Finbarrs A.C. | 171 |
| Grange/Fermoy A.C. | 157 |
| Youghal A.C. | 152 |
| Eagle A.C. | 149 |
| Togher A.C. | 129 |
| Leevale A.C. | 103 |
| St. Catherine's A.C. | 103 |
| Watergrasshill A.C. | 102 |
| Mount Hillary A.C. | 94 |
| Ballintotis Fit4Life A.C. | 91 |
| Ballymore Cobh A.C. | 91 |
| Aghada Running Club ARC | 86 |
| Carrigaline A.C. | 85 |
| Tracton A.C. | 83 |
| Bweeng Trail Blazers A.C. | 75 |
| Carraig-Na-Bhfear A.C. | 71 |
| Ballincollig A.C. | 68 |
| Bandon A.C. | 68 |
| St. Nicholas A.C. | 64 |
| Bridevale A.C. | 58 |
| North Cork A.C. | 57 |
| Donoughmore A.C. | 50 |
| Dromahane Road Runners A.C. | 50 |
| Beara A.C. | 43 |
| Rosscarbery Steam Runners A.C. | 39 |
| West Muskerry A.C. | 35 |
| Clonakilty Road Runners | 34 |
| Millstreet A.C. | 34 |
| Courcey A.C. | 31 |
| Durrus A.C. | 31 |
| Buttevant R.C. | 29 |
| Doneraile A.C. | 29 |
| Belgooly A.C. | 28 |
| East Cork A.C. | 26 |
| Fota Island Running Club | 24 |
| Bantry A.C. | 22 |
| The Churchtown Roadrunners A.C. | 20 |
| Carrigtwohill A.C. | 19 |
| Blarney/Inniscara A.C. | 18 |
| Galtee Runners A.C. | 18 |
| Rising Sun A.C. | 16 |
| Cork Mental Health A.C. | 15 |
| Duhallow A.C. | 15 |
| Riverstick/Kinsale A.C. | 15 |
| Shandrum A.C. | 15 |
| Skibbereen A.C. | 15 |
| Liscarroll A.C. | 14 |
| Cork Track Club | 12 |
| Clonakilty Juvenile A.C | 11 |
| Fanahan Mc Sweeney A.C. | 10 |
| Old Abbey A.C. | 9 |
| Cork City A.C. | 8 |
| Doheny A.C. | 8 |
| Abbey Striders A.C. | 3 |
Senior & Masters Age Categories
| Cat | M | F |
| --- | --- | --- |
| Over-35 | 198 | 223 |
| Over-40 | 371 | 477 |
| Over-45 | 360 | 440 |
| Over-50 | 281 | 270 |
| Over-55 | 146 | 129 |
| Over-60 | 84 | 51 |
| Over-65 | 50 | 22 |
| Over-70 | 24 | 7 |
| Over-75 | 19 | 3 |
| Over-80 | 8 | 1 |
| Over-85 | 1 | 1 |
Age Distribution Data




Overall Age Distribution

As per the last few years, the overall age distribution throws up some interesting observations:
There are two distinct distributions, based around Young Juveniles and Masters Athletes, with older Juveniles and Seniors literally nowhere to be seen

| Age | Male | Female |
| --- | --- | --- |
| 4 | 2 | 4 |
| 5 | 44 | 27 |
| 6 | 88 | 83 |
| 7 | 197 | 161 |
| 8 | 309 | 305 |
| 9 | 368 | 325 |
| 10 | 305 | 325 |
| 11 | 296 | 344 |
| 12 | 213 | 240 |
| 13 | 161 | 223 |
| 14 | 89 | 137 |
| 15 | 68 | 114 |
| 16 | 58 | 84 |
| 17 | 52 | 68 |
| 18 | 38 | 39 |
| 19 | 27 | 28 |
| 20 | 26 | 10 |
| 21 | 19 | 12 |
| 22 | 12 | 15 |
| 23 | 9 | 7 |
| 24 | 18 | 10 |
| 25 | 20 | 11 |
| 26 | 12 | 12 |
| 27 | 17 | 15 |
| 28 | 16 | 14 |
| 29 | 12 | 24 |
| 30 | 17 | 15 |
| 31 | 18 | 28 |
| 32 | 16 | 24 |
| 33 | 27 | 36 |
| 34 | 19 | 42 |
| 35 | 34 | 26 |
| 36 | 37 | 45 |
| 37 | 32 | 51 |
| 38 | 50 | 39 |
| 39 | 45 | 62 |
| 40 | 66 | 67 |
| 41 | 68 | 88 |
| 42 | 83 | 96 |
| 43 | 76 | 106 |
| 44 | 78 | 120 |
| 45 | 74 | 110 |
| 46 | 79 | 80 |
| 47 | 73 | 86 |
| 48 | 61 | 83 |
| 49 | 73 | 81 |
| 50 | 69 | 63 |
| 51 | 59 | 60 |
| 52 | 59 | 50 |
| 53 | 49 | 59 |
| 54 | 45 | 38 |
| 55 | 35 | 27 |
| 56 | 28 | 34 |
| 57 | 29 | 24 |
| 58 | 28 | 22 |
| 59 | 26 | 22 |
| 60 | 21 | 14 |
| 61 | 18 | 9 |
| 62 | 12 | 12 |
| 63 | 18 | 10 |
| 64 | 15 | 6 |
| 65 | 12 | 7 |
| 66 | 12 | 6 |
| 67 | 8 | 1 |
| 68 | 8 | 3 |
| 69 | 10 | 5 |
| 70 | 5 | 3 |
| 71 | 1 | 0 |
| 72 | 7 | 1 |
| 73 | 4 | 3 |
| 74 | 7 | 0 |
| 75 | 4 | 0 |
| 76 | 6 | 0 |
| 77 | 5 | 2 |
| 78 | 0 | 1 |
| 79 | 4 | 0 |
| 80 | 3 | 0 |
| 81 | 2 | 0 |
| 82 | 1 | 0 |
| 84 | 2 | 1 |
| 85 | 0 | 0 |
| 86 | 0 | 0 |
| 87 | 0 | 1 |
| 88 | 0 | 0 |
| 89 | 0 | 0 |
| 90 | 0 | 0 |
| 91 | 0 | 0 |
| 92 | 0 | 0 |
| 93 | 1 | 0 |
Juvenile Age Distribution
Overall, Girls outnumber boys by 190 registrations - 2,440 to 2,250 and comprise 52.03% of all Juvenile Registrations. Some notable features of the stats is that, up to age 9, the boys are in the majority. However, from age 9 through to 19, girls outnumber boys

A woorying feature is that, in spite of increasing registrations, the "Cliff" - the age at which registrations start to drop off - continues to drop. Numbers now fall off from age 9
The drop off of Juveniles has been noted across many sports in Ireland, and is worrying from a number of perspectives, not just athletics membership. In particular the non-participation of juveniles, along with the related and alarming growth in obesity, among juveniles and younger adults, is almost certainly going to lead to a significant rise in general population health issues in the coming years
Senior Age Distribution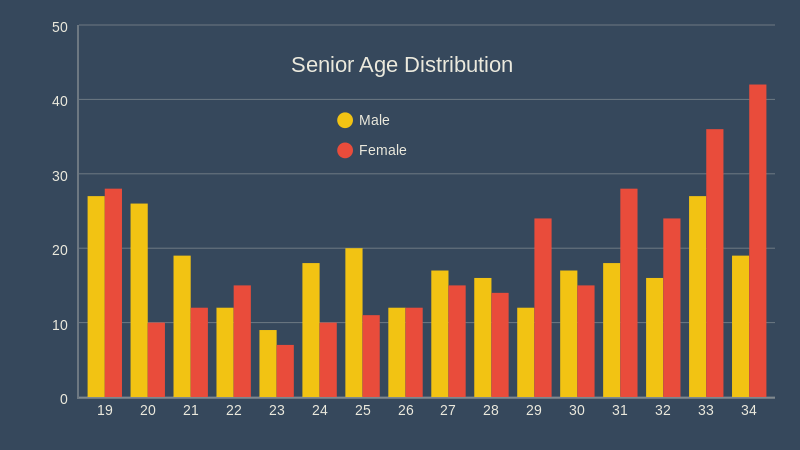 The total number of Senior registrations remains alarmingly low, with just 665 registrations; 323 men and 342 women between 18 and 34. The women's figure is somewhat skewed, as, between 29 and 34, there are significantly more women than men; 169 to 104

From an athletics perspective, the low numbers between 18 and 34 is of particular concern, as this is the group from which our Championship, International and Olympic hopes will emerge. Historically, Cork has 'punched above its weight' in producing European, World and Olympic Champions and medalists, along with many, many International athletes. To continue this proud and valued heritage, we really need to be attracting, and retaining, more people in this age range
Masters Age Distribution

In recent years there has been a huge, and welcome, growth in women's registrations, with women of all ages taking up the sport. The stats illustrate this vividly; women outnumber men at every age, with one or two exceptions, from 35 through to 56. No doubt, given time, the figures above age 56 will also rise



Related Articles

Cork Athletics Year-End Registration Figures - December 2021
Cork Athletics Year-End Registration Figures - December 2020
Cork Athletics Year-End Registration Figures - December 2018
Cork Athletics Year-End Registration Figures - December 2017
Cork Athletics Year-End Registration Figures 2016

Updated AAI Registered Membership Figures for November 2015