East Cork's Rising Stars - Irish Runner Feature July-August 1988
EAST CORK'S RISING STARS
Club Profile by Dick Hooper
Irish Runner Magazine - July-August 1988, Vol 8, No 5, P36-38

Download Article (PDF File)
Standing left to right: J. Walsh, D. O'Mathuna G. Wallace, L. McCarthy, L O'Brien, B. Meade, Fr. L. O'Brien
Front Row Left to Right: P. Mullholland, Jim Curtin, T. Cashman, E. Meade, J. Walsh, B. Moran
In the beginning there was a man and a boy, and they were both named Liam. And God called the man Liam, and asked him to follow Him, and to be His minister for athletics in Ireland. And He gave him special responsibility for Cork.
And so the man Liam answered God's call, and became Rev. Fr. Liam, and arrived as an enthusiastic missionary in a town called Midleton, in the eastern part of the county called Cork.

And when the young priest looked out on the congregation of youth before him, he set eyes on the boy Liam, with the severe haircut. And the man Liam blessed the boy Liam, and having looked after his spiritual needs encouraged him to run. And the two Liams became friends.

And it came to pass, in the early 1970s, that Fr. Liam (Kelleher) had built up the best juvenile athletic club in Ireland, with huge numbers competing, and winning ,under the name of Midleton A.C. And many times, Fr. Liam spoke to the boy Liam (O'Brien) of his dream and it was this ... 'that all the clubs in Eastern Cork unite to form one strong club that could compete on an even footing with the larger clubs in Ireland.'

And the boy Liam listened and always remembered it. But he too had his dreams .. he wanted to become a great runner, and compete in the Olympic Games. And so it came to pass that his dream became reality, and he became one of Cork's finest ever running sons, broke the Irish Steeplechase record, ran several times for his country, and competed in the Olympic Games and World Championships. But he never forgot Fr. Liam's dream, and the passage of time gave the idea further urgency and meaning.

And, as is the way of his religion, Fr. Liam was called again by God, and asked to say goodbye to his friends in Midleton, and the base he had built there, and go to pastures new. And, as was his style, Fr. Liam put little-known places on the map by means of the twin tools of sport and persuasion. And when superstars like John Walker and Steve Ovett looked at their itinerary, they found that their next date after Oslo and Stockholm was a mile race in Tullylease. (And the people of Dromina found themselves witness to Jerry Kieman dashing 10 miles around their locality in 46 minutes odd, not once, but twice. But we digress from the East Cork story).

ONE BANNER
The emergence of East Cork Athletic Club in national athletics has been a story of inexorable progress. The basic concept of the club was for the nine senior clubs in the area to amalgamate at senior level under the one banner. The juvenile sections of the existing clubs would then act as feeders for East Cork A.C., continuing in existence. The club, by the very nature of the county, (Cork is the largest county in Ireland) draws its members from a huge radius. From Youghal, in the East perimeter, to Carrignavar, is a distance of roughly 45 miles, with a north to south range stretching from Watergrasshill to Cobh.

Liam O'Brien was not alone in holding the view which Fr. Kelleher so vehemently expounded all those years ago, that none of the clubs in East Cork would ever be strong enough, individually, to challenge for the bigger spoils. The evidence was utterly convincing. From the foundation of BLE, in 1967, until 1985, only two clubs - Leevale and St. Finbarr's, had ever won the Cork Senior Cross Country Championship. The view from the city was that the county clubs were a soft touch.

Tony O'Leary, the enduring image of Leevale A.C., welcomes the emergence of East Cork, and the gauntlet they have thrown down. He argues that the shock defeats by East Cork in 1985 and 1986 catapulted Leevale to muster their resources, and regain 'their' property again in 1987. Competition is the great elixir.

O'Leary, monitoring the pulse of the county, points to East Cork as being the only growth area in Cork athletics. Certainly the decline in the once great Leevale's fortunes is quite alarming.

The members of East Cork are sensitive to accusations that they are a club of convenience - a club devoid of identity. Where is the clubhouse? Where is the focal point? As with any club that draws from a large hinterland, identity is a problem. Midleton CBS is technically the club's headquarters.

It is here that the athletes meet and train and the officials hold their meetings.


HOLDING THEIR OWN
Barry Moran, a club official and athlete, is adamant that 'the club do not want to be seen as an elitist club.' He points to the range of standards in the club. Certainly the story of his first marathon - (Cork, 1981) - will strike a familiar chord with many.

Barry approached what he thought was the finish line - it was actually the 26 mile mark, and he was so disgusted to find that he was not quite finished, that he just sat down on the road for half an hour, before trudging the final 385 yards.

Without doubt, the spirit of those involved in the club is infectious, and it is on this that the club is building its future. Ironically, yet another Liam O'Brien is the club chairman - Father Liam O'Brien. If Liam O'Brien the athlete is the Pied Piper among the athletes, it is Fr. Liam O'Brien who is the driving force administratively in the club.
The club has a social outing of some sort every month, and this is viewed as vital for club spirit. Amazingly, among the 60 or so members of the club, there is only one member who takes a drink. But sure everybody knows that chairmen have to be able to hold their own in any company .. . It's part of the job. There is also a regular club newsletter, with news items ranging from race results and fixtures, to Barry Moran's heroic efforts to recruit athletes for the club, prior to his clobbering the wall in the Dublin City Marathon.
In deference to the wishes of the originators of the East Cork concept, the senior clubs from which they wish to draw members, Midleton, Carrignavar, St. Conans and the rest all continue to exist. A lot of athletes have opted to stay with their home parish club, rather than join East Cork, Sonia O'Sullivan's decision to stay with Ballymore-Cobh being the most obvious. It is a soul-searching decision.
ROAD RELAY TRIUMPH
From another perspective, the fact of many athletes leaving the local Eastern clubs, and joining East Cork has further weakened them, and rendered team competition against the might of East Cork, in that area, virtually meaningless. (Hopefully any ill feeling that may exist will subside, and individuals will at least feel free to join whichever club they like).
This year, in Loughrea, an East Cork team comprising of Brian Meade, Donncha O'Mahony, Jerry Wallace, Liam O'Brien, Laurence McCarthy and Tom Walsh won the National Road Relay, an unprecedented and magnificent achievement. It marked the culmination of the clubs rise. This is good for the sport. It re-invigorates it and breaks the Donore - Clonliffe monopoly.
Liam O'Brien, the athlete, holds the view that in many areas of the country clubs should be regionalised, to promote competition, and help improve standards. He has a point and it is worthy of the most meaningful debate.
And, seemingly to improve the already good wine, the Lord has intervened again, and directed Fr. Liam Kelleher back to East Cork, to the parish of Inch. What effect is this going to have? A very significant one, if the past is any indication. After all, one dream has already matured. As we drove back from Cork, on a beautiful Sunday evening, we wondered if Said Aouita and Steve Cram were yet aware that they would be clashing in the mile in the Inch Sports, at the opening of the local Tartan track next year...
THE LIAM O'BRIEN FACT FILE
Date of Birth: 11th October, 1954. Height: 1.78m - Weight: 147 lbs. Club: East Cork A.C.
Job: Secondary School Teacher. Self Coached.
Steeplechase
1974: 1975:
1976: 1977:
1978: 1st 1979: 1st
1980: 1st 1981: 1st
1982: 3rd. 1st B. Quinn. 2nd G. Bany. 1983: 1st 1984: 1st
1985: 2nd 1st B. Quinn 1986: 1st
1987: 1st
Record in BLE National 3,000m
400m Hurdles: 57.3.
• Irish international at track, road and cross country.
• Winner of a record 8 Irish Steeplechase titles.
• Competed in 1984 Olympic Games and was a semi-finalist there.
• Competed in 1987 World Championships.
• Won first ever BLOE U.16 steeplechase title.
• Since formation of BLE/BLOE in 1967 has won a National medal of some sort (team or individual) every year including 1988.
• Has won Cork titles at every distance from 400m to 5,000m including 400m hurdles and steeplechase.
Track
400m: 50.5 800m: 1.50.5 1,500m: 3.44.6 3,000m: 7.58 5,000m: 13.36.
Mile: 4.00.8.
3,000m steeplechase: 8.27.24.
Road
10k: 29.20 10 miles: 47.57 Half Marathon: 67.22. 15 miles: 77.38.
PERSONAL BESTS
Typical Week's Training in Winter (January - April)
Monday: a.m. 4 miles p.m. 2 hour run (16 - 18 miles)
Tuesday a.m. 4 miles p.m. 43 minute hill session
Wednesday a.m. 4 miles p.m. 1 3 miles Thursday a.m. 4 miles p.m. 5 x 1,000m with 2 minutes recovery Friday a.m. 4 miles p.m. 13 miles Saturday a.m. 42 minutes Hill session p.m. 4 miles
Sunday: Race or orienteering.
• For summer training replaces Tuesday, Thursday and Saturday session with track workouts.
• Takes two weeks off completely in September and 'ticks over' until end of December.
• Dislikes framing and does not keep a diary.
• Hates front running, preferring to use his finishing kick. Ambition in every race is 'to win by the least possible margin'... 'Would prefer to win a mile in 4.10 than finish 4lh in 3.55.'
• Does not do any specific steeplechase training.'
JOHN WALSHE — Race Organiser and Part-Time Farmer
It is difficult to evaluate what motivates a race organiser. What class of vocation is this that persuades a man to tolerate the work-load and sheer hassle of putting on a foot race on tarmacadam.

Ballycotton's John Walshe is no ordinary race promoter. He is arguably the best in the country. At home, John Waishe is a farmer.
He was bom into the land, and he loves its moods and murmurings. He is, one suspects, an eccentric farmer - his eccentricity being that he also finds time to be a dedicated long distance runner. He is a good one too. He has run 19 marathons, and is the owner of a 2:36:31 PB. He has also, one further suspects, an insatiable appetite for reading. At least two rooms in his house resemble an athletics library. Yet it is the front room that most attracts the eye. What are a photocopier, a results printe, stacks of entry forms, mementoes and prizes doing in the front of an East Cork farmer's house. This, (oh! ye of little understanding), is the 'office' of Ballycotton Running Promotions. The ordered nature of the room parallels the superb organisation at Ballycotton races. Walshe can put his hand readily on any piece of equipment or reference sought. Any praise and he is quick to lavish praise on his 'staff' ....the races
themselves do the best talking. The Ballycotton '10' held every year in early March is the biggest and best 'Ten' in the country. It preceded the running boom by a couple of years and will long outlive it. This race is John Walshe's baby. He has guided expertly its growth and development. Less known nationally, but equally popular with southern runners is the Ballycotton '5' mile ser.es - a package of 4 races held on the fourth Thursday of each month from May to August, in Ballyandreen, Shanagarry, Churchtown South and Ballycotton. Since the inception of the series, there have been 38 races. Some chap called Liam O'Brien has won 28 of these from 32 starts and hasn't been beaten since August 1981. Who provided us with the statistics? — some chap called John Waishe — seems to know a thing or two about road races. A lot of John Walshe's success as a race promoter has been his ability (and confidence) to delegate responsibility. Gather the right cabinet around him. How many race promoters compete in their own events — Walshe does. Nothing sums it up better than the quotation in this year's Ballycotton '10' programme ...
A STORY OF FOUR PEOPLE ... (Not members of Ballycotton Running Promotions)
This is a story of four people named Everybody, Somebody, Anybody and Nobody. There was an important job to be done and Everybody was sure that Somebody would do it. Anybody could have done it, but Nobody did it. Somebody got angry about that because it was Everybody's job. Everybody thought Anybody could do it but Nobody realised that Everybody wouldn't do it. It ended up that Everybody blamed Somebody when actually Nobody accused Anybody.
Related Articles
Irish Runner Magazine Archives


Subscribe to Irish Runner Magazine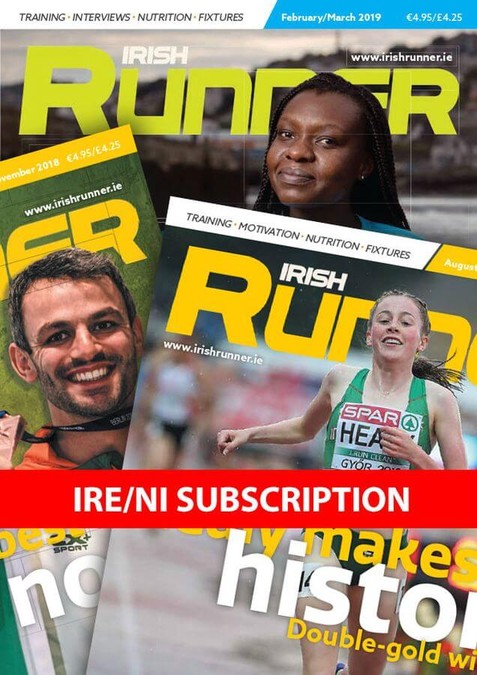 Covid 19 - Serious Training Issues
Serious Training Issues Arising During COVID-19

Cork Athletics County Board wishes to express its appreciation and thanks all its clubs and individual members - the overwhelming majority - for their co-operation, patience and adherence to HSE and Athletics Ireland guidelines and advice.
We are all hoping that normal club activity and competition can resume as soon as possible. However, the actions of a minority may delay these resumptions.
Since the start of the 'lockdown', the County Board has been aware that a small minority of members have been flouting HSE and AAI guidelines and advice, and undermining the lockdown strategy.
In the past week or two, some (again, it must be stressed, a small minority) have been seen to completely ignore both guidelines and the health and welfare of others.
A number of incidents highlight the low standards that a minority have shown publicly
1. Cork Athletics County Board has received a complaint from a member of the public (Not an AAI member) that a group, including a very well known figure, were training in a very public place, while maintaining NIL Social Distance, i.e. physically, and intentionally, touching.
2. UCC Sports Dept. has formally notified Cork Athletics County Board that, early on Wednesday morning last, a group of some 20 juveniles and 4 or 5 coaches were training on UCC Farm, in spite of the Farm being closed and out of Bounds to ALL persons.
3. Last week, an athlete was asked to leave UCC Farm, by a member of Management of UCC Sports Dept. The athlete then verbally abused the UCC Management representative.
4. Well known athletes have been meeting, in public, in large groups (6+) and posting this on social media
5. An Officer of Cork County Board observed a well known club athlete (who was with another runner, and not observing social distance), on a main suburban road, stop, deeply clear their throat, and then spit a mega 'Glugger' on the footpath.
As stated earlier, Cork Athletics County Board is aware of these, and other incidents and behaviours. Currently, the Board has discussed some of the incidents occurring, but is unable to properly meet and allow these athletes to appear before the Board, and apply due process. Nevertheless, athletes behaving in a manner such as above, are advised that charges of Bringing the Sport into Disrepute may be applied by Cork Athletics County Board and/or Athletics Ireland.
Editorial
All Athletics Ireland members, particularly well known and public figures MUST be aware that, as individual representatives and ambassadors for the sport of Athletics, must behave in a manner that reflects well on the sport of athletics, especially in a public place.
Wrt UCC Farm. The Farm is 'Out of Bounds' and anyone entering the facility is Trespassing. It is disappointing to hear of a club bringing Juveniles there during the week. Athletics Ireland insurance will NOT cover cases arising during trespass, nor will any other insurance the club may have. In such cases it is most likely that the individual coaches will personally carry all liability.
Please note also that routine weed-killing is currently being done on the Farm, so the facility is Doubly Out of Bounds.
Abuse of UCC staff, whether Grounds people or Management is simply UNACCEPTABLE under ANY circumstances.
Spitting may have been common among some runners before - it is NOT acceptable now. Please stop!
Please, please abide by the spirit of the HSE guidelines.
Related Articles
Re-Starting Clubs - Covid-19 Update May 9th 2020
Covid 19 and Long Runs or Long Periods in Public
Update - Athletics Ireland Events and Covid 19 Coronavirus - March 24th
Update - Athletics Ireland Events and Covid 19 Coronavirus - March 12th
Athletics Ireland Events and Covid 19 Coronavirus - March 7th
St Finbarrs Proud History - Irish Runner Feature April 1984
St. Finbarr's Proud History
by Michael Joyce
Irish Runner - April 1984, Vol 4, No 3, P16
St Finbarr's AC - Cork County Senior Cross-Country Champions 1983
Back L to R : Pat Ryan (Coach), Derek Cooney, Ritchie Crowley, Ricki Burke, Billy Horgan, Joe Hartnett, Reg Hayes (Team Manager)
Front L to R : John Buckley, Eric Crockett, Denis Manning, Eamonn McEvoy, Pat Kelly (Club Chairman), Pat Duggan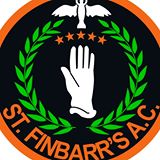 Eamonn McEvoy (May 2020): "As far as I can recall, this was the last time St Finbarrs won the Men's team in the Cork County Senior Cross-Country Championship. It was in Castlelyons, 1983, I think. It was six to score in those days. Denis Manning was third overall, and the other five scoring members were Ritchie Crowley Ricki Burke, Joe Hartnett, Billy Horgan and John Buckley. All were full Irish Internationals, except, ironically, Denis, but he had run in the World Military Cross-Country, as a member of the Irish team, as he was in the old FCA!

Pat Kelly was chairman of St Finbarrs, at the time, and was succeeded by Eamonn McEvoy in 1984! Pat Duggan was a well known Leevale runner who had just transferred to Finbarrs. Pat Kelly was the brains behind the great turnout on the day, Pat Ryan was coach, and Reg Hayes was Team Manager on the day
Irish Runner Feature



St. Finbarr's was founded in 1951, and had a number of temporary clubhouses in Cork City, until it built its own on the shores of the Lough, a ten acre natural lake on the Southside of the city.
In its 33 years existence, the Club has produced countless Irish champions, including Martin Lynch, Len Braham, Elaine Kelly, Mary Doyle, Joan Fleming, John Buckley, Richie Crowley, and the Crotty brothers, Jim, Tom and Eoin.
St. Finbarr's, and their Cork City rivals, Leevale, have totally dominated athletics in Cork over the past decade. In fact, for the thirteen years up to 1983, Leevale's men won the County Senior title, but December 4th, 1983 will be a cherished date in the minds of the 'Barrs, because, on that date, after a struggle, they took the coveted title for the first time since 1970. They had two survivors from the 1970 team on duty that day; John Buckley and Richie Crowley.
This year's Senior team has been spearheaded by the ever-so-consistent Denis Manning, and backed up by international steeple chaser Joe Hartnett, sub four minute miler Billy Horgan, club captain Ricki Burke, along with John Buckley, and Richie Crowley. The Senior ladies team have also had a good cross-country season, ably led by international Catherine Hourihane, who had a marvellous season. Former international, Marian Lyons, now the mother of two children, has made a great comeback, and ladies captain Joan Hough, along with mother of three, Rose Crockett, have helped make the team one of the leading sides in the country again. With the assistance of yet another mother, Mary Ryan, the ladies team won the Grade 'B' section of the all-Ireland inter-club cross-country championships, and were 5th overall.
Not to be outdone, the club's novice and intermediate mens' team have had a fabulous season. They took the team gold medals in the County Novice, and Intermediate, and Munster Novice, and Intermediate. Ricki Burke took individual gold medals in the County Intermediate, and Munster Novice Championships.
In the junior ranks, St. Finbarr's have an abundance of talent continually surfacing. Pat Beausang was 2nd in the County Junior, and third in the County Novice cross-country championships. Young Steven Gibbons won the National Community Games 1500 metres last year, while other youngsters in the club showing signs of greatness include Ciaran Comiskey (brother of U.S. based Terry), Michele Walsh, and her brother Barry, and Dave Murphy.
The Club looks forward to the coming track season, when they hope to have last year's National High Jump Champion, Bill Thierfelder back in action, and sprinter Terry Warrell from Trinidad. There is a lot more talent just beneath the surface too, and the club is confident of a good run in the Omega League.
The Club President is Reg Hayes, who is also Chairman of Cork County Board. Reg is the driving force behind the Cork City Marathon, and one of the most dedicated athletic officials in the country.
Club Chairman is Eamon McEvoy, a handy athlete, and a very popular figure in the club. In fact, any club athlete will tell you that the best thing about the club in recent years has been the friendly atmosphere which has prevailed, and the great willingness of the better athletes to help out and train with the novices. The club's jogging section, under the care of Barty O'Sullivan, has thrived in the past year, and Barty makes everyone welcome to jog along on Wednesday nights.
Club training is at 6 o'clock on Tuesdays and Thursdays, and 11 o'clock on Sundays. For the Summer months, the club w ill have the use of the Mardyke on Tuesdays and Thursdays from 6:30 to 7:30.
Related Articles
Irish Runner Magazine Archives


Subscribe to Irish Runner Magazine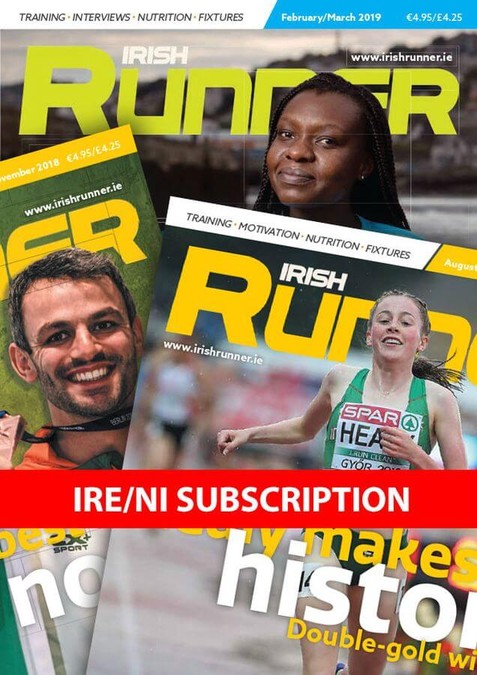 Cork Sports Partnership Launches 6 Week Online Couch to 3k Program
Cork Sports Partnership's Free 6 Week Online Couch to 3k Program - Starting Monday June 8th
Full Details of Cork Sports Partnerships Couch to 3k Program
Probably not of interest to most readers of this website, but lot of your friends, acquaintances and neighbours may have started running or walking during the current Pandemic - Why not offer them some encouragement!
Please pass this on to anyone you know who is thinking of starting, or maybe has already started to run/jog.
Cork Sports Partnership Couch to 3K programme is a 6 week programme aimed at encouraging and motivating people to take them from the 'Couch' to a 3k in 6 weeks.
This program is for people that are new to running, or are beginners to jogging or running. It's also open to anyone currently walking, but who would like to build up to jogging/running.
If you are looking to get fit and healthy in a fun and supported way then this is for you!
Start Date: Monday, 8th June 2020
Organised by Cork Sports Partnership, participants will work with a qualified and professional coach for the 6 weeks, while also being encouraged to do extra work themselves throughout. Participants will also receive workshops/extra sessions, where possible, during the weeks, on various topics. e.g. gear, warm-up/cool-down, etc, that will encourage and motivate them on their journey towards completing, perhaps, their first 5K. Participants will be encouraged to join the private Facebook group. This group will have regular posts on stretching, strength exercises & general running tips.

What's included:
Zoom sessions with a qualified coach
Couch to 3km Private Facebook Group for advice and tips



Places: There are Limited places available on this programme
Contact Details
Contact: This email address is being protected from spambots. You need JavaScript enabled to view it.

Phone: 0214347096 / 0867700588
Willie Hayes Wins National Dairy 25k 1982
Hayes Wins With Minute to spare
National Dairy 25k
Ennis
Sunday March 28th 1982

Willie Hayes in Coachford 5 2016
Photo: Joe Murphy
Willie Hayes, representing Cork (and St Finbarrs AC), at Munster Masters Road Championships, Moyglass, Tipperary, in 2013
Willie Hayes finishing Cork City 10 Miler 2016
Photo: Doug Minihane

Slight departure from Cork Athletics' normal coverage, which generally sticks to Cork events and athletes. This piece covers a win by St. Finbarrs AC athlete Willie Hayes, then running with Reenvanna Harriers. Willie has been a member of the Barrs, and Cork, for so long that he's really 'part of the furniture now', so we're really not breaking policy by reporting from 'outside the county bounds'

[Webmasters Note: I don't like the Irish Times reporters piece, which seems to take from Willie's achievement - It wouldn't be Cork Athletics style. However we are delighted, with this report of an emphatic win by Willie, to remind today's reader that Willie, who, almost 40 years later, is still a highly respected racer, and, in his prime, could 'mix it' with some of the best around!]


"William Hayes, Reenavanna, Limerick, a 25-year-old post office official, won the National Dairy 25 kilometre road race in Ennis yesterday. He completed the distance in 84 minutes, five seconds, over a minute ahead of Michael Culligan, Tulla, Co Clare, who came home In 85:12.
Although there was an entry of over 90, most of the leading distance runners, including last year's winner, Robert Costello, of Limerick, were not in the race, due to coming marathon commitments in Galway and Cork.
Nuala Logan, of Limerick AC, was the first woman competitor to finish in 110:36; second was D Nugent (Doina Nugent) of Galway."

Results
Irish Times Report - Monday March 29th 1982

1. W Hayes (Reenvanna) 84:05; 2, M Culligan (Tulla) 85:12; P Mulkern Ballina 85:17; 4, P Kerrigan (Mallow) 86-35; 5, C Ryan (Premier) 86:16; 6. R Burke (Croom) 86:37; 7. M Thompson (Reenvanna); 8, T Madden (Emerald); 9, J Murray (Reenvanna); 10 N Fitzgerald (Loughrea).



Munster Inter-Club Race




1. Reenvanna 15 points; 2. Tulla 24; 3, Mallow 34; 4, Limerick 39; 5, Marian, Ennis 64.
KBC Dublin Marathon 2020 Cancelled
Dublin Marathon 2020 has been Cancelled
Tuesday May 19th 2020
Following last Thursday's a review of current conditions, particularly COVID-19, the organisers of the KBC Dublin Marathon have taken the expected, and prudent, decision to cancel this year's event. The Marathon, scheduled for Sunday October 25th, had sold out in days, with a 25,000 strong entry, including an estimated 15,000-plus entry from abroad.


Athletics Ireland National Marathon Championship 2020

The event also included the 2020 Athletics Ireland National Marathon Championship.
As of 10:45am, Tuesday May 19th, No statement has been issued by Athletics Ireland, however this is part of the KBC Marathon information posted at 10am today:
"As a result of the 2020 KBC Dublin Marathon cancellation, Athletics Ireland can confirm that the 2020 National Marathon Championship scheduled within the event has been cancelled. All athletes entered in the 2020 National Marathon Championship will automatically have their entry deferred to the new 2021 event as detailed by KBC Dublin Marathon."
"The organisers considered many alternative approaches in event planning to make running the KBC Dublin Marathon and Race Series with appropriate social distancing possible. However, after careful consideration, the difficult decision was made by the organisers to cancel both the KBC Dublin Marathon and Race Series. It was a decision made in the best interest of the health and wellbeing of runners, supporters, volunteers, sponsors, suppliers and all those involved in making the running of these events possible.
Will my place for the KBC Dublin Marathon still hold for 2021?
Yes, your entry for the 2020 KBC Dublin Marathon will be valid for the 2021 race.
Is there a refund option available for the KBC Dublin Marathon?
For those who do not wish to keep their entry place in the 2021 KBC Dublin Marathon, a refund option will be made available up to 18th June 2020. The refund will be available on "Manage My Bookings" from your entry confirmation link.
I missed a lottery entry place in 2020 will there be any chance of getting an entry into 2021 race?
Details regarding the potential reallocation of lottery places as a result of refunds will be made in early 2021.
What will happen to the national championships?
As a result of the 2020 KBC Dublin Marathon cancellation, Athletics Ireland can confirm that the 2020 National Marathon Championship scheduled within the event has been cancelled. All athletes entered in the 2020 National Marathon Championship will automatically have their entry deferred to the new 2021 event as detailed by KBC Dublin Marathon.
Will my entry for the KBC Race Series still hold for 2021?
Yes, your entry for the 2020 KBC Race Series will be valid for the 2021 KBC Race Series.
Is there a refund option available for the KBC Race Series?
For those who do not wish to keep their entry place in the KBC Race Series, a refund option will be made available up to 18th June 2020. The refund will be available on "Manage My Bookings" from your entry confirmation link.
Will there be a virtual run instead?
The organisers are currently exploring options and will make an announcement regarding this in the coming weeks."
Cork City Marathon Announce Virtual Series as 2020 Race is Cancelled
Cork City Marathon 2020 Cancelled - Virtual Race Series Announced
Friday May 29th 2020
(Pre-COVID-19) Photo by photographer Cathal Noonan

In a message to Cork Athletics PRO, Rebecca McEvoy, Cork City Marathon Organisers said:"As the list of cancelled events continues to grow due to covid-19 situation, The Cork City Marathon 2020 has brought a whole new meaning to their theme 'more than a marathon' where registered attendees are now being encouraged to run together, by running apart with their virtual race series starting this Sunday May 31 (the original date of the 2020 marathon) until September 6 (which had been the rescheduled date).
Announcing today, in the release below, that this year's race is cancelled, registered participants can still take part in what is 'more than a marathon' with cumulative virtual runs kicking off this Sunday. The beauty is that they can choose when and where they do it during the dates.
The release below explains in more detail, but I'm sure everyone will find it's a fantastic way to keep the community engaged and healthy, both physically and mentally, during this time."
Press Release
Cork City Marathon Organisers Launch Virtual Race Series as 2020 Race is Cancelled
All is not lost for those who had registered to take part in the Cork City Marathon 2020. Now in its 14th consecutive year, the marathon is moving online for 2020 in an unprecedented approach for Cork City Council and the race organisers, as a direct response to the current climate. They made the difficult decision today, to cancel this year's race which had been rescheduled to take place on September 6th.
Never has the marathon theme for the last number of years, 'more than a marathon', been more apt in that Cork City Council are calling on those who had registered to run for their chosen charities, to use the marathon's virtual races as an opportunity to run together, by running apart, in whatever manner participants can with the current guidelines in place. All the while, supporters can continue to cheer on their friends and family across the Cork City Marathon social media channels.
The first virtual races will kick off this weekend on May 31st, during what would have been the official date for the marathon and will be ongoing throughout the summer until September 6th.
Speaking on Cork City Council's plans, Adrienne Rodgers, Race Director of the Cork City Marathon 2020 said; "We have made the difficult decision to cancel this year's event in the interest of the health and safety of our participants, volunteers and the thousands of Cork residents who have supported this great event over the last 13 years. The current restrictions on mass gatherings and activities only take us to August 10th, but cognisant of the existing advice, we don't believe it would be possible to run the event safely in its current format in September."
For those already registered for the 2020 marathon, all entries will be automatically deferred to the 2021 race, which will take place on the June Bank Holiday weekend – Sunday June 6th, 2021. Refunds are also available by emailing This email address is being protected from spambots. You need JavaScript enabled to view it.
While the Cork City Marathon will not go ahead on the streets of Cork this year, those who have registered for the 2020 race, are now being encouraged to instead, participate in what will be a series fun and engaging virtual marathon challenges where the focus will be on community spirit with a touch of competition.
Registered participants of the Cork City Marathon 2020 are encouraged to walk, jog, or run one of the five distance categories available through The Cork City Marathon virtual race website which goes live this Sunday May 31st. Participants can achieve their selected distance across a number of days or weeks within the race time period (safely and always following Government advice on Social Distancing). Their final accumulative race times can be submitted via an easy-to-use e-form which is available on the Cork City Marathon website. All the while, supporters can continue to cheer on their friends and family across social media.
"We are hopeful that everyone that had registered for 2020 will stay registered and will continue to show their amazing support for this race through the virtual races. We invite spectators who are not registered, to tune in to our social channels to cheer the registered participants on.
In 2021, we will be endeavouring to ensure that the Cork City Marathon will be the best yet while continuing to incorporate the virtual events." Ms. Rodgers added.
2019 Cork City Marathon winner, current Irish 50K champion and Irish record holder Gary O'Hanlon has given the virtual races his full support and backing and tells us; "This is a brilliant initiative that I'm delighted to be involved with, it will add a longer life strand to the marathon and gives people the opportunity to continue to reach their target of running a marathon in an unprecedented but very manageable way. It's going to sustain and grow the marathon community's involvement while continuing to make it increasingly accessible to all."
"I'm really looking forward to the virtual races and seeing the diversity synonymous with this marathon and the great human-interest stories that always emerge. Cork City Marathon has a special place in my heart, it really is more than a marathon, so I hope participants come out and support these virtual races across the summer," he added.
Find out more information about the virtual events at www.corkcitymarathon.ie or follow the Cork City Marathon on Facebook and Instagram @corkcitymarathon or on Twitter @TheCorkMarathon #MoreThanAMarathon
CIT Athletic Club Top of Class at 27th Annual CIT Sports Awards
CIT Athletic Club Honoured with Club of the Year Award
CIT AC took top honours, as Club of the Year, at the recent CIT Sports Awards. This is the first time in a decade that the club has received the accolade, having last won it in 2010.
In addition to the Club of the Year Award, CIT Lions, as the club is also known by, claimed the Supreme Achievement Award, along with three other individual awards.


This is the first time the club has captured the Club of the Year accolade, in the past decade, last winning it in 2010, and received the prestigious award following their performances, capturing four medals at the Irish Universities Athletic Association (IUAA) Indoor T&F Championships, earlier this year.


Individual Award Winners (Athletics)
| Forename | Surname | Club | Coach |
| --- | --- | --- | --- |
| | | | |
| Clodagh | Walsh | Abbey Striders | Eamonn Flanagan |
| | | | |
| Katie | Walsh | Carraig Na BhFear AC | Willie Walsh |
| | | | |
| Zach | Harrington | Cork Track Club | Ian O'Sullivan |
| | | | |
| David | Kenny | Farranfore Maine Valley AC | Robert Heffernan |
Supreme Achievement Award



The Supreme Achievement Award went to Mechanical Engineering student David Kenny (Farranfore-Maine-Valley AC), who is coached by Rob Heffernan.
Award Citation
The award for Supreme Achievement goes to David Kenny, for his outstanding achievements in
Athletics. A Mechanical Engineering student from Killarney, David came 1st in the Irish Universities Athletics
Association 2km Racewalk - Defending his title from last year making him the first CIT student to achieve such
an accolade. David smashed the long standing National Colleges record in the process.

In the 2 weeks after this David also became national champion over 2 other distances. David became national
senior indoor track 5km champion beating multiple times Olympians in the process. If this wasn't enough a
week later David became National 20km Racewalking Champion. Once again leaving multiple Olympians in his
wake. All of the above races carry important qualification points for next year's Olympics in Tokyo. David has put
himself as the firm favourite to qualify to represent Ireland in next year's games! David would be the first
member of CIT Athletics Club to achieve this amazing.

We wish him all the best on the road to Tokyo.

Some of this years highlights for David include: National Colleges Indoor 2km Racewalk Champion, National
Indoor 5km Racewalk Champion, National Road 20km Racewalk Champion and New Personal Bests over 4
distances. An unbelievable year for this young man and very deserving of this CIT Supreme Achievement
Award.
Clodagh Walsh

Award Citation
In recognition of her outstanding achievements in athletics, the next recipient of a CIT Sports Award goes to Clodagh Walsh. The Mallow Pole Vaulter is currently completing her 2nd year of Marketing. Since arriving in CIT Clodagh has excelled both in and out of the track.

A Sports Scholarship recipient and previous award winner, she has been a committee member of CIT Athletics club for the last two years, while also winning 4 gold medals at the IUAA Championships.

Last June, Clodagh won the Celtic International Colleges Pole Vault title. She backed this up by winning the Cork City International Sports Pole Vault title in July.

Since arriving in CIT Clodagh has been a great ambassador for the athletics club. On multiple occasions she has coached juvenile athletes from across the county in all aspects of the sport.

Clodagh's 19/20 achievements include: Intervarsity Pole Vault Champion, Celtic International Colleges Pole Vault Champion, Cork City International Sports pole Vault Champion (New PB 3.75m & Intervarsity Outdoor Pole Valutr Champion

Katie Walsh
Award Citation
Katie is currently completing her 2nd year of Chemical Engineering. She has been a leading force in the CIT Athletics club this year, which finished 5th place overall, in the 2020 Indoor Intervarsity's. A native of Cork City, she is an accomplished combined eventer both in Ireland and Internationally.

Katies was nominated for this award by her club mates for her unwavering commitment. She never missed a competition, but most of all she welcomed and encouraged beginners and new members to try the sport.

Always the first to put her hand up. Last year Katie was one of the lead coaches on the first ever CIT Athletics Summer Camp. Showing her in depth knowledge of all disciplines to the next generation of athletes.

Katies achievements include: National Indoor Combined Events Champion. National Indoor Varsity Combined Events Champion. 2nd place in both the National outdoor Varsity High Jump and Celtic Colleges International High Jump.
Zach Harrington
Award Citation
Zach is a 4th year Structural Engineering student from Enniskeane, Co.Cork.

Zach receives this award today for his commitment and drive for not one club but two, CIT Orienteering Club and CIT Athletics.

When Zach arrived as a Fresher to CIT. he already was well established on the Orienteering scene, receiving one of our first ever scholarships for the Sport. However, there was no club at the time. Zach took it upon himself to establish the CIT Orienteering club and over the last few years has been the absolute driving force of the Club. Numbers, training and competing have grown year on year and that is no small part due to Zach's efforts over the last number of years.

Not only has Zach, set up, established, promoted and been the key driving force of the CIT Orienteering Club, but is also the leadman for CITAC . He placed 2nd in the County Cross Country Championships. Was also CIT AC Men's captain for
the MUAA Road relays, MUAA Cross Country Relays & the IUAA Road Relays.

Zach has ran new personal bests over 800m, 3000m, 5Km & 10Km this year.

Zach has been nominated for this award for his commitment to both Athletics & Orienteering clubs as he flies the CIT flag both at home and abroad. He is an outstanding student athlete and we wish him well for the year ahead.
Leevale Seek The Limelight - Irish Runner April 1984
Leevale Seek The Limelight
By BRENDAN MOONEY
Irish Runner Vol 4, No 3, April 1984, P16-18
Leevale Group in Dalton's Avenue Clubhouse

Famed Shandon steeple, Cork's friendly liar, casts its long shadow across the doorstep while merely the putt of a shot away the River Lee slows to a restful pace having all but reached its destination. Leevale Athletic Club has finally found its roots in the area that gave it its name . . .

THREE times National League Champions, Leevale AC has produced a host of record breakers and international stars, and pioneered Ireland's entry into European interclub competition. By its own standards, the club has gone through lean times of late, but the new premises, purchased at a cost of £40,000 coincides with a new spirit within the ranks, and a determined drive to decorate the new sideboard.
The new clubhouse is next door to Cork's new multi-storey car park, and is situated at the top of Dalton's Avenue, adjacent to Lavitt's Quay — an ideal location right in the heart of Cork City.
It provides the club with every facility — 4,000 square feet of gym, committee rooms, showers and a sauna. Before next September, the Club will have spent a further £12,000 in internal reconstruction, and the provision of facilities that will include special nets to enable shot putters and discus throwers to practice indoors, and also facilities that will cater for the wheelchair athletes attached to Leevale.
To help pay for this project a 10-year membership scheme is offered at a cost of £200. The club hopes at least 60 members will avail of the scheme and the response, even at this stage, has been enthusiastic.
The move from Ballinlough to the city centre has ushered in another new era for Leevale. The club was formed in 1966 ,when agreement was reached on the amalgamation of city-based Fr. Matthews AC and suburban Hilltown AC. The amalgamation was significant in two respects. It brought together a formidable squad of senior athletes, and provided the new club with a top class team of dedicated officials.
The rise to fame was swift and spectacular. By 1969, the club had won Irish youths and junior men's titles, and the ladies followed suit, by winning the national intermediate title in 1972. The senior men took a grip on the Cork county championship that ran right through to the season just past. They won the Quinlan Cup in Tullamore in 1970 and 1974, and were runners-up in 1968, 1969, 1972 and 1973.
Liverpool

By 1968, they had begun to pursue their fortunes abroad, and, that year, and in 1969, they were runners up in the Waterloo Road Races, in Liverpool. In 1970, they succeeded in winning the Liverpool Post and Echo Trophy. It looked just a matter of time before they would take the national senior inter-club cross-country title, but this honour has eluded them to this day. They finished second several times — again this year, when they were rank outsiders at Kilmacow.


Front row L. to R.: Jerry Murphy, Dick Hodgins, A. Leahy, Donie Walsh, Tony O'Leary.
Back Row L. to R.: Michael Harte, (Vets), G.Horan (Junior), C. Forde (Schools), Dave Murray, Michael Walsh
Out of this early swell of enthusiasm, exploded a new star who was to epitomise the spirit from which the club blossomed. Donie Walsh quickly made his mark on distance running, and was soon to achieve distinction further afield as a key figure in Jumbo Elliot's Wildcat squad, at Villanova.
His amazing record in cross-country running began when he finished sixth in the nationals in 1968. He then left for Villanova, but returned to win the national title in 1973 and 1974. He was second in 1975, won again in 1976, was third in 1977 and won in 1978. He was fourth in 1979, the year he won a silver medal with the Irish team, at the world championships in Limerick, and he finished fifth the following year.
He won national 10,000 metres titles in 1970 and 1971, was second in 1972, and won again in 1973, 1974 and 1975. He set an Irish record when he ran 28:52 at the European Championships in Helsinki, and, the previous year, he was fourth in the world university games. He won the National Marathon Championship title in Athlone, in 1972, and represented Ireland in this event, at the Olympic Games in Munich that year.
The national track and field leagues got under way in 1973 — a time when Leevale had a host of internationals to draw from — Frank and Bernard Walley, and Finbarr Jeffords in the sprints. Dick Hodgins, who won the National Marathon title in 1975, steeplechaser Pat O'Riordan, triple jump record holder Colm Cronin, long jump champion Mick O'Flynn, National 110m hurdles champion, Seamus Power, Javelin record holder Pat Moore, and shot putt champion Brendan Coughlan.
New talent emerged in the form of athletes like high jumpers Brendan Cronin and Dave Murray, who was subsequently to dominate this event, and they won the league title in 1973, 1974 and 1975. As champions, they represented Ireland in the European inter-club championships in Rieti and Wolverhampton.
Athletes achieved remarkable success in a short time and, while the club always prided itself in the honour this brought it, it worked against them in some areas for the drift to America drained them of many top performers. Apart from Donie Walsh, several others crossed the Atlantic.
Kieran O'Donovan went out, and many others followed suit. Marcus O'Sullivan and John Hunter were on the Villanova team that set the world record for 4 x 800 metres, while Ger O'Callaghan went to Nebraska. Noel Shannon went to East Tennessee, Leonard O'Regan to Louisiana, Sean O'Flynn and Niamh Walsh to the University of Richmond, and at least two more will travel out next Autumn.
Women internationals also flourished in the club. Fionnuala Morrish, Joy Murphy, Anne Jeffords, Niamh Walsh, Carol Leahy, Anne Leahy and Marie Buckley all represented Ireland at senior level, while Tina Hegarty, Patty Delaney and Carol Forde were schools internationals, and Deirdre Murphy, an outstanding all round athlete and schools international both in sprints and hurdles is a recent addition to the squad.
Other athletes like Moss Finn, Michael Kiernan and Jim Bowen, who have made their mark in international rugby, were sprint champions with Leevale, while G.A.A. stars like Danny Buckley and young Barry Coffey, also competed and continue to compete in the black and amber. International canoeist, Sheila O'Byrne is also a club member.
Facilities
The Year of the Disabled saw a number of wheelchair athletes avail of the club advice or facilities, and this number continues to prosper with international stars like John Twomey, Cathy Dunne-Fitzpatrick, and Kay McShane leading the way. They train with the club, and, with the new facilities, it is hoped that the numbers will increase.
On any one night 110 athletes will assemble at the club premises, while upwards of 200 juveniles will take part in the evening training sessions during the summer months. But the club refuses to project the juveniles.
"Our aim is to develop the young athletes, not just to be good senior athletes, but in such a way that they will be able to enjoy the sport for the rest of their lives." Finbarr O'Brien explains. "It's not the end when an athlete retires. Leevale caters for all aspects of the sport, and for all athletes." He points out that a referral system has evolved in the coaching of athletes. When an athlete joins the club, he or she is assessed and referred to the coach most suitable to his needs. The athlete is given an opportunity to try all the events. "The problem arises when a 20 stone man decides he wants to do the marathon." he adds.
At each session, nine of 12 coaches will be involved, at the different levels and different age groups. The running boom has brought an added but welcome strain on the club, and joggers are now an integral part of the club.
Finally, we leave the last word to founder member and current club chairman Kevin Barry.
"The great strength of Leevale is that it has a group of dedicated officials, many with family commitments, who are prepared to give of their time and energy, to insure that the present generation of Leevale Athletes will be instructed in the most up-to-date methods of training possible, in the event most suited to them. But more important still that, no matter how talented or limited a member's ability is, their own personal goal or achievement is more important to us than anything they can achieve for our club.
Anyone wishing to join the club should come to our club house at Dalton's Avenue, off Cornmarket Street any Tuesday or Thursday night 7:30 p.m. — 9:00 p.m.



Related Articles
Irish Runner Magazine Archives


Subscribe to Irish Runner Magazine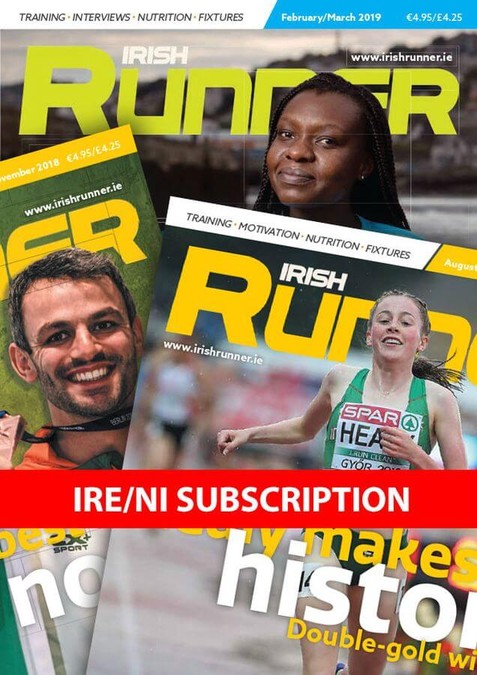 IOC President says Olympics will be Cancelled if Not Held in 2021
IOC President, Thomas Bach, has acknowledged that Tokyo 2020 will be cancelled if the Olympic Games are not held in 2021



IOC President, Thomas Bach and Tokyo Olympic Stadium

Photos: Getty Images

Speaking to BBC earlier today, almost two months after Tokyo 2020 and the IOC announced the postponement of the Olympic Games until next year, IOC President, Thomas Bach, acknowledged that Tokyo 2020 would be cancelled should the Olympic Games not be held in 2021

BBC Article, with video of interview with IOC President, Thomas Bach

Mr. Bach said that different scenarios are being considered for the postponed event, due to the potential impact of COVID-19.

The Games are now due to take place from July 23rd to August 8th 2021, with the Paralympic Games following after that, from August 24th to September 5th 2021.

Last month, Japan Medical Association President, Yoshitake Yokokura, said that it would be hard to host the Games without a vaccine in place.

Bach has repeatedly sought to damp down speculation about various scenarios, telling the BBC the organisation is relying on experts, saying "For this question, we are relying on the advice of the World Health Organization."
"We have established one principle: to organise these Games in a safe environment for all the participants."

"Nobody knows what the world will look like in one year, in two months."

"So we have to rely on (experts) and then take the appropriate decision at the appropriate time based on this advice."

Bach said that he understood Japanese Prime Minister Shinzō Abe's view that next year could be the "last option" to stage the Games.

"Quite frankly, I have some understanding for this, because you cannot forever employ 3,000, or 5,000, people in an Organising Committee"

"You cannot every year change the entire sports schedule worldwide of all the major federations."

"You cannot have the athletes being in uncertainty."

"You cannot have so much overlapping with a future Olympic Games, so I have some understanding for this approach by our Japanese partners."

"We have to be prepared for different scenarios."

"There is the clear commitment to having these Games in July next year."

Bach said that scenarios concerning health measures were also being assessed, saying on NBC Sports that the IOC needed to consider whether rules might be necessary to ensure access to Japan next year.
This might involve quarantines for athletes, and setting attendance limits. Mr. Bach said that these scenarios were part of the "mammoth task" facing Games organisers, saying that decisions would be taken at an "appropriate time", after advice from experts.

He emphasised that the IOC didn't want to hold the Games behind closed doors.

Last week, €600 million was set aside by the IOC, to auid the organisation of the re-arranged Games, although Tokyo 2020 organisers are still assessing the postponement costs.

The IOC has also set aside an "aid package" €137 million, to help International Federations (IFs).
This fund could be used to provide loans and advance payments on revenue shares, and will be decided after an assessment of needs, and on a case-by-case basis.
CEO

of the Tokyo Olympic

Speaking today, Toshiro Muto, CEO of the Tokyo Olympic organizing committee, spoke about the need to take "countermeasures" to combat the coronavirus at next year's postponed games. Mr. Muto acknowledged talk about holding next year's Olympics 'behind closed doors', but he didn't confirm that this will happen.

He was reacting to a BBC interview in which International Olympic Committee President Thomas Bach said an Olympics without fans "is not what we want."

speaking through an interpreter in an on-line news conference"Regarding president Bach's remarks," said Muto, , "there are other people in Japan as well that (believe the Olympics) need to take place behind closed doors. However, our point of view is that we have more than one year until the games take place. And we think it's too early at this point in time to have that discussion."


"Obviously, we are aware that it will be inevitable to have some sort of countermeasures for Covid-19 when we hold the Tokyo Olympic Games and Paralympic Games next year," "This is all we can say at this point in time. For detailed questions about specific countermeasures for us to take, it may not be the right timing to answer."
Cork City Sports 1992
NIKE CORK CITY SPORTS '92 - Leeside Revival

Ray Shanahan

Irish Runner Magazine, Vol 12 No 4, P46 July 1992

Irish Runner Magazine - July 1992, Vol 12, No 4, P46
Friday, 3rd July, 1992 is the date for the 42nd Nike Cork City Sports. It promises to be another exciting chapter in the history of the event.

There have been ups and downs in the last twenty years of the Sports. Highlights would have been the marvellous 3:56 mile of John Hartnett, on grass, a sub 3:50 mile at the present track and, of course, the world record hammer throw of Yuri Sedykh. There have been disappointments too, most notably the cancellation of the Sports, in 1989, and 1990, as the economic downturn affected sponsorship. 1991 saw the revival of the meet with an evening of classical racing, which included an Irish mile record for Aisling Molloy, and a sub 4 minute mile, which made Niall Bruton the youngest Irishman to break that magical barrier.

This year, under the sponsorship of Nike, the Sports encompass a Triangular International between Ireland, Russia and a British team selected from Southern Counties AAAs. As always, there will be a generous sprinkling of international athletes, with strong representation from Birchfield Harriers.

In many respects, the Cork City Sports meet is quite different from others in Ireland. To begin with, it is not organised by any club, although most members of the Cork City Sports Committee have strong ties with the sport. For years, the driving force was the late John O. Jagoe, the Cork businessman who dedicated unlimited time and energy to the promotion of the Sports. Today, the committee is a useful mix of business and athletic experience, geared only to the holding of one meet each year.

As its name suggests, the event is one which involves many aspects of life in Cork City. Patrons include the Lord Mayor of Cork, the President of University College Cork, and the General Officer in Command of the Southern Command. In a novel move, a decision was taken to donate the gate proceeds to the Cork Diocesan Mission in Peru and Chile. The connections generated have done much to elevate the Sports in the public view.
Women's Mile Presentation - Cork City Sports 1991


Sponsorship, inevitably, is of vital importance. The involvement of Nike, the international sportswear company, as overall sponsor is of immeasurable value. Equally important, however, is the contribution of major sponsors Buckler. Last year, one of the meet highlights was the clash between Aisling Molloy and Sonia O'Sullivan, which resulted in both breaking the old Irish record for the women's mile. Biggest cheer of the night, however, was reserved for the Buckler 5000m, where the evergreen Liam O'Brien outpaced Noel Berkeley, with his familiar finishing kick. But Buckler is not alone. A quick flick through the programme shows the importance of the involvement of the Imperial Hotel, Coca Cola, Merchants Quay Shopping Centre, Birmingham European Airlines, and the E.S.B. Without such involvement, it would be impossible to hold an international event.

Notwithstanding its involvement with local institutions and sponsors, the approach of the Cork City Sports Committee has always been outward looking. Links with Birmingham and Birchfield Harriers go back to the days of the old Drapers Sports in 1928. The connection with the old Soviet Union saw the likes of Yuri Sedykh and Sergei Litvinov competing in the mid '80s. Villanova University and the US Army Team represented the United States on many occasions. In -deed the Cold War had not thawed at the time that Sedykh lifted the American trophy!

The timing of this year's event will be crucial in the plans of aspiring Irish Olympians. Local favourites Marcus O'Sullivan and Sonia O'Sullivan will be fancied in the Nike 1500m and City of Cork 3000m, respectively, but competition will indeed be formidable.

Subscribe to Irish Runner Magazine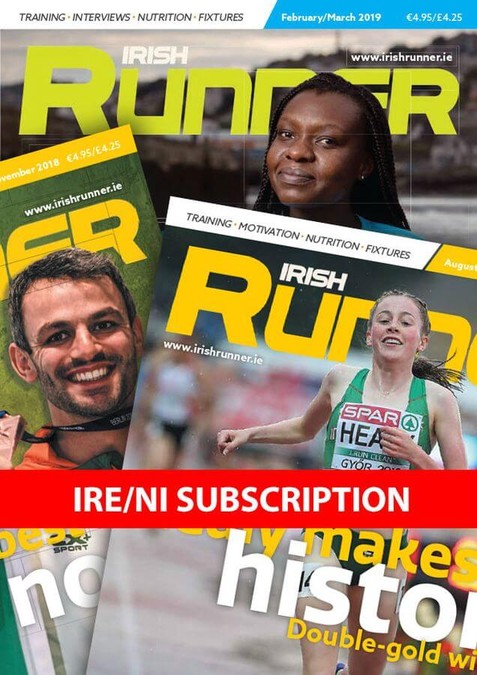 Irish Runner Magazine - Marcus O'Sullivan - July 1986
Marcus O'Sullivan - Cork's Crown Prince

Irish Runner Magazine, July 1986 - Vol 6, No 5, P8-11
Marcus O'Sulluvan at the Mardyke, Cork



Marcus O'Sullivan featured on Cover of Irish Runner Magazine, July 1986


It was on the nightly bus ride home to Cork City, from the boat yards of Kinsale, where he was learning the fisherman's trade, that young Marcus O'Sullivan first came to terms with his true athletic potential.

During those long bus rides, the then young school-leaver began to think seriously about his future, and what he might do to change his life before it was too late. He remembered the words of advice from Donie Walsh, the highly
acclaimed Cork runner, who had earned a scholarship to Villanova University, from North Monastery C.B.S.
Page 8, Irish Runner Magazine, July 1986

"Donie kept telling me that, if I could get down my times for the 1,500m and, the 5,000m, he might be able to get me into Vilianova, but I never really saw myself going away from Cork. This was where I lived, and this was where I wanted to stay and make my life," O'Sullivan recalled recently.

Then, however, he began to wonder what would be the benefit of this fishing course, when he could never see himself being a man of the sea. The more he thought about Walsh's words, the more he would think about the possibility of getting a scholarship, and the more exciting would be those bus rides home in the evening.

Suddenly there was a new purpose in his life, he wanted to start training on a regular basis again, just like he did

during his final years at Chríost Rí, when he won several local schools' titles, and built up a reputation for himself as both a cross-country and track runner.

Marcus was only 14 when he first joined Leevale A.C., where Walsh was his hero. In the spring of 1980, Walsh proposed the National Junior 5,000m title as O'Sullivan's target. Marcus duly won that title in Tullamore, outsprinting the better fancied Brian O'Keeffe of Donore. Jumbo Elliott, the popular coach in Villanova, was impressed by Walsh's description of his pupil's victory, but unfortunately the college had allocated all their scholarships for that year, and there was no place for Marcus.

"When the word came through that I had not made it you can imagine my disappointment." Less than a week later a second letter arrived, this time bringing the glad tidings. An athlete who was due to go to Villanova had changed his mind, and now O'Sullivan had received the first real break in his athletic career.

That break would not have come, however, were it not for his own ability to grasp a realisation that, unless he applied himself to the necessary training, he might be spending many more years riding that bus to Kinsale.

When Marcus said goodbye to his family and friends in September 1980, to take up his Villanova scholarship, there was every reason for optimism among all concerned, for here was a talented athlete, who would surely make good. A few improvements came in the first year, but nothing of any real note. Then he began to have trouble with his knee during the second year, and, once more, progress was slow.

The third year was a little better; when he broke four minutes for the mile, in February '83, at Madison Square Gardens, all his friends in Cork gave a special cheer, and began to say, 'I told you so.' That progress, however, did not continue to the same degree for the subsequent months, and, once more, it was time for assessment of Marcus O'Sullivan the man, the athlete, the competitor.
Once more it was time for honesty, and, once more, he faced the facts squarely. "I made a number of foolish mistakes." he says with refreshing candour. "I threw away those first three years of my scholarship at Villanova. I lost sight of what I should be doing, and what I really set out to do when I first left Cork.

"I did a certain amount of training and study, but never reached the maximum of my capabilities. During that time I never got the results which other athletes, of less potential, manage to achieve. Perhaps it went back to those days in Cork when I made up my mind to try and get to Villanova, but, once I had achieved that, failed to give of myself to improve still further."

RETROSPECT
In retrospect, the death of Jumbo Elliott, just a year after Marcus arrived in Villanova, was a possible reason for his failure to maintain any kind of significant progress.

As the 1983 outdoor track season was about to commence, he began to look critically at himself. Leaving the injury problems aside, he was not very happy with what he saw. He recalled riding the bus to and from Kinsale — if he was to continue in this way, his athletic life would soon pass by, and very few would notice.

He began to pick up the pieces with a new urgency, started to get out for an early morning run, something he had only very occasionally done in the past; he was one of the first down to the track in the evenings for training.

It was a bit late to start thinking about making the Irish team for the '83 World Championships in Helsinki, but during that summer he broke four minutes outdoors for the mile for the first time, with 3:56.65. "When I ran that time I realised, more than ever, what was possible. I had only trained properly for a month or two, and, there and then, promised myself that I would try and make up for the three wasted years, during my final term at Villanova."

Walsh still helped to guide O'Sullivan's training, from Cork, and, sure enough, the summer of '84 had no sooner warmed up on the track, than we saw the Corkman chase home the great Joaquim Cruz, of Brazil, to finish second in the U.S. Collegiate 1,500m final. His time: a superb new career-best of 3:37.4. He had qualified for the Los Angeles Olympics.
Marcus O'Sullivan wins Wanamaker Mile at Millrose Games, ahead of Eamonn Coughlan
"I have always looked on Marcus O'Sullivan as the most exciting middle-distance runner on the Irish scene for some years. He showed flashes of that excitement on occasions and, to be truthful, I expected him to start making his mark before he did.

Obviously he needed time to mature, and gain the necessary experience, and it's only now that we are beginning to see the real O'Sullivan.

He has yet to win what would be termed a major title, but he came up against Joaquim Cruz of Brazil in his only American Collegiate final, and so his second place was probably worth more, in a year that the winner went on to win the Olympic 800m gold medal.

However, during the next couple of years, I would see O'Sullivan setting Irish records for every distance, from 800m, right up to 10,000 metres. He already holds the 800m, and I'm looking forward to seeing him really make his mark at 1,500m and mile this season, culminating with a good performance in the European Championships. Most definitely an exciting athlete for the future." - Eamonn Coghlan

He returned to compete in the Cork City Sports, at the Mardyke, and ran another lifetime best for the mile: 3:55.82. This was more like the real O'Sullivan. He then outsprinted Frank O'Mara with a 53-second last lap to win his first National senior 1,500m title, in 1984.

"From being a stagnant athlete, I was showing improvement, and I really went to the Los Angeles Olympics in a happy frame of mind. I went there to experience everything, the atmosphere, the competition, the friendships." The competition he obviously relished, for, on two successive days, he ran best times for the 800m, setting an Irish record of 1:46.21 in the second round. Then, his never-say-die attitude in the first round of the 1,500m was rewarded by qualification for the semi-finals.



RELUCTANT
After the Olympics, he returned home to Ireland, and settled back in Cork. He trained regularly and ran a few road races and even finished second over a muddy 7½ miles of the inter-counties cross-country, which proved he had stamina also. All the time, however, he longed to return to Villanova, and did so early in '85, once he had secured a place in graduate school.
There followed a few reasonably good indoor runs, but, while he was picked for the European Indoors a month in advance, he travelled to Athens reluctantly, and, only out of loyalty to Irish officials. However, he returned with a silver medal from the 1,500m and he was no sooner back in Villanova, than part of another problem was solved.

That was the matter of having a regular coach. "Donie was always ready to give me training schedules, and ring me up on the 'phone, but what I needed was someone with whom I could talk and discuss things." Tom Donnelly, himself a former Villanova distance runner, was that man; he was already coach to Sydney Maree.

"Tom's help has made a major difference to me," Marcus admits openly. "He is there for all the interval sessions, and the whole aspect of athlete-coach relationship is really good between Tom and myself." The emphasis on repeat hill-training has made a difference also. "I started on those hills early last year, and went back to them again in November, and I really feel the benefit of them."

I really believe we saw the benefit of that work last summer, when O'Sullivan pushed Maree — a former world 1,500m record-holder — all the way to the line in Cork, ending up with a mile time of 3:52.64, more than three seconds faster than he had run the previous year.

From there, he went on to win the British AAA 1,500m title, run another lifetime best of 3:37.20, in Oslo, and smash his own National 800m record with a highly respectable 1:45.87 in Berlin.
Marcus O'Sullivan

During September and October of last year, his training became more intense, the repeat hills were attacked with greater purpose. By last February, the whole of Cork was ready to embrace its young star, who had finally hit the headlines with a series of nine wins on the trot.

He did not suffer from any illusions regarding his fine form. "People will be saying that I can beat Cram, Coe and Aouita, but these fellows are still up there. I like to be realistic, and I feel that some of those I beat indoors did not run up to their potential."

During the months of January and February, he practically stepped into Eamonn Coghlan's shoes, repeatedly defeating the world record-holder. "What these races did for me," he says with enthusiasm, "is that they have got a few barriers out of the way, and also given me great confidence."

The Millrose Games win in an indoor lifetime best 3:56.03 gave him his greatest thrill. "I felt the pressure building up," he admitted, "and Coghlan was going to be hard to beat, since he was going for a record seventh success. But I wanted it also. I knew he was ready, and I waited before making my move, and then just held him off."

O'Sullivan admits he made money during the indoor campaign, but nothing like some people might be led to believe. "This talk about 10,000 dollars for some races is crazy; that is only for the super-stars, and I'm still a long way from that. I've found it expensive to live in the USA, and, apart from renting an apartment, and buying food, there are numerous other expenses."

On the question of money and priorities, I believe that O'Sullivan has a solid attitude on both. "I would never want to bank on making a living out of athletics," he said. "That is the reason why I'm working towards my MBA (Masters in Business Administration), and I would hope and pray that questions of economy and money would never influence me or dictate to me what races I would run.

"At the end of your career, you are judged as an athlete on what you have achieved when the chips are down, like in the Europeans, World Championships or Olympics, not on how much money you have in the bank."

After the successes of the indoors, it took the Corkman a couple of weeks to get back into the disciplines of hard training again. "It picked up after a while, and I was back on 90 miles a week on a regular basis. The European Championships were always in the back of my mind and they have been my target for several weeks now."



PROMISING
The season has already begun promisingly, with career best times of 13:29.2, in the 5,000m, and 7:58.17 for the 3,000m. Now we will have the pleasure of seeing this gifted 24 year old making his debut this side of the Atlantic, in the Dale Farm Ulster Games, and then in his beloved Cork, for the "City Sports".

"I have to admit I love running in Cork, although there are the additional pressures; people always expect you to win, but then, if you manage to do that they, will be talking about the Europeans and the gold medal. I suppose it's better than having them asking what ever happened to that fellow called O'Sullivan that went to Villanova...?"

Well, here he is in living colour.
Related Articles
Marcus O'Sullivan's Off-The-Ball Interview on 20th Anniversary of 100th Sub-4 Mile

Irish Runner Magazine Archives