Willie O'Mahony has clocked the miles building East Cork Athletics - Guest Article by John Walshe
John Walshe Recounts Willie O'Mahony's 50 Years in East Cork Athletics



This article, by John Walshe, appeared on EchoLive! website, on Thursday April 22nd 2021
Willie O'Mahony, Treasurer of East Cork Athletics Division - Photo: John Walshe


Results of Athletics Ireland Registered Events - April 2014 - May 2016 (on Old Cork Athletics website)
Results of Athletics Ireland Registered Events - May 2016 to date
Race Calendar / Fixtures List - Athletics Ireland Registered Events
Cork Athletics Race Calendar
Comprehensive Calendar of Registered Athletics Ireland events in Cork

Willie O'Mahony

The East Cork Athletics Board was formed in 1967, the year that the national governing body of BLE came into being.
Now known as the East Cork Athletics Division, it was the first of its kind in the country.
For all but four of those years, one man has held the key position of treasurer, and that man is Willie O'Mahony from Gortroe near Youghal.
Back in January, Willie marked the 50th anniversary of when he was first elected when he took over from Jerry Russell, father of jockey Davy.
He explains how it all came about: "I was interested in athletics when going to school in Youghal and joined the athletics and cycling club (as it was at the time).
"They used to meet at Paddy Maher's Bar in Tallow Street; one of the people involved at the time was Paddy Coleman who passed away recently, along with his father.
"I was then representing the club going to East Cork meetings with Jerry Russell and when Jerry stepped down I got the position of treasurer and I'm there ever since.
"The job of treasurer wasn't a big task as we were working in small amounts of money at the time. Our aim was to keep competition going within the division; I was just one part of a great team, everybody involved had one thing in mind — to progress athletics and keep the competitions going," a vision that's still very much alive today.
Willie was instrumental in acquiring a new perpetual cup for the board from Muckleys Jewellers, Youghal, and was also involved in the board's fundraising events of the late 1970s and 30 years later in the resurgence of the now AAI Awards Night.
But, perhaps, his greatest achievement was the research he carried out into the present championship medal which has the amalgam of the BLE and Fitzgerald Family coat of arms.
This work began with a proposal at a meeting in March of 1987, and came into being at the cross-country championship the following year.
"The medal came about as it was felt we needed a better identity, the medals in the early days were just bought ones with a general centre.
We spoke about it at several meetings and came up with various ideas, but we thought we needed a crest of our own rather then putting a crest of one town over another
"There was a man in Killeagh, Joe Barry, who was very much into history. Myself and my wife Bridie met Joe one day and said to him we needed some kind of identity for the division to have a centre for the medal.
"Straight away he mentioned the Fitzgerald family crest, they lived in the castle in the Castlemartyr estate and their burial place was in the grounds. So we drove there and after getting rid of briars and everything we found the crest on the stone."
HISTORIC
It's a medal that has how now hung around the necks of many athletes of all age-groups, including that of Sonia O'Sullivan who picked up her first senior award at last August's road championships.
Willie O'Mahony the life-long administrator is one thing, but there is also Willie O'Mahony the athlete.
He was won numerous Masters track and field championship medals at county, provincial, and national level, many in the long jump and sprinting events.
At the other end of the scale, he also ran seven marathons with a best of 3:17 and completed 39 of the 40 Ballycotton '10' races, sadly injury in 2015 deprived him of a clean sweep.
Just as remarkable is his sequence of 155 of the 156 Ballycotton 5-Mile Summer Series of races held.
During his career, Willie competed with Youghal AC (his current club), Eastside AC and Midleton AC.
Over the past 50 years he has negotiated with many of the sponsors who are essential to success of the division and also single-handily provided the board's amplification since he took over from the late Jack Keniry back in the 1980s.
Along with Bridie, Willie also organised the very popular Gortroe Mile Series for many years which was then a major fundraiser for the local school, plus a number of five-mile, 10km and 10-mile races — and even a half-marathon — in Killeagh.
And, after 50 years as treasurer, did he ever feel it was time to get out? "Well, there was no one else after it," he says with a smile.
"No, I didn't. I love East Cork athletics and you could say it's part of my life.
"I like to think we're doing good for the youth and we're keeping it together. I have some great memories and great friends, they're friends for life."
Willie O'Mahony Celebrates 50 Years as East Cork Divisional Treasurer

Other Guest Articles by John Walshe
Memorable Youghal Road Race Took Place at Midnight on New Year's Eve - Guest Article by John Walshe
Midleton AC Virtual Club Challenge - Guest Article by John Walshe
Cork Cross-Country of 1980 - Guest Article by John Walshe
Cork Marathon Magic in 1986 as Marion Lyons Wins - Guest Article by John Walshe

The 1985 Cork 800 Marathon - Guest Article by John Walshe

Tullamore Man Won First Cork Marathon - Guest Article by John Walshe

Pioneering Women of Cross-Country - Guest Article by John Walshe

Grange International Cross-Country of 1980 Recalled 40 Years On - Guest Article by John Walshe
Youghal AC's London Emer Casey 10k Exploits
30 Years Ago - Liam O'Brien Wins Cork County Senior Cross-Country Championship
50 Years Ago - When John Buckley Beat The Olympic Champion
40 Years Ago - Jerry Murphy Wins Munster Marathon Championship
Aoife Cooke Runs 55:17 in Mallow 10 2019
Steeplechase Legends Meet at Antrim International
Unique National Double for McGraths
Dick Hooper Speaks at St Finbarrs AC Function
Charlie O'Donovan runs 1500m PB in Mississippi - April 2021
3:40.95 1500m PB for Charlie O'Donovan

Joe Walker Invitational
Oxford, Mississippi, USA,
Saturday April 10th 2021



Charlie O'Donovan, Villanova University and Leevale AC, ran 3:40.95 for a 1500m PB at yesterday's Joe Walker Invitational, in Oxford, Mississippi. This moves charlie up to 38th on the Irish All-Time 1500m listings. There were 7 1500m heats in all, and Charlie placed 10th overall, from 78 finishers. All but one of the top 10 came from Charlie's 6th heat.

Charlie's previous PB of 3:41.73 was set just a few weeks ago, on March 25th, at the Raleigh Relays, in North Carolina.


Charlie had been due to run in the 1500m on Friday, but the schedule was upset due to a thunderstorm, and many events were rescheduled for Saturday

First 10 2021 Joe Walker Invitational Men's 1500m

Extract All-Time Irish Men's 1500m Rankings
Two of the seven fastest in-season times in the 1500 meters in Villanova history were recorded on Saturday evening at the Joe Walker Invitational where the trio of fifth-year senior Casey Comber (Maple Glen, Pa.), redshirt freshman Sean Dolan (Pennington, N.J.) and sophomore Charlie O'Donovan (Cork, Ireland) produced sensational times in the invitational section of the event at the Ole Miss Track & Field Complex.

Comber recorded a time of 3:37.76 and Dolan finished in 3:38.60 in the race, which reshaped both the national leaderboard for the current season as well as the Wildcats all-time performance list. O'Donovan recorded a time of 3:40.95 as all three runners produced the metric equivalent of a sub-four minute mile for the second time in the past three weeks. The top 13 competitors in Saturday night's race at Ole Miss all posted sub-four equivalents with times faster than 3:42.20 in the 1500 meters.

Seven of the 10 fastest times on the NCAA Division I performance list this season came from Saturday night's race. Comber owns the fourth-fastest time on the national list, with Dolan in seventh place and Donovan sitting 19th as races from around the country this weekend were reported. The collegiate outdoor season is not yet a month old, but athletes are already eyeing qualifying marks for the NCAA preliminary and national championship meets later in the spring as well as the potential for meeting Olympic Trials qualifying standards. Comber's time of 3:37.76 was just over a quarter of a second off the United States standard of 3:37.50.
Saturday night's performances were foreshadowed in a race that Comber, Dolan and O'Donovan all competed in at the Raleigh Relays on March 25. Dolan was the fastest of the Wildcats trio on that night when he cruised to a time of 3:39.45; Comber crossed the line in 3:39.67 and O'Donovan registered a mark of 3:41.73 in the same race. Those times were all personal bests until all three runners lowered their PRs for a second time in their trip to Mississippi. Comber, Dolan and O'Donovan represent three of the members of the Wildcats celebrated group of sub-four minute milers, an exclusive club which now includes 43 elite athletes.

Comber is a four-time All-American and a nine-time BIG EAST champion during his collegiate career. Dolan made a splash indoors earlier this year when he came in sixth in the Mile at the NCAA Championships in his first collegiate competition season. His time of 3:57.20 in the preliminary round of the national meet is the fastest mile that any Villanovan has ever run at the indoor NCAA Championships meet. O'Donovan is one of five athletes from Leevale Athletic Club in his hometown of Cork City, Ireland to come to Villanova and became a sub-four miler. The group includes Wildcats head coach Marcus O'Sullivan and O'Donovan's high school coach, Ken Nason. O'Donovan is one of at least 30 members of the "Irish Pipeline" of track & field athletes who have chosen to run for Villanova over the last 70-plus years.
Covid-19 Level 5 Update - April 8th 2021
Athletics Ireland Covid-19 Level 5 Update
April 8th 2021

Full details of the recent (March 31st) Government Level 5 restrictions can be found on Gov.ie
Excerpt from Release:
Athletics Ireland reminds all affiliated members that only elite athletes in receipt of official exemption letters from Athletics Ireland High Performance department can travel to events within and outside the island of Ireland.
All elite exempted athletes that plan to travel outside Ireland should inform the Athletics Ireland High Performance Director of their travel plans and details of the event or camp they are planning to travel to.

Related Articles


Covid-19 Level 5 Update - March 31st 2021



Athletics Ireland FAQs - July 8th 2020
Return to Activity Guidelines (Previously Issued):

Road Race Event Organiser Guidelines
Road Race Volunteer, Staff and Marshalls Guidelines
Road Race Participant Guidelines
69th Cork City Sports 2021 Postponed
Cork City Sports Postponed Until 2022



This morning brings the sad news that this years Cork City Sports has been postponed - the second year in a row. The Morton Games, normally held in the same week, has also been deferred.

The Cork City Sports is the highlight of the year for athletics in Cork, bringing European and World class athletics stars to Cork, and is a testament to the year-round hard work put in by the Cork City Sports committee and their many 'back-room' aides and contacts. In addition to the elite events, the sports also provides quality opportunities for up-and-coming local athletes, both on track and in field events.

This years 'Sports' will be sorely missed by all athletics - and sports - followers.

BAM Cork City Sports and Morton Games postponed until 2022
"After assessing all scenarios available, it has been confirmed that the 2021 editions of the BAM Cork Sports International Athletics Meet and the Morton Games have been postponed until 2022.

The two high profile international track and field meets which were postponed in 2020 due to the Covid-19 pandemic were rescheduled and set to take place on the 6th and 9th of July 2021 respectively. Organisers have taken the difficult decision to again postpone both events due to the ongoing uncertainty surrounding current Covid-19 restrictions.

Joe Hartnett, Meeting Director, Cork City Sports commented: "After due consideration of the many issues surrounding COVID-19 we have decided to postpone for another year. It is our hope that 2022 will allow us to bring back International Athletics to Cork".

Tony O'Connell, Chairman, Cork City Sports added: "We regret having to cancel this year's meeting. We thank our sponsors and other partners for being patient during these difficult times and look forward to working together again in 2022."

2021 would have been the 69th edition of the Cork City Sports International Athletics Meet and there is no doubt athletics fans will look forward to it's return on the back of a tremendously successful event in 2019.

The Morton Games which commenced in 2008 has also become one of the most high-class athletics events in the country and will be undoubtedly leave a hole in this summer's athletics calendar.

Morton Games Meet Director, Noel Guiden said: " Although we are very disappointed to have to announce the cancellation of Morton Games for the second successive year, really there was no other option as with so many uncertainties it made the hosting of an international meet in 2021 an impossibility. There is no doubt that better times lie ahead and with that in the forefront of our thoughts we look forward to the return of international athletics and the " Santry Roar" at Morton Games in the Summer of '22."

Athletics Ireland CEO Hamish Adams echoed these sentiments and acknowledged the importance of seeing the return of both events in 2022.

He said, "Athletics Ireland have long been supporters of both the Cork City Sports International Meet and the Morton Games, and we were all looking forward to what have become two unmissable dates on the athletics summer calendar. The news will come as a disappointment, but we are in no doubt that both the Bam Cork City Sports International and Morton Games will be back and showcasing our sport at its best 2022".

The team behind the BAM Cork City Sports International and Morton Games would like to extend their best wishes and thanks to all athletes, coaches, fans, and sponsors for their unwavering support over the the last year."


March 2021 Athlete Transfer Window has Closed
March 2021 - Deadline Passed


The March 2021 transfer deadline for the return of fully completed transfer forms, Wednesday March 24th, has passed. Any further Transfer Forms that have been received after that date will NOT be accepted, except, only, Inter-County transfers which will have already been processed by the outgoing county.

The next transfer window will close on August 24th 2021

Late Forms

Late Forms are .....Late...and will NOT be accepted for this transfer window - NO EXCEPTIONS

August 2021 Transfers

Transfer forms may be downloaded from the Athletics Ireland website.
The Procedure on the form MUST be followed.

Completed forms should be give/posted to Cork AAI County Board Registrar, John Copithorne, Belgooley, Co. Cork.

Do NOT call to John Copithorne's house or workplace.

Do NOT send your form by Registered Post, Courier or other form of delivery, except the regular Post

Do NOT send your completed form to Athletics Ireland HQ (Dublin), as this will severely affect delivery time, likely missing the deadline.
The Transfer Form must be signed in the following order
By the:
• Member (in the case of a minor by the parent or guardian)
• New Club
• Outgoing Club
• County Board (outgoing club)
• County Boards (out of county club transfer)
• County Boards (inter county transfer)

Incomplete, improperly or incorrectly completed forms will be rejected.

Note
s:
Athletes must be in good stead with the outgoing club, i.e. they must not owe any membership fee, or other arrears, and all club property in their possession must have been returned
Athletes whose membership of the outgoing club has lapsed by more than three years, i.e. last registered in 2017 (NOT registered in any of the years 2020, 2019 or 2018) do NOT require a transfer, i.e. they are free to change clubs without going through the formal transfer process - they can be simply registered by the incoming club.
Heptathlon PB for Grace Mckenzie at Texas Relays 2021
5,734 Point Pentathlon PB for Grace McKenzie
93rd Clyde Littlefield Texas Relays
Mike A. Myers Stadium, Austin, Texas, USA
Thursday/Friday March 25th/26th 2021
Grace Mckenzie, McNeese State University and Belgooly AC in action at Texas Relays

Grace McKenzie, McNeese State and Belgooly AC multi-event athlete consolidated her position on the Irish All-Time Pentathlete Tables and, as written in Lake Charle media "one of the greatest in Cowgirl track and field history", when she broke her own McNeese State heptathlon record, scoring 5,734 points, eclipsing her previous record 5,619 by 115 points the 93rd Clyde Littlefield Texas Relays.
McKenzie's 5,734 total gave her third position, and second college athlete. Overall winner was Taliyah Brooks, Asics, on 6,252 points, with Kristine Blazevica, Texas, second on 5,813.

Grace remains in third place on the Irish All-Time Pentathlete Tables
Grace started with third place in the 100mH, in 13.77 sec, for 1011 points. Next up was the High Jump, in 1.7m, 5th place and 855 points, followed by eight place in the Shot Put, with 11.36m and 6199 points.


On Day 2, Friday 26th, McKenzie was third in the 200-meters, in 24.98 sec, for 889 points. She followed this with second in the long jump, jumping 6.15m (20-2.25), adding 896 points to her score. McKenzie capped off her meet by scoring 577 points in the javelin where she threw 35.26m (115-8)
110m

High Jump

Shot Put
200m
Long Jump


Javelin Throw
Final Overall Position
Showdown in Pulford - Cheshire Elite Marathon 2021
Cheshire Elite Marathon
Pulford, Cheshire, UK

Sunday April 25th 2021

The Cheshire Elite Marathon takes place next Sunday, in Pulford, Cheshire, England. The event was originally planned for Wrexham, Wales, but was transferred to Pulford, less than 8 miles away, in Cheshire, England, as Wales is still under Covid restrictions. Several Elite Irish athletes will be attempting to make the Qualification standard, including (Men): Gary O'Hanlon, Mick Clohisey and Sean Hehir, with a competitive Irish women elite group of Ann-Marie Mcglynn, Breege Connolly, Fionnuala Ross, and Cork club members Aoife Cooke (Eagle AC) and Dylan Hassett (Leevale AC)

| | |
| --- | --- |
| | |
| Aoife Cooke, Eagle AC | Dylan Hassett, Leevale AC |

Currently, travel outside Ireland without a valid reason, is prohibited, however Elite athletes who have been given documents by Athletics Ireland, having been approved by Sport Ireland, are exempt from this prohibition. It is understood that the Elites listed above have all been given the necessary documentation by Sport Ireland/Athletics Ireland - except Dylan Hassett, who is travelling directly to the UK from the U.S., and therefore does not come under the Irish restrictions.

However, all persons who are returning to Ireland, including those carrying the Sport Ireland/Athletics Ireland documentation, must abide by the requirements set out in Government Travelling to Ireland during the COVID-19 pandemic

Travelling to/from the Republic via Northern Ireland does NOT exempt from these requirements.

This afternoon, the official Run Cheshire website listed 275 entrants for the Elite Marathon, including some 22 Irish, excluding the elites, with eight of these from Cork. Some of today's Runner Beans Podcast, with race organiser Michael Harrington, centred around athletes from the Republic crossing the border with Northern Ireland

Course
Start and first lap, with subsequent laps over the trangular anti-clockwise course

The event will set of in time based waves, with just 15 to 20 seconds between groups., over the approx. 7.5 lap, triangular shaped course, which has been measured by AIMS Measurer, Dene Townsend. Race organiser Michael Harrington describes the course as being a very fast, and essentially flat


Start - on a wooded off-road tarmac path
Weather
Sunday's weather as at Monday April 19th

With five days to go, it's really too early to be predicting the weather, but as of now, Monday night, it looks like Sunday morning will be dry and practically windless - probably ideal conditions, with a high centred around the north of England
The event will be livestreamed and you will also be able to track everyone, using the above link. The Livestream link will be posted, and shared on Cork Athletics social media, as soon as available


Livestream on Run Cheshire Facebook Page


As of today, April 19th, there are 43 days left for athletes to meet the Olympic Qualification standard of 2:11:30 (Men) and 2:29:30 (Women), and 96 days to the Opening of the Postponed Tokyo 2020 Olympics. Athletes from several countries will be striving to meet the standard, with the event being described in today's Runner Beans Podcast "Cheshire Elite Preview" as being the "Last Chance Saloon", as missing the time on Sunday would leave athletes less than six weeks to recover and make another attempt. Even so, needing another attempt at achieving qualification, and meeting it, would leave the athlete(s) requiring three top class performances in little over 100 days, certainly a task of Olympic proportions.
Best Irish Long Jump in Decade for Grace Mckenzie at Texas Invitational April 2021
Grace McKenzie Jumps 6.35m for Irish Best in 11 Years

Texas A&M Invitational

EB Cushing Stadium, Bryan-College Station, Texas, USA
Friday April 9th 2021
Grace Mckenzie, McNeese State University and Belgooly AC

Grace McKenzie, McNeese State and Belgooly AC, produced the best Long Jump in over a decade, when she jumped a 6.35m PB at this weekend's Texas A&M Team Invitational at the EB Cushing Stadium, in Bryan-College Station, Texas.
Grace's jump is a 14cm PB, and improves her All-Time-Irish placing from 4th to 3rd, behind the duo of Terri Horgan and Jackie Stokes, both on 6.48m, set in 1992 and 1994 respectively, with the All-Time lead of 6.62m, from 2010, held by Kelly Proper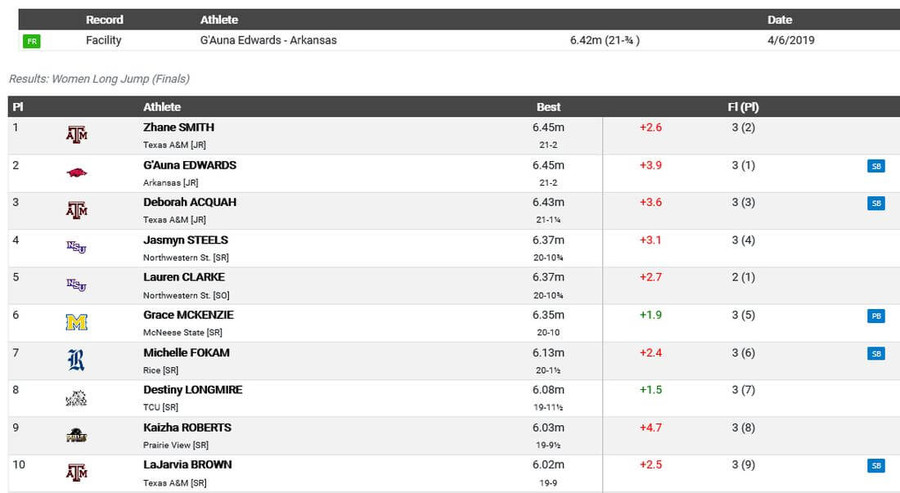 Grace is also in third place on the Irish All-Time Pentathlon Rankings

Related Articles

Heptathlon PB for Grace Mckenzie at Texas Relays 2021
Grace Mckenzie Jumps Big PB for 5th in Irish All-Time Long Jump - March 2021
Grace Mckenzie Regains Irish Pentathlon Record - March 2019
Grace McKenzie Sets New Irish Indoor Pentathlon Record
Grace McKenzie Takes Southland Conference Gold
Grace McKenzie Breaks Pentathlon 4000 Barrier
Grace McKenzie Named Southland Conference Womens Track Athlete of the Week
Sophie O'Sullivan Runs 4:21.91 1500m PB
4:21.91 1500m PB for Sophie O'Sullivan at Stanford Invitational
Stanford, California, USA
Saturday April 3rd 2021
Sophie O'Sullivan
Sophie O'Sullivan, Washington State University and Ballymore Cobh AC, improved her 1500m best, from 4:22.22 to 4:21.91, at Saturday's day 2 of the 3-day Stanford Invitational meet, at at Cobb Track & Angell Field, Stanford, California, USA.

Sophie, in her Freshman year at Washington State, placed 8th in the heat, in which five women went sub 4:20, in a sprint finish, from a field of 20.



Women's 1500m Spilts



Athlete Transfers March 2021
Athletics Ireland Transfers for Approval - March 2021


The Summer Transfer Window closed on Wednesday March 24th. Transfer forms may be submitted at any time but will not be dealt with until the next Transfer Window closes, on August 24th 2021.


Twenty five (25) athlete transfers within the county will be put forward for approval at a Virtual meeting of the Officers of Cork Athletics County Board, on Wednesday April 2nd.

In case of any issues with these transfers, please contact This email address is being protected from spambots. You need JavaScript enabled to view it. 0861713500 BY 6PM on Wednesday next, April 7th, at latest

Transfers for Approval

| Forename | Surname | Outgoing Club | Incoming Club |
| --- | --- | --- | --- |
| Sean | Crowley | Clonakilty RR | Bandon |
| Jess | Collins | Leevale | Belgooly |
| Annie Rose | O'Brien | Togher | Belgooly |
| Eugene | O'Connor | Eagle | Belgooly |
| Cian | Lenane | Carraig na bhFear | Blarney-Inniscarra |
| Jamie | Cronin | Liscarroll | Bweeng T.B |
| Grace | Cronin | Liscarroll | Bweeng T.B |
| Eamon | Flanagan | Abbey Striders | Cork Track Club |
| Ben | Donovan | Abbey Striders | Cork Track Club |
| Daniel | O'Mahony | Leevale | Cork Track Club |
| Barry | Donovan | Leevale | Cork Track Club |
| Rachael | O'Shea | West Muskerry | Cork Track Club |
| Ken | Ince | Watergrasshill | Eagle |
| Paul | Hartnett | Midleton | East Cork |
| Neasa | Wall | Togher | Leevale |
| Sorcha | Daly | Carraig na bhFear | Leevale |
| Sophie | Fuller | Togher | Leevale |
| Lucie | Fuller | Togher | Leevale |
| Jessica | Strain | Midleton | Leevale |
| Claire | O'Connor | Ballintotis | Midleton |
| Emma | O'Connell | Liscarroll | North Cork |
| Clara | Whelan | Liscarroll | North Cork |
| Coleen | Whelan | Liscarroll | North Cork |
| Robert | Kelly | Eagle | Togher |
| Una | Buckley | St Finbarr's | Tracton |
Inter-County Transfers for Approval

There are ten (10) inter-county transfers, with five coming into Cork, and five going out.

| Forename | Surname | Outgoing Club | Incoming Club | Notes |
| --- | --- | --- | --- | --- |
| Barry | O'Shea | Midleton | Carrick-on-Suir | |
| Shona | O'Brien | Gneeveguilla | Cork Track Club | |
| Noreeen | Mackey | Kilmurry Ibrickane N/C | Cork Track Club | Club only |
| Kane | Collins | North Cork | Donore Hrs | |
| Michael | Kerrin | GCH | Leevale | |
| Jessica | Coyne | Dooneen | Leevale | Club only |
| Andrea | McNamara | Sportsworld | Midleton | |
| Kaodichinma | Ogbene | Leevale | Titans | |
| Adam | Farrell | Carraig na bhFear | Waterford | |
| Tom | Galvin | North Cork | West Limerick | |
There may be other Inter-County transfers being processed by other Counties that have not yet been presented to Cork Athletics.
Covid-19 Level 5 Update - March 31st 2021
Athletics Ireland / Sport Ireland Covid-19 Level 5 Update
March 31st 2021

Full details of the updated (March 31st) Government Level 5 restrictions can be found on Gov.ie

Arising from this Government release, Athletics Ireland issued its own updated guidance


Excerpts from these documents


From 12 April
Activity & Guidance
Meeting other households: You can meet 1 other household outside but not in your garden or theirs
Travel: You can travel within your county or within 20km of your home if crossing county boundaries




From 19 April
Activity & Guidance
Elite sport: High performing athletes, as approved by Sport Ireland, can resume. (AAI elites are high-performance athletes who have an exemption to continue to train. These athletes have a letter of exemption from the AAI High Performance Director). [Cork Athletics note: Letters/documents from any other body/person/coach have NIL validity]

From 26 April (subject to prevailing public health situation)
Activity & Guidance
Outdoor sport: Outdoor sports facilities can reopen (for example: pitches, golf courses and tennis courts, other facilities as appropriate)
Underage sport: Underage non-contact outdoor training in pods of 15 or fewer can restart

Travel & Races
From April 12th, people may travel within their own county, or up to a radius of 20km from their homes, if that brings them across a county boundary.
Wrexham Elite Marathon - Sunday April 25th
There are no races permitted in Ireland for the foreseeable future, however with the May 31st Olympic Marathon Qualification deadline looming, several elite Irish athletes will be attempting to achieve the qualification times, at an event in England, on Sunday April 24th. The event was originally planned for Wrexham, in Wales, however as Wales is still under lockdown, and England has lifted its restrictions, the event has been moved approx. 20 miles away, into England.

As of now, six Irish elites are running, two men; Hugh Armstrong and Mick Clohissey, and four women; Breege Connolly, Ann-Marie McGlynn, and two athletes with Cork Clubs; Aoife Cooke (Eagle AC) and Dylan Hassett (Leevale AC).

Over 50 other Irish athletes from the Republic, along with several more from Northern Ireland, are entered. While those from Northern Ireland are free to travel freely within the UK, those from the Republic, who likely entered, probably some time ago, in the hope/expectation that restrictions would have been relaxed by the time the race is scheduled to take place.
Included are 22 athletes from Cork, who, reportedly, have hired several buses, and several for other Munster counties. Reportedly, a few plan to travel via Northern Ireland [Please don't do this - there will be plenty of media & social media coverage of the event, and the results will be published, and risks grave repercussions for athletics]

It appears that even the six Elite athletes are faced with, severe travel difficulties. Word on the 'grapevine' is that accomodation in the region around the event is proving difficult to get.



Travel out of the country is easier than returning, but those travelling, except those in posession of legitimate documentation from Sport Ireland/Athletics Ireland High Performance Director, are liable to fines.

Returning is more restrictive:
ALL persons MUST have a negative / not detected result from a pre-departure COVID-19 PCR test, taken within 72 hours before their arrival in Ireland
They must complete an online Passenger Locator Form with information about where they are living/staying in Ireland.
They must self-isolate for 14 days upon arrival in Ireland.

In addition, ferry and airline websites state that no passengers will be allowed to travel without the necessary documentation.



Elsewhere, in the past 24 hours, Covid has scuppered the Hamburg Elite Marathon, scheduled for April 11th, as an Olympic Qualifier for Germany's Olympic hopefuls




Athletics Ireland FAQs - July 8th 2020
Return to Activity Guidelines (Previously Issued):

Road Race Event Organiser Guidelines
Road Race Volunteer, Staff and Marshalls Guidelines
Road Race Participant Guidelines
Racing - The Shape of Things to Come?
Racing Is Resuming in Some Parts of the World - Is this How It Will Be?
With all the World Marathon Majors now postponed until the autumn, in the expectation that, by that stage, Covid vaccination across the world will have changed the pandemic landscape enough to for health, travel, accommodation and race protocols to have been relaxed sufficiently to enable the events to go ahead.



US Races Go Ahead

Races are already happening in the U.S., with varying degrees of Covid protocols. Time will see how the various Covid protocols pan out. The feedback will be of great interest to race organisers and participants alike.
Glass City Marathon to Require Vaccination or Negative Test

The Glass City Marathon, in Toledo, Ohio, USA, on April 25th, with 10,000 entrants, and a waiting list of 500, recently emailed all entrants, to say that they MUST have a negative Covid test, within 72 hours of the marathon, or else they MUST provide proof of full Covid vaccination, completed at least two weeks before the marathon.
However, for other upcoming large events, it is likely that similar requirements to those being implemented in Toledo will be required for all the components in the majors; travel, accommodation and the race itself.


Gate River Run, Jacksonville, Florida, USA

Saturday March 20th 2021

Last weekend, the 44th Annual Gate River Run, doubling as the US National 15k Championship, took place in Jacksonville, Florida, with a significantly reduced field on previous years. 6,733 finished, from a 2021 cap of 8,000, compared to approx. 12,500 every other year. There were also several hundred in a 5k section of the race.

Race Director's Take on Covid Changes to the Event
Covid brought several changes to the event, including the use of two different starts, with several waves going from each wave.

Speaking in the lead up to the event, Race director Doug Allred said that this year's race would be a little different due to the coronavirus pandemic.
"We intend to put in place a number of social distance guidelines," This field is limited to 8,000 runners at 15K. There are also two different starting lines
"You'll actually experience the course. Most water stations are still there, they run a little differently, and the finish lines will look exactly the same," Alred said. "As long as people work together and wear the mask for its intended purpose, I think it will work. It's a safe event for everyone and most people who come will find it a traditional run. Probably. "
A mask is required except when it is running.
"It needs more," Alred explained the preparation. "We're doing some small races and we're using some of the guidelines we use at River Run to see how they go, so they really worked."

Probably the key lesson is in the last sentence: "We're doing some small races and we're using some of the guidelines we use at River Run to see how they go". For race directors here, get involved with the organisation of smaller events, and see what goes right, what went right and what to improve. All race organisers should be doing that, but now, with Covid hee, we need to share our lessons learnt.


Will similar requirements be the norm for other races? Probably, but time will tell. Large race or small, such requirements would introduce a large burden of administration - Larger events may be able to absorb the workload, or build in scanner systems into their registration, but smaller events probably won't have such luxuries, or the manpower to work them ...time will tell


For the vast majority of us, the past year has been frustrating – and that's definitely understating things! Everyone is, literally, 'chomping at the bit', hoping that racing, as we knew it, will resume again soon. However, even among runners, like the population at large on opening up society in general, opinion is divided as to how to organize races safely. Some people will run in races no matter what, while others remain very apprehensive, with the majority somewhere in the middle.
When it comes to virus transmission, races can be both safe and unsafe. Normally, runners aren't in large groups, except before the start, and after the finish. Road races are entirely outdoors, with complete ventilation and fresh air. ....But Covid loves social mixing, as do runners and spectators.

Health Protocols in Races

Participants & Volunteers

In the short to medium term, everyone attending an event will, at the very least, need to complete a Covid questionnaire. Another possibility is that Covid vaccination passports, or proof of immunity, will be required.


Vaccine Passport
Feed Stations



In many races, you will have water stations along the course, where volunteers dispense water, sports drinks, energy gels, fruit, and more. You'll certainly have them after the finish.

No race could function without these volunteers. But, there is always some degree of contact as drinks and other material is passed to the runner, and the water stations are often congested areas, with runners gasping and breathing heavily as they get their hydration drinks, gels, bananas and other goodies.

Then there are, particularly in the longer distances, the inevitable few who finish (or not) in distress. Voluntary first aiders must deal with these. Covid has brought a major source of risk for these invaluable first-aiders.

Clearly the return to racing will bring many headaches for organisers, and, while keeping participants and volunteers safe, the control measures and systems, are probably not going to make the race experience more enjoyable for all. It's certainly going to be a learning experience for everyone involved.

Remember ... We all need to look out for each other if we're going to progress in the short/medium term.


Event Calendar
Recently, Athletics Ireland published a draft calendar for 2021, including Munster Athletics events.
Following the AAI release, Cork Athletics County Board has provisionally booked the MTU (CIT) Track for the last Sunday in August, and the first two Sundays in September. No events or Age-Groups have yet been assigned to these days, and more dates may be needed.
The format for each day is, as yet, unclear. It would be great - but probably unlikely - if we could have "Normal" T&F days. It may be that we will need to run them similar to the Cross-Country Day held in Riverstick last October, with the site being cleared after each event, hopefully with bigger numbers - we were limited to 200 people on site on that day in October.

| Month | Day | Date | Organiser | Event |
| --- | --- | --- | --- | --- |
| May | Sat-Sun | 1 - 2 | WORLD ATHLETICS | World Athletics Relays |
| May | Sun | 16 | EUROPEAN ATHLETICS | European Race Walking Team Championships |
| June | Sat | 5 | EUROPEAN ATHLETICS | 24th European Athletics 10000m Cup |
| June | Sat | 5 | ISAA | Irish Schools |
| June | Sat | 12 | ATHLETICS IRELAND | AAI Games + CE Championships (Youth/Junior/Senior/Master) |
| June | Sun | 13 | ATHLETICS IRELAND | AAI Games + CE Championships (Youth/Junior/Senior/Master) |
| June | Sat | 19-20 | EUROPEAN ATHLETICS | EUROPEAN ATHLETICS First League |
| June | Sat | 19 | ISAA | Tailteann Games |
| June | Sun | 20 | ATHLETICS IRELAND | AAI Junior Championships + U23 specific events |
| June | Sat | 26 | ATHLETICS IRELAND | AAI Senior & U23 Championships |
| June | Sun | 27 | ATHLETICS IRELAND | AAI Senior & U23 Championships |
| July | Sat | 3 | Munster | Munster U14-U19 Girls T&F Day 1 |
| July | Sun | 4 | Munster | Munster U14-U19 Boys T&F Day 2 |
| July | Tue | 6 | CCS | Cork City Sports |
| July | Thu - Sun | 08-11 | EUROPEAN ATHLETICS | EUROPEAN ATHLETICS U23 Championships |
| July | Fri | 9 | Morton | Morton Games |
| July | Sat | 10 | Munster | Munster U12 & U13 Girls T&F & Girls Childrens Games |
| July | Sun | 11 | ATHLETICS IRELAND | AAI League 1 |
| July | Sun | 11 | Munster | Munster U12 & U13 Girls T&F & Girls Childrens Games |
| July | Thu - Sun | 15-18 | EUROPEAN ATHLETICS | EUROPEAN ATHLETICS U20 Championships |
| July | Sat | 17 | ISAA | SIAB Schools Track & Field |
| July | Sat | 17 | Munster | Munster U14-U19 Girls T&F Day 3 |
| July | Sun | 18 | Munster | Munster U14-U19 Girls T&F Day 3 |
| July | Sat | 24 | Munster | Munster U11-U15 'B' T&F |
| July | Sun | 25 | ATHLETICS IRELAND | AAI League 2 |
| July | Sun | 25 | Leinster | Leinster Childrens Games and U12 & U13 |
| July | Fri - Sun | 30-8 | WORLD ATHLETICS | Olympic Games |
| July | Sat | 31 | Munster | Munster Senior & Masters Men & Women T&F |
| August | Sat | 7 | ATHLETICS IRELAND | AAI Juvenile Day 1 14-19 Championships |
| August | Sun | 8 | ATHLETICS IRELAND | AAI Juvenile Day 2 14-19 Championships |
| August | Sat | 14 | ATHLETICS IRELAND | AAI Juvenile Day 3 12-19 Championships (12-13 Field Events) |
| August | Sun | 15 | ATHLETICS IRELAND | AAI League Final |
| August | Tue-Sun | 17-22 | WORLD ATHLETICS | World Athletics U20 Championships |
| August | Sat | 21 | ATHLETICS IRELAND | AAI Childrens Games + 12/13 Track Events and CE U14/U15/U16 |
| August | Sun | 22 | ATHLETICS IRELAND | AAI Juvenile Relays & B Championships |
| August | Mon - Sat | 23-28 | IUAA | FISU Universiade (Athletics) |
| August | Thu-Sun | 26-29 | EUROPEAN ATHLETICS | EUROPEAN ATHLETICS U18 Championships |
| August | Sun | 29 | Cork Athletics | T&F Championships Day 1 |
| September | Sun | 5 | Cork Athletics | T&F Championships Day 2 |
| September | Sun | 5 | ATHLETICS IRELAND | AAI Masters Championships |
| September | Fri | 10 | ATHLETICS NORTHERN IRELAND | Northern Ireland International EUROPEAN ATHLETICSP Meet |
| September | Sun | 12 | ATHLETICS IRELAND | AAI Road Relays |
| September | Sun | 12 | Cork Athletics | T&F Championships Day 3 |
| September | Sun | 19 | Cork Athletics | Cork Women's Mini-Marathon |
| October | Sun | 17 | ATHLETICS IRELAND | AAI Autumn Cross |
| October | Sun | 24 | ATHLETICS IRELAND | AAI National Marathon Championships (Dublin Marathon) |
| November | Sat | 13 | IMAA | British & Irish Masters XC |
| November | Sun | 21 | ATHLETICS IRELAND | AAI Senior, Junior & Juvenile Even XC Championships |
| December | Sun | 5 | ATHLETICS IRELAND | AAI Novice & Juvenile Uneven XC Championships |
| December | Sat | 11 | ATHLETICS IRELAND | AAI National 30K World Athleticslks |
| December | Sun | 12 | EUROPEAN ATHLETICS | 27th SPAR European Athletics Cross Country |