Willie Hayes Wins National Dairy 25k 1982
Hayes Wins With Minute to spare
National Dairy 25k
Ennis
Sunday March 28th 1982

Willie Hayes in Coachford 5 2016
Photo: Joe Murphy
Willie Hayes, representing Cork (and St Finbarrs AC), at Munster Masters Road Championships, Moyglass, Tipperary, in 2013
Willie Hayes finishing Cork City 10 Miler 2016
Photo: Doug Minihane

Slight departure from Cork Athletics' normal coverage, which generally sticks to Cork events and athletes. This piece covers a win by St. Finbarrs AC athlete Willie Hayes, then running with Reenvanna Harriers. Willie has been a member of the Barrs, and Cork, for so long that he's really 'part of the furniture now', so we're really not breaking policy by reporting from 'outside the county bounds'

[Webmasters Note: I don't like the Irish Times reporters piece, which seems to take from Willie's achievement - It wouldn't be Cork Athletics style. However we are delighted, with this report of an emphatic win by Willie, to remind today's reader that Willie, who, almost 40 years later, is still a highly respected racer, and, in his prime, could 'mix it' with some of the best around!]


"William Hayes, Reenavanna, Limerick, a 25-year-old post office official, won the National Dairy 25 kilometre road race in Ennis yesterday. He completed the distance in 84 minutes, five seconds, over a minute ahead of Michael Culligan, Tulla, Co Clare, who came home In 85:12.
Although there was an entry of over 90, most of the leading distance runners, including last year's winner, Robert Costello, of Limerick, were not in the race, due to coming marathon commitments in Galway and Cork.
Nuala Logan, of Limerick AC, was the first woman competitor to finish in 110:36; second was D Nugent (Doina Nugent) of Galway."

Results
Irish Times Report - Monday March 29th 1982

1. W Hayes (Reenvanna) 84:05; 2, M Culligan (Tulla) 85:12; P Mulkern Ballina 85:17; 4, P Kerrigan (Mallow) 86-35; 5, C Ryan (Premier) 86:16; 6. R Burke (Croom) 86:37; 7. M Thompson (Reenvanna); 8, T Madden (Emerald); 9, J Murray (Reenvanna); 10 N Fitzgerald (Loughrea).



Munster Inter-Club Race




1. Reenvanna 15 points; 2. Tulla 24; 3, Mallow 34; 4, Limerick 39; 5, Marian, Ennis 64.
KBC Dublin Marathon 2020 Cancelled
Dublin Marathon 2020 has been Cancelled
Tuesday May 19th 2020
Following last Thursday's a review of current conditions, particularly COVID-19, the organisers of the KBC Dublin Marathon have taken the expected, and prudent, decision to cancel this year's event. The Marathon, scheduled for Sunday October 25th, had sold out in days, with a 25,000 strong entry, including an estimated 15,000-plus entry from abroad.


Athletics Ireland National Marathon Championship 2020

The event also included the 2020 Athletics Ireland National Marathon Championship.
As of 10:45am, Tuesday May 19th, No statement has been issued by Athletics Ireland, however this is part of the KBC Marathon information posted at 10am today:
"As a result of the 2020 KBC Dublin Marathon cancellation, Athletics Ireland can confirm that the 2020 National Marathon Championship scheduled within the event has been cancelled. All athletes entered in the 2020 National Marathon Championship will automatically have their entry deferred to the new 2021 event as detailed by KBC Dublin Marathon."
"The organisers considered many alternative approaches in event planning to make running the KBC Dublin Marathon and Race Series with appropriate social distancing possible. However, after careful consideration, the difficult decision was made by the organisers to cancel both the KBC Dublin Marathon and Race Series. It was a decision made in the best interest of the health and wellbeing of runners, supporters, volunteers, sponsors, suppliers and all those involved in making the running of these events possible.
Will my place for the KBC Dublin Marathon still hold for 2021?
Yes, your entry for the 2020 KBC Dublin Marathon will be valid for the 2021 race.
Is there a refund option available for the KBC Dublin Marathon?
For those who do not wish to keep their entry place in the 2021 KBC Dublin Marathon, a refund option will be made available up to 18th June 2020. The refund will be available on "Manage My Bookings" from your entry confirmation link.
I missed a lottery entry place in 2020 will there be any chance of getting an entry into 2021 race?
Details regarding the potential reallocation of lottery places as a result of refunds will be made in early 2021.
What will happen to the national championships?
As a result of the 2020 KBC Dublin Marathon cancellation, Athletics Ireland can confirm that the 2020 National Marathon Championship scheduled within the event has been cancelled. All athletes entered in the 2020 National Marathon Championship will automatically have their entry deferred to the new 2021 event as detailed by KBC Dublin Marathon.
Will my entry for the KBC Race Series still hold for 2021?
Yes, your entry for the 2020 KBC Race Series will be valid for the 2021 KBC Race Series.
Is there a refund option available for the KBC Race Series?
For those who do not wish to keep their entry place in the KBC Race Series, a refund option will be made available up to 18th June 2020. The refund will be available on "Manage My Bookings" from your entry confirmation link.
Will there be a virtual run instead?
The organisers are currently exploring options and will make an announcement regarding this in the coming weeks."
Irish Runner Magazine - Southern Scene - July 1986
Gallagher's Double
By Michael Joyce
Irish Runner Magazine, July 1986 - Vol 6, No 5, P54-55
Number one again — Billy Gallagher coasts to victory in the Adidas Cork City Marathon.

Download Original Article in PDF Format


Billy Gallagher, who competes with Cavan AC, and is a native of Ballaghadareen (Co. Roscommon), won the Adidas Cork City Marathon for the second year in a row, on May 25. His winning time of 2 hours 20 minutes 12 seconds was slower than last year, but, nevertheless, he finished over four minutes ahead of Tom Brouder (West Limerick) with Mick Carey (Leevale) a further minute behind in third.

From the gun, Gallagher went to the front with Brouder. They were chased by Carey, Seamus Cregan (Croom) and Eric Crockett (St. Finbarrs). The leading bunch went through three miles in 15:38.

Gallagher and Brouder were clear after five miles, and, at six miles, Brouder was dropped. Gallagher went through half way in 68:40. He had a long lead at 20 miles (1:45) and was able to coast home to an easy victory from Brouder, who always looked comfortable ahead of Mick Carey with Gerard Mullane from Doon, Co. Limerick, moving up late in the race to take fourth place ahead of 48-year-old Derry O'Driscoll (St. Finbarrs), so consistent in finishing fifth for the second year in a row in an excellent time of 2:34:27. Brouder won the Munster Championship.

I was delighted to see our good friend John Walshe (Ballycotton) record a personal best in ninth place (2:36:31), while another super vet performance came from Flor O'Leary (St. Finbarrs), who won the over-50 prize in a great time of 2:43.

Popular winner — Marian Lyons finishes strongly. Like Tim Buckley and Joe Murphy, she was agonisingly close to the three-hour barrier


Like the men's race, the Ladies Race was won by a clear margin. Marian Lyons (St. Finbarr's) was competing in her fourth marathon. She had finished third in this event last year and was the clear favourite to win in front of her home crowd. Marian, who is the mother of two young children, was an Irish international cross-country competitor at Chepstow back in the mid-seventies. Marian is the second eldest of a family of sixteen from the Northside of Cork and her victory here was not just very deserving but also very popular.

She was in control of the race from the very start, and, at six miles (38:40), was already four minutes ahead of Brigid McCabe (Mullingar). She was six minutes clear at half way, and kept increasing her lead up to 18 miles, when she appeared to run into some difficulties. The margin had been reduced to three minutes at 20 miles, when Brigid McCabe herself appeared to falter to leave Mrs. Lyons on course for victory, in 3:01:05.

Miss McCabe finished in 3:09:02, with Nora Joyce (no relation), who comes from Rathcormac, in Co. Cork, and now lives in Dublin, coming in a creditable third place, a further six minutes back.

SPONSORS
This year's Marathon was, once again, sponsored by Adidas. For the first time in the history of the race, the event was not held on Easter Sunday. Entries were down slightly, but I believe that this is because of the confusion surrounding the race. I feel that the attitude of B.L.E., in not arranging to have the National Championship held in conjunction with the Cork race, was a great mistake. The entry of about 90 in the National Championships, which were transferred to Portlaoise, and which, I believe, had no sponsor, reflected a mini-disaster on the part of B.L.E. To make matters even worse, eight of the top 11 in the National Marathon were from Munster.

There is no doubt that Michael O'Connell and Adidas have been exceptionally generous to the sport of athletics in Cork, but B.L.E., at National level, do very little to encourage Adidas to continue their sponsorship.

ST. FINBARR'S
There may be a fall-off in the South in numbers competing in long distance road races, but it was most encouraging to see the huge entries for the first two legs of the St. Finbarr's 4-Mile road series, which is sponsored by Classic Windows, in association with R.T.E. Cork Local Radio. The first leg was held over the Marina Circuit, in Blackrock, on May 8. The winner that night was not previously known to many of those present. He was Tony Duggan from St. Joseph's Kilkenny, who had a clear victory over Eric Crockett of the host club. Over 400 athletes completed the course.

The second leg of this five-leg series was held on June 12, starting and finishing in Musgrave Park, more famous for it's Rugby activities. The host club pinned their hopes on recently-married Ricky Burke, but Ricky could not prevent the Kilkenny man gaining his second victory; Eric Crockett was third. Lucy O'Donoghue (Leevale) showed that she was certainly on the way back, with a decisive win in the ladies race.

All finishers in each of these races get a very well designed wall plaque and there is a different design on each race plaque which will make it a very fine collection indeed.
The next race in the series, on Thursday July 10, is at Farranree; the fourth leg is in Mayfield on August 14; the final leg is back at the Marina on September 11.

CORK CITY SPORTS
This year's showpiece of the Irish athletic calendar will once again take place at the U.C.C. Grounds, in the Mardyke, on Tuesday July 8. The Sports Committee do not have the benefit of the generous sponsorship of Quinnsworth, as in the past two years. Individual events will be sponsored by various companies, while the State grant for the sports has been increased this year, from £5,000 to £10,000.

Of course, one would like to know the answers to the question: 'Why did Quinnsworth pull out?' Is there truth in the rumour that it was because the actual cost was going through the roof? Some say that even the Russians, who have attended these sports in the last two years, were looking for exorbitant shopping expenses, and they weren't doing all their shopping in a certain supermarket. The sports committee are so tight-lipped that we might never know the answer. In fairness to the committee, they put on a fine show every year, and I am certain this year will be no exception, even without full sponsorship.
Related Articles

Irish Runner Magazine Archives
Liam O'Brien's 10th National Senior Steeplechase Title - 1992
O'Brien On Ten National Steeplechase Titles

Irish Runner September 1992

Volume 12, No. 6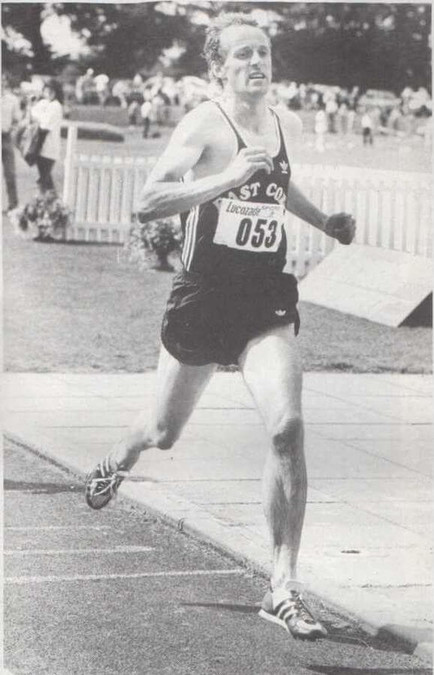 Liam O'Brien cross line to take the 1992 National Steeplechase Title, in Belfield, Dublin


Liam O'Brien Is rightly acknowledged as one of the most reliable and consistant athletes ever to zip around the Irish tracks. The figures are there to prove it, and, from the half mile up, the smooth-running Corkman is a threat to any company. A runner's runner, O'Brien is highly regarded. Has any Irish athlete a more faithful fan club than that led by Meade Wallace and company?

At the recent National Seniors, Liam won an unprecedented 10th steepechase title, stretching the gap to his first win, in 1978. Hence a remarkable 15-year spell during which time he was never out of the medals.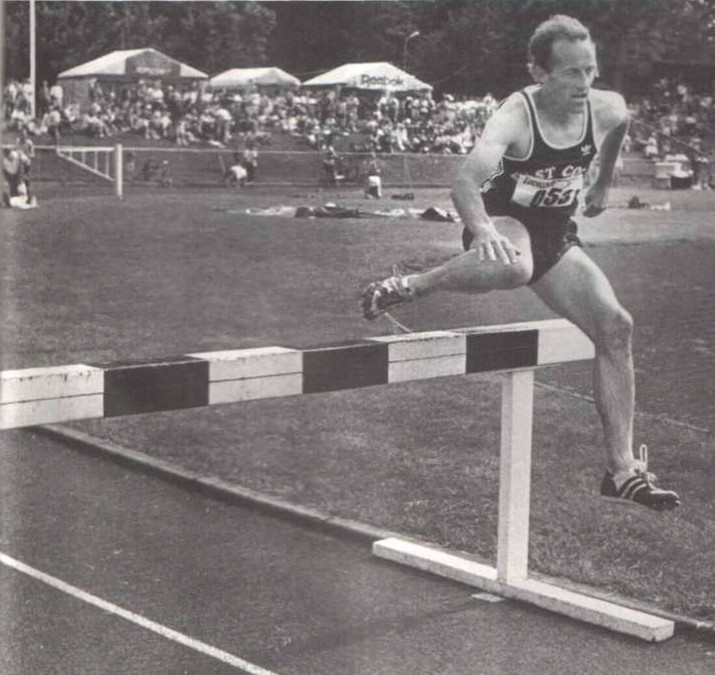 Liam O'Brien out on his own, Belfield, 1992

His Champtonship record goes back even further, to 1976, when he won bronze, at 800m. In the meantime, challenges from Brendan Quinn, Joe Hartnett, and Kieran Stack, have all been met head-on, but the O'Brien era reigns regardless.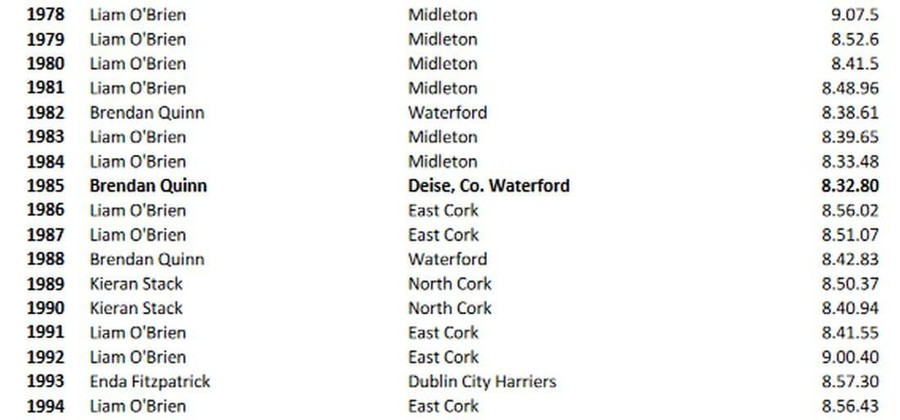 Irish Steeplechase Champions 1978 - 1994. This article was written in 1992. As seen above, Liam went on to capture an 11th Title, in 1994

A semi-finallist at both the L.A. Olympics, and the Rome World Championships, and with a string of domestic successes as long as your arm, the 37 year-old PE teacher just seems to go on and on and on.

A consummate racing tactician, Liam O' embdies all that is good in sport. He is modest to a fault, with a turn of phrase as quick as his finishing kck and is extremely accommodating and helpful.
Immediately after winning his recent title, Liam O' took time out to encourage and boost another competitor, whose dream had shattered in pieces, trying to match strides with the Corkman. It was a gesture completely in character with O'Brien, and one that speaks volumes fpr one of Ireland's greatest all-round athletes.
Top 10 Irish 3000m Steeplechase Performances, as at May 2020

Thirty six years later, Liam O'Brien's Irish 3000m Steeplechase record of 8:27.24, set at Crystal Palace, London, on June 24th 1984, has only been surpassed once, leaving Liam still up there in second place, to Brendan Quinn.

Another noteworthy name from the Top 10 listing, is fourth place, held by Liam's fellow Cork City Sports Director, Joe Hartnett, who ran 8:34.52, just two weeks after Liam, while North Cork AC's John Murray is 9th, on 8:39:13
Re-Starting Clubs - Covid-19 Update May 9th 2020
When Can Clubs Re-Start? - The Question of Everyone's Lips

Athletics Ireland Insurance Cover
Athletics Ireland Insurance Cover for Clubs and Events has been suspended since March 13th. Before anything restarts, Athletics Ireland Insurance Cover needs to have been re-instated. Insurance will NOT be restored until after Athletics Ireland has received the 'go ahead' from Sports Ireland, who will take their own lead from HSE and NPHET.

Clubs will not be covered until Athletics Ireland have Sport Ireland's permission to re-open. Athletics Ireland are also looking at waiver options for club users, as it doubts that insurers will cover any Covid-19 claims, however Athletics Ireland have also asked the question of its Insurers.



Athletics Ireland Proposal/Protocols
Athletics Ireland has submitted proposals and protocols to Sport Ireland, to allow clubs to return to activity during Phase 1. Cork Athletics has not received details of these proposals/protocols, however it is clear, from Phase 1 of the Roadmap, that it will NOT be 'Business as Usual'


"Public sports grounds
Public sport amenities (for example: pitches, tennis courts, golf courses) can be opened where social distancing can be maintained.
Group exercise
People can exercise - either on their own or in a group of no more than 4 people - where social distancing can be maintained and where there is no contact with other people."
The draft protocols and information for clubs, around returning to athletics activity, are ready to go as soon as Athletics Ireland hears from Sport Ireland regarding club opening dates. However there will be significant logistical requirements for clubs to meet, to ensure that contact tracing, cleaning, and minimum distancing can take place.
Re-Opening of Facilities, including CIT Track
Most clubs in Cork do not have their own facilities, while a substantial number of clubs hire track and facilities from CIT and/or UCC. Colleges are not scheduled to re-open until September, at the very earliest, consequently, it is likely that this will also apply to their athletic facilities.

Athletics Ireland have a meeting with CIT, later next week, to discuss this matter, and the indoor facility development, which is progressing slowly, but positively. Further information regarding re-opening should be available following next week's meeting.

Draft Club

Proceedures and Protocols



While details of Athletics Ireland's proposals and protocols are not yet avaliable to County Boards and Clubs, many clubs have started drafting their own proceedures and protocols (which, of course, will be modified, once approved procedures and protocols have been published by Athletics Ireland)


Included in some of the draft proceedures and protocols that Cork County Board is aware of are provision for:
A designated club official for Covid-19, who should be familiar with HSE, Public Health, Sport Ireland and Athletics Ireland guidelines on Covid-19.
Sign-in/Sign-out procedures, to facilitate contact tracing [Note: Any such contact tracing that may arise is the responsibility of the HSE, NOT the club. However each club should ensure that the contact details for all active members are up to date. This will include each Club Registrar ensuring that information on that club's members held in the Athletics Ireland Registration system is up to date]
How the club is going to ensure Social Distancing.
Road Racing



Many questions have been raised about the resumption of road racing, however this appears to be much further down the line. From Phase 3, commencing June 29th, "Sporting activities and events can resume "behind closed doors", where arrangements are in place to enable participants to maintain social distancing"


This may facilitate, for instance, some T&F competition, however, by extension, Road Racing would NOT appear to comply in any respect.

Phase 4, commencing 20th July, would appear to be the earliest concieveable date for limited road racing, but, again, Social Distancing would need to be rigorously applied .... and this is probably unattainable. "Competitions for sports teams (for example, soccer and GAA) can resume, but only where limitations are placed on the numbers of spectators and where social distancing can be maintained.


Phase 5, Commencing August 10th

"Close physical contact sports, such as rugby and boxing, can resume."
Given the above, August 10th would appear to be the earliest start date for road races. The scale, in terms of participation, organisation and spectator numbers, is still unclear, with suggestions, from some sources, that a scaled, and phased, re-opening of large events is on the cards. This would see (relatively) smaller events initially, with progressively larger events being permitted, once it becomes clear that a resurgence of Covid-19 has not occurred following the earlier large events.

So......keep your Racing Shoes in the shoebox for a while yet!


Related Articles
AAI CEO Hamish Adams says the governing body will need to be "innovative" when running events after the lockdown ends
Athletics Ireland Coronavirus (COVID-19) Update May 7th 2020
Editorial – How Do We Re-Start Athletics?
Covid 19 and Long Runs or Long Periods in Public
Editorial - Do You REALLY Need To Get Out?
Update - Athletics Ireland Events and Covid 19 Coronavirus - March 24th
Athletics Ireland Webinar Series - April-May 2020
Training, Coaching and Admin Webinar Series - April/May 2020


Athletics Ireland are hosting a series of webinars, covering a variety of topics, over the coming weeks. Topics areas include coaching, training, strength & conditioning, and club administration
The webinars are being delivered over the Zoom app, so you will need to download and install this to gain access to the webinar. If you are interested, you must register, free of charge, for each individual session. Registration is essential as places are limited to 100 participants per session, due to Zoom's limit. Places on many of the webinars have already been filled, with limited places remaining on two Webinars:
May 7th, 7–8pm: Club Development and Planning
May 21st, 1-2pm,: Balancing the Books: The Energy Cost of Training (Pre-recorded Seminar (2019))

There will be a Q&A section at the end of each webinar, and you are urged to submit any questions you may have at the registration stage. After registration, you will be emailed login details for the Zoom based webinar.
Some webinars have already sold out as numbers are limited, to faciliatate the Q&A section. Athletics Ireland will be recording each webinar in the coming days, and sharing the videos.


Athletics Ireland Webinar Schedule April/May 2010




Webinar 1 - Thursday April 30th (7-8pm) - The Coaching Process
Delivered Niamh Murphy and Noel Richardson
Unlocking your running potential: philosophical, physiological and mental reflections on a career of running

This Webinar has finished

View/Download Presentation (PDF File)
Webinar 2 - Friday May 1st, 7-8pm: Athlete Q&A with Irish Olympian and European Championships Medalist Thomas Barr
Zoom login details:
https://zoom.us/j/97910773689?pwd=bVFVbGhZQ2VOdEV6YXhQNE54Nzdmdz09
Meeting ID: 979 1077 3689
Password: 328607
Webinar 3 - Tuesday May 5th, 7-8pm: Pelvic Floor Training

Delivered by Lorraine Boyce Pelvic Floor Physiotherapist
SOLD OUT - Presentation and Video will be available after the webinar has finished

Webinar 4 - Wednesday May 6th, 1-2pm: Athlete Mobility

Delivered by Ciara McCallion Athletics Ireland Physio
SOLD OUT - Presentation and Video will be available after the webinar has finished



Webinar 5 - Thursday May 7th, 7–8pm: Club Development and Planning
Delivered by David Denieffe
Why does a club plan? This is an introduction to club planning, which would typically be followed by a more detailed workshop, and, in turn, focused club activities.
Register - JUST A FEW PLACES REMAINING

Webinar 6 - Thursday May 21st, 1-2pm: Balancing the books: The Energy Cost of Training (

Pre-recorded Seminar (2019))
Delivered by Sharon Madigan
Register - JUST A FEW PLACES REMAINING
Further webinars are planned, with details to be announced shortly
Cork City Sports 1992
NIKE CORK CITY SPORTS '92 - Leeside Revival

Ray Shanahan

Irish Runner Magazine, Vol 12 No 4, P46 July 1992

Irish Runner Magazine - July 1992, Vol 12, No 4, P46
Friday, 3rd July, 1992 is the date for the 42nd Nike Cork City Sports. It promises to be another exciting chapter in the history of the event.

There have been ups and downs in the last twenty years of the Sports. Highlights would have been the marvellous 3:56 mile of John Hartnett, on grass, a sub 3:50 mile at the present track and, of course, the world record hammer throw of Yuri Sedykh. There have been disappointments too, most notably the cancellation of the Sports, in 1989, and 1990, as the economic downturn affected sponsorship. 1991 saw the revival of the meet with an evening of classical racing, which included an Irish mile record for Aisling Molloy, and a sub 4 minute mile, which made Niall Bruton the youngest Irishman to break that magical barrier.

This year, under the sponsorship of Nike, the Sports encompass a Triangular International between Ireland, Russia and a British team selected from Southern Counties AAAs. As always, there will be a generous sprinkling of international athletes, with strong representation from Birchfield Harriers.

In many respects, the Cork City Sports meet is quite different from others in Ireland. To begin with, it is not organised by any club, although most members of the Cork City Sports Committee have strong ties with the sport. For years, the driving force was the late John O. Jagoe, the Cork businessman who dedicated unlimited time and energy to the promotion of the Sports. Today, the committee is a useful mix of business and athletic experience, geared only to the holding of one meet each year.

As its name suggests, the event is one which involves many aspects of life in Cork City. Patrons include the Lord Mayor of Cork, the President of University College Cork, and the General Officer in Command of the Southern Command. In a novel move, a decision was taken to donate the gate proceeds to the Cork Diocesan Mission in Peru and Chile. The connections generated have done much to elevate the Sports in the public view.
Women's Mile Presentation - Cork City Sports 1991


Sponsorship, inevitably, is of vital importance. The involvement of Nike, the international sportswear company, as overall sponsor is of immeasurable value. Equally important, however, is the contribution of major sponsors Buckler. Last year, one of the meet highlights was the clash between Aisling Molloy and Sonia O'Sullivan, which resulted in both breaking the old Irish record for the women's mile. Biggest cheer of the night, however, was reserved for the Buckler 5000m, where the evergreen Liam O'Brien outpaced Noel Berkeley, with his familiar finishing kick. But Buckler is not alone. A quick flick through the programme shows the importance of the involvement of the Imperial Hotel, Coca Cola, Merchants Quay Shopping Centre, Birmingham European Airlines, and the E.S.B. Without such involvement, it would be impossible to hold an international event.

Notwithstanding its involvement with local institutions and sponsors, the approach of the Cork City Sports Committee has always been outward looking. Links with Birmingham and Birchfield Harriers go back to the days of the old Drapers Sports in 1928. The connection with the old Soviet Union saw the likes of Yuri Sedykh and Sergei Litvinov competing in the mid '80s. Villanova University and the US Army Team represented the United States on many occasions. In -deed the Cold War had not thawed at the time that Sedykh lifted the American trophy!

The timing of this year's event will be crucial in the plans of aspiring Irish Olympians. Local favourites Marcus O'Sullivan and Sonia O'Sullivan will be fancied in the Nike 1500m and City of Cork 3000m, respectively, but competition will indeed be formidable.

Subscribe to Irish Runner Magazine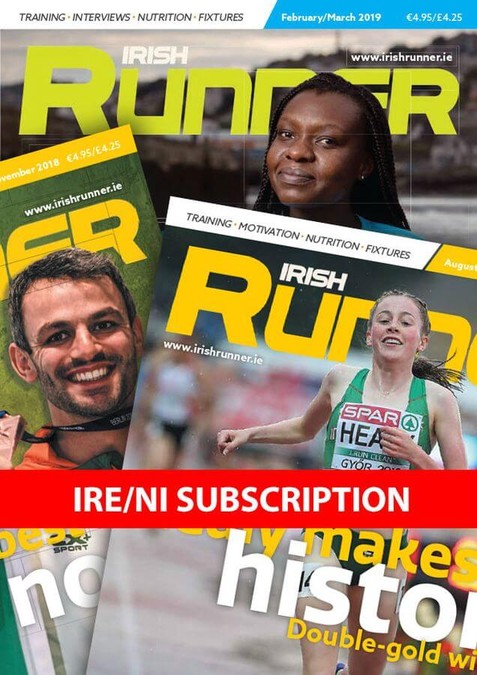 Irish Runner Magazine - Marcus O'Sullivan - July 1986
Marcus O'Sullivan - Cork's Crown Prince

Irish Runner Magazine, July 1986 - Vol 6, No 5, P8-11
Marcus O'Sulluvan at the Mardyke, Cork



Marcus O'Sullivan featured on Cover of Irish Runner Magazine, July 1986


It was on the nightly bus ride home to Cork City, from the boat yards of Kinsale, where he was learning the fisherman's trade, that young Marcus O'Sullivan first came to terms with his true athletic potential.

During those long bus rides, the then young school-leaver began to think seriously about his future, and what he might do to change his life before it was too late. He remembered the words of advice from Donie Walsh, the highly
acclaimed Cork runner, who had earned a scholarship to Villanova University, from North Monastery C.B.S.
Page 8, Irish Runner Magazine, July 1986

"Donie kept telling me that, if I could get down my times for the 1,500m and, the 5,000m, he might be able to get me into Vilianova, but I never really saw myself going away from Cork. This was where I lived, and this was where I wanted to stay and make my life," O'Sullivan recalled recently.

Then, however, he began to wonder what would be the benefit of this fishing course, when he could never see himself being a man of the sea. The more he thought about Walsh's words, the more he would think about the possibility of getting a scholarship, and the more exciting would be those bus rides home in the evening.

Suddenly there was a new purpose in his life, he wanted to start training on a regular basis again, just like he did

during his final years at Chríost Rí, when he won several local schools' titles, and built up a reputation for himself as both a cross-country and track runner.

Marcus was only 14 when he first joined Leevale A.C., where Walsh was his hero. In the spring of 1980, Walsh proposed the National Junior 5,000m title as O'Sullivan's target. Marcus duly won that title in Tullamore, outsprinting the better fancied Brian O'Keeffe of Donore. Jumbo Elliott, the popular coach in Villanova, was impressed by Walsh's description of his pupil's victory, but unfortunately the college had allocated all their scholarships for that year, and there was no place for Marcus.

"When the word came through that I had not made it you can imagine my disappointment." Less than a week later a second letter arrived, this time bringing the glad tidings. An athlete who was due to go to Villanova had changed his mind, and now O'Sullivan had received the first real break in his athletic career.

That break would not have come, however, were it not for his own ability to grasp a realisation that, unless he applied himself to the necessary training, he might be spending many more years riding that bus to Kinsale.

When Marcus said goodbye to his family and friends in September 1980, to take up his Villanova scholarship, there was every reason for optimism among all concerned, for here was a talented athlete, who would surely make good. A few improvements came in the first year, but nothing of any real note. Then he began to have trouble with his knee during the second year, and, once more, progress was slow.

The third year was a little better; when he broke four minutes for the mile, in February '83, at Madison Square Gardens, all his friends in Cork gave a special cheer, and began to say, 'I told you so.' That progress, however, did not continue to the same degree for the subsequent months, and, once more, it was time for assessment of Marcus O'Sullivan the man, the athlete, the competitor.
Once more it was time for honesty, and, once more, he faced the facts squarely. "I made a number of foolish mistakes." he says with refreshing candour. "I threw away those first three years of my scholarship at Villanova. I lost sight of what I should be doing, and what I really set out to do when I first left Cork.

"I did a certain amount of training and study, but never reached the maximum of my capabilities. During that time I never got the results which other athletes, of less potential, manage to achieve. Perhaps it went back to those days in Cork when I made up my mind to try and get to Villanova, but, once I had achieved that, failed to give of myself to improve still further."

RETROSPECT
In retrospect, the death of Jumbo Elliott, just a year after Marcus arrived in Villanova, was a possible reason for his failure to maintain any kind of significant progress.

As the 1983 outdoor track season was about to commence, he began to look critically at himself. Leaving the injury problems aside, he was not very happy with what he saw. He recalled riding the bus to and from Kinsale — if he was to continue in this way, his athletic life would soon pass by, and very few would notice.

He began to pick up the pieces with a new urgency, started to get out for an early morning run, something he had only very occasionally done in the past; he was one of the first down to the track in the evenings for training.

It was a bit late to start thinking about making the Irish team for the '83 World Championships in Helsinki, but during that summer he broke four minutes outdoors for the mile for the first time, with 3:56.65. "When I ran that time I realised, more than ever, what was possible. I had only trained properly for a month or two, and, there and then, promised myself that I would try and make up for the three wasted years, during my final term at Villanova."

Walsh still helped to guide O'Sullivan's training, from Cork, and, sure enough, the summer of '84 had no sooner warmed up on the track, than we saw the Corkman chase home the great Joaquim Cruz, of Brazil, to finish second in the U.S. Collegiate 1,500m final. His time: a superb new career-best of 3:37.4. He had qualified for the Los Angeles Olympics.
Marcus O'Sullivan wins Wanamaker Mile at Millrose Games, ahead of Eamonn Coughlan
"I have always looked on Marcus O'Sullivan as the most exciting middle-distance runner on the Irish scene for some years. He showed flashes of that excitement on occasions and, to be truthful, I expected him to start making his mark before he did.

Obviously he needed time to mature, and gain the necessary experience, and it's only now that we are beginning to see the real O'Sullivan.

He has yet to win what would be termed a major title, but he came up against Joaquim Cruz of Brazil in his only American Collegiate final, and so his second place was probably worth more, in a year that the winner went on to win the Olympic 800m gold medal.

However, during the next couple of years, I would see O'Sullivan setting Irish records for every distance, from 800m, right up to 10,000 metres. He already holds the 800m, and I'm looking forward to seeing him really make his mark at 1,500m and mile this season, culminating with a good performance in the European Championships. Most definitely an exciting athlete for the future." - Eamonn Coghlan

He returned to compete in the Cork City Sports, at the Mardyke, and ran another lifetime best for the mile: 3:55.82. This was more like the real O'Sullivan. He then outsprinted Frank O'Mara with a 53-second last lap to win his first National senior 1,500m title, in 1984.

"From being a stagnant athlete, I was showing improvement, and I really went to the Los Angeles Olympics in a happy frame of mind. I went there to experience everything, the atmosphere, the competition, the friendships." The competition he obviously relished, for, on two successive days, he ran best times for the 800m, setting an Irish record of 1:46.21 in the second round. Then, his never-say-die attitude in the first round of the 1,500m was rewarded by qualification for the semi-finals.



RELUCTANT
After the Olympics, he returned home to Ireland, and settled back in Cork. He trained regularly and ran a few road races and even finished second over a muddy 7½ miles of the inter-counties cross-country, which proved he had stamina also. All the time, however, he longed to return to Villanova, and did so early in '85, once he had secured a place in graduate school.
There followed a few reasonably good indoor runs, but, while he was picked for the European Indoors a month in advance, he travelled to Athens reluctantly, and, only out of loyalty to Irish officials. However, he returned with a silver medal from the 1,500m and he was no sooner back in Villanova, than part of another problem was solved.

That was the matter of having a regular coach. "Donie was always ready to give me training schedules, and ring me up on the 'phone, but what I needed was someone with whom I could talk and discuss things." Tom Donnelly, himself a former Villanova distance runner, was that man; he was already coach to Sydney Maree.

"Tom's help has made a major difference to me," Marcus admits openly. "He is there for all the interval sessions, and the whole aspect of athlete-coach relationship is really good between Tom and myself." The emphasis on repeat hill-training has made a difference also. "I started on those hills early last year, and went back to them again in November, and I really feel the benefit of them."

I really believe we saw the benefit of that work last summer, when O'Sullivan pushed Maree — a former world 1,500m record-holder — all the way to the line in Cork, ending up with a mile time of 3:52.64, more than three seconds faster than he had run the previous year.

From there, he went on to win the British AAA 1,500m title, run another lifetime best of 3:37.20, in Oslo, and smash his own National 800m record with a highly respectable 1:45.87 in Berlin.
Marcus O'Sullivan

During September and October of last year, his training became more intense, the repeat hills were attacked with greater purpose. By last February, the whole of Cork was ready to embrace its young star, who had finally hit the headlines with a series of nine wins on the trot.

He did not suffer from any illusions regarding his fine form. "People will be saying that I can beat Cram, Coe and Aouita, but these fellows are still up there. I like to be realistic, and I feel that some of those I beat indoors did not run up to their potential."

During the months of January and February, he practically stepped into Eamonn Coghlan's shoes, repeatedly defeating the world record-holder. "What these races did for me," he says with enthusiasm, "is that they have got a few barriers out of the way, and also given me great confidence."

The Millrose Games win in an indoor lifetime best 3:56.03 gave him his greatest thrill. "I felt the pressure building up," he admitted, "and Coghlan was going to be hard to beat, since he was going for a record seventh success. But I wanted it also. I knew he was ready, and I waited before making my move, and then just held him off."

O'Sullivan admits he made money during the indoor campaign, but nothing like some people might be led to believe. "This talk about 10,000 dollars for some races is crazy; that is only for the super-stars, and I'm still a long way from that. I've found it expensive to live in the USA, and, apart from renting an apartment, and buying food, there are numerous other expenses."

On the question of money and priorities, I believe that O'Sullivan has a solid attitude on both. "I would never want to bank on making a living out of athletics," he said. "That is the reason why I'm working towards my MBA (Masters in Business Administration), and I would hope and pray that questions of economy and money would never influence me or dictate to me what races I would run.

"At the end of your career, you are judged as an athlete on what you have achieved when the chips are down, like in the Europeans, World Championships or Olympics, not on how much money you have in the bank."

After the successes of the indoors, it took the Corkman a couple of weeks to get back into the disciplines of hard training again. "It picked up after a while, and I was back on 90 miles a week on a regular basis. The European Championships were always in the back of my mind and they have been my target for several weeks now."



PROMISING
The season has already begun promisingly, with career best times of 13:29.2, in the 5,000m, and 7:58.17 for the 3,000m. Now we will have the pleasure of seeing this gifted 24 year old making his debut this side of the Atlantic, in the Dale Farm Ulster Games, and then in his beloved Cork, for the "City Sports".

"I have to admit I love running in Cork, although there are the additional pressures; people always expect you to win, but then, if you manage to do that they, will be talking about the Europeans and the gold medal. I suppose it's better than having them asking what ever happened to that fellow called O'Sullivan that went to Villanova...?"

Well, here he is in living colour.
Related Articles
Marcus O'Sullivan's Off-The-Ball Interview on 20th Anniversary of 100th Sub-4 Mile

Irish Runner Magazine Archives
Athletics Ireland Announces Limited Club Activity Permitted from Monday Next
Limited Athletics Club Activity Permitted from Monday May 18th
Key parameters that MUST be met on Phase 1 of the Government roadmap are;
People can engage in outdoor sporting and fitness activities, either individually or in very small groups (maximum 4 people), where social distancing can be maintained and where there is no contact
Hamish Adams, CEO said "It is a privilege for us to be one of the first sports returning to club activity and with this privilege comes a great responsibility to ensure all our clubs and members operate to the highest standards of compliance to prevent the further spread of Covid-19. This is the first small step on our journey to return to full activity, we continue to plan and prepare for competition and events from August onwards subject to government directives."
Every club will have their own unique set of Covid-19 challenges around social distancing, contact tracing, hygiene and member management.

Each club committee is strongly advised to meet virtually, to develop their return to athletics plans. See draft risk assessment template or further development, with club safety officers to ensure that the highest standards of hygiene, tracing and social distancing are established.
Strict sets of guidelines (note these guidelines are not exhaustive) have been developed with expert advice:


Included:
1. Safety Officer
2. Club Access
3. Booking & Arrival
4. Check-in Protocol
5. Clubhouse Facilities
6. Track/Field
7. Running/Jumping/Throwing
8. Coaching
9. Getting Home Safely
See Guidelines Booklet



Attending Training

Pre book your training session online or via phone.
Arrive and leave as close as possible to when you are due at the club.
Only one parent/guardian should accompany younger athletes where possible.
Athletes should arrive ready to train as there will be no access to dressing rooms during this phase.
Athletes should ensure that they utilize toilet facilities in their own home prior to arriving at the club as toilet facilities will not be available during this phase.
Athletes should, ideally, bring a small bottle of hand sanitizer and antiseptic wipes with them to train.

Social Distancing Behaviours
To protect against infection:
Do not share food, towels and drinks Wash your hands frequently with soap and water or hand-sanitizer, before and after eating, after going to the toilet, sneezing and coughing
Cover your coughs and sneezes and dispose

of any used tissue in your own bag and bring

it home with you
Try not to touch any surfaces, but if you do sanitize your hands as soon as possible For endurance sessions:

Athletes running single file unless there is an empty space where they can leave 2m between them,

Athletes running with 2m between them and the next runner, including when overtaking. This might, for example, mean overtaking in lane 3 to pass an athlete running in lane one on a track

Athletes starting intervals in approximate order of ability with the fastest athlete starting first to minimise overtaking.




Remain apart from other athletes when taking a break.
When Training Finishes
Once training has finished athletes should leave the club promptly.
Hands should be washed and sanitized as soon as possible
Ensure equipment is cleaned thoroughly after use.
If an athlete becomes unwell after training, they should first contact their GP/HSE and then inform their club. The club will then follow advice provided to them by the HSE on the next steps.
Members should be encouraged to remind other members of the guidelines, in a gentle way, when they witness poor practices. Repeated poor practice should be reported to the club as soon as possible

Equipment
Practice caution with the equipment. Sanitize all handheld implements prior to, and after, use e.g. shots, javelins, discus etc.
Although there is no specific evidence that equipment can spread COVID-19, we know that contamination from respiratory droplets from an infected person can potentially survive on hard surfaces for up to three days. Clean equipment with a disinfectant spray at the conclusion of training
Updated Athlete Transfer Listings March-April 2020
Athletics Ireland Transfer Applications March 2020 (Updated)



The Spring Transfer Window closed on March 24th. Transfer forms may be submitted at any time, but will not be dealt with until the next Transfer Window closes, on August 24th 2020.


Fifty (50) athlete have been approved by Cork Athletics County Board. Forty three (43) transfers are between Cork clubs, while seven more were either 'out of county', or into a Cork club, transfers.


Special Approval Process Which Applied During Covid-19 Restrictions
Transfers are normally approved at meetings of Cork Athletics County Board, in April and September each year. However, due to Covid-19, and resulting HSE restrictions, no County Board meting was held during April.

As a result of these special circumstances, Transfers were dealt with in the following manner, for this occasion only (however a similar system may be necessary for the August Transfers, if circumstances do not change significantly in the meantime)

Issues, if any, with these Pending Transfers were required to be brought to the attention of This email address is being protected from spambots. You need JavaScript enabled to view it., 0861713500, Cork County Board Registrar, by Friday April 24th
Approved Inter-Club Transfers
| Athlete | Outgoing Club | Incoming Club |
| --- | --- | --- |
| Chris McGrath | Aghada RC | East Cork AC |
| Mary O'Mahoney | Ballintotis Fit4Life | Youghal AC |
| Tom O'Riordan | Ballymore-Cobh AC | Watergrasshill AC |
| Scott Gibson | Bandon AC | Leevale AC |
| Jane Buckley | Bandon AC | Leevale AC |
| Catriona Hawkins | Belgooly AC | Carraig na bhFear AC |
| Philip O'Brien | Belgooly AC | Togher AC |
| Emer Mulcahy | Blarney / Inniscarra AC | Leevale AC |
| Thomas O'Shea | Buttevant Road Runners | Doneraile AC |
| Isabelle O'Shea | Carrigaline Road Runners | Grange-Fermoy AC |
| Ronan O'Shea | Carrigaline Road Runners | Grange-Fermoy AC |
| Tomas Geary | Carrigaline Road Runners | Tracton AC |
| Lorraine Pendlebury | Clonakilty Road Runners | Ballymore-Cobh AC |
| Theresa Tierney-Bugler | Cork Mental Health ac | Courcey's AC |
| Eva Leahy | Durrus AC | Bantry AC |
| Adelle O'Connor | Eagle AC | Belgooly AC |
| Richard Hawkins | Eagle AC | Carraig na bhFear AC |
| John Quigley | Eagle AC | St Finbarr's AC |
| Derry Casey | Eagle AC | West Muskerry |
| Tim Crowley | East Cork AC | Leevale AC |
| Mark Pyne | Grange-Fermoy AC | St Catherines |
| Mary Philpott | Grange-Fermoy AC | Togher AC |
| Tara Keville | Leevale AC | Belgooly AC |
| Andrew Sheehan | Leevale AC | Clonakilty Road Runners |
| Christopher Murphy | Leevale AC | Riverstick / Kinsale AC |
| Matthew McCarthy | Leevale AC | Riverstick / Kinsale AC |
| Lucy McCarthy | Leevale AC | Riverstick / Kinsale AC |
| Loic Garel | Leevale AC | St Finbarr's AC |
| Mark Cronin | Leevale AC | St Finbarr's AC |
| Ultan McCarthy | Leevale AC | Togher AC |
| Killian McCarthy | Leevale AC | Togher AC |
| Rachel Ledwith | Leevale AC | Belgooly AC |
| Nathan Joseph | Midleton AC | Carraig na bhFear AC |
| Joel Joseph | Midleton AC | Carraig na bhFear AC |
| Eoin Quirke | Midleton AC | Carraig na bhFear AC |
| Eabha O'Brien | Midleton AC | Leevale AC |
| Lia O'Brien | Midleton AC | Leevale AC |
| Siofra O'Brien | Midleton AC | Leevale AC |
| Eadaoin Ni Mheadhra | Midleton AC | Leevale AC |
| Sinead Farrell | St Finbarr's AC | Togher AC |
| John Goggin | Tracton AC | Eagle AC |
| John Cronin | West Muskerry | St Finbarr's AC |
| Ciaran O'Gorman | Galtee Runners | Grange/Fermoy |

Outgoing Inter-County Transfers

There was two outgoing transfers

| Athlete | Outgoing Club | Incoming Club |
| --- | --- | --- |
| David McEvoy | Leevale AC | Crusaders AC |
| Damien Roche | Duhallow | West Limerick |
Pending Inter-County Transfers

There are five (5) Incoming inter-county transfers.

| Athlete | Outgoing Club | Incoming Club |
| --- | --- | --- |
| Una O'Farrell | Civil Service AC | Eagle AC (Inter-Club Only) |
| Kamila Jakubowska-Switaj | Polish Running Club | Fota Island Running Club |
| Maurice Feehan | Gneeveguilla | Duhallow |
| Eoin O'Mahony | Marathon Club Ireland | Watergrasshill |
| Sean O'Dwyer | Kenmare | Beara |
Editorial – How Do We Re-Start Athletics?
Covid-19 has Wreaked Havoc with Athletics - How Do We Kick-Start It?

Editorial by John Quigley, Cork Athletics Webmaster
This Editorial does not necessarily reflect the views of Cork Athletics County Board


Start of Conna 5k 2016
Intro
Last week, the Government released details of the Road Map for Reopening Business and Society. Included was an outline of how Sport would be reopened, with restrictions being gradually relaxed as each Stage is reached. Of course, the timeline isn't 'set in stone' – if the virus flares up again, the dates for commencing any particular stage may be delayed. Equally, but less likely, is that some dates may move forward.
While, from an athletics point of view, the prospect of easing restrictions, however gradual, is very welcome, there is little detail (yet) in how we will actually start opening up club training, and, especially races and events. The thought is great…..BUT….How do we do it?
First and foremost, Cork Athletics will adhere to HSE Guidelines. No doubt more details of what may and may not be done will come from Sport Ireland and Athletics Ireland……hopefully soon, because clubs and event organisers need to consider the implications arising from such guidance and start planning for the intermediate term.
In the meantime, we, as club and race administrators, need to take a *VERY* critical look at what we have been doing, and how we can resume those activities, if, indeed, we can at all. In particular, we need to see how we can do things safely.
"The return of team sports will not be recommended by the National Public Health Emergency Team before a vaccine for the coronavirus or anti-viral medicine is discovered - Irish Times

"I don't see it being something we could recommend from a public health perspective without social distancing," Dr. Cillian De Gascun told The Irish Times, "and assuming we are not going to have an anti-viral therapy or a vaccine for 12 to 18 months, it is difficult to recommend.

"I think team sports are going to be in a very difficult position."

"The caveats preventing this are multitude"
Social Distance

A Key element of HSE campaign of the past three months has been the practice of Social Distancing. If we don't continue to practice this, we may cause a 'Snakes & Ladders' situation.
"Our public health advice around the sport arena is that physical distancing is still a massive part of everything we are going to do. The easy wins are the likes of golf where you are outdoors, so there is a lower risk." - Dr. De Gascun
Social distancing is probably easier in Field Events, but what are the practicalities. Races are a 'totally different ball game, with lots of potential 'cans of worms'.

'Each individual Club, Coach and Race Organiser, needs to look, right NOW, at how their activity can be safely done. A 'root and branch' approach will be essential. Protocols and guideline will need to be drafted and circulated among their members/participants, so everyone knows what is happening, and how they, themselves, should behave.
What Sort of Things Do

Clubs

Need to Consider?

Indoor Training



Participation Numbers
How many members, including coaches and admin people can be allowed to attend safely at any particular session?
Should you consider having:


Different nights/different sessions
Do you need to split things up, so that different groups meet on different nights and/or locations.? Bear in mind that Child Protection regulations and protocols also need to be maintained, so, in having separate sessions, ensure that your cover is sufficient.
Venue/Location/Facilities


Indoors or Outdoors?
If your sessions are indoors, your club will face more restrictions, and you will need to consider access. Given that we are entering the 'summer' months, with warmer weather and longer evenings, you should aim to minimize indoor activity. Outdoors, you have much more scope.




Maximum numbers
Maximum numbers will need to be set for each group and/or session. This will obviously vary according to age and activity, venue, and coaching cover

Social Distance?
Social distance must be maintained at all times. You will need to co-ordinate activities between each separate group, assuming that sessions are split between, say ages and/or sub-groups. Particular attention will be needed where facilities are shared with other clubs/sports.
Toilet & Washing Facilities
Hand washing is critical, so clubs must ensure that washing and toilet facilities are available, clean and sufficient for the numbers attending. A club representative should be responsible for ensuring that everything is in place before your session, and again afterward – leave the facility as you found it. If the initial inspection finds that the facilities are not adequate, you should consider if the session should go ahead.
Sanitiser?
Hand sanitiser is a must. Your session should have adequate supplies of sanitiser.
Breaches/Handling of Incidents
You will need to draft rules/guidelines for Breaches of protocols and etiquette, where the health and well-being of others is put at risk. We all make mistakes, and errors of judgement, however you will need to consider what to do in such cases.
What Do Race Organisers Need to Consider?
When Can Races Start Again?
That's the $50M question! The guidelines are pretty vague, with no mention of athletics, and little to extrapolate from. Dr. De Gascun's interview comments give a bit more insight into what the thinking is, from the NPHET viewpoint, though it must be remembered that NPHET is concerned with Public Health, as Dr. De Gascun states in the Irish Times interview:
Re: FAI/GAA & IRFU: " They wouldn't engage directly with NPHET. The department of transport, tourism and sport would be where those engagements take place."
"We now know the when, so how can sport return in Ireland?

I really don't know is the short answer. What we would hope to do over the coming months, after having some challenges on the testing side, is to get a greater picture of where the virus is in the community.

There are two elements to sport returning: the athletes themselves and the crowds; the mass gatherings are really difficult to see that coming on stream any time soon.

After May 18th, if we have construction and landscapers back, you let outdoor individual sports back. You could probably make an argument for cricket, if you thought about it with physical distancing. But team sports in the early stages, no, purely because of the dressing rooms and interaction on the pitch."

Participation Numbers
Currently, it isn't clear what the maximum number of participants will be once races are allowed again. Hopefully some guidance will come soon from Sport Ireland and/or Athletics Ireland. However, it does seem that large events, with in excess of 5,000 participants, may not happen in the foreseeable future.

Smaller races may get the 'Go Ahead' sooner, but it is essential that organizers are given some guidance on numbers participating.
" Everything is a risk balance. If the 300 people are staying more than two metres away from each other it is reasonably safe.

So, I think team sports are going to be in a very difficult position. Even with testing you can do it daily but all that tells you is you are negative at that point in time and then there is a 24 hour window to interacting with other people.
Professional clubs can certainly mitigate risk. Physios can wear Personal Protective Equipment. Without the physical distancing ... I still don't see it as something that we would recommend. It may not be prohibited or banned but I don't think it could be recommended on public health grounds purely because you are never going to get to zero risk.
We could get to a situation where you have a small town or village or county that does not have a lot of the virus circulating. Maybe inside the county boundaries they could operate fairly normally.
The club GAA championship could happen?
Potentially. Maybe, like golf, they don't share the dressing room. They come and warm-up, play the game and then shower at home.
In small club championships you could probably have a few hundred people at the game, socially distancing. But you probably cannot bring a team or bus load of supporters from Dublin down to that county.
A county championship could take place in certain circumstances if you are creative. I do not have all the answers to this situation but it is like all the businesses trying to get back to work."
" The priority has been public health.
When might we get around 2,000 people social distancing at the RDS or Dalymount Park?
It comes back to what we learn from testing [in June]. We have the limitations on mass gatherings. But the phase process goes from being at home on your own to being in small groups to going to restaurants under 50 people.
Every time we take a step we will be waiting to see what the impact of that will be. If we take a step and mass gatherings go to 50, we wait three weeks and if there hasn't been a significant uptake in disease activity in the community.
If we go to 500 people gatherings and things kick off again we step back.
Unfortunately, there is no instruction booklet for this virus. We will err on the side of caution because what we have seen in Italy, Spain.... how quickly this thing can get out of hand." Dr De Gascun
How Do Participants Enter the Event?
You will need to consider the mode of entry. Clearly the 'tried and tested' walk up and enter method will cause difficulties with social distancing, and also form filling, including handling forms and using shared writing implements.

On-Line Entries
On-Line only entry will alleviate many of the 'entry on the day' problems.

Race (Bib) Numbers
On-line entry will facilitate posting of race numbers in advance of the race. If numbers are to be picked up on the day, whether with online entry, or entry on the day, a functional pick-up system will need to be devised, e.g. a one way system, with separate entry and exit doors.
Pins
Handling of pins is probably not a good idea. Consider asking participants to supply their own pins. This is a regular thing with races elsewhere in Europe
Timing
Maintaining social distance while hand timing is simply not possible – long queues form, finishers in distress will exacerbate this. Chip timing will minimize very many of the finishing area problems.

Water

Water is going to be a MAJOR headache. For shorter races, water is probably not necessary, while it is essential for longer races.

The problem is that water cup, or bottles, need to be handled and passed to participants, who then drink from them. Someone needs to pick these up and then dispose of them. There is greater risk at this point. For short races, consider not providing water. For longer races, you need to develop a protocol for picking up and disposal of cups/bottles.

Food
In the current situation, you'll want, essentially, people just turn up, run and go home. Provision of food is NOT a good idea, as it incentivizes people to stay around, risking breach of social distancing guidelines.
" You don't want them in the bar or sitting down for a bit of grub beforehand. You pull into the car park, put on your spikes and off to the first tee. You keep your distance of two metres." Dr. De Gascun
Breaches
Spitting, nose blowing etc, used to be common among runners. Hopefully everyone will, by now, have realized the gravity of the Covid-19 threat, and so will have stopped these practices. If not, you need to consider what you're going to do if someon
e breaches the new social regime.

Changing Facilities
Due to social distancing guidelines, it is probably a good idea NOT to provide changing facilities during the Covid-19 crisis.
First Aid/Ambulance
You will need to liaise with your ambulance/first-aid provider to see what their protocols are, and adjust your accordingly. It may be that these services are just too busy elsewhere to be in a position to cover athletics events, so you'd be scuttled without the essential medical cover.

Presentation of Prizes
Presentations - The optimum is probably to present the First X (whatever number of main prizes) across the line immediately after they finish, with NO category prizes awarded on the day. In other words, NO Hall or Group presentations. If category prizes are to be awarded, either post them to the winners, or choose to present them at a later date.
Race Start & Finish

Everyone 2m apart?

Social distancing at race starts and finishes are going to be a serious problem, particularly in shorter races. Even with, say, just 50 people in a race, the idea of social distance being maintainable at the start line is simply inconceivable, even with the best will in the world. Finish lines are something similar - see under Timing heading
Collection and Disposal of Waste
One would hope that everyone would bring their own waste home. Sadly, as we always see, there's always someone who won't. Before now, organisers would collect waste themselves, while wearing protective gloves.
Waste disposal will be a major headache, particularly if any material, e.g. food, cups, plates, bottles etc are provided. It will not be possible/to segregate material from the bins ...all will have to go into into a waste bin, without recycling.
With Covid-19, waste collection and disposal has been elevated to a totally different level, and warrants a separate and full procedure.
Roadmap to Reopening

Roadmap for ReOpening Society and Business - PDF File

Overview of Reopening Phases - PDF File
Summary of Sports Status During The Various Phases

18 May (phase 1)

8 June (phase 2)

29 June (phase 3)

20 July (phase 4)

10 August (phase 5)
Phase 1 - 18th May
People can travel up to 5 kilometres from their home to exercise
Outdoor spaces
Outdoor spaces and tourism sites (for example: car parks, beaches, mountain walks) will be opened where people can move around freely and where social distancing can be maintained.
Public sports grounds
Public sport amenities (for example: pitches, tennis courts, golf courses) can be opened where social distancing can be maintained.
Group exercise
People can exercise - either on their own or in a group of no more than 4 people - where social distancing can be maintained and where there is no contact with other people.
Phase 2 - 8th June
Group exercise
People can take part in outdoor sporting and fitness activities, involving team sports training in small groups (but not matches) where social distancing can be maintained and where there is no contact.
Phase 3 - 29th June
Sport and tourism
Playgrounds
Playgrounds will be allowed to re-open where social distancing and hygiene can be maintained.

Sporting activities
Sporting activities and events can resume "behind closed doors", where arrangements are in place to enable participants to maintain social distancing.
Phase 4 - 20th July
Sport
Competitions for sports teams (for example, soccer and GAA) can resume, but only where limitations are placed on the numbers of spectators and where social distancing can be maintained.
Public swimming pools can be opened where effective cleaning can be carried out and social distancing can be maintained.
As part of phase 4 of the roadmap, it is planned that you will be able to travel outside your region and beyond the 20 kilometre restriction in phase 3.
Phase 5 - 10th August
Social
• Indoor recreational venues, such as bowling alleys and bingo halls, can re-open where numbers can be limited, cleaning can be maintained, and social distancing can be complied with.
• Pubs, nightclubs and casinos can re-open, where social distancing and strict cleaning can be complied with.
• Festivals, events and other social and cultural mass gatherings can take place only in accordance with both indoor and outdoor number restrictions and where social distancing can be complied with.

Sport
• Close physical contact sports, such as rugby and boxing, can resume.
• Gyms, dance studios and sports clubs can re-open, only where regular and effective cleaning can be carried out and social distancing can be maintained.
• Spectators can begin to attend live sporting events only in accordance with both indoor and outdoor number restrictions and where social distancing can be complied with.

Top

Dan McCarthy - An Appreciation
Dan McCarthy R.I.P. - An Appreciation

by John Walshe

April 28th 2020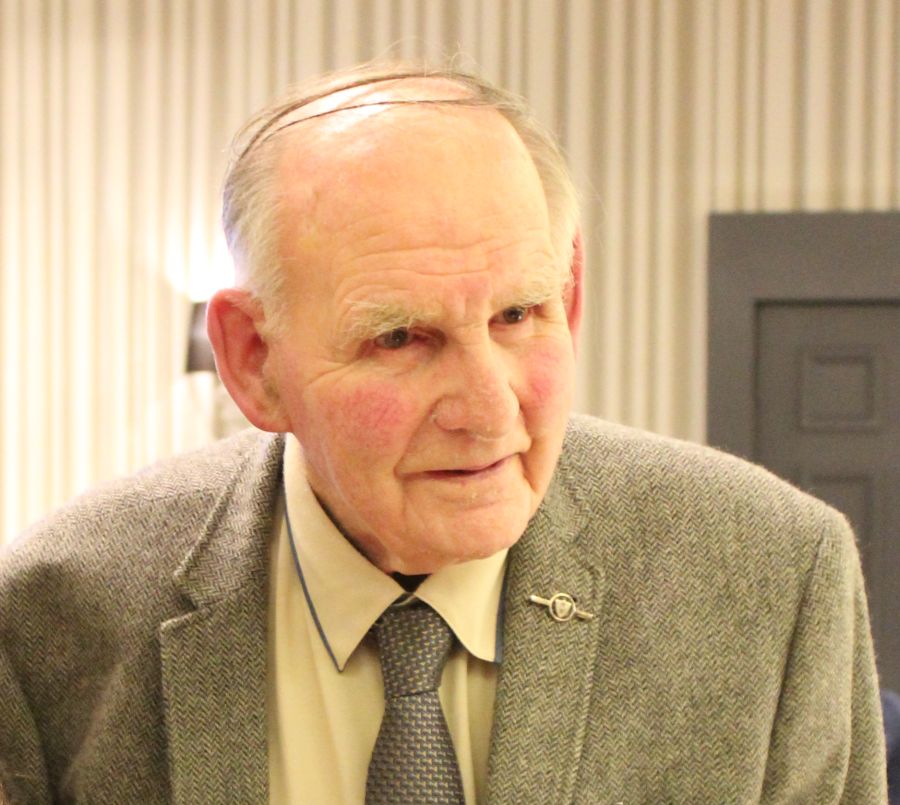 Dan McCarthy, R.I.P.

DAN McCARTHY - AN APPRECIATION


Dan McCarthy pictured in Cork Athletics County Board Booklet "Looking Back - 25 Years of BLE in Cork", published in 1993

The athletics community in Cork, and the wider area, will be saddened to hear of the death of Dan McCarthy, who passed away in the Bon Secours Hospital, after a short illness.
To many people, Dan was the familiar starter at virtually every road race in East Cork, for over 40 years. Always willing to help out at any event in a variety of roles, he also contributed immensely at committee level, none more so then to his beloved East Cork Division, where he served as Chairman for a total of over three decades.
Residing near the village of Ballynoe, on the Cork/Waterford border, Dan's first love was hurling. In this, he won East Cork Junior 'A' and 'B' medals with his local St Catherine's club. With the formation of BLE, in 1967, came a new athletic club in the village - also named St Catherine's - and Dan's involvement here led on to him becoming Vice-Chairman of the East Cork Athletics Board.
During his tenure as Chairman, he was responsible for the formation of a road race championship, which celebrated its 40th birthday last year, and, but for the current situation, would have taken place again last Thursday evening. Those four decades also saw many well-known athletes emerge from the region, including two Olympians in Liam O'Brien and Sonia O'Sullivan.
As recently as two months ago, Dan was in attendance at the annual East Cork Athletics Division Awards Night, at the Midleton Park Hotel, where he presented the Juvenile Athlete of the Year Shield in memory of his late wife, Kathleen.
Dan McCarthy presenting the Kathleen McCarthy Memorial Shield, East Cork Division's Athlete of the Year, to Orla Coffey, Carraig na bhFear AC, on February 28th 2020
Dan also served for many years as Vice-Chairman of the Cork County Board, and, while in this position he welcomed the revival of his local St Catherine's AC, in 2009, being elected President on its formation. Five years ago, at a function in the Blarney Golf Resort Hotel, he was the surprised recipient of the Munster Athletics Hall of Fame, an award that was certainly richly deserved and well-earned.

Apart from the inaugural event, and one other year while in hospital, Dan acted as starter of the Ballycotton '10' on 38 occasions. In these races, he sent an estimated 50,000 runners off on their 10-mile journey.
There is no doubt that not one of those 50,000 could say they didn't get a fair start – because impartially, fairness and a willingness to help others have been the hallmark of Dan McCarthy's long and cherished sporting life.
May he rest in peace
Related Article

Death of Dan McCarthy - East Cork Athletics Division