Safety and Location of Defibrillators at CIT Track
Safety at CIT Track and Defibrillator Locations

Cork Athletics places a strong emphasis on safety at all its events
Full ambulance cover is mandatory and is provided at all County Championships. For Cross-Country events, standard practice is to provide two Ambulances and Crews.
During Track and Field Championships at CIT Track, the ambulance is deployed inside the gate adjacent to the Red Brick building.
Defibrillator Locations
There are two defibrillators located in close proximity to the track.
The main trackside defibrillator is located on the wall of the old equipment hut, at the 200m mark - the old Start/Finish Line. It is in a standard yellow defibrillator box and is clearly visible. The code to open the Defibrillator box is known to Cork Athletics County Board, and has been shared with Clubs. CIT Sport Dept are considering whether to allow public disclosure of the code.
Defibrillator on wall of CIT Track Equipment Hut

Defibrillator on wall of CIT Track Equipment Hut, with main (normal) club entrance in the background
Close up of Trackside Defibrillator, showing keypad panel
G Block



There is a second Defibrillator in close proximity to the track. This is located at the far end of the ground floor corridor in G Block, the two storey building on the left-hand side of the path as you approach the track from the car park. It is positioned adjacent to the ladies toilet, by the stairs at the Leisureworld end of the Building, and can be accessed from either access door to the building.

G Block Lecture Theatres - Location of "Academic" Defibrillator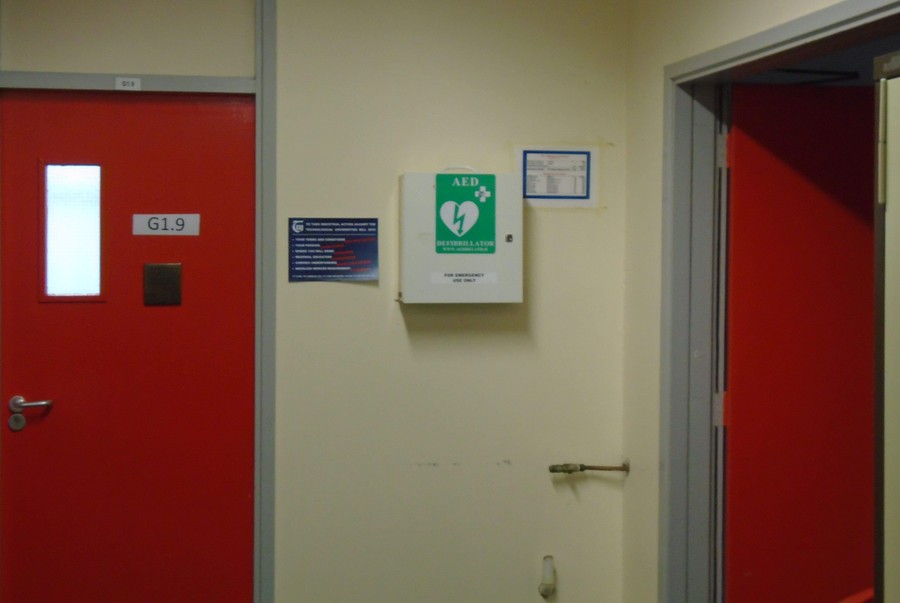 Location of Defibrillator at end of G Block Ground Floor Corridor
G Block Defibrillator, with side door entrance in the background
This Defibrillator box is locked. The key is held by CIT security and, under CIT planning, the unit is expected to be deployed by the CIT Emergency Response Team. The Emergency Response Team can be contacted through CIT Security. Unfortunately, the ERT operates during normal office hours Mon to Fri only.
G Block Defibrillator

CIT Emergency Response Team 021-4326112 ( or CIT Internal phone 6112 )

This Defibrillator is earmarked for use by the academic personnel in the building. However, cardiac incidents do not respect such distinctions, so, in the highly unlikely event of two cardiac incidents happening, either together, or in a short time, this unit is within reach. While locked, the box can be opned, taking care not to injure yourself, quite easily in an emergency.




CIT Caretakers/Security



The CIT Caretakers/Security Office is in Room D136, on the main corridor.

CIT Caretakers - Phone 021-4326129 ( or CIT Internal phone 6129 )

Location of CIT Caretakers Office, on D Block Ground Floor

Schematic Layout of CIT Campus
Club Defibrillators
Over the past ten years or so, Cork Athletics has assisted many clubs, through its periodic Safety Equipment Grant Aid Scheme, in the purchase of Defibrillators, First-Aid Kits and CPR and Defibrillator Training.

At least twice in the past ten years, Defibrillators have proved their worth and saved lives. Defibrillators, and the associated training, are relatively expensive...BUT, if you need them, they are PRICELESS!!

Clubs with Defibrillators and First Aid packs should ensure that their Defibrillators are also available, along with their club's trained personnel, for both their Track and regular training sessions, along with any races or other public events - Do NOT rely on other equipment being either available or in working order.
Replacing Defibrillator Pads
Defibrillator pads have a finite life, generally two years, after which they must be repaced. Please check the expiry date on your defibrillator pads periodically. It might be a good idea to enter a timely reminder on your phone!