Death of Paddy Coleman - Youghal AC
Paddy Coleman R.I.P. - Condolences
March 20th 2021

Paddy Coleman, R.I.P.

The Officers and Officials of Cork Athletics County Board extend their condolences and deepest sympathy to the Coleman family; his wife Ann, sons and daughters Claire, Jack, Deirdre and Robert, and his extended family, on the death of our esteemed colleague Paddy Coleman, former Chairman of Youghal AC, and member of several Cork National Senior Cross-Country Championship winning teams.

Paddy's contribution to athletics leaves a lasting legacy

The death has occurred of Paddy Coleman,
Summerfield, Youghal, Cork / Aghabullogue, Cork
Paddy passed away, suddenly, but peacefully, at the Mercy University Hospital Cork. He will be sadly missed by his wife Ann, sons and daughters Claire, Jack, Deirdre and Robert, grandchildren, sons-in-law, daughters-in-law, brothers, sisters-in-law, nieces, nephews, extended family and friends.
Paddy's funeral will take place privately in keeping with current Government guidelines on Covid 19.
Funeral Mass will be live-streamed on the Church Services website from Our Lady of Lourdes Church, The Strand, Youghal, from 11am Tuesday morning. Alternatively the Youghal Parish website.
Please leave your messages of support for Paddy's family in the condolences section.
Tribute by John Walshe
DEATH OF PADDY COLEMAN, R.I.P.
The death has taken place of Paddy Coleman from Youghal, one of Cork's outstanding middle-distance runners of the 1960s. Although his career was cut short due to injury, his performances as a 21-year-old during the summer of 1965 are still recalled today.
At the Cork City Sports, one of the finest fields seen in NACA competition assembled for the 1500m. The line-up featured Dick Hodgins of UCC, along with Bobby Buckley (Grange), Denis Buckley (St Finbarr's) and Mick Heery from Dublin.
At the bell, Hodgins had a slight lead from Heery, Coleman and the two Buckleys. Down the back straight, Coleman made his move and despite the best efforts of Bobby Buckley he held on for victory in 3:53.0, just outside the then Irish NACA record of 3:52.3.
Coleman's performance won him the prestigious John O Jagoe Memorial Trophy (later known as the American Trophy) for the most outstanding performance at the City Sports.
Four days later, he won the Munster mile title at Cobh in 4:20.0 and then at the NACA championships in Banteer he won his second Irish title, this time again over the classic one mile distance. The time was a slow 4:21.5 (compared to his best of 4:12) but, as he explained a half-century later, "it was all about the winning."
After such a successful track season in 1965, Paddy was offered a scholarship to East Tennessee State University which he didn't take up. A problem with deep seated varicose veins would signal a premature end to his all-too short athletics career.
Paddy later became chairman of Youghal GAA and was one of the driving forces behind the wonderful facilities now enjoyed by the seaside club.


Related Articles

Paddy Coleman, Former Youghal Athlete Honoured
Bandon AC Announce New Track Development - March 2021
Bandon AC Driving Ahead with New Track and Indoor Facilities

March 17th 2021

Bandon AC Facility Schematic by Sadbh Ní Fhlaitheartaigh


Bandon AC is to develop it's own 6 lane all-weather track, complete with filed event areas, along with combined clubhouse and indoor facility, at Clancoolbeg, Bandon, on the Bandon-Kilbrittain Road, approx. 2km from the Bandon Bypass.

The venue will have parking for over 150 cars, along with several buses

Planning Schematic



Track Location - Clancoolbeg, Bandon

The development is a very welcome addition to athletics in Cork, and West Cork in particular, and comes quickly following news of the Mallow track development. Several other clubs have 'works' in the pipeline, so it's an exciting time for athletics in Cork.

Bandon AC chose today, St Patrick's Day, to announce details of their new development, in recognition of the club's original name, St Patrick's AC, under which it competed for it's first two years, from 1964 to 1966.

The delevopment, which has seen many year's of planning and attention to detail, has passed all stages of planning, will start shortly, and is expected to be complete by next year, 2022.

Congratulations, Best wishes and well done to Bandon AC on this tremendous news.

Bandon AC Release

Billy Good and Phil Healy, pictured at Catherine Duggan Memorial Sports 2018
Bandon AC's Phil Healy summed it up well recently after her fantastic 4th place in the 400m final at the European Indoor Championships:

"Explore so many events, because you never know which is the best for you. Don't be afraid, and the main thing is have fun. If you know you've done your best then you can be delighted with your performance. It is not all about winning and it needs to move away from that mentality and thinking. If you give it your all, and walk off the track happy, then you're winning for you. If you think you can do better then the next day is another opportunity to try that. I didn't make finals or win anything until I was 17/18. You're never too old. Just enjoy it, make new friends and most of all have fun."

Bandon Athletic club and the coaches have always had the long term development of the athlete as the primary driving force and it is with that same commitment we are about to embark on a new journey.

Bandon Athletic Club are extremely excited and proud to announce that it has recently concluded the purchase of an 8 acre site, just outside Bandon. Full planning permission has been granted for the development of a 400m all-weather track, field event area's and an indoor training facility.

This is a huge step forward for the club, and massive vote of confidence by the club in the talent within Bandon and the wider West Cork athletics community.
The site which is located at Clancoolbeg will see work commence shortly with the expectations that the all-weather track will be installed in 2022. The timeline for the development of the indoor training area will be determined by various fund-raising activities the club will be undertaking as well as grant allocations received. The indoor area, as well as having space for sprints and long distance, will also include jumps and throws areas.

This development, unlike majority of other all-weather tracks in this country, will be owned and controlled by the club. Bandon AC, for the last numbers of years, has been one of the largest Juvenile clubs affiliated to Athletics Ireland, but, due to lack of access to our own facilities, it has not always been able to accept members, and we frequently have a waiting list.
Once this development is complete, the club expects that it will eliminate waiting lists. Currently athletes frequently travel to Cork, and even further afield, to avail of tartan track facilities. Providing top class facilities close at hand, will enable athletes to focus on training and recovery, and not on travelling time.
Our club also caters for recreational sport, which is called Fit4Youth. This aspect of the club is vital to ensuring athletes have opportunities to partake in athletics in a friendly social environment and progress at their own pace while getting all the health benefits from athletics.

Bandon AC which already has great working relationships with local schools and organisations, such as Bandon Special Olympics and West Cork Athletics, and is looking forward to working even more closely with these schools and groups once the development is ready. This is a development which will greatly enhance the wider community and the athletics scene in West Cork.

It has been a long road to get the club to where it is now, with a lot of time and commitment from a large number of club members, but some people do deserve special mention. One of the founding members, Mr Billy Good, has played a large part in obtaining this site and the associated planning permissions.
A dedicated Track Development sub-committee put in a huge amount of work in recent years trying to find a suitable site, and get the planning permission.
Current members of the sub-committee include Michael Weldon, Paul Kingston, Michael McKeon, David Gibson and Una Hutchinson. Landowner Liam Crowley has been very helpful to the club throughout the long planning process.
As a tribute to all past members, the club decided to make this announcement on St Patrick's Day, as the club was known as St Patrick's AC for the first two years following its formation in 1964.

The club will shortly announce exciting fundraising activities to ensure this development is completed as soon as possible. We will be hoping that the community of Bandon and the wider athletics community will respond in a positive manner.

This is truly an exciting time for the athletics fraternity in Bandon and West Cork.
Grace Mckenzie Jumps Big PB for 5th in Irish All-Time Long Jump - March 2021
Grace McKenzie Jumps 6.21m at South Alabama Invitational

South Alabama Invitational
Mobile, Alabama
Friday March 12th 2021
Grace Mckenzie, McNeese State University and Belgooly AC in action at the 2019 NCAA Div I Pentathlon - Photo: Michael Wade
Grace McKenzie, McNeese State University and Belgooly AC set a new McNeese state college Long Jump record at yesterday's South Alabama Invitational, in Mobile Alabama, USA, jumping 6.21m, to break Shaterica Washington's 26-year-old record, set back in 1995. Pentathlete Grace also won the 100m Hurdles in 13.95 sec, and ran 25.056 sec for 4th place in the 200m.


5th Place on Irish All-Time Women's Long Jump Standings

Grace's 6.21m jump is a big improvement of 0.18m on her previous best of 6.03m, set indoors, last year, in Houston, Texas in Feb 2020. This propels Grace from joint 19th on the Irish All-Time listings to 5th.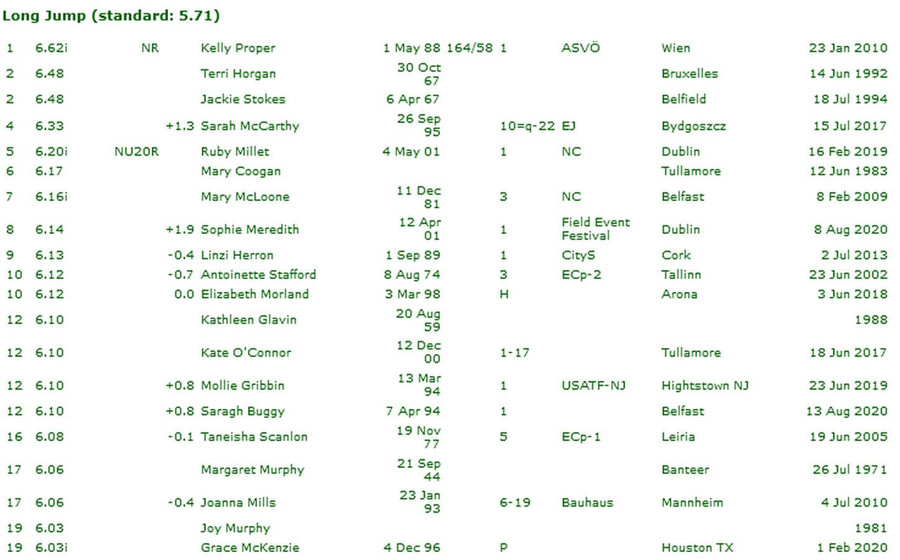 Irish Women's All-Time Long Jump Standings - March 12th 2021


"McKenzie adds to her legendary status in her McNeese career with another school record." She now holds the McNeese college outdoor records for the 400-meter hurdles, the heptathlon, and the long jump.

McKenzie said "I'm so happy with my jump". "More importantly I'm happy with the series of jumps I had. Since I compete in the heptathlon, it's important that I can get my jumps in early and secure points.

"I think what happened today was definitely a good starting point for us as a team but we have a lot of work to do and a lot more to show for what we've been doing behind the scenes."


Related Pages
Grace Mckenzie Regains Irish Pentathlon Record - March 2019
Grace McKenzie Sets New Irish Indoor Pentathlon Record
Grace McKenzie Takes Southland Conference Gold
McKenzie's Maiden 400mH and PBs for Curtin and Cronin on US College Circuit
News April 14th - Euro Qualifier for Healy as Walsh and McKenzie Honoured
Further US Collegiate Circuit Successes for McKenzie & Cronin - April 2018
US Collegiate Circuit Successes for McKenzie & Curtin
Grace McKenzie Breaks Pentathlon 4000 Barrier
Grace McKenzie Named Southland Conference Womens Track Athlete of the Week
Athlete Transfer Deadline - March 24th 2021
Deadline - March 24th 2021
Cork Athletics Facebook page

Athletes wishing to transfer clubs are reminded that the deadline for the return of fully completed transfer forms is Wednesday March 24th. Forms received after that date will NOT be accepted.
Transfer forms may be downloaded from the Athletics Ireland website.
The Sequence and Procedure on the form MUST be followed.


Completed Transfer Forms

Completed forms should be given to Cork AAI County Board Registrar, John Copithorne, or posted to him at John Copithorne, Registrar Cork AAI County Board, Belgooley, Co. Cork.

[Every transfer window, one of more forms are sent directly to Dublin, bypassing Cork County Board.
This results in, at best, delayed transfers, whilst the transfer may be held over until the next Transfer Window. (e.g. for the current deadline, of March 24th, it is unlikely that Cork Athletics will receive incorrectly directed forms back from AAI HQ by it's April meeting, so it may be May or even June before the transfer is approved.)]

Do NOT call to John Copithorne's house
Do NOT send your form by Registered Post, Courier or other form of delivery, except the regular Post
Do NOT send your completed form to Athletics Ireland HQ (Dublin), as this will severely affect delivery time, likely missing the deadline.
Closing date is Wednesday March 24th

Completed Transfer Forms may be submitted at any stage, but will not be reviewed by Cork Athletics County Board until after March 24th. However early submission allows time for the return and resubmission of forms that are incomplete or contain an error of some form or other
The Transfer Form MUST be signed in the following order
By the:
• Member (in the case of a minor, by their parent or guardian)

• New Club

• Outgoing Club

• County Board (outgoing club)

• Outgoing County Board (for out of county club transfer only)

• Incoming County Board (for inter-county transfer only)

Incomplete, improperly, or incorrectly completed forms will be rejected.

Notes:
Athletes must be in good stead with the outgoing club, i.e. they must not owe any membership fee, or other arrears, and all club property in their possession must have been returned
Athletes whose membership of the outgoing club has lapsed by more than three years do NOT require a transfer, i.e. they are free to change clubs without going through the formal transfer process - they can be simply registered by the incoming club. Note: Effectively this means that anyone transferring, who has been registered in ANY of the years 2018, 2019, or 2020, will need to fill out a Transfer Form

Next Transfer Window, following March 24th 2021, will close on August 24th 2021


Note: Cork Athletics County Board has asked Athletics Ireland to consider extending the transfer deadline until "One month after Athletics is allowed to resume".
Please note that there is no guarantee that Athletics ireland will agree to this. If AAI agree with the request, an update will be posted on this website and on Cork Athletics social media. In the meantime, please ensure that completed forms are with John Copithorne, Cork Athletics County Board Registrar, by Wednesday March 24th 2021
European Indoor Championships - Day 3 2021
European Indoor Championships 2021 - Irish Highlights from Day 3

Torun, Poland,
Sunday March 7th 2021


Livestream on European Athletics Website
The European Indoor Championships will also be covered on RTÉ Player and RTÉ2, with the morning sessions on RTÉ Player. There is also coverage on BBC



Sunday's Program


Day 3 - Sunday March 7th - Irish Schedule


9:18am - Ciara Neville - Womens 60m Heat 1
9:34am - Molly Scott - Womens 60m Heat 3
9:42am - Joan Healy - Womens 60m Heat 4
12:46pm - Sarah Lavin - Womens 60mH Semi Final
4:52 pm - Sean Tobin - Mens 3000m Final

Women's 60m
Ciara Neville was first up
Athletics Ireland Report - Morning Session
Neville and Lavin of Emerald AC bow out at European Semi-Final Stage
Emerald AC athletes Ciara Neville and Sarah Lavin have exited the European Championships in Torun at the semi-final stage.
Neville had advanced to the semi-finals after running a superb race from lane eight in the opening heat of the 60 meters to finish fourth (7.37) and automatically qualify to the semi-finals earlier this morning. She went on to take her place in the first of the semi-finals where she backed up her earlier performance by clocking 7.37 to finish 7th.
Sarah Lavin was also in semi-final action this afternoon on the back of her stunning 8.06 PB in yesterday's heats. The 2013 European U20 silver medallist went in the 3rd semi-final of the 60m hurdles where she lined up against four athletes boasting sub 8 second PBs. Lavin exploded from the blocks and finished in 4th in what was the second best time of her career, missing out on progression to the final by one hundredth of a second. She crossed the line in a blanket finish for 8.07
The 26-year-old will be delighted with her consistency of performance which saw her PB tumble each of the last three months in the lead up to today's semi-final.
Molly Scott and Joan Healy were also in action earlier this morning in the 60m but did not make it through their respective heats.
Scott will feel a little unlucky not to have progressed to the semis having only missed out on a fastest qualifier by one hundredth of a second. She posted a time of 7.37, the same as Neville, in finishing seventh in her heat, but was edged out after a fast final heat.
Healy went in the 4th heat and crossed the line in 7.46, which was outside her personal best of 7.31.
Athletics Ireland Report - Afternoon Session


11th for Tobin in European Indoor Final
Sean Tobin lined up against Europe's elite in the final of the 3000m in Torun this afternoon and secured a 11th place finish with a gritty performance which saw him clock 7:58.11.
The Clonmel AC athlete had secured his place in the final on the back of a personal best performance of 7:47.71 in yesterday's heats which ranks as the 6th fastest ever indoor 3000m by an Irishman.
The final saw Norwegian star Jakob Ingebrigtsen (NOR) wind up the race the front and the injection of pace saw Tobin become detached from the leading pack. Tobin battled on to just finish outside the top 10 in what has been a tough two days of racing.
The medals went the way of Jakob Ingebrigtsen (NOR), Isaac Kimeli (BEL), and Adel Mechaal(ESP).
Sean Tobin Interviewed by Davis Gillick
European Indoor Championships - Day 1 2021
European Indoor Championships 2021 - Irish Highlights from Day 1
Torun, Poland,
Friday March 5th 2021


Livestream on European Athletics Website
The European Indoor Championships will also be covered on RTÉ Player and RTÉ2, with the morning sessions on RTÉ Player. There is also coverage on BBC





Phil Healy, Bandon AC, has advanced from Heat 5 of today's opening round of the Women's 400m, with a commanding run of 52.00 secs. Unfortunately, Sharlene Mawdsley (5th Heat 7, 53.68) and Sophie Becker (3rd Heat 2, 53.31) did not progress.

Healy dominated heat 5 and claimed her place in the 400m semi-final by setting the fastest qualifying time. The Bandon AC athlete posted an impressive 'from-the-front' performance to clock 52.00 which was just one hundredth of a second outside her personal best. She will go in the semi-final later this evening (18:33pm Irish time).
Sophie Becker was in action in the second of the 400m heats and was unlucky not to progress with a 53.31 which was just outside of her personal best. The Raheny Shamrock AC athlete was in contention for the automatic qualifying places for much of the race but had to settle for 3rd place in her heat which was not enough to progress to the semi-final stage.
Sharlene Mawdsley went out hard and claimed a front ranking position at the bell in heat 7 of the 400m. The Newport AC athlete faced a tough task to make the semi-final but battled bravely to come home in 5th in a time of 53.68 which was just outside of her PB.


Womens 800m

Nadia Power was ultra-impressive in negotiating her way through round one of the 800m heats, securing her place in tomorrow's semi-final with a 2:03.16 performance. The DCH AC athlete will be back in action for the semi-final which is scheduled for 18:00pm tomorrow (Saturday 6th).

Power Qualifies from 800m Heat 5

National 800m record holder Siofra Cleirigh Buttner went in heat 3 of the 800m and looked well in contention until the final lap but was unable to reel in the eventual first three athletes home. She crossed the line in a time of 2:04.47.
Georgia Hartigan made her senior debut in heat 6 but was just run out of the top 3 qualifying spots to eventually finish 4th (2:04.74)

Evening Session:
All eyes will be on the semi-final of the Women's 400m where Phil Healy will look to make it to tomorrow's final. She is set to take to the starting blocks at 18:33pm (Irish Time – Live on RTE2).
The Men's 800 is set to start at 18:55pm where we'll see Irish 800m record holder Mark English line up with in the heats with recent rivals Cian McPhillips and John Fitzsimons.
Attention then turns to the Men's 1500m final (20:35pm Irish time) where Paul Robinson and Andrew Coscoran will go toe to toe with the elite of Europe's 1500m athletes.




Friday Evening



Saturday's Program



Womens 400m Semi-Finals


Phil Healy Qualifies for 400m Final
Phil Healy, Bandon AC has qualified for the Women's 400m Final, winning her Semi-Final in 52.41, in a photo-finish from Romanian Andrea Miklos, who was credited with the same time. Miklos came fast on the outside, and appeared to catch Phil by surprise, as Phil could be seen berating herself before the results came up on screen, obviously thinking that she had been pipped for the win. (Finishing position impacts on the lane draw for tomorrow's final)



Mens 800m Heats

English & McPhillips Qualify for Mens 800m Semi-Final
Mark English and Cian McPhillips both advanced from Heats 3 & 4 this evening, however John Fitzsimons (5th in Heat 4, 1:51.00) bowed out dropping from 3rd to 5th at the line, missing out by just 0.03 sec.
Paul Fitzsimons (far side) in blanket-finish for third place

800m Heat 4 Results
McPhillips ran an incident-free race, to finish 2nd from Heat 3, in 1:49.98
Cian McPhillips coasts across the line

800m Heat 3 Results
English made it difficult for himself, clipping the rail, when under no pressure, coming off the final bend, to finish 3rd in Heat 2, in 1:49.79
800m Heat 2 Results


Mens 1500m Final (Post Updated)

Marcin Lewandowski and Jakob Ingebrigtsen


There was a sting in the tail at the end of this race, with winner Jakob Ingebrigtsen initially being disqualified. Ingebrigtsen had taken the lead from early on, with reigning champion, Marcin Lewandowski in pursuit. Ingebrigtsen finished in 3:37.56, with Lewandowski in 3:38.06. But, with the DQ, Lewandowski was elevated to 1st. However following protest from the Norwegian Federation, he was reinstated as winner nd Champion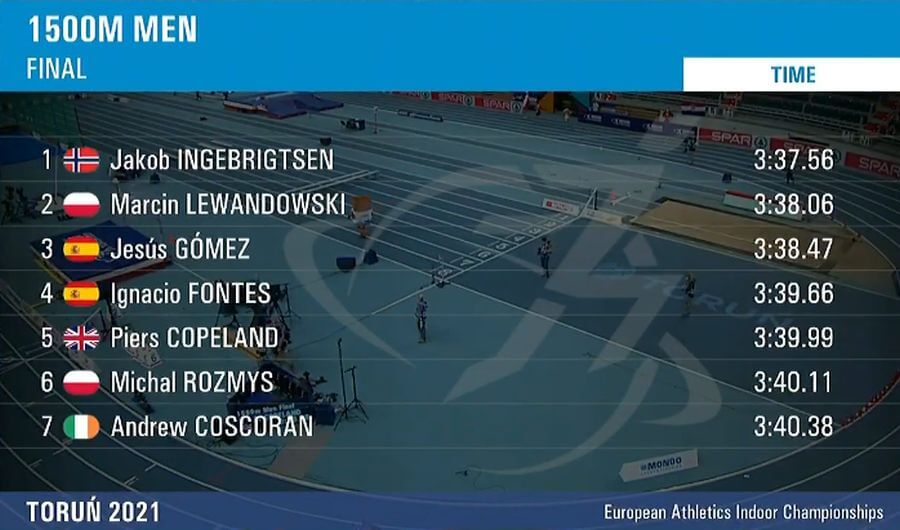 1500m results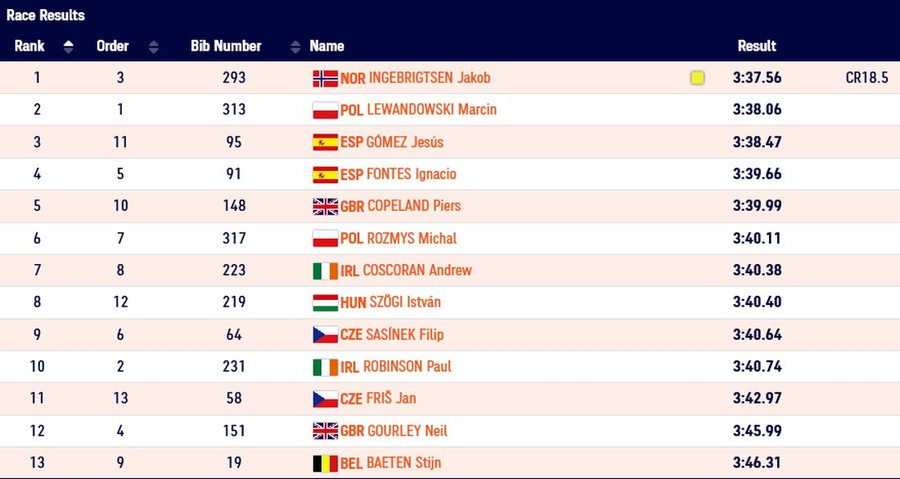 Full 1500m results


With the battle at the front, we didn't see much of the action behind, with Andrew Coscoran and Paul Robinson, just getting brief glimpses of the Irish lads in the pack.

Early stages of 1500m

Coscoran finished in 7th place, in 3:40.38, while Robinson was 10th in 3:40.74. So Ireland had two finishers in the top 10 at the 1500m final.



Paul Robinson being introduced to the media before the 1500m Final
A 'camera shy' Andrew Coscoran tries to avoid being introduced to the media before the 1500m Final
35k Win for Alex Wright at Dudince 50 2021
Win for Alex Wright Highlight for Irish Contingent at Dudince 50 2021

Dudince, Slovakia

Saturday March 20th 2021


Mens 35k



Alex Wright, Leevale AC, won today's Men's 35km racewalk, at the Dudince 50 racewalk meet, in Dudince, Slovakia, covering the distance in 2:36:29

Alex Wright
Men's 35k Racewalk Results
Womens 20k


Kate Veale, Brataslava, 2018


Kate Veale, West Waterford AC, walked 1:38:40, in a top-quality womens field, for 22nd place.
Women's 20k Racewalk Results


Mens 20k
David Kenny, Brataslava, 2019
David Kenny, Farranfore Maine Valley AC, walked a 1 second PB for 1:23:06, for 12th place in a very competitive Men's 10k.

Men's 20k Racewalk Results
Women's 10k

Emily McHugh, Podebrady, 2019

Emily McHugh, Naas AC, walked 50:33, for fourth place in the women's 10k, just 3 seconds off her own 50:30 vest, set in Altyus last September.
Women's 10k Racewalk Results
Stephanie Cotter Retains NCAA Div II Mile Title
Stephanie Cotter Retains NCAA Div II National Mile Title
Birmingham, Alabama, USA
March 13th 2021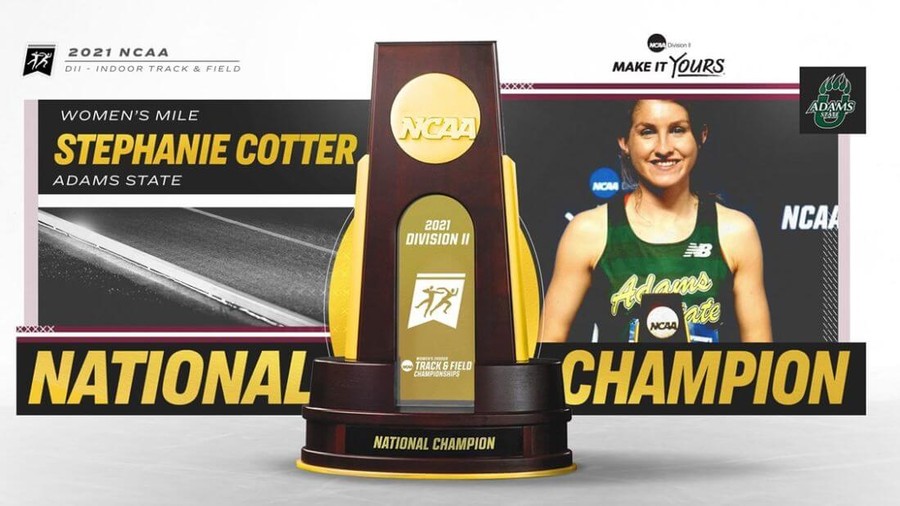 NCAA Division II Indoor Mile National Champion 2021


Stephanie Cotter coasting to victory in the NCAA Div II Women's Mile



Results of NCAA Div II Indoor Women's Mile Championship 2021
NCAA Div II Women's Mile Results 2021
NCAA Div II National Indoor Championship 2021 - Women's Mile Final from Webmaster - Cork Athletics on Vimeo.
Stephanie Cotter, Adams State University and West Muskerry AC, retained her NCAA Division II Indoor Mile crown, in Birmingham, Alabama, USA, last night, running 4:51.72. Stephanie won the event in 2019, however the 2020 edition was cancelled due to Covid-19.
Early stages of Women's Mile

The race started at a pedestrian pace, going through the first 400m in approx. 93 sec. Allied Ludge, who eventually finished fourth, then upped the pace, with Stephanie content to follow in the wake, on the inside, with Ludge taking a slightly longer pat outside. Ludge upped the pace with about 600 to go, but Stephanie, looking very comfortable throughout, stuck with her. With just over a lap to go, Stephanie changed gears decisively and went for home, leaving the field trailing in her wake. Going into the first bend on the final lap, Stephanie gave a brief glance to her left, to see if she could see/sense anyone chasing, but there was a large gap at that stage.

Stephanie continued, even easing up coming off the final bend, and literally, jogged across the line. Meantime, Hailey Steff had made a great run over the final two laps, coming from fifth place to take silver, with Ludge, who had led for much of the race, falling back to fourth.
Related Articles
Cork City Sports Athlete of the Month December 2019 - Stephanie Cotter
Stephanie Cotter - NCAA Div II Woman Athlete of the Year 2019
Stephanie Cotter Continues in Winning Way - NCAA Div II Regional 2019
Stephanie Cotter wins RMAC XC Championship and Named NCAA Athlete of the Week
Stephanie Cotter Wins NCAA Div II Outdoor 1500m Title 2019
Stephanie Cotter Wins NCAA Div II Mile Title
Stephanie Cotter Named as Rocky Mountain Athletic Conference Female Freshman of the Year 2019
Stephanie Cotter is Rocky Mountain Athletic Conference Female Freshman of the Year 2018
Stephanie Cotter Heads for Adams State
Stephanie Cotter Runs for Europe in Edinburgh International 2018
Stephanie Cotter Third in Antrim International Cross-Country 2018
Cork City Sports Athlete of the Month May 2017 Stephanie Cotter
Coaching Material Video Links - March 2021
Athletics Ireland Coaching Material Video Links




Athletics Ireland TV YouTube Channel
Sprints & Hurdles
Jumps

Carl Lewis Sail technique video


Hitch-Kick and Hang technique video
Throws

Coaching Aspects of the Shot Put Technique for Young Athletes



Fundamentals of the standing shot put

Glide Shot Put in three simple steps


General

Athlete Mobility & Injury Prevention
Willie O'Mahony Celebrates 50 Years as East Cork Divisional Treasurer
Willie O'Mahony Turns 50 as East Cork Divisional Treasurer

January 1971 - January 2021 ...and still going!
Willie O'Mahony


Willie O'Mahony, East Cork Athletics Division's eternal and hard working Treasurer, has recently celebrated fifty Years ...Yes! 50 YEARS!! ...as Treasurer of the Division. In January 1971, Willie took over as Treasurer from Jerry Russell....and never stopped! His contribution to athletics has been immeasurable.
Sharon O'Mahony's Video Compilation
Not only that, but anywhere that there is an athletics event in East Cork, Willie will be there, either officiating, running, videoing.....or simply helping out, whether it's a road race, cross-country, Track & Field, or a function of some sort. .....And that's only the Athletics Ireland/Cork Athletics side - you can add Schools Athletics to that, along with all the other work he does quietly!

The popular and hard-working Youghal AC man has been, literally, a dynamo ...and a driving force behind the success of athletics in East Cork for over five decades.

Willie also has the proud record of having run 39 of the 40 Ballycotton 10's, a feat only surpassed by John Walshe.

Take A Bow Willie! .......We Know You Won't Take a Rest!!



European Indoor Championships - Day 2 2021
European Indoor Championships 2021 - Irish Highlights from Day 2
Torun, Poland,
Saturday March 6th 2021


Livestream on European Athletics Website
The European Indoor Championships will also be covered on RTÉ Player and RTÉ2, with the morning sessions on RTÉ Player. There is also coverage on BBC



Saturday's Program


Day 2 - Saturday March 6th - Irish Schedule


Heats Mens 60m
Leon Reid (9:46am)
Israel Olatunde (10:07am)
Dean Adams (10:14am)

Heats Mens 3000m
John Travers (10.25am)
SeanTobin (10:38am)
Brian Fay (10:51am)

Heats Women's 60m Hurdles
Sarah Lavin (11:42am)
Evening Session

Semi-Final Womens 800m
Nadia Power (6:00pm)

Semi Final Mens 800m
Cian McPhillips (6:33pm)
Mark English (6:41pm)

Final Womens 400m
Phil Healy (7:25pm)


Sean Tobin has secured his place in 3000m final at the European Indoor Championships with a step perfect performance in Torun this morning. The Clonmel AC athlete was in contention from the gun and a fastest qualifier spot was his reward. Tobin ran the perfect race in heat 2 of the 3000m which resulted in him attaining the 5th fastest time of all those qualifying for the final.
The 7:47.71 performance was also a new personal best for Tobin and ranks as the 6th fastest ever indoor 3000m by an Irishman. He'll be back in action on Sunday afternoon at 4.52pm for the 3000m final where he'll line up against European's elite including Norwegian star Jakob Ingebrigsen who claimed the 1500m gold medal last night.
2013 European U20 silver medallist Sarah Lavin will also be back in action on Sunday as she progressed through her round 1 heats as an automatic qualifier in the 60m hurdles. The Emerald AC athlete stormed to a personal best time of 8.06 to continue her blistering start to 2021. The time shattered her old PB of 8.13 and further strengthens her 2nd place position on the Irish all-time list, with only Derval O'Rourke running faster. Lavin will be back in the starting blocks for the semi-final on Sunday at 12.30pm.

Saturday March 6th (Morning session)
Men's 60m
Day 3 at the European championships got up and running for Irish athletes in the 60m where the trio of Leon Reid, Israel Olatunde, and Dean Adams took to the starting blocks for the first round of heats. The 60m heats looked ultra-competitive on paper with only 2 automatic qualifiers going through from each of the 9 heats, along with the next 6 fastest.
Leon Reid, who is second on the Irish all-time list went in heat 5 and crossed the line in 5th place in a time of 6.75 which was not enough to progress to the semi-final stage. Reid's attention will now turn to the outdoors and Olympic qualification.
Israel Olatunde went in the 8th heat and the Irish U20/23 record holder will take great heart from his first senior international appearance. The UCD AC man finished in 4th place in a time of 6.79 and will no doubt be back on this stage in the years to come.
National indoor champion Dean Adams went in the final 60m heat of the day and Ballymena & Antrim A.C. man crossed the line in 7th place in a time of 6.89. The appearance secured Adams his first senior Irish (individual) cap at the age of 30, and will no doubt motivate the next generation of aspiring sprinters.
Men's 3000m
2020 national indoor champion John Travers was first up in the 3000m for team Ireland. Travers was well positioned for much of the race and went with the injection in pace set by Mohamed Katir of Spain over the final 1000 meters. Unfortunately, the exertions seemed to take their toll in the finish with Travers coming home in 8th place in 8:05.96.
Tobin was up next and, as mentioned, ran the perfect race in the second heat, which resulted in him claiming that European final spot.
Brian Fay who was a late call up the the European indoor team faced a tough task in heat 3 of the 3000m where he lined up against Jimmy Gressier (FRA), Isaac Kimeli (BEL), and Jakob Ingebrigsen (NOR) who would go on to claim the first 3 automatic qualifying spots. The Raheny Shamrock AC man stayed in the chasing pack led by Ingebrigsten for much of the race and crossed the line in 7th place in a time of 7:56.13.
Sarah Lavin was the sole Irish representative in the 60m hurdles, and she secured her place in Sunday's final with a performance which smashed her old PB. The Emerald AC athlete looked supremely controlled as she crossed the line in 8.06 behind Visser (NED) and Sember (GBR) for third place.




PB For Phil Healy in Women's 400m Final

Phil Healy, Bandon AC, finished in fourth position in this evening's final in a lifetime best of 51.94 sec, just 0.21sec outside Bronze. Phil looked to be too far adrift of the leader with 100 to go, but came with a strong finish to 4th
Athletics Ireland Everning Session Report
Personal Best takes Healy to 4th in Europe at European Indoor Championships
Phil Healy has run the fastest 400 meters of her life in claiming 4th place in the European Indoor Championship final in Torun this evening.
The Bandon AC athlete took to the blocks knowing that she would need a near perfect performance to compete amongst a world class line-up, and she did just that with a stunning personal best time of 51.94.
Healy finished strongly down the home straight for 4th and was just two tenths of a second short of making it onto the podium. Her time would have been enough to secure her a medal at the previous 5 editions of these championships, further highlighting the class of field which she was up against.
The final was Healy's third run at these championships over two days, and her consistency of performance will be something she will look to carry with her, as she tracks towards Tokyo qualification.
Nadia Power, Cian McPhillips and Mark English were all in 800m semi-final action this evening, and all three had to settle for fourth place, which resulted in them just missing out on tomorrow's respective finals (McPhillips was subsequently promoted to 3rd after a DQ, and then back to 4th after an appeal against the DQ was upheld).
Power hit the front at the bell in a gutsy display which saw her leave everything out on the track in posting a 2:04.04. The Dublin City Harriers athlete finished 4th in the end and her recent indoor exploits will no doubt stand to her as she builds towards Olympic qualification.
Longford man McPhillips who only made his senior Irish debut in yesterday's heats looked very much as if he belonged with Europe's elite, setting a new European U20 record of 1:48.08 at the age of 18 (McPhillips ran 1:46.13 at the Elite Micro Meet but anti-doping controls need to be undertaken for a European Record to be ratified). His 3rd place finish was not enough to progress to the final tomorrow but there is no doubt that he will return to this stage once again in the years to come.
Mark English signed off his record-breaking indoor season at the semi-final stage too, clocking 1:48.99 to finish 4th. The Finn Valley AC man was in position approaching the last 400 meters but could not peg back the leading trio of Borkowski (POL), Webb (GBR), and Kramer (SWE)


Irish Interest on Sunday

9:18am - Ciara Neville - Womens 60m Heat 1
9:34am - Molly Scott - Womens 60m Heat 3
9:42am - Joan Healy - Womens 60m Heat 4
12:46pm - Sarah Lavin - Womens 60mH Semi Final
4:52 pm - Sean Tobin - Mens 3000m Final
Phil Healy goes in Torun 2021 Day 1 Morning Session - Fri March 5th
Phil Healy Among Six Irish Women in Action This Morning
European Indoor Championships
Torun, Poland
Friday March 5th 2021
Coverage

Livestream on European Athletics
European athletics livestream is geo-restricted (because RTE have the rights for Ireland), but you nay be able to get it via a VPN
LIVE on BBC
Live on RTE Player
Irish Athletes -Morning Schedule

10:30am - Sophie Becker - Women's 400m heats
10:54am - Phil Healy - Women's 400m heats
Phil Healy & Coach Shane McCormack
11:10am - Sharlene Mawdsley - Women's 400m heats
12:16pm - Síofra Cléirigh-Büttner - Women's 800m heats
12:32pm - Nadia Power - Women's 800m heats

12:40pm: Georgie Hartigan - Women's 800m heats