Further US Collegiate Circuit Successes for McKenzie & Cronin - April 2018
McKenzie and Cronin Excel
April 2018


Grace McKenzie, McNeese State University & Belgooly AC

"LAKE CHARLES – McNeese junior multi-event performer Grace McKenzie etched her name in the Cowgirl record book on Friday, after she placed first in the heptathlon at the SFA Carl Kight Invitational, in Nacogdoches, Texas, with a school record 5,406.

McKenzie broke the previous record of 5,265, was set by Mariah Georgtown in 2012. Her points total moves her up to the No. 1 position in the Southland Conference, and also ranks her second in the Division I East Qualifying, as well as seventh overall in Division I.

She won the event by more than 400 points.

In addition to setting a new school record, McKenzie blistered her previous PR point total by more than 1,000 points."
Carl Kight Invitational 2018 Heptathlon Result
Carl Kight Invitational 2018 Heptathlon 100m Result
Carl Kight Invitational 2018 Heptathlon High Jump Result
Carl Kight Invitational 2018 Heptathlon Shot Put Result
Carl Kight Invitational 2018 Heptathlon 200m Result
Carl Kight Invitational 2018 Heptathlon Long Jump Result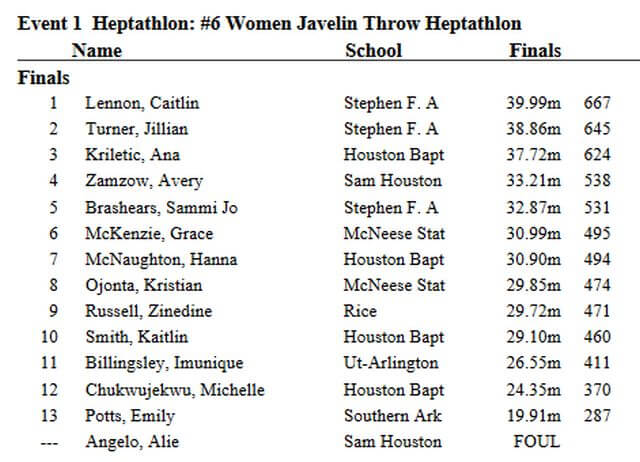 Carl Kight Invitational 2018 Heptathlon Javelin Result
Carl Kight Invitational 2018 Heptathlon 800m Result
McKenzie now Fourth on Irish All-Time Heptathlon Listings
This performance shoots Grace right up the all-time Irish Heptathlon leaderboard, to fourth place behind Kelly Proper (5442), Kate O'Connor (5759) and leader Elizabeth Morland (5801)
Athletics Ireland All-Time Heptathlon Listings @ April 9th 2018
| Event | Place | Performance | Points |
| --- | --- | --- | --- |
| 100mH | 1st | 13.73 sec | 1017 |
| High Jump | 1st | 1.68m | 830 |
| Shot Put | 4th | 10.8m | 582 |
| 200m | 1st | 25.02 sec | 885 |
| Long Jump | 1st | 5.71m | 762 |
| Javelin | 7th | 30.99m | 495 |
| 800m | 1st | 2:19:13 | 835 |
McKenzie Shatters College Record
Grace McKenzie shatters pentathlon school record at ASU
Belgooly AC's Grace McKenzie Breaks McNeece State College Record
* * * * *
Dean Cronin's PB at CU Invitational
Colorado University, Denver, Colorado, USA
6th - 7th April 2018
Dean Cronin, Blarney-Inniscarra AC & Fort Hays University


Colorado Invitational Mens 800m Result 2018

Dean Cronin reduced his 800m PB by 1.23 sec, from 1:49.89 to 1:48.66, at the Colorado Invitational. This places him 52nd on the Irish All-Time 800m listings. His previous best of 1:49.89 was set last month at the NCAA Division II Indoor Track & Field Championships
Related Article
800m Silver for Dean Cronin at NCAA Div II National Championships