Indoor Round-Up January 31st 2018
PBs for Healy Sisters as McKenzie Shatters College Record

News of Cork Athletes in Indoor action around the world

For the past few weeks, Cork Athletes have been blazing a trail on indoor arenas around the globe, from Athlone to Vienna (Austria), Paris France) and Jonesboro (Arkansas, USA). The Healy sisters, Joan and Phil, both Bandon AC athletes, both set new PBs, while Phil also achieved World Indoor Championship Qualifying times. Belgooly AC's Grace Mckenzie, on athletics scholarship at McNeese University, shattered the college's six year old Pentathlon record. Nearer home, at the Athletics Ireland Junior and Under-23 indoor Championships, in Athlone, there were wins, in the Under 23 400m, for Blarney-Inniscarra AC's Brandon Arrey, and, in the Under 23 Pole Vault for Abbey Striders AC's Raymond Walsh.


National Indoor League - Round 1
Athlone - Saturday January 13th


At GloHealth National Indoor Club League Rd 1, in AIT Athlone, on Saturday January 13th last, Joan Healy (Bandon AC) set a new PB of 7.37 sec, in the Women's 60m. This moves Joan from 10th to 7th place, in the Irish All-Time Indoor 60m Standings, having reduced her best from 7.41 sec, to leapfrog Kelly Proper and Michelle Carroll.


Nantes Métropole Indoor, Nantes, France
Saturday January 20th 2018

A week after setting a PB of 7.37 secs, Joan Healy reduced her PB to 7.34 sec, at Nantes Métropole Indoor, Nantes, France, on Saturday January 20th, moving her up a place in the Irish All time Rankings, to 6th place on the 60m leaderboard. Her performance was just a hair's breadth 0.04 seconds off the National 60m Record of 7.30, which is also the IAAF World Indoor Championship Qualification Standard.
Update Friday February 2nd
Phil Healy is among the athletes nominated for European Athletics Athlete of the Month for January
To vote for Phil, either Like Phil's Photo on European Athletics Facebook Post, or Re-Tweet European Athletics Tweet


400m Qualifying Time for Phil Healy in Vienna, Austria
Bandon AC's Phil Healy ran a 52.08 sec PB, when winning in Vienna last Saturday, for another World Championship qualifying time, in a high quality field. She is now just 0.50 secs away from Karen Shinkin's 51.58 Irish record set in February 2002, Phil's previous indoor best was 53.15.
Belgooly AC's Graze McKenzie Excels

Grace McKenzie (Belgooly AC/McNeese State University) Clears the High Jump last Friday
Belgooly AC's Grace McKenzie continues to progress in the USA. Grace, who is on athletic scholarship in the U.S. Last weekend, Grace smashed the 6 year old McNeese Pentathlon record by a massive 224 points, with a total score of 3880 points.
Grace McKenzie shatters pentathlon school record at ASU
"JONESBORO, Arkansas – McNeese junior multi-event performer Grace McKenzie made school history here on Friday afternoon, shattering the school record for the pentathlon with a first place meet total of 3880 points, at the Arkansas State Invitational.

The Cork, Ireland native broke the old record of 3,656 points, held by Mariah Georgetown almost six years to the date. Georgetown set that record at the Arkansas State Invite as well.
In addition to her school record points total, McKenzie set new personal records in the 55-meter hurdles (8.19), the long jump (18-4.25) and in the 800 meters (2:22.01)."


Athletics Ireland

National Junior & Under 23 Indoor Championships



Athlone, Saturday January 27th
There were twelve Cork medalists from last Saturday's Championships, with two Gold, four Silver and six Bronze medals coming Cork's way. The two Gold medals were won by Brandon Arrey (Blarney-Inniscarra AC) and Raymond Walsh (Abbey Striders AC).

Brandon Arrey (Blarney-Inniscarra AC)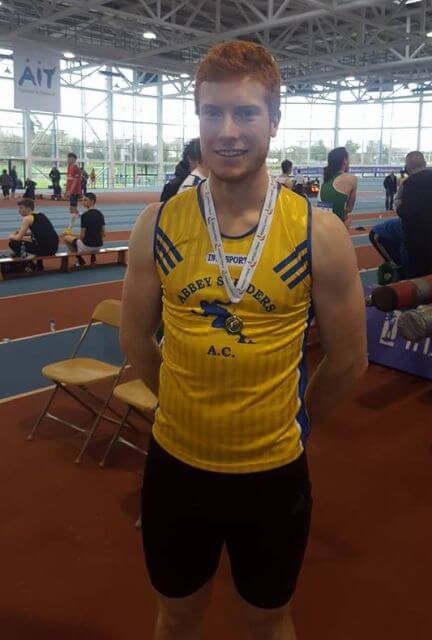 Raymond Walsh (Abbey Striders AC)
Extracted Cork Medalists
Track Results
| | | | | | |
| --- | --- | --- | --- | --- | --- |
| Event | Cat | Pos | Name | Team | Result |
| 60m | Junior Men | 1 | OLATUNDE, Israel | Dun Dealgan | 6.99 |
| 60m | Junior Men | 2 | MOREY Conor | Leevale A.C. | 7 |
| 60m | Junior Men | 3 | O'LEARY Ryan | Leevale A.C. | 7.06 |
| | | | | | |
| Event | Cat | Rank | Name | Team | Result |
| 1500m | Junior Women | 1 | KEANE Jo | Ennis Track A.C. | 04:36.3 |
| 1500m | Junior Women | 2 | COTTER Stephanie | West Muskerry A.C. | 04:38.3 |
| 1500m | Junior Women | 3 | DOELLKEN Shauna | Kenmare A.C | 04:44.2 |
| | | | | | |
| Event | Cat | Rank | Name | Team | Result |
| 200m | Junior Men | 1 | MURPHY David | Gowran A.C. | 21.84 |
| 200m | Junior Men | 2 | GRANT John | Celbridge A.C. | 22.45 |
| 200m | Junior Men | 3 | O'LEARY Ryan | Leevale A.C. | 22.52 |
| | | | | | |
| Event | Cat | Rank | Name | Team | Result |
| 400m | Under 23 Men | 1 | ARREY Brandon | Blarney/Inniscara A.C. | 48.43 |
| 400m | Under 23 Men | 2 | IRWIN Shane | Finn Valley A.C. | 48.87 |
| 400m | Under 23 Men | 3 | PEPPARD Paul | Monaghan Phoenix A.C. | 50.16 |
Field Event Results
| | | | | | | | | | | | | | | | |
| --- | --- | --- | --- | --- | --- | --- | --- | --- | --- | --- | --- | --- | --- | --- | --- |
| Event | Cat | Pos | Name | Team | Result | 3m60 | 3m80 | 4m00 | 4m20 | | | | | | |
| Pole Vault | Under 23 Men | 1 | WALSH Raymond | Abbey Striders A.C. | 4 | | 0-- | 0-- | XXX | | | | | | |
| Pole Vault | Under 23 Men | 2 | POWER Shane | St. Joseph's A.C. | 3.8 | | 0-- | XXX | | | | | | | |
| Pole Vault | Under 23 Men | 3 | KANASH Yuri | West Waterford A.C. | 3.8 | X0- | 0-- | XXX | | | | | | | |
| | | | | | | | | | | | | | | | |
| Event | Cat | Pos | Name | Team | Result | 1m45 | 1m50 | 1m55 | 1m60 | 1m65 | 1m70 | 1m73 | | | |
| High Jump | Junior Women | 1 | KENNELLY Ciara | Killarney Valley A.C | 1.7 | | | X0 | X0 | X0 | 0 | XXX | | | |
| High Jump | Junior Women | 2 | CRAIG Shannon | Lifford Strabane A.C. | 1.6 | | | 0 | 0 | | XXX | | | | |
| High Jump | Junior Women | 3 | MURPHY Hannah | Leevale A.C. | 1.55 | 0 | 0 | 0 | XXX | | | | | | |
| | | | | | | | | | | | | | | | |
| | | | | | | | | | | | | | | | |
| Event | Cat | Pos | Name | Team | Result | 1 | 2 | 3 | 4 | 5 | 6 | | | | |
| Triple Jump | Junior Men | 1 | THOMPSON Sean | Lucan Harriers A.C. | 13.67 0.0 | 13.31 0.0 | 13.58 | 13.42 | 12.81 | 13.53 | 13.67 | | | | |
| Triple Jump | Junior Men | 2 | LYNCH Brendan | Loughrea A.C. | 13.47 0.0 | 12.96 0.0 | X | 12.89 | 13.41 | 13.47 | - | | | | |
| Triple Jump | Junior Men | 3 | SIVAKUMAR Wymin | Leevale A.C. | 12.92 0.0 | 12.64 0.0 | X | 12.62 | 12.53 | 12.82 | 12.92 | | | | |
| | | | | | | | | | | | | | | | |
| Event | Cat | Pos | Name | Team | Result | 1 | 2 | 3 | 4 | 5 | 6 | | | | |
| Shot Put - 4kg | Junior Women | 1 | KEHOE-DOWLING Nicole | St Abbans A.C | 11.4 | 11.04 | 11.4 | X | X | X | X | | | | |
| Shot Put - 4kg | Junior Women | 2 | MC DYER Bridget | Finn Valley A.C. | 10.02 | 9.5 | 9.94 | 10.02 | 9.42 | 9.21 | 9.48 | | | | |
| Shot Put - 4kg | Junior Women | 3 | CUSACK Vickie | Liscarroll A.C. | 9.89 | 9.14 | 9.89 | 9.02 | 8.91 | 9.47 | 8.95 | | | | |
| | | | | | | | | | | | | | | | |
| Event | Cat | Pos | Name | Team | Result | 1m70 | 2m70 | 2m85 | 3m00 | 3m10 | 3m20 | 3m30 | 3m40 | 3m50 | 3m65 |
| Pole Vault | Junior Women | 1 | MCCARTNEY Ellen | City of Lisburn AC | 3.5 | | | | | | | 0-- | --- | 0-- | XXX |
| Pole Vault | Junior Women | 2 | COFFEY Emma | Carraig-Na-Bhfear A.C. | 3.4 | | | | | 0-- | 0-- | XX0 | XX0 | XXX | |
| Pole Vault | Junior Women | 3 | WALSH Clodagh | Abbey Striders A.C. | 3.2 | | | 0-- | 0-- | 0-- | 0-- | XXX | | | |
| | | | | | | | | | | | | | | | |
| Event | Cat | Pos | Name | Team | Result | 2m25 | 2m55 | 2m70 | 2m85 | 3m00 | | | | | |
| Pole Vault | Under 23 Women | 1 | MCGINLEY Muireann | Dublin City Harriers | 2.85 | 0-- | 0-- | 0-- | XX0 | XXX | | | | | |
| Pole Vault | Under 23 Women | 2 | SAMUELS Una | Leevale A.C. | 2.7 | | 0-- | X0- | XXX | | | | | | |