Successful CYDI Launch - April 2018
Cork Youth Development Initiative (CYDI) Launched
CIT Track
Saturday April 14th 2018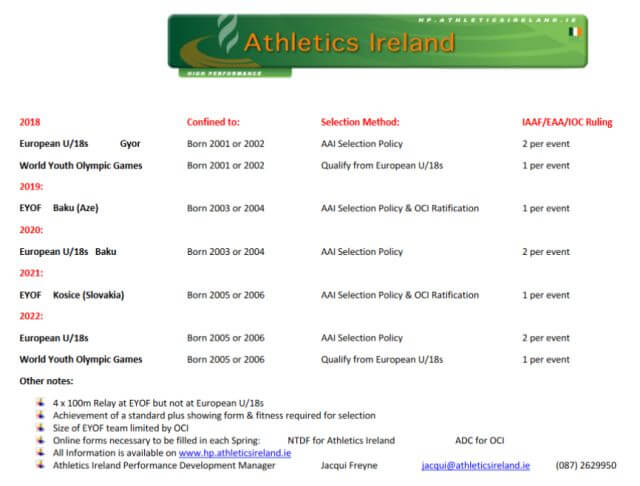 Click this Link, or on Image above for larger size (A4)
A hugely successful launch of the Cork Youth Development Initiative (CYDI) took place at CIT track, on Saturday April 14th, with more than ninety (90) athletes present, drawn from a wide spectrum of Cork clubs, along with their parents and coaches.
The session was introduced by Colette Kelly, Cork County Board, who outlined the background and aims of the initiative. Jacquie Freyne, Athletics Ireland High Performance Director, then addressed the group, and gave a very informative talk on qualifying standards and selection policy for international competitions. Philip Kearney Phd. University of Limerick then gave a very well received talk on athletic development, and reasons why young athletes, through their teenage years, either stay in the athletics or are lost to the sport.

The lead coaches were then introduced to the athletes, followed by a training session, with the coaches putting the athletes through their paces, while also explaining what they will be watching for over the summer competition months.
Both Philip Kearney and the Munster Regional Development Officer, Lilly-Ann O'Hora, went around all the groups, observing, and gathering feedback, from coaches and athletes, for the workshops which will be given over the winter months.

The day was rounded off with all athletes present registering their events of interest with Mary Meagher, Cork Athletics County Board Competition Secretary.
Once it is verified, by Cork Register, John Copithorne, that these athletes are registered members of a Cork Athletic Club, their names will be given to the relevant event lead coach.
Assessments
Over the summer months, the coaches will be following the performances of each of the individual athletes on their particular event lists, and, in September next, will submit the names of those they consider have the potential to achieve the target International Qualification Standards, to Cork Athletics County Board,
Panels
The named athletes will then be invited to join CYDI Panel A, by Cork Athletics County Board. All other athletes will invited to join CYDI Panel B.
Training courses and workshops will be organised for both panels over the Autumn/Winter months. There will be flexibility to move up from Panel B to Panel A, as proficiency improves and they move towards the top in their event.

Athletes Who Were Unable to Attend the Launch
Any athlete who was unable to attend the Launch, but who would nevertheless like to register their interest in selection should submit their Name, (Date of Birth (DOB), and their Club, to This email address is being protected from spambots. You need JavaScript enabled to view it. by email.


Copies of the handouts which were handed out on the day can be downloaded by clicking on the links below:
Phil Kearney, Ph. D Introduction & Proposal
English AA Entry Standard
EYOF Standard
Carding

Event

2006 - U13

2005 - U14

2004 - U15

2003 - U16

2002 - U17

2003 - U16

2002 - U17

2001 - U18

2000 - U19

1999 - U20

100m
12.99
12.99
12.8
12.8
12.05
12.05
11.86
11.75
11.63
200m
26.6
26.6
26.3
26.3
24.95
24.95
2434
23.93
23.69
300m
42
42
56.8
56.8
400m
55
54.94
54.17
800m
2:21
2:21
2:18
2:18
2:12
2:12
2:06.26
2:04.86
2:04.83
1500m
4:53
4:53
4:49
4:49
4:40
4:40
4:17.16
4:17.01
4:16.99
3000m
10:30
10:30
10:10
10:10
5000m
16:08.55
15:56.23
15:48.71
75mH
12
12
80mH
12.4
12.4
100mH
14:02
14.2
14.08
13.87
13.56
300mH
48
48
43.5
43.5
400mH
62
62
59.82
59.61
58.44
HJ
1.6
1.6
1.65
1.65
1.75
1.75
1.86
1.87
1.89
LJ
5
5
5.5
5.5
5.8
5.8
6.24
6.38
6.39
TJ
11.1
11.1
12.2
12.2
13.26
13.4
13.57
SP
9.8
9.8
12.2
12.2
13.75
13.75
15.46
16.06
16.46
DT
29
29
35
35
40
40
50.91
52.07
53.67
JT
30
30
36
36
48
48
50.41
50.45
52.57
HT
33
33
47
47
56
56
58.42
59.59
61.14
English AA Entry Standard
EYOF Standard
Carding
Event
2006 - U13
2005 - U14
2004 - U15
2003 - U16
2002 - U17
2003 - U16
2002 - U17
2001 - U18
2000 - U19
1999 - U20
100m
11.8
11.8
11.3
11.3
11.05
11.05
10.68
10.61
10.54
200m
24.2
24.2
22.9
22.9
22.3
22.3
21.12
21.09
20.89
400m
40
40
52
52
49.8
49.8
47.87
47.44
47
800m
2:08
2:08
1:59
1:59
1:56
1:56
1:49.39
1:48.76
1:47.84
1500m
4:30
4:30
4:10
4:10
4:02
4:02
3:46.57
3:42.54
3:41.27
3000m
10:00
10:00
9:03
9:03
8:42
8:42
5000m
13:46.59
13:40.34
13:38.20
80mH
12.5
12.5
100mH
14.5
14.5
14.4
14.4
110mH
14.23
14.1
14.07
400mH
60
60
55
55
52.33
51.4
50.63
HJ
1.7
1.7
1.9
1.9
2
2
2.17
2.18
2.2
LJ
5.8
5.8
6.45
6.45
6.8
6.8
7.54
7.69
7.75
TJ
11.5
11.5
13.1
13.1
14.3
14.3
1599
16.04
16.29
SP
12.2
12.2
13.8
13.8
17
17
16.9
17.52
17.88
DT
35
35
43.5
43.5
52
52
52.49
54.42
46.4
JT
40
40
52
52
62.5
62.5
68.63
70.32
73.13
HT
44
44
52.5
52.5
63
63
63.64
66.22
68.52