Richard Piotrowski Wins British M70 10k Title
PIOTROWSKI WINS BRITISH MASTERS TITLE
Guest Article By John Walshe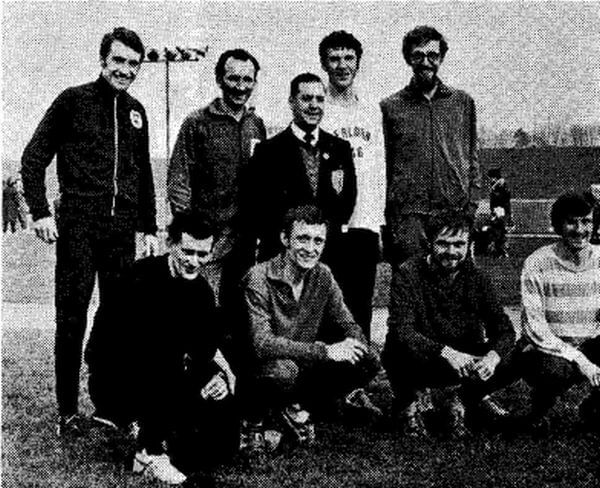 Reading AC - British Road Relay Champions 1973. Richard Piotrowski is second from right, back row
Photo: Athletics Weekly
Richard Piotrowski, who now lives near Macroom and runs with Eagle Athletic Club, was the recent winner of the M70 title at the British Masters 10km road championships, which took place at Gravesend in Kent.
Since moving to Ireland, Richard has been a regular winner in both the M60 and M65 categories on the Cork running scene. He recently moved up to the M70 grade and his 43:08 over a difficult course and in warm conditions in Gravesend gave him the gold medal.
The report of the race in last week's edition of Athletics Weekly stated: "Back in the early 1970s Dick Piotrowski was one of the Reading AC senior team taking major team medals on road and country and here was an M70 victor in 43:08, half a minute clear of Peter Giles."
That report was written by regular AW contributor Martin Duff, a team-mate of Richard on those Reading teams. Piotrowski also ran with the famous Belgrave Harriers and was an accomplished performer on the track, especially in the 3000m steeplechase.
As the results below show, the late 1960s/early 1970s was a golden age in British – and also Irish - distance running. The race, the Bracknell '5', was just an ordinary club event held every August. Although only 108 runners took part, as can be seen the first 12 broke 25 minutes with 82 of the 108 under the half-hour.
Richard finished sixth on that occasion in 24:27 and three seconds behind him was John Bryant, a newspaper editor who would go on many years later to write the story of the London Marathon titled 'The History of the Greatest Race On Earth'.
In 12th position, and the last under 25 minutes, came Mick Woods of Aldershot, Farnham & District. A former Irish international marathon runner, Woods is better known nowadays as coach to a host of British internationals such as Olympian Steph Twell, European cross-country champion Emelia Górecka, and Jonny Hay, one of the top British hopes in next Sunday's London Marathon.

Editor's note: Another member of the Reading team was Bud Baldaro, another renowned coach. Bud gave a talk/lecture to Cork Athletics in August 2015

Related Article
National 10k Road Championship Results April 2017 - Home and Away - Gold for Parnell and Pitrowski, Silver for McCarthy
Results of Bracknell 5 - August 4th 1973
| Pos | Forename | Surname | Club | Time |
| --- | --- | --- | --- | --- |
| 1 | P. | Adams | AFD | 00:23:47 |
| 2 | R. | Lunrion | Gosforth | 00:23:51 |
| 3 | L. | Presland | AFD | 00:23:57 |
| 4 | J. | Jones | WSE | 00:24:14 |
| 5 | R. | Graham | WSE | 00:24:22 |
| 6 | R. | Piotrowski | Read. | 00:24:27 |
| 7 | J. | Bryant | Thames H&H | 00:24:30 |
| 8 | B. | Standen | TVH | 00:24:35 |
| 9 | M. | Puddifoot | TVH | 00:24:50 |
| 10 | P. | Chivers | Eal.& S. | 00:24:52 |
| 11 | J. | Phelan | Be Is | 00:24:56 |
| 12 | M. | Woods | AFD | 00:24:59 |
| 13 | D. | Patterson | TVH | 00:25:06 |
| 14 | P. | Lill | Croy. | 00:25:09 |
| 15 | D. | Sparks | WSE | 00:25:22 |
| 16 | P. | Leitoh | AFD | 00:25:30 |
| 17 | R. | Allden | Read, | 00:25:30 |
| 18 | R. | Ohapman | AFD | 00:25:32 |
| 19 | M. | Hyman | Ports. | 00:25:38 |
| 20 | L. | Duke | Ranelagh | 00:25:41 |
| 21 | R. | Eearns | Torbay | 00:25:44 |
| 22 | C. | Jones | AFD | 00:25:45 |
| 23 | A. | Home | Ranelagh | 00:25:46 |
| 24 | P. | Watson | Shafts. | 00:25:55 |
| 25 | J. | Forrest | Ranelagh | 00:25:56 |
| 26 | M. | Moody | Maid. | 00:25:58 |
| 27 | T. | Townsend | Ports. | 00:26:02 |
| 28 | K. | Whyte | Read. | 00:26:04 |
| 29 | P. | Purdue | WSE | 00:26:07 |
| 30 | A. | Green | Wolverton | 00:26:09 |
| 31 | P. | Smith | Soton. | 00:26:18 |
| 32 | R. | Dickson | Croy. | 00:26:19 |
| 33 | D. | Baker | Wirral | 00:26:24 |
| 34 | R. | Stevens | Read. | 00:26:31 |
| 35 | T. | Wilton-Jones | Linc. & RAF | 00:26:33 |
| 36 | J. | Ayres | WSE | 00:26:34 |
| 37 | s. | Grawte | AFD | 00:26:35 |
| 38 | s. | Boreham | Wolverton | 00:26:36 |
| 307 | M. | Awre | Bris. | 00:26:39 |
| 40 | p. | Humphries | Wolverton | 00:26:44 |
| 41 | A. | Fairclough | Be Is. | 00:26:45 |
| 42 | A, | Harulov | Soton | 00:26:49 |
| 43 | D | Blythe | Eal.& S. | 00:26:49 |
| 44 | M. | Caudwe11 | Croy. | 00:26:49 |
| 45 | M. | Grey Shafts. | | 00:26:52 |
| 46 | P. | Hutching | Soton. | 00:26:53 |
| 47 | M. | Sykes | Ports. | 00:26:54 |
| 48 | J. | Reynolds | Wolverton | 00:26:55 |
| 49 | P. | Charney | TVH | 00:26:56 |
| 50 | C. | Pearson | Bels | 00:27:02 |
| 51 | P. | Milsom | TVH | 00:27:02 |
| 52 | J. | Bull | Ranelagh | 00:27:02 |
| 53 | J. | Mescall | Felt. | 00:27:04 |
| 54 | A. | Smith | AFD | 00:27:04 |
| 55 | s. | Charlton(V) | TVH | 00:27:07 |
| 56 | J. | Phelan | Hero-Wim. | 00:27:20 |
| 57 | A. | Hedger | Ranelagh | 00:27:25 |
| 58 | J. | Arnold | Eal.& S. | 00:27:26 |
| 59 | F. | Carpenter | Thames H&H. | 00:27:30 |
| 60 | P. | Wilks | Poly | 00:27:34 |
| 61 | P. | Daniels | Hill. | 00:27:41 |
| 62 | R. | Garner | Maid. | 00:27:42 |
| 63 | M. | Riley | RAF Benson | 00:27:44 |
| 64 | A. | Hayes | Craw, | 00:27:46 |
| 65 | T. | Bowen | TVH | 00:27:48 |
| 66 | M. | Wands | Hill. | 00:27:55 |
| 67 | A. | McCulloch | Hill. | 00:28:00 |
| 68 | R. | Cressy | Hill. | 00:28:02 |
| 69 | R. | Burton | Luton | 00:28:29 |
| 70 | W. | Waldron | Thames H&H. | 00:28:37 |
| 71 | H. | Cobie | Ports. | 00:28:40 |
| 72 | G. | Morralee (V) | Ports | 00:28:45 |
| 73 | D. | D O'Connell (V) | Herc-Wim | 00:29:04 |
| 1 74 | G. | Knox (V) | Hill. | 00:29:09 |
| ! 75 | R. | Wilkinson | AFD | 00:29:14 |
| 1 76 | F. | Pagett(V) | Bels | 00:29:15 |
| 77 | S. | Spooner | Craw. | 00:29:23 |
| 78 | P. | Newby | Thames H&H. | 00:29:24 |
| 79 | w. | Boyden(V) | E.Surrey | 00:29:40 |
| 80 | J. | Tlrams | Soton. | 00:29:55 |
| 81 | T. | Taylor | Brack. | 00:29:56 |
| 82 | F. | Cowley(V) | Brack. | 00:29:57 |
| 83 | C. | Taylor | Brack. | 00:30:00 |
| 84 | D. | Martin | Read. | 00:30:24 |
| 85 | s. | Wittome | Thames H&H | 00:30:25 |
| 86 | M, | Bleasedale | Hill. | 00:30:33 |