Athletics Ireland Launch Online Race Permit Application System
New Online Event Permit Application System

On Friday December 10th, Athletics Ireland launched it's long promised online permit system. It is intended that the new system should supercede the old paper system, however much has yet to be clarified
Probably the biggest hurdle still to be overcome is the fact that the Counties, who must approve all permits for events in their own respective county, have yet to receive instruction or information on how the system works, and how they can approve or reject any application
Test Drive of Online Permit System
The last In-Person Athletics Ireland Congress, held in Carrick-on-Shannon, in 2018, debated and approved a Cork Motion requiring all permit applications to be approved by the County in which they are being held
In the absence of Instruction/Guidance from Athletics Ireland, it is not clear if this requirement is embedded in the new system. Furthermore, Cork, in common with many other counties, have their own Permit Bye-Laws
It is understood, from discussions with Athletics Ireland, that these have not been incorporated in the online system. Of particualr concern to Cork is the requirement for at least 36 hours separation between events that are geographically separated by 30km, or less. This Bye-Law was proposed by clubs and approved at the 2017 Cork Athletics AGM
Cork Athletics Webmaster has taken the Club Permit Application for a 'test drive'. The first section deals with the Club making the application, and details about the event, including Event Name, date, and time of the event. All of which apprear, at first glance, straight forward. However the Club Name, selected from the dropdown

Included are all Athletics Ireland Clubs, along with lapsed clubs, and clubs the do not meet all Athletics Ireland Club Registration requirements

Also included are a small number of 'dummy' clubs, which were, apparently used for test purpose, but not removed before the system went live


List of Approved Permits

A Fundamental Requirement of the system surely is the inclusion of all current approved permits. Sadly this is missing. At the time of writing, only one (yes! 1) event is listed on the Athletics Ireland Event Calendar - Limerick Hospice 10k, on January 30th. Yet Cork alone has no less than thirty (30) approved events on the 2022 Calendar, along with several approved for 2023




It is disappointing that there has not been full discussion on the new system, along with opportunities to test the system before it went live. The absence of a full calendar of approved events is incomprehensible. A fundamental requirement of the system, and of the organisation, is the listing of all approved permits, however Athletics Ireland has not published a list of approved events for well over two years - since well before the pandemic

Once the system is fully implemented, and approved events are listed, it should prove a valuable resource for all users, from county Boards, Clubs and event participants... but it would have been great if everything was running smoothly before the system went live

In the absence of a full listing from AAI, Cork Athletics has been including other AAI events on the Cork Athletics Event Calendar, these include AAI fixtures in the surrounding Munster counties, namely, Kerry, Limerick, Tipperary and Waterford

Online Permit Access Portal
The system is accessed via the Permit Portal on the Athletics Ireland Website. There are, as before, four choices:


Commercial/International Permit Application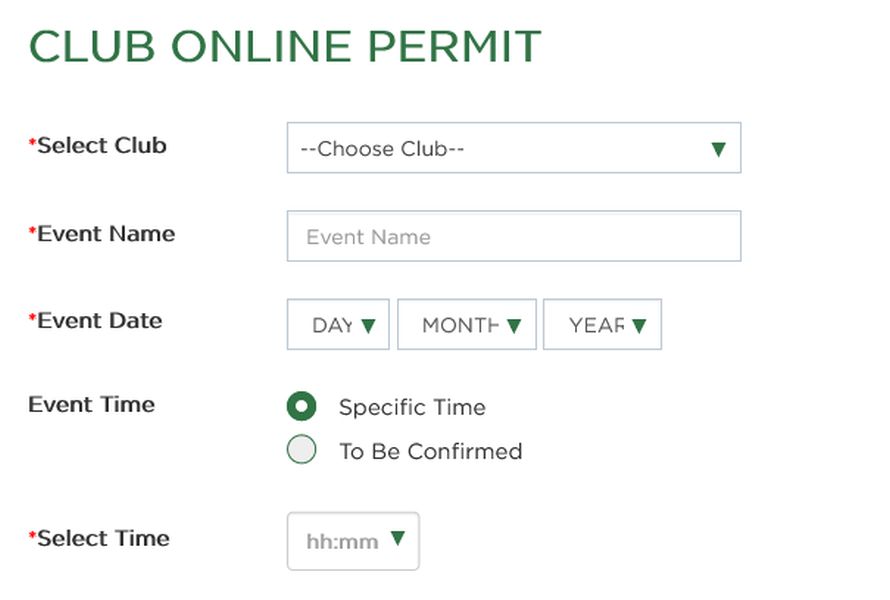 In the first panel, the host club is selected from the dropdown list. This list contains the entire National listing of Registered Athletics Ireland Clubs - see image below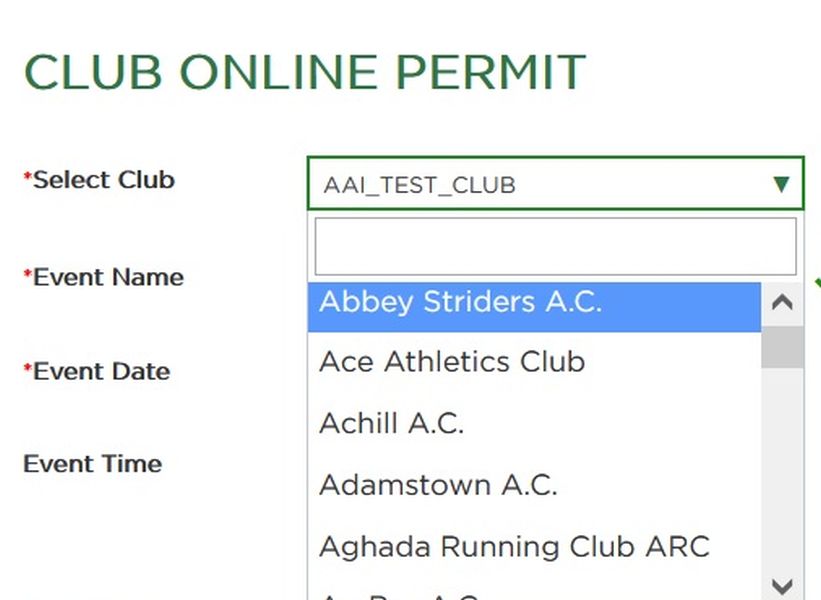 As can be seen above, the list includes a number of 'Dummy Clubs', which were used for Test Purposes, and which should havebeen deleted before the system went live.
Additionally, the list includes defunct clubs, along with a small number of clubs that don't meet Athletics Ireland's requirements for minimum registered membership numbers, for example. It should be relatively easy to adapt the system to automatically include only fully registered clubs

At first glance, it might appear easier if there was another Drop-Down box,to select the host county, and, from this, limit the dropdown list to clubs from that County, however, every year, a limited number of races in County Cork, for example, are hosted by clubs from other counties, via permits issued by Cork County Board, so the full national club listing is required
The remaining boxes in the first panel are straightforward:
Event Name

Event Date

Event Time


Venue Location Map
This section pinpoints the venue location. The default map centres on Dublin and you can use your mouse to scroll to your event location, however it's easier and quicker to use the search box, and then finetune by dropping the pin at the venue. The system will autofill precise details of Location, Latitude and Longitude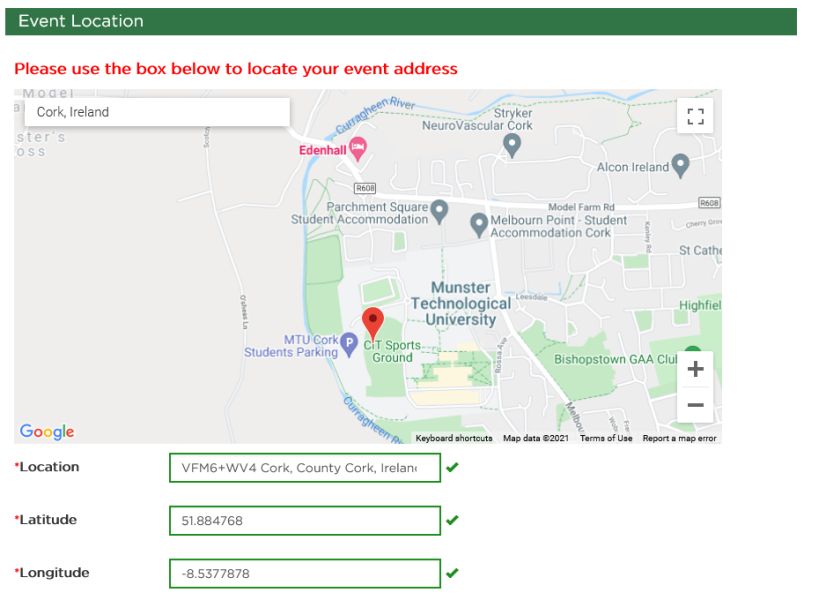 Use the "+" and "-" buttons to zoom in further.The above example is for an event at MTU Track



Event Detail Panel


The first dropdown list in this section is to select from:
Most events will be Mixed, with Male or Female only events coming from Championships


Event Type Options are:


Road




Cross-Country

Track & Field




Race Walking


Event Organiser Details

This might have been better named Race Director Details. Name, email address and phone number for the event's primary contact should be entered here
Additional Permit Details
Again this panel might be better named as Medical Plan Details


The first box asks for the name of the event's Medical Cover provider. One wonders though, what medical cover the Civil Service provider.
It is possible to leave this box blank. This should not be the case

The second box asks for the qualifications of the provider. It is not clear what specific detail is required here, but, one presumes, that something along the lines of "Medical Doctor", "Trained First Aider", "CPR Certified", etc.

Again, it is possible to leave this box blank. This should not be the case


The third panel asks "What Level of Service will they provide?" It is not clear what specifically is being asked for here. Some guidance would be of great help

Again, it is possible to leave this box blank. This should not be the case


Dehydration

This requires a simple "Yes" or "No" response. The answer will depend on the time of year, the distance, expected humidity etc

Additional Medical Plan Details
The final few panels are mainly Yes & No dropdowns and refer to:
Ambulance

Defibrillator

Whether Medical Personnel will be on bicycles on the course

With the remaining panel for details of Medical Personnel locations around the course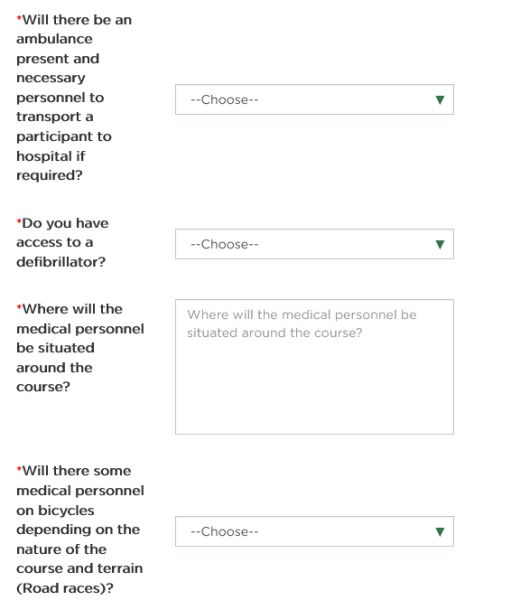 Terms and Conditions
No form would be complete without the dreaded Terms & Conditions, but these are quite short:

Licence Application Form Under AAI/IAAF Rules

AAI Club Licence

Road Race permits are offered under the following conditions:
1 To enter a maximum distance of 5K, the minimum entry age for Run, Jog, Walk road permitted events is 13 years on the day of the event

2 To enter a distance of over 5K and up to maximum distance of 10K the minimum entry age for Run, Jog, Walk road permitted events is 15 years on the day of the event

3 No athletic event shall be held under IAAF rules unless sanctioned by the Athletic Association of Ireland

4 AAI athletes may only compete in events which have been sanctioned by the Athletic Association of Ireland

5 Athletics Ireland DO NOT cover Ultra Marathons or any distance over a Marathon

6 This Club Licence covers all entrants up to 1000

7 More than 1000 entrants, please contact McMahon Galvin, our insurance Brokers 01-8363326 for further details

8 In the event of Property Damage there will be an excess of €500

9 All Road Races must be measured by an Athletics Ireland certified Road Course Measurer in advance of application. (List attached)

10 Multiple road race distances within the one event are required to submit course measurement certificate for each distance

11 All advertisements, entry forms, programmes or other printed matter issued in connection with the event shall incorporate either: [a] Under AAI Rules: [b] Sanctioned by AAI: [c] Approved by AAI

12 Organisers must ensure that a medical plan is in place for all events

13 Results should be made available on request to AAI

In addition, for Track & Field Permits:
14 The programme for a Track & Field meeting must include at minimum - Three (3) distinct race distances and two (2) field

In the Meantime.......

The existing paper permit application forms are still available on the Athletics Ireland website, via the Forms Menu on the Cork Athletics Calendar