Athletics Ireland Covid-19 Update September 2nd 2021
Athletics Ireland Covid-19 Update September 2nd 2021


Athletics Ireland Release
Dear Athletics Ireland Stakeholder
On Tuesday night Government announced Ireland's plan for the next and final phase of the response to the COVID-19 pandemic.
All relevant information can be accessed here: Reframing the challenge, continuing our recovery and reconnecting
A full copy of the Plan is attached below
Please find below the key highlights and timelines for our sport
We would like to take this opportunity to acknowledge the significant work and commitment of all our stakeholders throughout the Pandemic


September 6th 2021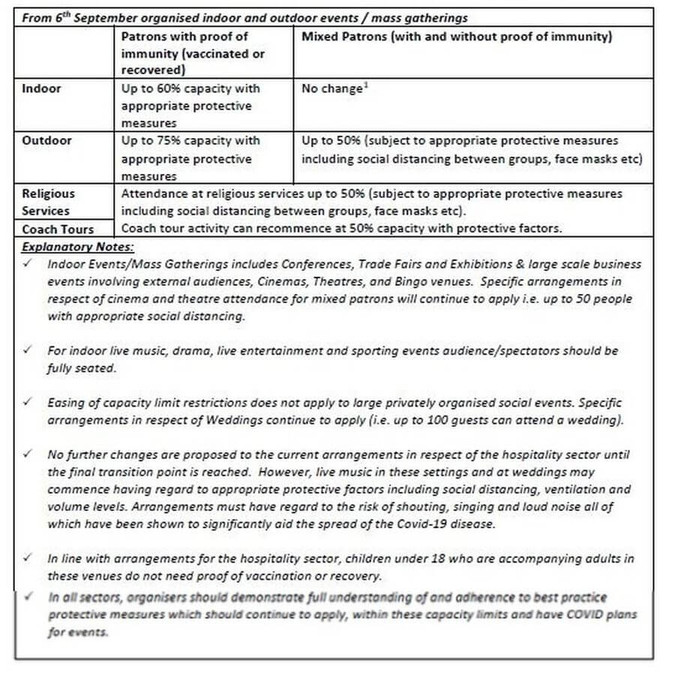 Spectator Stadia Capacities

For indoor sporting events spectators should be fully seated.

Organisers should demonstrate full understanding of and adherence to best practice protective measures which should continue to apply, within these capacity limits and have COVID plans for events

Waves of 200 participants plus 200 spectators continue for all competition including road races and cross country.
September 20th 2021

From September 20th the following apply to competitive sports training, competition and events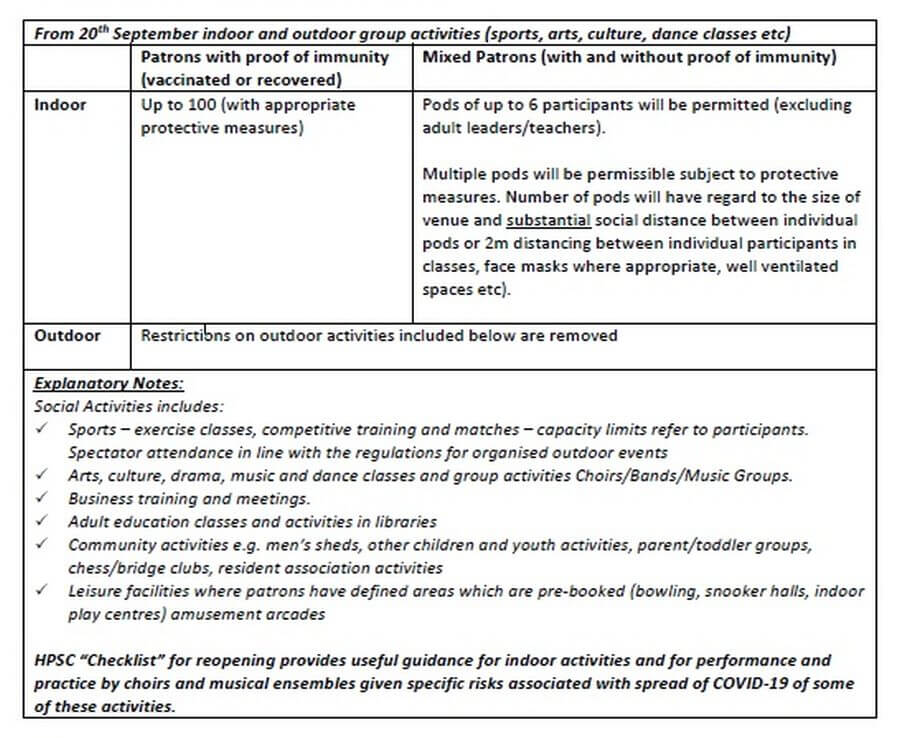 Capacity limits refer to the number of participants.

Spectator attendance in stadia remain in line with the capacities outlined above.

Note the formal requirement to ensure social distancing, excellent hygiene and mask wearing as required at events. Covid19 is still with us.

October 22nd 2021

Based on the criteria of at or close to 90% of people 16 or over being fully vaccinated in the coming weeks, and having regard to the incidence and behaviour of the disease at that time, the Government plan to remove further statutory restrictions in respect of events and activities from 22nd of October.

Some of the following key measures will be removed;
Formal requirements/mandates for physical distancing

Limits on numbers at outdoor events and engaging in sporting activities outdoors

Restrictions on indoor sports activities and other indoor leisure/community activities

Certification of immunity or testing as a prerequisite for access to, or engagement in, any activities or events (with exception of international travel)
'Reframing the Challenge' Roadmap