Cork Athletics Event Permit Applications - June 2021
Athletics Ireland Event Licences/Permit Applications 2021

June 3rd 2021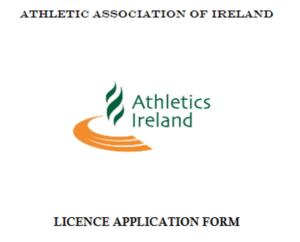 Athletics Ireland Race Permit Circular, May 28th 2021

"Athletics Ireland is now accepting permit applications from June 7th. We are looking forward to welcoming everyone back to competitive events, whether its Track & Field, Road Races or Cross Country.
Our goal is to keep everyone safe as we re-open and be mindful of others around us. To assist Athletics Ireland in planning during the initial return to competition, a starting number of approximately 100 people on site at any one time is recommended. Note you may have more than one wave of 100 to assist in the management of your event.
This number would include participants, officials, management and essential support personnel.
Such activity will take place under strict protocol and without spectators.
When planning events, Event Organisers should also seek to engage with other relevant stakeholders such as Medical Services, Gardaí and the Local Authorities.

We are entering a new year and, at this point in time, permit applications are steadily coming in. Several events have even been granted permits for 2021."

NB: The Permit Application should NOT be sent directly to Athletics Ireland. If it is sent directly to Athletics Ireland, it will be returned to Cork Athletics County Board, without consideration.

Completed application form must be sent to Cork Athletics County Secretary, Anne Murray, Dromina, Charleville, Co. Cork


Permits in County Cork - Important Notes
Road Races
A Permit will NOT be granted if there is already a permit in place for another event, on the same day, and within 30km of the venue OR Within 36 Hours of the event and within 30km. Please check Cork Athletics Events Calendar to ensure that there is not a clashing event already in the system.


Open Sports Meets
A permit will not be granted for an Open Sports within the County, if there is already a permit for another Open Sports within 3 days of the proposed event


Closed Dates
Permits will NOT be granted for events on the following dates:

March 17th - This clashes with Cork Athletics Road Championships

June Bank Holiday Sunday - This clashes with the Cork City Marathon, in which Cork Athletics County Board is an active partner, managing 60% of the course and providing significant stewarding personnel

September 19th (2021) - This Clashes with Cork Athletics' Echo Women's Mini-Marathon, a significant fund-raiser for the organisation
Completed Permit Application Forms
The completed application form must be sent to Cork Athletics County Secretary, Anne Murray, Dromina, Charleville, Co. Cork

NB: A frequent error has been where the completed application form has been sent directly to Athletics Ireland Head Office. This results, at best, in delay to approval of the permit, as it must first be returned to Cork Athletics, for local approval. In some cases, sending directly to Dublin has resulted in significant delay in approval of the application.

NB: A representative of the Sponsoring Club MUST be present at the Board Meeting, to propose the approval of the Permit Application, otherwise the application is unlikely to be approved.

Since the introduction of the Cork Athletics Online Fixtures Calendar, many clubs and organisations have taken advantage of early application, with resulting calendar listing, of their event.

Athletics Ireland Event Licensing
The Athletics Ireland Road Race Licence is a system whereby the governing body helps to ensure that the essential organisational requirements for a road race are in place, to ensure the safety of all concerned, and consistency in race organisation standards across the country.



Steps in Applying for a License
Write to the local Garda Siochana, informing them that a race is being planned, and requesting that they nominate a liaision Garda member. The name of the relevant contact at your local Garda station will be required when applying for a Licence.

Contact your Local Athletics Club at the earliest opportunity, as they have vast local knowledge of licensed races in the area, and will guide the organising committee on a choice of date(s) to avoid clashes with other races in the area.

Applications are then submitted by the Local Club, to Cork Athletics County board, for approval. It is recommended that Applications be submitted to the County Board ideally six months in advance of the proposed event. This is to ensure that there is sufficient time to resolve any problems; dates etc.

Applications should include
An Licence Application Form:

Athletics Ireland Course Measurement Form completed by an AAI approved course measurer
A copy of the proposed entry form
A map of the course showing course marshals locations and mile/km points
Information/race instructions that is to be given/forwarded to entrants
Medical Plan
The Appropriate Permit/Licence Application Fee

On approval by Cork Athletics County Board, the Application will be submitted to Deirdre Marley, 19 Northwood Court, Northwood Business Campus, Dublin 9, This email address is being protected from spambots. You need JavaScript enabled to view it., 018869933

NB: The Permit Application should NOT be sent directly to Athletics Ireland. If it is sent directly to Athletics Ireland, it will be returned to Cork Athletics County Board, without considerattion


Once your Licence has been approved, you will receive a unique Licence Number, which should appear on all Race Literature, along with a logo which certifies AAI Approval.

No event promotions should take place prior to a Licence being approved and granted, to avoid disappointment, should your event permit not be approved for your chosen date..
Insurance
For Athletics Ireland Club events only, Athletics Ireland Insurance will provide insurance cover for the race, on issue of the Licence.
No Athletics Ireland Insurance is provided for Charitable, Non-Athletics Ireland Clubs and Organisations, Commercial or International events. These categories of event applications CANNOT be covered by Athletics Ireland Insurance, and Proof of insurance is required



Risk Assessment
A mandatory part of the process is a requirement to make a risk assessment.
The organising committee is responsible for the risk assessment.
The County Board and Athletics Ireland do not require a copy of the risk assessment; however, a copy should be available on the day of the race, for this to be checked by the Race Referee.
It is also recommended that a "Cancellation Procedure" document is prepared and displayed at Race HQ (An example document )

Permit Applications must be accompanied by a Medical Plan. In addition, each application should be accompanied by a measurement certificate (Measurement Certificates are valid for five years, unless the measured course has been changed).


Athletics Ireland Road Racing Handbook - PDF File

Early Permit Application Advised
Event organisers are advised to apply for a permit as soon as possible, as approval means immediate listing on the Cork Athletics Fixtures List / Calendar, along with complete event listing (like this one), where information is available. Cork Athletics does not charge for promoting/advertising events that have an Athletics Ireland Event Licence / Permit.


All Events, for which permit applications have been approved by Cork Athletics, are listed on the Cork Athletics Fixtures List / Calendar. In addition to Cork events, Munster, National and International Championships are also listed, along with a small number of major international events.

Note: Events that do not have an Athletics Ireland Event Licence / Permit are NOT listed