Dylan Hassett - Leevale AC - Runs 2-36-53 Marathon - Dec 2020
Leevale AC's Dylan Hassett Runs 2:36:53 Marathon

Chandler, Arizona, USA

Sunday December 20th 2020
Dylan Hassett
Leevale AC's Dylan Hassett ran 2:36:53 in today's elite invitational 'The Marathon Project', in Chandler, Arizona, USA. With a 2:35:29 PB, her target was to capture Ireland's second Olympic Marathon place, but her effort fell away, after being on pace to do so until 35k.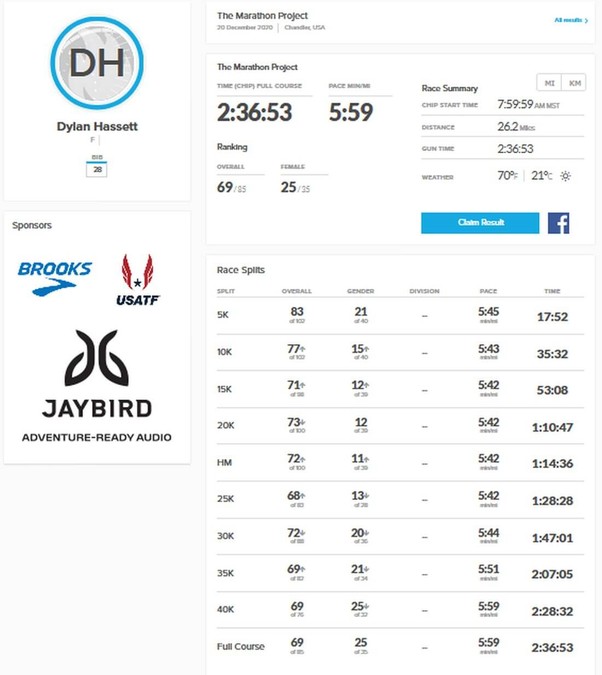 Dylan Hassett's Splits

She was on dead pace until 25k, passing the mark in 1:28:28, but her average pace dropped slightly over the next 5k, passing 30k in 1:47:01. She was then 53 secs down on pace, and two minutes behind Sanchez Garcia, the last woman to dip below 2:29:30. By 35k (2:07:05), her average pace dropped to 5:44, and she was 3:05 down on target. This had increased to 6:50 by 40km (2:28:32)

While Hassett will be disappointed with the time, no doubt, after talking to her coaching and backup crew, she will take heart from a gutsy performance that saw her stay on pace until well into the distance. With just over five months left until the May 31st deadline, Hassett still has time to recover from today, and make another attempt at Olympic Qualification.

The invitation only event was held on a 4.3-mile loop around the Rawhide Events Center, on the Gila River Indian Reservation in Chandler, Arizona, and was confined to 50 men and 50 women.



Women's Winner
The women's race was won by Sara Hall, who became the second fastest America woman, behind Deena Kastor (2:19:36) Hall was on pace to beat Kastor's American record but fell back in the second half.
Irish Olympic Women's Marathon Spots
Ireland can send three athletes to the Olympic marathon, but all must meet the qualification time of 2:29:30 [It is also possible to qualify from a 5th place finish in a World Athletics approved Gold Label Marathon, or on points, but the knock-on effects from the lack of races during Covid probably rules these qualification places out for remaining Irish hopefuls]

As of now, Ireland has only one qualifier; Fionnuala McCormack. Fionnuala McCormack booked her placewith her 2:26:47, 5th place, performance in Chicago in October 2019. Ireland has two more available places, and anyone who hopes to get on the plane must breach the 2:29:30 barrier.

The battle is now on between Ann Marie McGlynn and Aoife Cooke, Eagle AC, and others who may be quietly working to. Probably Hassett will make another attempt later in Spring 2021. Rumours abound over who else is in the running for the remaining two places, but two others stand out; McGlynn ran 2:35:31 in Valencia's Elite Marathon, just 2 weeks ago, so presumably will make another attempt before the May 31st 2020 deadline. Cooke has apparently deferred her qualification attempt until April, which probably means that she is putting her faith on qualifying from that Marathon. Either way, any further Irish qualifiers, after Fionnuala McCormack, will need to run at least 2:29:30.

Organiser's Profile for Dylan Hassett
Dylan Hassett - Ireland - 2:35:29
Hassett, who has represented Ireland since 2018, set a personal best of 2:35:29 at the 2020 Chevron Houston Marathon. This time was good for a 14th place finish. While competing for the United States, Hassett qualified for the 2016 U.S. Olympic Marathon Trials with a half marathon time of 1:14:09. She also placed 15th at the 2016 10k road championships. Before taking her talents to the roads, Dylan had an impressive collegiate career competing for William and Mary, where she was a multi-time NCAA national qualifier.

The Marathon Project - Arizona Dec 2020

The top-25 men and women from the 2020 USA Olympic Trials Marathon received automatic entries.
The course has been described as "so flat and fast it almost looks boring", on perfect road surfaces. The event will comply with USATF and World Athletics COVID guidelines and spectators will not be allowed. Pacers will be used, with target times of 2:10:00 (Men) and 2:24 (Women), geared towards the top athletes, but, depending on the field, there may be additional pace groups.
The course is dead flat – without camber, on an out-and-back 4.3-mile section, appropriately called, Loop Road, with roundabouts at both turnarounds. On of the organizers said "It's like Berlin"
Course Map
Dylan Hassett's European Athletics Athlete Profile
Name: Dylan Hassett

Hometown: Alpharetta, GA

Place of Birth: Memphis, TN

College: College of William & Mary - Major: Kinesiology & Health Sciences

College Coaches: Stephen Walsh & Natalie Hall

Honors & Highlights

• Three-time NCAA qualifier at 10,000 meters

• Qualified for NCAA at 5,000 meters

• Earned All Southeast Region in XC (2014)

• Competed at NCAA XC championships three years (2012, '13, '14)

• Earned All Colonial Athletic Conference honors in XC three years

• CAA Champion at 10,000 meters (2015)

• 15th at 2015 USATF Club XC Championships

• Qualified for 2016 USA Olympic Marathon Trials with 1:14:09 Half Marathon

• Competed in 2016 USA Olympic Marathon Trials in Los Angeles

• 15th at 2016 USA Women's 10K road championships