Rio 2016 Athletics Ireland Day 10 Report
Rio Olympics - Athletics Day 10
Sunday August 21st 2016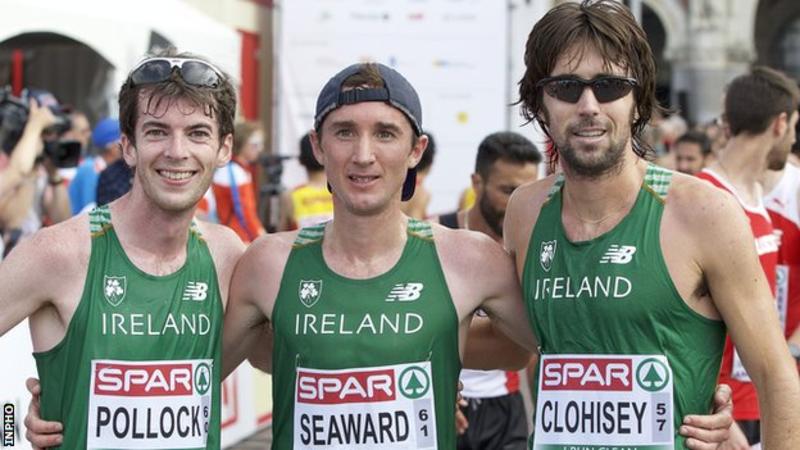 Men's Marathon - Final Athletics Event of Rio Olympics
Irish Splits & Updates
It's lashing in Rio. Hopefully the humidity is ok, so the marathon won't be a matter of atttition and survival, like last week's women's Marathon and the Race Walks. There were 155 starters, assuming that nobody dropped out before the 5k split.

Split
Leader
Mick Clohissey
Kevin Seaward
Paul Pollock

5k

Niyonkuru

15:31


16:11

(120)
16:24 (137)

16:12 (123)


10k

Ghebreslassie

31:08


32:14 (105)

32:41 (130)


32:21 (124)

15k

Kipchoge

46:53

48:25 (98)

49:02 (128)

48:24 (96)

Rain has stopped and we're told that "the temperature is rising" and "humidity is approaching 90%".
High humidity will take an equally high toll!

20k

Ghebreslassie

1:02:27

1:04:46

(108)

1:05:19

(116)

1:04:36 (98)




Half

Korir

1:05:55

1:08:25

(107)


1:08:56

(116)

1:08:09 (96)

25k

Berhanu

1:18:12

1:21:37 (103)

1:21:51 (110)

1:20:53 (94)

30k

Berhanu

1:33:15

1:39:03 (105)

1:38:31 (98)

1:37:01 (74)


35k

Kipchoge
1:47:40

1:57:53 (

104

)

1:55:29 (86)

1:52:58 (49)


40k

Kipchoge
2:02:24

2:17:58 (101)

2:12:43 (69)


2:09:20 (34)

Finish

Kipchoge

2:08:44

2:26:34 (104)

2:20:06 (64)

2:16:24 (32)

Athletics Ireland Report
Feidhlim Kelly
Pollock Finishes Strongly to Place 32nd in Olympic Marathon
Paul Pollock (Annadale Striders) came through the field strongly to finish 32nd in a high quality Olympic men's marathon in 2:16:24 to round out the athletics programme in Rio de Janeiro today (August 21).
Kevin Seaward (St Malachy's) finished 64th in 2:20:06 while Mick Clohisey (Raheny Shamrock) was 103rd in 2:26:34.
Pollock was aiming for a top 20 performance in but was still reasonably pleased with his performance in wet and muggy conditions.
"It was an ok performance," said Pollock afterwards of the race won by Kenya's Eliud Kipchoge in 2:08:44. "A top 20 performance was the first goal. I went out 30 seconds to a minute slower for the first half than the plan had been but the legs didn't come around until the second half." Pollock passed through halfway in 68:09 in 96th place and came through strongly in the second half gaining over 60 places.
"I came through strongly in the second half and this should give me a good platform to produce an even better performance in the major championships. It's been great to see the rise in the number of athletes get the marathon standards and I'm aiming for London (World Championships) in 2017."
It was a battle of will, and skill, for Kevin Seaward and Mick Clohisey who were struggling in the coming into the race with various ailments. "I picked up some kind of a bug a few days beforehand," said Seaward who battled on to place 64th. Equally Clohisey had some issues in the final build-up with a virus and foot infection but dug deep to finish. "It was tough out there. My family out supporting on the course got me through it." Both were tired but proud Olympians afterwards.