Fergus O'Donovan Retires From Coaching
St Finbarr's AC Coach Fergus O'Donovan Honoured

Mardyke Pavillion
Wednesday November 28th 2018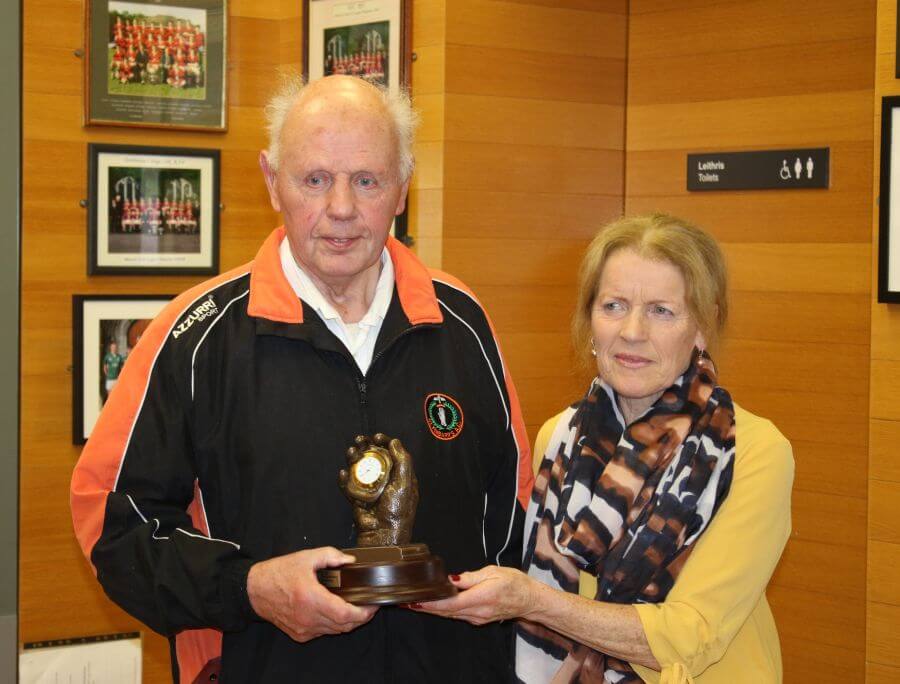 Fergus O'Donovan presented with Stopwatch memento by Marion Lyons
Photo: Joe Murphy
Decades-Long Coaching Career of Fergus O'Donovan Marked by St Finbarr's AC
Fergus O'Donovan's official 'retirement' from coaching was marked by a formal 'farewell', at a special function held in his honour, held by St Finbarr's AC, on the evening of Wednesday November 28th, in the Pavillion, at the Mardyke Area. The function was attended by over 50 people from St. Finbarr's, and a host of others, including past club and team-mates, Cork Athletics officers, along with family and friends.
The inverted commas above are intended ....Fergus isn't retiring completely..just formally. He will continue to coach, on a small scale, for the foreseeable future, as he is coaching St Finbarrs 'icon' Flor O'Leary, who enters a new age category in the New Year. Flor is planning, under Fergus' tutelage, make an attempt on the Irish M85 200m record next year. The current Irish M85 Outdoor 200m record of 46.68 is 22 years old and is held by Paddy Whelan, who set it in Durban, South Africa. As Paddy Buckley put it "Fergus is not finished yet...In athletics, there's no such thing as retirement....Fergus is merely passing on the baton"

Fergus O'Donovan, with his wife Ita, son William, and daughters Julie and Mary
Fergus O'Donovan, surrounded by contemporary St. Finbarr's team-mates
Back Row L to R; Michael Joyce, Richie Crowley, Donal Burke, Michael Dunne, Paddy Buckley, Pierce McNamara,Reg Hayes and Flor O'Leary
Front Row L to R; Barry Looney, Jack O'Leary, Fergus O'Donovan, John Buckley, Pat Cashman and Jack Lynch


Fergus O'Donovan, surrounded by St. Finbarr's club-mates
The attendance at the function was treated to a slide-show outlining his career, interspersed by speeches from Michael Murphy, Eamonn McEvoy, Marion Lyons, and Paddy Buckley, Chairman of Cork Athletics County Board. The high-point of the proceedings was the presentation to Fergus, of a commemorative casting of a hand holding an 'old style' stopwatch. The evening was described by Dan Kennedy as one of 'Nostalgia and reminiscence'. Dan recalled one of his first memories of St. Finbarrs, in 1968, was of Fergus coaching and timekeeping, "with two stopwatches around his neck....one for 400's and one for the recovery"
Fergus has been a member of St. Finbarr's AC since the 1950's, almost since the foundation of the club, in 1951, and following his retirement from competitive athletics, has been coaching at the club for over 50 years.
Fergus O'Donovan's athletics career began as a schoolboy, when he won the South Munster Schools Mile, in his first ever race, in a record time of 5:11.0. He followed this by taking Bronze in the Munster Schools, behind Tom O'Riordan (father of Irish Times columnist Ian O'Riordan) who went on to represent Ireland at the 1964 Olympics in Tokyo.
Following study in Dublin, Fergus returned to UCC, and won varsity and county championships, on the track and in cross-country. Fergus recalls modestly "I wasn't a great athlete, I suppose I raced with local success winning around 40 races in all,"
When achilles tendon injury ended his track career, Fergus turned to the Marathon, in an attempt to break the 3 hour mark. In all, he ran 11 marathons, in the ten years from 1966 to 1976, and returned times around the 3 hour mark. The highlight of that period of Fergus' career was when he was a scoring member of St Finbarr's team at the All-Ireland championship, in Thurles
Along the way, Fergus also served as Secretary of the Cork City Sports, for approx 10 years, and has contributed in a multitude of ways to the sport he loves, and, throughout, has selflessly and freely given his wealth of experience, not only to members of his beloved St Finbarr's club, but also to the athletics community in general.
In the 1960's and 1970's, Fergus was one of a tiny band of Irish athletics 'aficionados' who travelled to major events around the globe. His first trip was to the 1964 Tokyo Olympics. Over the next 12 years he attended another three Olympic Games, four European Championships, along with the Commonwealth Games, and several International Cross-Country Championships.
Fergus' was renowned for 'forever stopping and talking' whilst coaching, and was at his best when telling people about meeting athletics 'giants' such as Jesse Owens, Emil Zátopek, Percy Cerutty, Bob Tisdall, Payton Jordan and Mary Rand, along with a host of others. Thoughout these stories, being told while he was actively coaching athletes on the track, Fergus would stop the tale momentarily to call out split times and/or give feedback and encouragement

Interspersed in the tributes to Fergus were lines such as "....(Fergus') words were Gospel". "Athletics (in Cork) wouldn't be in the shape it is except for Fergus"

One of Fergus' lasting achievements is the Cork Athletics Graded Leagues, which were his 'brainchild', the organisation of which he was actively involved in right up to last year.


Enjoy your 'Retirement' Fergus!
We look forward to following it and seeing how you and Flor get in the coming months!