Sunday 06 September 2020, 08:00

| Contact | Location | Distance | Type | Championship | Permit | Measured |
| --- | --- | --- | --- | --- | --- | --- |
| Athletics Ireland | Morton Stadium, Santry, Dublin | Vars | T&F/Sports | Yes | Yes | T&F |
National Masters T&F Championships 2020
Morton Stadium, Santry, Dublin
Sunday 6th September
Entries for the National Junior T&F Championships opened this afternoon, and will remain open until 3pm this Friday, August 28th.
Masters Athletes are confined to one (1) event only.
Late entries will not be accepted, and athletes may not change events
Athletes should take current government guidelines into account prior to completing their entries.
Athletes who reside in a county that is under government lockdown, or those who have been off the island of Ireland in the 14 days leading up to the competition may not compete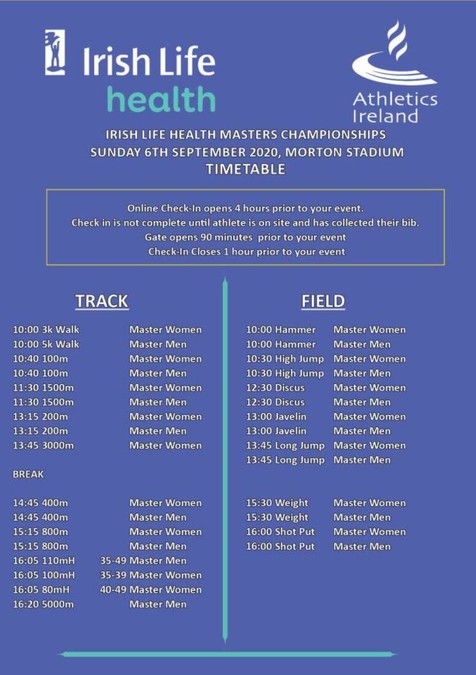 Download Programme (PDF File)


Livestream