Saturday 09 November 2019, 14:30

Eyeries 5 Mile Road Race

Eyeries Village, Bere Peninsula
14:30, Saturday November 9th 2019

This event is run under an Athletics Ireland permit/licence
Organised and hosted by Eyeries Running Promotions, in association with Beara AC
This course was measured by John Quigley, AIMS/IAAF Grade 'A' Measurer,
assisted by Padraig O'Sullivan, Bantry AC


Results of Athletics Ireland Registered Events - April 2014 - May 2016 (on Old Cork Athletics website)
Results of Athletics Ireland Registered Events - May 2016 to date
Race Calendar / Fixtures List - Athletics Ireland Registered Events
Eyeries 5 Mile Road Race - Event Flyer 2018
Event Proceeds
"This years we will be contributing to Berehaven Red Cross Defibrillator Group. This vital community group provides and maintains defibrillators in Beara and offers CPR and defibrillator training. We are delighted to have them on board and hope that you can come along and support them and our race."
Eyeries 5 Mile Road Race - Event Collage 2014



This is a community organised event, with an Athletics Ireland race permit, through Beara AC.




Eyeries Playground
Find out more about the prizewinning picturesque village of Eyeries
This course was measured on August 15th 2014, by John Quigley and Padraig O'Sullivan, accompanied by local resident and race organiser Mark Gallagher.
Registration



Essentials for Race Day:
The race begins at 2:30pm, in Eyeries Village, on Saturday 9th November 2019. Participants are requested to arrive at Race HQ in Eyeries Village by 1:30pm. Parking will be available nearby. There will be no street parking permitted on the day, in Eyeries Village.
Please follow stewards instructions. Race HQ is a short walk from the parking area.
All race participants must go to Race HQ (Eyeries Hall) to collect their numbers. Race HQ is 5 min walk from the designated Parking Area.

Pre-Registered - pick up Race Number & pins

Registering on the day - €12 per person. Registration on the day will begin at 12 noon. Last registration at 2:15pm (15 mins before race start)
ALL participants in the race MUST wear their race bib and have it clearly visible on the front. Changing facilities are available in the Race HQ
Toilet facilities are available in Race HQ. Bag Drop facility is also available in Race HQ. The start line is 600m from Race HQ. On leaving the hall turn left, as signposted. It is approx a 10 min walk to the start line.
Eyeries, Co. Cork

Race Route Information
The route is a left-handed (anti-clockwise) course. Participants are requested to follow stewards requests, and to keep to the left-hand side of the road. Should you need any assistance during the race, please inform one of our stewards. There will be first-aiders, St.Johns Ambulance Service and a Medical Doctor at the event. There will be water stops along the course.
Teas and Coffees, Refreshments will be available at Race HQ (Eyeries Hall) after the race, where the prize winners will be announced. Enjoy the race and enjoy your day in Eyeries.



Eyeries 5 Mile Road Race - Course Route Map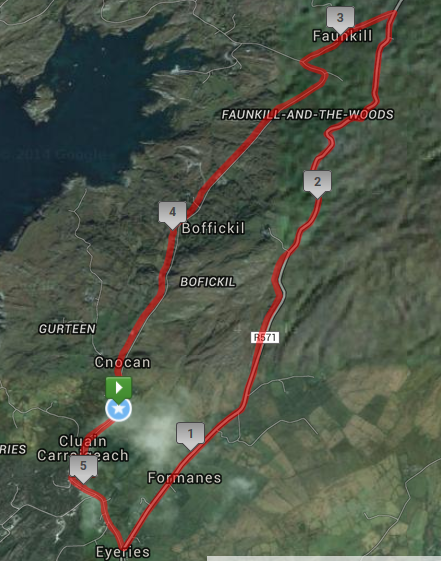 Eyeries 5 Mile Road Race - Official Route Map
Course Elevation Profile
View from Start Line

Start is about 1/3rd mile outside the village, on the quiet R575 road. The course is essentially downhill or level for the first half mile, and there is a short climb up to the crossroads with the R571 Castletownbere-Kenmare road, after which you pass the GAA pitch on your left.
View from 1 Mile Mark




Passing the 1 mile mark, things are pretty level, with a constant slight incline.
The second mile has a pretty sharp climb from approx. 1.5 to 1.75 miles, after which there is a grand downhill section, until about the 5k (3.1M) mark
View from 2 Mile Mark



View from 3 Mile Mark




Just before the 3 Mile Mark, the course turns left, off the main R571 Castletownbere-Kenmare road, back onto the R575, leading back to Eyeries
From the 3 mile mark, there is a steady rise for teh first 2/3rds mile, but this increases until just after 4 Miles
View from 4 Mile Mark





The first half of the last mile undulates slightly, but the final half mile is essentially downhill, making for a fast finish, through this prize-winning and scenic village.
The Finish Line




The finish line is just after sponsors O'Sullivan's Foodstore, on right of photo.
Measurement Cert for Eyeries 5



Sussing out the 1 Mile mark

Padraig O'Sullivan and Mark Gallagher comparing notes on the 1 Mile Mark, during the course measurement
View over Eyeries

Evening view just before entering Eyeries village