Four 2019 National Indoor Combined Event Titles for Cork Athletes
National Indoor Combined Event Titles for Falvey, Murphy, O'Connor & Lynch
AIT International Arena, Athlone
Saturday January 19th 2019
Ten Cork athletes made the journey to last Saturday's National Indoor Combined Events Championships at the AIT International Arena, in Athlone, and came away with four National Titles and two Bronze medals, along with lots of other fine individual performances.

Under-14 Girls

The biggest Cork entry was in the Under-14 Girls, where four Cork girls were among the fifteen participants. The National Title went to Hannah Falvey, Belgooly AC, with 2,929 points, while Leevale AC's Okwu Backari wom Bronze, with a points total of 2,738. Leeval AC also fielded Fatimo Amusa, 11th, 2,333 and Orla O'Sullivan, 13th, 2,233
Under-14 Boys

Liscarrol AC's John Murphy took the Under-14 Boys title with 2,256 points
Under-15 Girls
Doheny AC representative Niamh McCarthy won Bronze in the Under-15 Girls, with 2,628 points. Kate Naughton, Leevale AC, placed 8th in the same group, with 1,878 points


Youth and Junior Men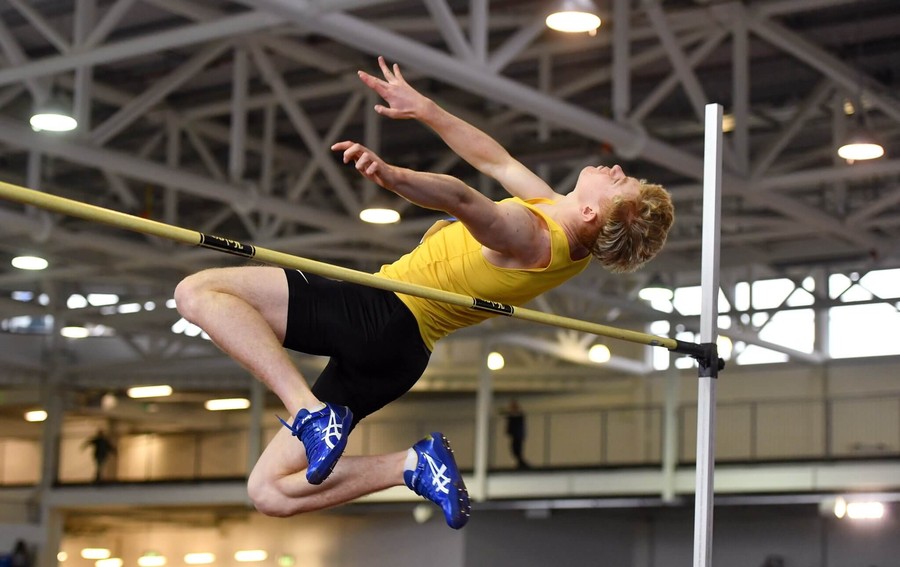 Diarmuid O'Connor Clears the bar in the Youth Men's High Jump
Diarmuid O'Connor, Bandon AC, won Gold, in the Youth Men's event with 3,592 points, while Brian Lynch, Old Abbey AC took Gold in the Junior Men, with 3,418.
Senior/Masters
Theresa Tierney-Bugler, Cork Mental Health AC, was the sole Cork Senior/Masters athlete in the Championships, and placed 4th in the F35 event, with 1,320 points
Hannah Falvey, Belgooly AC, running 800m
Diarmuid O'Connor, Bandon AC, running 800m
Diarmuid O'Connor Bandon AC and Finn Woodger Metro/St. Brigid's AC battle it out in the u16 800m at the @irishlifehealth National combined events pic.twitter.com/RG7kd4Lmh2

— Athletics Ireland (@irishathletics) 19 January 2019
Results of National Indoor Combined Events Championships 2019
Results in Text Format (Txt File)


Results Summary
See links above for results from individual events
Note: Due to its width, this table may not be fully viewable on some mobile phones
| | | | | | | | | |
| --- | --- | --- | --- | --- | --- | --- | --- | --- |
| | | Girls Under-14 - Overall | | | | | | |
| Pos | Athlete | Club | Pts | 60mH | HJ | SP | LJ | 800m |
| 1 | Hannah FALVEY | Belgooly AC | 2949 | 677 10.19 | 502 1.39 | 562 10.50 | 543 4.94 | 665 2:32.27 |
| 2 | Veronica O'NEILL | City Of Derry AC | 2816 | 812 9.48 | 470 1.36 | 562 10.49 | 401 4.39 | 571 2:40.14 |
| 3 | Okwu BACKARI | Leevale AC | 2738 | 867 9.21 | 502 1.39 | 408 8.14 | 503 4.79 | 458 2:50.56 |
| 4 | Ruby REYNOLDS | Menapians AC | 2712 | 846 9.31 | 470 1.36 | 401 8.03 | 438 4.54 | 557 2:41.43 |
| 5 | Ashleigh MCARDLE | Lifford Strabane AC | 2682 | 706 10.03 | 566 1.45 | 408 8.13 | 413 4.44 | 589 2:38.58 |
| 6 | Leagh MOLONEY | Dooneen AC | 2624 | 758 9.76 | 566 1.45 | 449 8.77 | 495 4.76 | 356 3:01.04 |
| 7 | Caoimhe FITZSIMONS | Ratoath AC | 2585 | 714 9.99 | 359 1.25 | 480 9.24 | 416 4.45 | 616 2:36.34 |
| 8 | Cara O'SULLIVAN | Ratoath AC | 2529 | 580 10.74 | 599 1.48 | 489 9.38 | 237 3.68 | 624 2:35.61 |
| 9 | Allison DEMPSEY | Eire Og Corra Choill AC | 2452 | 648 10.35 | 439 1.33 | 379 7.68 | 438 4.54 | 548 2:42.16 |
| 10 | ELLA COSTELLO | Lifford Strabane AC | 2421 | 740 9.85 | 409 1.30 | 267 5.93 | 466 4.65 | 539 2:42.99 |
| 11 | Fatimo AMUSA | Leevale AC | 2333 | 729 9.91 | 266 1.15 | 461 8.95 | 340 4.14 | 537 2:43.15 |
| 12 | Sophie MYERS | St. L. O'Toole AC | 2315 | 703 10.05 | 359 1.25 | 428 8.45 | 324 4.07 | 501 2:46.42 |
| 13 | Orla O'SULLIVAN | Leevale AC | 2233 | 733 9.89 | 439 1.33 | 314 6.67 | 376 4.29 | 371 2:59.39 |
| 14 | Leila COLFER | St. L. O'Toole AC | 2186 | 268 12.89 | 502 1.39 | 494 9.46 | 436 4.53 | 486 2:47.85 |
| 15 | Laura DUNLEA | Eire Og Corra Choill AC | 2151 | 441 11.61 | 409 1.30 | 406 8.11 | 329 4.09 | 566 2:40.57 |
| | | | | | | | | |
| | | Boys Under-14 - Overall | | | | | | |
| Pos | Athlete | Club | Pts | 60mH | HJ | SP | LJ | 800m |
| 1 | John MURPHY | Liscarroll AC | 2256 | 535 10.03 | 389 1.50 | 322 7.25 | 247 4.25 | 763 2:24.50 |
| 2 | Cormac CROTTY | Annalee AC | 1996 | 459 10.45 | 283 1.35 | 317 7.17 | 206 4.00 | 731 2:27.01 |
| 3 | Eoghan O'CONNOR | Lucan Harriers AC | 1978 | 421 10.67 | 250 1.30 | 441 9.25 | 264 4.35 | 602 2:37.53 |
| 4 | Alex CULLEN | Kilkenny City Harriers AC | 1827 | 454 10.48 | 283 1.35 | 243 5.90 | 269 4.38 | 578 2:39.52 |
| 5 | David MARREY | Westport AC | 1807 | 312 11.37 | 434 1.56 | 309 7.03 | 217 4.07 | 535 2:43.34 |
| 6 | Odhran SMITH | Carrick Aces AC | 1760 | 198 12.24 | 283 1.35 | 333 7.43 | 249 4.26 | 697 2:29.68 |
| 7 | Eoin BOYLE | Tír Chonaill AC | 1704 | 456 10.47 | 367 1.47 | 216 5.44 | 235 4.18 | 430 2:53.27 |
| | | | | | | | | |
| | | Girls Under-15 - Overall | | | | | | |
| Pos | Athlete | Club | Pts | 60mH | HJ | SP | LJ | 800m |
| 1 | Ava ROCHFORD | Ennis Track AC | 3107 | 830 9.39 | 759 1.62 | 602 11.10 | 433 4.52 | 483 2:48.15 |
| 2 | Niamh FENLON | North Down AC | 2843 | 742 9.84 | 523 1.41 | 440 8.63 | 490 4.74 | 648 2:33.60 |
| 3 | Niamh MCCARTHY | Doheny AC | 2628 | 723 9.94 | 555 1.44 | 385 7.78 | 388 4.34 | 577 2:39.66 |
| 4 | Orlaith DEEGAN | Sliabh Bhuide Rovers AC | 2573 | 522 11.09 | 655 1.53 | 314 6.67 | 403 4.40 | 679 2:31.10 |
| 5 | Hannah MORIARTY | Lucan Harriers AC | 2544 | 725 9.93 | 491 1.38 | 404 8.07 | 451 4.59 | 473 2:49.09 |
| 6 | Niamh BRADY | St. Peter's AC | 2401 | 675 10.20 | 491 1.38 | 290 6.29 | 338 4.13 | 607 2:37.07 |
| 7 | Beth MISKELLY | Bohermeen AC | 2022 | 525 11.07 | 460 1.35 | 401 8.02 | 242 3.70 | 394 2:56.95 |
| 8 | Kate NAUGHTON | Leevale AC | 1878 | 473 11.40 | 359 1.25 | 350 7.23 | 242 3.70 | 454 2:50.88 |
| 9 | Judith BELL | St. Peter's AC | 1856 | 501 11.22 | 409 1.30 | 208 5.00 | 336 4.12 | 402 2:56.12 |
| 10 | Rhona O'DEA | St. Colmans Sout | 1836 | 525 11.07 | 409 1.30 | 343 7.13 | 261 3.79 | 298 3:07.63 |
| 11 | TORI MURCHAN | Tír Chonaill AC | 1817 | 522 11.09 | 655 1.53 | 295 6.38 | 345 4.16 | 0 DNS |
| 12 | Ruth LEYDEN | Ennis Track AC | 1654 | 274 12.84 | 409 1.30 | 281 6.15 | 212 3.56 | 478 2:48.62 |
| 13 | Gillian DEMPSEY | Eire Og Corra Choill AC | 1605 | 177 13.72 | 409 1.30 | 327 6.88 | 303 3.98 | 389 2:57.46 |
| | | | | | | | | |
| Pos | | Boys Under-15 - Overall | | | | | | |
| 1 | Athlete | Club | Pts | 60mH | HJ | SP | LJ | 800m |
| 2 | Finn O'NEILL | City Of Derry A. | 3051 | 633 9.53 | 464 1.60 | 628 12.35 | 375 4.96 | 951 2:10.96 |
| 3 | Karlis KAUGARS | Dunleer AC | 2746 | 509 10.17 | 464 1.60 | 739 14.17 | 346 4.81 | 688 2:30.42 |
| 4 | Liam SHAW | Athenry AC | 2538 | 473 10.37 | 317 1.40 | 801 15.19 | 278 4.43 | 669 2:31.94 |
| 5 | Diarmuid O'DONNELL | Lifford Strabane AC | 2459 | 570 9.85 | 426 1.55 | 432 9.10 | 348 4.82 | 683 2:30.81 |
| 6 | Daire MCDEVITT | Tír Chonaill A.C | 2117 | 381 10.92 | 352 1.45 | 404 8.64 | 337 4.76 | 643 2:34.01 |
| 7 | Kacper ADAMSKI | Tír Chonaill A.C | 1994 | 509 10.17 | 250 1.30 | 593 11.78 | 0 X | 642 2:34.10 |
| 8 | Dannan LONG | Enniscorthy AC | 1601 | 226 12.01 | 317 1.40 | 384 8.29 | 245 4.24 | 429 2:53.37 |
| 9 | Harvey MULLEN | Lifford Strabane AC | 861 | 54 13.84 | 131 1.10 | 266 6.29 | 49 2.85 | 361 3:00.41 |
| | | | | | | | | |
| | | Girls Under-16 - Overall | | | | | | |
| Pos | Athlete | Club | Pts | 60mH | HJ | SP | LJ | 800m |
| 1 | Laura FRAWLEY | St. Marys (Limerick) AC | 3320 | 824 9.42 | 747 1.61 | 579 10.76 | 637 5.28 | 533 2:43.57 |
| 2 | Saidhbhe BYRNE | Enniscorthy AC | 2822 | 754 9.78 | 577 1.46 | 537 10.11 | 381 4.31 | 573 2:39.99 |
| 3 | Niamh MOOHAN | Tír Chonaill AC | 2790 | 883 9.13 | 460 1.35 | 453 8.83 | 532 4.90 | 462 2:50.17 |
| 4 | Seoighe ENGLISH | St. Abbans AC | 2687 | 630 10.45 | 644 1.52 | 361 7.41 | 367 4.25 | 685 2:30.64 |
| 5 | Elizabeth TIGHE | Corran AC | 2524 | 733 9.89 | 512 1.40 | 385 7.78 | 443 4.56 | 451 2:51.21 |
| 6 | Moya O'CONNELL | Lake District Athletic Association Of | 2514 | 708 10.02 | 409 1.30 | 377 7.65 | 482 4.71 | 538 2:43.05 |
| 7 | Kirsty SEATON | Lusk AC | 2249 | 763 9.73 | 312 1.20 | 341 7.10 | 398 4.38 | 435 2:52.82 |
| 9 | Eimear HALPIN | Menapians AC | 2195 | 528 11.05 | 312 1.20 | 381 7.71 | 303 3.98 | 671 2:31.79 |
| 9 | Triini JURISOO | Menapians AC | 1570 | 362 12.16 | 0 | 425 8.39 | 381 4.31 | 402 2:56.09 |
| 10 | Saoirse MOORE | Craughwell AC | 904 | 643 10.38 | 0 | 0 - | 261 3.79 | 0 DNS |
| | | | | | | | | |
| | | Boys Under-16 - Overall | | | | | | |
| Pos | Athlete | Club | Pts | 60mH | HJ | SP | LJ | 800m |
| 1 | Conor HOADE | Galway City Harriers AC | 3144 | 784 8.83 | 552 1.71 | 496 10.18 | 500 5.59 | 812 2:20.87 |
| 2 | Daragh JENNINGS | Galway City Harriers AC | 2739 | 619 9.60 | 317 1.40 | 634 12.45 | 384 5.01 | 785 2:22.84 |
| 3 | Evan O'TOOLE | St. Joseph's AC | 2512 | 560 9.90 | 504 1.65 | 325 7.30 | 388 5.03 | 735 2:26.67 |
| 4 | Michael GRANT | Celbridge AC | 2362 | 579 9.80 | 352 1.45 | 328 7.36 | 400 5.09 | 703 2:29.16 |
| 5 | Ben CONNOLLY | Nenagh Olympic AC | 2315 | 425 10.65 | 464 1.60 | 428 9.04 | 369 4.93 | 629 2:35.17 |
| | | | | | | | | |
| | | Youth Women - Overall | | | | | | |
| Pos | Athlete | Club | Pts | 60mH | HJ | SP | LJ | 800m |
| 1 | Anna RYAN | Moycarkey Coolcroo AC | 3083 | 765 9.72 | 655 1.53 | 668 12.10 | 503 4.79 | 492 2:47.29 |
| 2 | Jennifer LEAHY | Kilkenny City Harriers AC | 2809 | 681 10.17 | 655 1.53 | 525 9.93 | 459 4.62 | 489 2:47.59 |
| 3 | Laoise MCGONAGLE | Tír Chonaill AC | 2535 | 575 10.77 | 491 1.38 | 548 10.29 | 448 4.58 | 473 2:49.12 |
| 4 | Aisling MACHUGH | Naas AC | 2393 | 448 11.56 | 588 1.47 | 477 9.19 | 386 4.33 | 494 2:47.14 |
| 5 | Aine O'SULLIVAN | Cushinstown AC | 2365 | 514 11.14 | 523 1.41 | 479 9.22 | 416 4.45 | 433 2:53.03 |
| 6 | Munirat SHOBOWALE | Mountmellick AC | 2099 | 520 11.10 | 460 1.35 | 375 7.62 | 456 4.61 | 288 3:08.78 |
| | | | | | | | | |
| | | Youth Men - Overall | | | | | | |
| Pos | Athlete | Club | Pts | 60mH | HJ | SP (5kg) | LJ | 1000m |
| 1 | Diarmuid O'CONNOR | Bandon AC | 3592 | 891 8.37 | 636 1.81 | 635 12.47 | 646 6.27 | 784 2:48.27 |
| 2 | Jack FORDE | St. Killian's AC | 3158 | 687 9.27 | 636 1.81 | 609 12.04 | 502 5.60 | 724 2:54.04 |
| 3 | Jordan KNIGHT | St. Joseph's AC | 2898 | 698 9.22 | 512 1.66 | 470 9.74 | 546 5.81 | 672 2:59.24 |
| 4 | EOIN SHARKEY | Tír Chonaill A.C | 2831 | 658 9.41 | 488 1.63 | 458 9.54 | 496 5.57 | 731 2:53.33 |
| 5 | Finn WOODGER | Metro/St. Brigid's AC | 2488 | 493 10.26 | 464 1.60 | 345 7.64 | 402 5.10 | 784 2:48.22 |
| | | | | | | | | |
| | | Junior Women - Overall | | | | | | |
| Pos | Athlete | Club | Pts | 60mH | HJ | SP | LJ | 800m |
| 1 | Lara O'BYRNE | Donore Harriers | 3307 | 852 9.28 | 759 1.62 | 507 9.65 | 466 4.65 | 723 2:27.62 |
| 2 | Louise KING | St. Colmans South | 2542 | 686 10.14 | 689 1.56 | 274 6.05 | 448 4.58 | 445 2:51.76 |
| 3 | Caoimhe ROWE | Trim AC | 2401 | 570 10.80 | 409 1.30 | 322 6.80 | 384 4.32 | 716 2:28.16 |
| | | | | | | | | |
| | | Junior Men - Overall | | | | | | |
| Pos | Athlete | Club | Pts | 60mH | HJ | SP | LJ | 1000m |
| 1 | Brian LYNCH | Old Abbey AC | 3418 | 786 8.82 | 653 1.83 | 606 11.99 | 659 6.33 | 714 2:55.05 |
| 2 | Aaron MALIK | St. Brendan's AC | 2685 | 664 9.38 | 464 1.60 | 470 9.74 | 584 5.99 | 503 3:17.45 |
| 3 | Kevin HALPIN | Lusk AC | 1209 | 245 11.86 | 250 1.30 | 259 6.18 | 280 4.44 | 175 4:04.42 |
| | | | | | | | | |
| | | Senior Women - Overall | | | | | | |
| Pos | Athlete | Club | Pts | 60mH | HJ | SP | LJ | 800m |
| 1 | Laura FREY | Lagan Valley A.C | 3298 | 789 9.60 | 621 1.50 | 548 10.29 | 543 4.94 | 797 2:21.98 |
| 2 | Karen DUNNE | Bohermeen AC | 2790 | 681 10.17 | 555 1.44 | 501 9.56 | 492 4.75 | 561 2:41.07 |
| 3 | Emma DENNIS | Lusk AC | 1744 | 402 11.87 | 312 1.20 | 321 6.78 | 186 3.43 | 523 2:44.43 |
| | | | | | | | | |
| | | Senior Men - Overall | | | | | | |
| Pos | Athlete | Club | Pts | 60mH | HJ | SP | LJ | 1000m |
| 1 | Shane ASTON | Trim AC | 3720 | 908 8.30 | 813 2.01 | 624 12.29 | 734 6.66 | 641 3:02.41 |
| 2 | Lorcan O'CONNOR | Emerald AC | 2405 | 449 10.51 | 528 1.68 | 308 7.01 | 504 5.61 | 616 3:05.04 |
| 3 | James FORTUNE | Enniscorthy AC | 2400 | 461 10.44 | 464 1.60 | 388 8.37 | 589 6.01 | 498 3:18.08 |
| 4 | Mark MCBREARTY | Omagh Harriers | 1857 | 355 11.08 | 250 1.30 | 280 6.54 | 363 4.90 | 609 3:05.71 |
| 5 | Gerard O'DONNELL | Carrick-on-Shannon AC | | 967 8.06 | 813 2.01 | 493 10.12 | 760 6.77 | 0 DNS |
| 6 | Michael BOWLER | Enniscorthy AC | | 879 8.42 | 504 1.65 | 622 12.25 | 657 6.32 | 0 DNS |
| | | | | | | | | |
| | | Women 35-39 - Overall | | | | | | |
| Pos | Athlete | Club | Pts | 60mH | HJ | SP | LJ | 800m |
| 1 | Emily WALDRON | Enniscorthy AC | 2049 | 493 11.68 | 293 1.18 | 325 6.85 | 336 4.12 | 602 2:37.46 |
| 2 | Genivive ROWLAND | Templemore AC | 1966 | 589 11.08 | 379 1.27 | 440 8.63 | 306 3.99 | 252 3:13.17 |
| 3 | Orla SMITH | Lusk AC | 1695 | 385 12.43 | 379 1.27 | 245 5.59 | 254 3.76 | 432 2:53.13 |
| 4 | Theresa TIERNEY | Cork Mental Health AC | 1320 | 303 13.06 | 293 1.18 | 269 5.96 | 223 3.61 | 232 3:15.84 |
| | | | | | | | | |
| | | Women 40-49 - Overall | | | | | | |
| Pos | Athlete | Club | Pts | 60mH | HJ | SP | LJ | 800m |
| 1 | Anisoara REBEGEA | Metro/St. Brigid's AC | 2230 | 462 12.66 | 544 1.30 | 375 6.88 | 303 3.59 | 546 2:50.24 |
| 2 | Mary SCANLON | Blackrock AC | 2194 | 607 11.67 | 512 1.27 | 516 8.83 | 317 3.64 | 242 3:24.01 |
| 3 | Verena FENLON | St. Joseph's AC | 2105 | 511 12.31 | 470 1.24 | 492 8.50 | 274 3.47 | 358 3:09.52 |
| 4 | Orlagh COLTON | Omagh Harriers | 1953 | 541 12.10 | 512 1.27 | 373 6.84 | 285 3.52 | 242 3:23.90 |
| 5 | Anna DECOURCY | Waterford AC | 1870 | 436 12.84 | 544 1.30 | 410 7.36 | 220 3.25 | 260 3:21.48 |
| 6 | Rosemary GIBSON | North East Runners AC | 1761 | 362 13.42 | 470 1.24 | 366 6.75 | 285 3.52 | 278 3:19.19 |
| 7 | Margaret O'CONNOR | Enniscorthy AC | 1685 | 488 12.47 | 340 1.12 | 343 6.43 | 287 3.53 | 227 3:26.01 |
| 8 | Aine CULLEN | United Striders AC | 1406 | 270 14.20 | 340 1.12 | 440 7.77 | 135 2.85 | 221 3:26.86 |
| 9 | Eilish LYNCH | Lusk AC | 770 | 57 16.81 | 222 1.00 | 355 6.59 | 114 2.74 | 22 4:08.68 |
| 10 | Lisa DONOGHUE | Lusk AC | 706 | 0 21.31 | 222 1.00 | 347 6.48 | 137 2.86 | 0 DNF |
| 11 | Jacqui PALMER | Lusk AC | 493 | 32 17.32 | 0 | 261 5.27 | 89 2.61 | 111 3:45.02 |
| 12 | Emma JAMESON | Lusk AC | 426 | 0 20.35 | 222 1.00 | 174 4.01 | 27 2.20 | 3 4:19.71 |
| 13 | Sheila BOURKE | Lusk AC | | 0 DNF | 0 DNS | 0 DNS | 0 DNS | 0 DNS |
| | | | | | | | | |
| | | Men 40-49 - Overall | | | | | | |
| Pos | Athlete | Club | Pts | 60mH | HJ | SP | LJ | 1000m |
| 1 | Mark MCCONNELL | Omagh Harriers | 2217 | 480 10.50 | 426 1.55 | 400 8.57 | 333 4.74 | 578 3:09.05 |
| 2 | Martin MOONEY | Inishowen AC | 2143 | 351 11.29 | 426 1.55 | 384 8.30 | 332 4.73 | 650 3:01.50 |
| 3 | Francois KULIK | Slí Cualann AC | | 475 10.53 | 0 DNS | 0 DNS | 0 DNS | 0 DNS |
| | | | | | | | | |
| | | Men 40-49 - Overall | | | | | | |
| Pos | Athlete | Club | Pts | 60mH | HJ | SP | LJ | 1000m |
| 1 | Trevor MCGLYNN | Omagh Harriers | 2862 | 741 9.52 | 569 1.65 | 542 9.83 | 473 5.01 | 537 3:23.01 |
| 2 | Patrick CURRAN | Tallaght AC | 2607 | 675 9.85 | 404 1.45 | 524 9.55 | 411 4.73 | 593 3:16.52 |
| 3 | Garret NOLAN | Lusk AC | 1930 | 371 11.59 | 360 1.40 | 340 6.78 | 360 4.48 | 499 3:27.63 |
| 4 | Justin LANE | Tuam AC | 1547 | 278 12.26 | 324 1.35 | 331 6.66 | 394 4.65 | 220 4:07.81 |
| 5 | Mark WOODGER | Metro/St. Brigid's AC | | 233 12.62 | 0 DNS | 0 DNS | 0 DNS | 0 DNS |
| | | | | | | | | |
| | | Women 50+ - Overall | | | | | | |
| Pos | Athlete | Club | Pts | 60m | SP (3kg) | LJ | 800m | |
| 1 | Shirley FENNELLY | Tramore AC | 1371 | 618 9.96 | 394 7.91 | 206 3.53 | 153 3:27.30 | |
| 2 | Deirdre BOWERS | Enniscorthy AC | 889 | 451 10.71 | 280 6.13 | 80 2.83 | 78 3:41.33 | |
| | | | | | | | | |
| | | | | | | | | |
| | | Men 50+ - Overall | | | | | | |
| Pos | Athlete | Club | Pts | 60m | SP (6kg) | LJ | 1000m | |
| 1 | Tom O'BRIEN | Waterford AC | 2562 | 665 8.51 | 516 8.96 | 652 5.13 | 729 3:18.23 | |
| 2 | Gavin KELLY | United Striders AC | 2321 | 678 8.46 | 372 6.91 | 413 4.20 | 858 3:04.35 | |
| 3 | Paul CONNOLLY | Annalee AC | 2294 | 759 8.19 | 339 6.43 | 461 4.40 | 735 3:17.53 | |
| 4 | John O'CONNOR | Enniscorthy AC | 2238 | 631 8.63 | 484 8.51 | 417 4.22 | 706 3:20.76 | |
| 5 | Tommy GREENE | St. John's AC | 2211 | 640 8.60 | 624 10.49 | 483 4.49 | 464 3:50.86 | |
| 6 | Colm MCNALLY | Lusk AC | 2171 | 668 8.50 | 417 7.56 | 375 4.04 | 711 3:20.27 | |
| 7 | Peadar MCGING | Dundrum South Dublin AC | 2139 | 650 8.56 | 497 8.70 | 413 4.20 | 579 3:35.81 | |
| 8 | Johnny MURPHY | Ennis Track AC | 2093 | 568 8.86 | 402 7.34 | 369 4.02 | 754 3:15.38 | |
| 9 | John WALLACE | Ratoath AC | 1891 | 571 8.85 | 492 8.62 | 396 4.13 | 432 3:55.26 | |