Results of BLE National Inter-County Cross-Country Championships - December 1991
National Inter-County Cross-Country Championships 1991

Ballyfin, Co. Laois
December 15th 1991
Report by Frank Greally

Irish Runner Feb/March 1992, Vol 12, No 1, P30 - 31

Download Irish Runner Article (PDF File)

| | |
| --- | --- |
| | |
| Irish Runner Feb/March 1992, Vol 12, No 1, P30 | Irish Runner Feb/March 1992, Vol 12, No 1, P31 |
Early stages of Senior Men's Race - Noel Richardson (143) leads the field, with Donnacha O'Mahony (844), on far left, who was Cork's first scorer, in 5th place

Catherina McKiernan (001) leads from start to finish

Quality performances by Noel Richardson and Catherina McKiernan were the highlights in Ballyfin.
Early in the men's race, all eyes were on South African born Sean Dollman, who had just a few weeks previously won the American Collegiate Cross Country title, in Arizona.

Dollman was well placed in the early front running pack. Noel Richardson was the main driving force in this early lead group, and the Limerick runner later forced the pace enough to establish a five-man breakaway group, which included Dollman, Gerry Brady (Clonliffe), Pat Maloney (Dublin) and Galway native, Richard Mulligan.

By halfway, they had forged a big lead on the main field. A little later, Richardson broke clear on his own and, at the finish had a comfortable margin of fourteen seconds to spare on Sean Dollman, with Richard Mulligan claiming the third spot.
This was 27 year old Richardson's fourth successive victory of the season. He had won the national 10,000m track title in 1991, and this cross country season had proved to be his best yet. A new coaching relationship with Dick Hooper appears to have made a big change in the consistency of Richardson's performances, and this national title cross country can only have added to his confidence.

Catherina McKiernan surged clear of the field after the first 2,000 metres of the women's race, and looked a class apart as she cruised to an easy victory. Belinda McArdle led Donegal to inter county team victory, when finishing second behind McKiernan. Bernie Stankard of Galway ran one of the best cross country races of her career, to take bronze.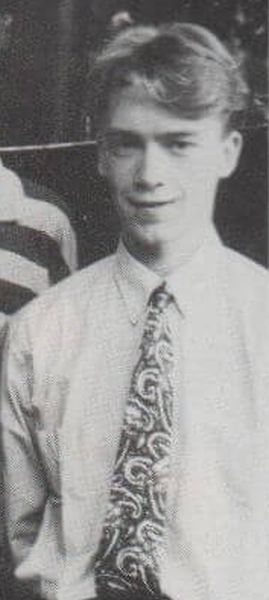 Martin McCarthy, Junior Men's Champion

Cork's Martin Carthy sprinted to victory in the men's junior event, finishing five seconds clear of another talented junior, Donal O'Sullivan of Dublin. Defending champion, John Murray of Cork, had to settle for third.

Catriona McGranaghan had a clear victory in the women's junior event where she finished ahead of the Cork pair of Colette Vaughan and Marie O'Riordan, who led the county team to victory.

Pat O'Keeffe of Cork beat his more fancied rival Paul McNamara of Galway in the ' BLOE U/16 championship, while Hugh Gallagher of Donegal finished third. In the U/12 race, David Murphy, Cork, outsprinted Damien Keogh (Collins) and Roger Barrett, (Mayo). Margaret Danagher of Tipperary won a close contest in the Girls U/14 from Annette McQuaid, Cork and Cathy O'Neill, Beechmount.


Results

Senior Men's Results

| Pos | Forename | Surname | Cat | County | Time |
| --- | --- | --- | --- | --- | --- |
| 1 | Noel | Richardson | M | Limerick | 00:32:12 |
| 2 | Sean | Dollman | M | Individual | 00:32:26 |
| 3 | Richard | Mulligan | M | Galway | 00:32:50 |
| 4 | Pat | Moloney | M | Clare | 00:33:09 |
| 5 | Donnacha | O'Mahony | M | Cork | 00:33:19 |
| 6 | Paul | O'Callaghan | M | Individual | 00:33:22 |
| 7 | Gerry | Brady | M | Dublin | 00:33:27 |
| 8 | Gerry | McGrath | M | Dublin | 00:33:31 |
| 9 | James | O'Sullivan | M | Waterford | 00:33:35 |
| 10 | Pat | Hegarty | M | Donegal | 00:33:37 |
| 11 | Tommy | Maher | M | Individual | 00:33:39 |
| 12 | Kieran | Carlin | M | Donegal | 00:33:44 |
| 13 | Noel | Cullen | M | Dublin | 00:33:48 |
| 14 | John | Burke | M | Westmeath | 00:33:54 |
| 15 | Peter | Fagan | M | Westmeath | 00:33:59 |
| 16 | Tom | Payne | M | Carlow | 00:34:00 |
| 17 | Seamus | Gallagher | M | Donegal | 00:34:01 |
| 18 | Kevin | Heffernan | M | Dublin | 00:34:02 |
| 19 | Eamonn | McMahon | M | Individual | 00:34:05 |
| 20 | M. | Coakley | M23 | Cork | 00:34:07 |
| 21 | Michael | Hassett | M | Tipperary | 00:34:09 |
| 22 | Eugene | Coppinger | M | Dublin | 00:34:11 |
| 23 | Liam | O'Brien | M | Cork | 00:34:12 |
| 24 | John | McGlinchey | M | Donegal | 00:34:13 |
| 25 | Cormac | Finnerty | M | Westmeath | 00:34:15 |
| 26 | Tom | McGrath | M | Westmeath | 00:34:15 |
| 27 | Neil | Martin | M | Donegal | 00:34:17 |
| 28 | David | Carrie | M | Individual | 00:34:17 |
| 29 | Tom | O'Connor | M | Dublin | 00:34:20 |
| 30 | Padraig | Keane | M | Dublin | 00:34:24 |
| 31 | Francie | Boylan | M | Monaghan | 00:34:26 |
| 32 | Neil | Cusack | M | Limerick | 00:34:33 |
| 33 | Pauric | McKinney | M | Donegal | 00:34:36 |
| 34 | Martin | McDonald | M | Laois | 00:34:37 |
| 35 | Michael | Furlong | M | Individual | 00:34:37 |
| 36 | Martin | Kearney | M | Dublin | 00:34:40 |
| 37 | Jack | Duggan | M | Kilkenny | 00:34:40 |
| 38 | Leonard | O'Regan | M | Cork | 00:34:41 |
| 39 | John | Scanlon | M | Limerick | 00:34:45 |
| 40 | M. | Mannion | M | Individual | 00:34:45 |
| 41 | Tom | Shanaghan | M23 | Kerry | 00:34:51 |
| 42 | Billy | Flaherty | M23 | Cork | 00:34:55 |
| 43 | Paddy | Murray | M | Mayo | 00:34:57 |
| 44 | Kevin | Coady | M | Dublin | 00:34:58 |
| 45 | Mick | Gygax | M | Dublin | 00:35:00 |
| 46 | Nial | Duggan | M | Kilkenny | 00:35:01 |
| 47 | Billy | O'Rourke | M | Cork | 00:35:01 |
| 48 | Martin | Hassett | M | Tipperary | 00:35:06 |
| 49 | James | McGee | M23 | Individual | 00:35:08 |
| 50 | John | Kearney | M | Cork | 00:35:10 |
| 51 | Richard | Clifford | M | Limerick | 00:35:13 |
| 52 | Seamus | Christie | M | Tipperary | 00:35:16 |
| 53 | Frank | Daly | M | Galway | 00:35:17 |
| 54 | John | Daly | M | Tipperary | 00:35:19 |
| 55 | Cormac | Troy | M | Offaly | 00:35:20 |
| 56 | Tony | Duggan | M | Kilkenny | 00:35:21 |
| 57 | M. | Bickerdyke | M | Cork | 00:35:22 |
| 58 | Bernard | Feery | M | Tipperary | 00:35:23 |
| 59 | Con | Lynch | M | Kerry | 00:35:24 |
| 60 | J. | Collins | M | Cork | 00:35:26 |
| 61 | Mark | Gleeson | M | Tipperary | 00:35:26 |
| 62 | Colm | Burke | M | Laois | 00:35:27 |
| 63 | Brendan | Mooney | M | Sligo | 00:35:30 |
| 64 | Loughlin | Campion | M | Laois | 00:35:36 |
| 65 | John | Fitzgerald | M | Tipperary | 00:35:38 |
| 66 | John Joe | Doyle | M | Wexford | 00:35:00 |
| 67 | Ted | Horan | M | Dublin | 00:35:42 |
| 68 | Martin | Harte | M | Westmeath | 00:35:46 |
| 69 | David | Burke | M | Westmeath | 00:35:46 |
| 70 | Kieran | Dempsey | M | Kildare | 00:35:46 |
| 71 | Charles | Gallagher | M | Donegal | 00:35:46 |
| 72 | David | Carty | M | Wexford | 00:35:49 |
| 73 | Michael | McDonnell | M | Limerick | 00:35:53 |
| 74 | L. | Cotter | M23 | Individual | 00:35:55 |
| 75 | Martin | Carroll | M | Offaly | 00:35:57 |
| 76 | Thomas | Moriarty | M | Kerry | 00:36:01 |
| 77 | Garret | Barry | M | Cork | 00:36:07 |
| 78 | Mark | Connolly | M | Donegal | 00:36:09 |
| 79 | Charles | Foley | M23 | Waterford | 00:36:10 |
| 80 | Brendan | Sherlock | M | Monaghan | 00:36:11 |
| 81 | Denis | Cormack | M | Kilkenny | 00:36:13 |
| 82 | James | Hession | M | Galway | 00:36:21 |
| 83 | John | Bannon | M | Westmeath | 00:36:22 |
| 84 | Claude | Glynn | M | Offaly | 00:36:26 |
| 85 | Brian | Meade | M | Cork | 00:36:28 |
| 86 | Michael | Sexton | M | Clare | 00:36:30 |
| 87 | Michael | Marron | M | Sligo | 00:36:33 |
| 88 | Brian | Roberts | M | Kilkenny | 00:36:35 |
| 89 | Des | McKiernan | M | Laois | 00:36:39 |
| 90 | Larry | Stafford | M | Wexford | 00:36:41 |
| 91 | Bernard | Dorrian | M | Donegal | 00:36:44 |
| 92 | James | Sexton | M | Clare | 00:36:45 |
| 93 | Tony | O'Reilly | M | Laois | 00:36:48 |
| 94 | Liam | Dunne | M | Offaly | 00:36:49 |
| 95 | Michael | Fennell | M | Clare | 00:36:51 |
| 96 | Donal | McGrath | M | Clare | 00:36:53 |
| 97 | Mick | Kehoe | M | Wexford | 00:36:54 |
| 98 | Myles | McHugh | M | Tipperary | 00:36:55 |
| 99 | Pat | Black | M | Donegal | 00:36:59 |
| 100 | George | Webb | M | Offaly | 00:37:00 |
| 101 | Joe | Deering | M | Offaly | 00:37:05 |
| 102 | Joe | Campbell | M | Mayo | 00:37:08 |
| 103 | Brian | O'Reilly | M | Cavan | 00:37:17 |
| 104 | Michael | Dee | M23 | Mayo | 00:37:18 |
| 105 | Frank | Gerrihy | M | Clare | 00:37:19 |
| 106 | Joe | Tobin | M | Tipperary | 00:37:20 |
| 107 | Pat | Corcoran | M | Carlow | 00:37:21 |
| 108 | Noel | Marum | M | Laois | 00:37:23 |
| 109 | Dick | Boland | M | Wexford | 00:37:24 |
| 110 | Eric | O'Donnell | M | Westmeath | 00:37:25 |
| 111 | Tom | Murray | M | Waterford | 00:37:26 |
| 112 | Martin | Colgan | M | Offaly | 00:37:27 |
| 113 | Thomas | McElwaine | M | Wexford | 00:37:28 |
| 114 | Jim | Gaughan | M | Mayo | 00:37:29 |
| 115 | Stephen | O'Toole | M | Tipperary | 00:37:30 |
| 116 | Gary | Crossan | M | Donegal | 00:37:00 |
| 117 | John | Fitzsimons | M | Kidare | 00:37:34 |
| 118 | Richard | Connelly | M | Kilkenny | 00:37:39 |
| 120 | John | Fenton | M | Laois | 00:37:49 |
| 121 | Denis | Shannon | M | Carlow | 00:37:50 |
| 122 | Michael | Gilroy | M | Sligo | 00:37:51 |
| 123 | Derick | Nolan | M | Tipperary | 00:37:58 |
| 124 | Oily | Gallagher | M | Westmeath | 00:39:05 |
| 125 | Martin | Lee | M | Cavan | 00:39:10 |
| 126 | Paul | Conway | M | Laois | 00:39:11 |
| 127 | Brian | Reilly | M | Cavan | 00:39:12 |
| 128 | Eugene | Peck | M | Wexford | 00:39:13 |
| 129 | Dermot | Callaghan | M | Cavan | 00:39:25 |
| 130 | Tom | Carolan | M | Cavan | 00:39:26 |
| 131 | Dan | Allen | M | Laois | 00:39:29 |
| 132 | Seamus | Power | M | Kilkenny | 00:39:30 |
| 133 | Kevin | Mansell | M | Tipperary | 00:39:32 |
| 134 | Paul | Harte | M | Sligo | 00:39:33 |
| 135 | Michael | Mulligan | M | Monaghan | 00:39:34 |
| 136 | Aodan | Doyle | M | Wexford | 00:39:38 |
| 137 | William | Guiney | M | Kerry | 00:39:54 |
| 138 | Vincent | Flannery | M | Sligo | 00:40:02 |
| 139 | Tom | Connolly | M | Galway | 00:40:01 |
| 140 | Ray | Flynn | M | Sligo | 00:40:19 |
| 141 | Brian | Duffy | M | Galway | 00:40:22 |
| 142 | Stephen | Brady | M | Galway | 00:40:28 |
| 143 | Pauric | Cullina | M | Mayo | 00:40:29 |
| 144 | Ned | Cronin | M | Laois | 00:40:34 |
| 145 | Billy | Delaney | M | Carlow | 00:40:39 |
| 146 | Pat | Walsh | M | Kildare | 00:40:43 |
| 147 | Tom | Reilly | M | Galway | 00:40:46 |
| 148 | Colman | Dooley | M23 | Offaly | 00:40:52 |
| 149 | Bill | Lacey | M | Kilkenny | 00:41:09 |
| 150 | Owen | Mongan | M | Mayo | 00:41:16 |
| 151 | Kevin | Cuddy | M | Carlow | 00:41:17 |
| 152 | Sean | Doyle | M | Carlow | 00:41:21 |
| 153 | James | Ryan | M | Kerry | 00:41:58 |
| 154 | P.J. | McIntyre | M | Offaly | 00:42:00 |
| 155 | Jerry | Hayes | M | Sligo | 00:04:42 |
| 156 | Martin | Crehan | M | Mayo | 00:42:55 |
| 157 | Cathal | Smith | M | Cavan | 00:43:16 |
| 158 | Martin | McEvilly | M | Galway | 00:45:06 |
| 159 | Rory | McEllin | M23 | Mayo | 00:45:19 |
Teams
Senior Men's Teams
Pos
County
Pts
Scorers
1
Dublin
97
7, 8, 13,18, 22, 29
2
Donegal
133
10, 12, 17, 24, 27, 33
3
Cork
175
5, 20, 23, 38, 42, 47
Senior Women's Results
| Pos | Forename | Surname | Cat | County | Time |
| --- | --- | --- | --- | --- | --- |
| 1 | Catherina | McKiernan | F | Cavan | 00:17:53 |
| 2 | Belinda | McArdle | F | Donegal | 00:19:05 |
| 3 | Bernie | Stankard | F | Galway | 00:19:08 |
| 4 | Helena | McCrossan | F | Donegal | 00:19:25 |
| 5 | Kay | Byrne | F | Donegal | 00:19:29 |
| 6 | Sharon | Leon | F | Dublin | 00:19:38 |
| 7 | Susan | Jenkins | F | Cork | 00:19:43 |
| 8 | Joan | Hough | F | Cork | 00:19:45 |
| 9 | Frances | Murphy | F | Dublin | 00:19:47 |
| 10 | Aisling | Molloy | F | Individual | 00:19:55 |
| 11 | Louise | Kavanagh | F | Dublin | 00:20:00 |
| 12 | Catherine | Hennessy | F | Individual | 00:20:11 |
| 13 | Ann | Carroll | F | Offaly | 00:20:15 |
| 14 | Gwen | Stanley | F23 | Dublin | 00:20:25 |
| 15 | Mary | Gallagher | F | Westmeath | 00:20:31 |
| 16 | Josephine | Macken | F | Mayo | 00:20:36 |
| 17 | Marg. | Synnott | F23 | Donegal | 00:20:42 |
| 18 | Edel | Murphy | F | Galway | 00:20:45 |
| 19 | Deirdre | McCormack | F | Galway | 00:20:47 |
| 20 | Beth | McCluskey | F | Dublin | 00:21:02 |
| 21 | Grainne | Butler | F | Westmeath | 00:21:09 |
| 22 | Brenda | McNamara | F | Mayo | 00:21:10 |
| 23 | Rose | Gavigan | F | Donegal | 00:21:22 |
| 24 | Perry | Williams | F | Kilkenny | 00:21:13 |
| 25 | Noeleen | Merritt | F | Donegal | 00:21:19 |
| 26 | Joan | Macken | F | Mayo | 00:21:22 |
| 27 | Donna | Mahon | F23 | Dublin | 00:21:23 |
| 28 | Doina | Nugent | F | Galway | 00:21:26 |
| 29 | Evelyn | McNelis | F | Kildare | 00:21:27 |
| 30 | Aileen | Mulhall | F | Kilkenny | 00:21:32 |
| 31 | Sandra | Murphy | F23 | Kildare | 00:21:34 |
| 32 | Brigid | Fitzsimons | F | Kildare | 00:21:50 |
| 33 | Siobhan | McCormick | F | Limerick | 00:21:54 |
| 34 | Michelle | Walsh | F23 | Offaly | 00:21:58 |
| 35 | Noreen | McManamon | F | Mayo | 00:21:53 |
| 36 | Pauline | Gorman | F | Offaly | 00:22:07 |
| 37 | Liz | Hogan | F | Kildare | 00:22:12 |
| 38 | Martina | Conlon | F | Offaly | 00:22:30 |
| 39 | Liz | Foy | F | Kildare | 00:22:35 |
| 40 | Catherine | Lawlor | F | Kilkenny | 00:22:44 |
| 41 | Claire | Sheehy | F | Kildare | 00:22:52 |
| 42 | Marcella | Martin | F | Offaly | 00:23:00 |
| 43 | Paula | Gowran | F | Westmeath | 00:23:06 |
| 44 | Mary | Walsh | F | Offaly | 00:23:22 |
| 45 | Mary | Fox | F | Kildare | 00:23:23 |
| 46 | Ann | Kavanagh | F | Offaly | 00:24:20 |
| 47 | M. | O'Keeffe | F | Kilkenny | 00:24:48 |
| 48 | Margaret | Dillon | F | Kilkenny | 00:25:32 |
| 49 | Mary | Joyce | F | Westmeath | 00:26:27 |
Teams
Senior Women's Teams
Pos
County
Pts
Scorers
1
Donegal
28
2, 4, 5, 17
2
Dublin
40
6, 9, 11, 14
3
Galway 'B'
68
3, 8 19, 28
Junior Women's Results
| Pos | Forename | Surname | Cat | County | Time |
| --- | --- | --- | --- | --- | --- |
| 1 | C. | McGranaghan | FJ | Donegal | 00:15:38 |
| 2 | C. | Vaughan | FJ | Cork | 00:16:03 |
| 3 | M. | O'Riordan | FJ | Cork | 00:16:09 |
| 4 | Fionnuala | Canning | FJ | Individual | 00:16:19 |
| 5 | Gail | Culliton | FJ | Tipperary | 00:16:21 |
| 6 | M. | Meade | FJ | Cork | 00:16:29 |
| 7 | Stephanie | Crossan | FJ | Donegal | 00:16:37 |
| 8 | Margaret | Sweeney | FJ | Dublin | 00:16:58 |
| 9 | Mgt. | McPartland | FJ | Clare | 00:17:00 |
| 10 | B. | McSweeney | FJ | Cork | 00:17:03 |
| 11 | Michelle | Moloney | FJ | Limerick | 00:17:04 |
| 12 | C. | Kelleher | FJ | Cork | 00:17:05 |
| 13 | Nuala | Power | FJ | Limerick | 00:17:08 |
| 14 | Catherine | Freeman | FJ | Dublin | 00:17:17 |
| 15 | C. | Meagher | FJ | Cork | 00:17:32 |
| 16 | Marie | Delahunty | FJ | Kilkenny | 00:17:34 |
| 17 | Elizabeth | Multany | FJ | Offaly | 00:17:34 |
| 18 | Catherine | Dorney | FJ | Tipperary | 00:17:35 |
| 19 | Mary | Dullaghan | FJ | Clare | 00:17:37 |
| 20 | Deirdre | Walsh | FJ | Tipperary | 00:17:48 |
| 21 | Siobhan | O'Keeffe | FJ | Limerick | 00:17:54 |
| 22 | Mary | Multany | FJ | Offaly | 00:17:56 |
| 23 | Christine | Geoghan | FJ | Limerick | 00:17:57 |
| 24 | Jean | Noonan | FJ | Limerick | 00:17:58 |
| 25 | J. | Henchion | FJ | Cork | 00:18:02 |
| 26 | Emily | O'Kelly | FJ | Tipperary | 00:18:03 |
| 27 | Colette | Brennan | FJ | Laois | 00:18:04 |
| 28 | Patrida | Muitany | FJ | Offaly | 00:18:06 |
| 29 | Ann | M | FJ | Tipperary | 00:18:13 |
| 30 | Gemma | Costello | FJ | Dublin | 00:18:23 |
| 31 | Siobhan | Moore | FJ | Laois | 00:18:03 |
| 32 | Alice | Brennan | FJ | Laois | 00:18:32 |
| 33 | Catherine | O'Farrell | FJ | Tipperary | 00:18:34 |
| 34 | Olivia | Brennan | FJ | Carlow | 00:18:37 |
| 35 | Olivia | Dullaghan | FJ | Clare | 00:18:46 |
| 36 | Roslyn | Feeley | FJ | Dublin | 00:18:48 |
| 37 | Anglia | Hogan | FJ | Tipperary | 00:18:52 |
| 38 | Siobhan | Dowling | FJ | Carlow | 00:18:53 |
| 39 | Sinead | Duggan | FJ | Carlow | 00:18:58 |
| 40 | M. | Lynch | FJ | Kilkenny | 00:19:06 |
| 41 | S. | Cummins | FJ | Kilkenny | 00:19:18 |
| 42 | A. | Musgrave | FJ | Dublin | 00:19:39 |
| 43 | R. | O'Brien | FJ | Laois | 00:19:57 |
| 44 | C. | Multany | FJ | Offaly | 00:20:03 |
| 45 | J. | Dowling | FJ | Carlow | 00:20:24 |
| 46 | S. | Beatty | FJ | Clare | 00:20:29 |
| 47 | F. | Keane | FJ | Individual | 00:20:47 |
| 48 | M. | Gannon | FJ | Individual | 00:21:54 |
| 49 | J. | Mitchell | FJ | Individual | 00:22:20 |
| 50 | P. | Brophy | FJ | Laois | 00:27:21 |
Junior Women's Team Results
| Pos | County | Pts | Scorers |
| --- | --- | --- | --- |
| 1 | Cork | 3 | 2, 3, 6, 10 |
| 2 | Limerick | 13 | 11, 13, 21, 23 |
| 3 | Tipperary | 18 | 5, 18, 20, 26 |
Junior Men's Results
| Pos | Forename | Surname | Cat | County | Time |
| --- | --- | --- | --- | --- | --- |
| 1 | Martin | McCarthy | MJ | Cork | 00:25:14 |
| 2 | Donal | O'Sullivan | MJ | Dublin | 00:25:19 |
| 3 | John | Murray | MJ | Cork | 00:25:26 |
| 4 | David | O'Healy | MJ | Limerick | 00:25:30 |
| 5 | Darren | Bourke | MJ | Laois | 00:25:42 |
| 6 | Cormac | Smith | MJ | Dublin | 00:25:53 |
| 7 | Disqualified | | MJ | Cork | 00:25:56 |
| 8 | Damien | Lawless | MJ | Dublin | 00:26:01 |
| 9 | Adrian | Hampson | MJ | Sligo | 00:26:08 |
| 10 | Declan | Fahey | MJ | Galway | 00:26:11 |
| 11 | Alan | O'Gorman | MJ | Limerick | 00:26:12 |
| 12 | D. | Heaiy | MJ | Cork | 00:26:13 |
| 13 | Ben | Walsh | MJ | Limerick | 00:26:14 |
| 14 | Kieran | Meehan | MJ | Dublin | 00:26:16 |
| 15 | D. | Keenan | MJ | Cork | 00:26:18 |
| 16 | Kieran | Meagher | MJ | Waterford | 00:26:21 |
| 17 | T. | Foulkes | MJ | Cork | 00:26:22 |
| 18 | Kileen | Lonergan | MJ | Dublin | 00:26:25 |
| 19 | G. | Murray | MJ | Cork | 00:26:29 |
| 20 | Cian | McLoughlin | MJ | Dublin | 00:26:30 |
| 21 | Austin | Lynch | MJ | Dublin | 00:26:35 |
| 22 | James | McIntyre | MJ | Donegal | 00:26:38 |
| 23 | Diarmuid | Geary | MJ | Cork | 00:26:40 |
| 24 | Ken | O'Shea | MJ | Dublin | 00:26:41 |
| 25 | Leonard | Phillips | MJ | Tipperary | 00:26:42 |
| 26 | Rory | Byrne | MJ | Dublin | 00:26:45 |
| 27 | Stephen | Folan | MJ | Galway | 00:26:53 |
| 28 | Derek | Rossitter | MJ | Wexford | 00:27:05 |
| 29 | Keith | Ryan | MJ | Waterford | 00:27:12 |
| 30 | Adrian | Foran | MJ | Kilkenny | 00:27:13 |
| 31 | Conor | Delaney | MJ | Donegal | 00:27:14 |
| 32 | Darren | O'Dea | MJ | Donegal | 00:27:21 |
| 33 | Michael | Clinton | MJ | Westmeath | 00:27:23 |
| 34 | J. | Cashman | MJ | Cork | 00:27:37 |
| 35 | Patrick | Byrne | MJ | Kilkenny | 00:27:39 |
| 36 | Christopher | Flannery | MJ | Kerry | 00:27:45 |
| 37 | D. | Doyle | MJ | Kilkenny | 00:27:48 |
| 38 | Desmond | Feeney | MJ | Galway | 00:27:52 |
| 39 | Stephen | Guggan | MJ | Donegal | 00:27:57 |
| 40 | David | Cullinan | MJ | Offaly | 00:28:05 |
| 41 | Padraig | Lambert | MJ | Laois | 00:28:06 |
| 42 | Sean | McDermott | MJ | Galway | 00:28:23 |
| 43 | Gerard | Carr | MJ | Galway | 00:28:27 |
| 44 | Jonathon | Diver | MJ | Donegal | 00:28:31 |
| 45 | John | Browne | MJ | Wexford | 00:28:33 |
| 46 | Colm | Dobbs | MJ | Wexford | 00:28:37 |
| 47 | Jason | O'Brien | MJ | Wexford | 00:28:48 |
| 48 | John | Breen | MJ | Wexford | 00:28:53 |
| 49 | David | Hickey | MJ | Tipperary | 00:28:55 |
| 50 | Willie | Maher | MJ | Wexford | 00:29:02 |
| 51 | Alan | Power | MJ | Waterford | 00:29:03 |
| 52 | John | Doran | MJ | Tipperary | 00:29:01 |
| 53 | Eddie | Comber | MJ | Galway | 00:29:11 |
| 54 | Declan | Carron | MJ | Donegal | 00:29:12 |
| 55 | Shane | Scanlon | MJ | Waterford | 00:29:16 |
| 56 | Alan | Browne | MJ | Wexford | 00:29:20 |
| 57 | I. | O'Sullivan | MJ | Cork | 00:29:22 |
| 58 | Denis | Shanaghan | MJ | Tipperary | 00:29:28 |
| 59 | Aidan | Power | MJ | Waterford | 00:29:32 |
| 60 | Willie | Hanley | MJ | Tipperary | 00:29:39 |
| 61 | Gabriel | Murtagh | MJ | Westmeath | 00:29:42 |
| 62 | Damien | Monaghan | MJ | Westmeath | 00:29:53 |
| 63 | Nial | McGovern | MJ | Kilkenny | 00:30:00 |
| 64 | Pat | Phelan | MJ | Tipperary | 00:30:05 |
| 65 | Mark | Wickham | MJ | Wexford | 00:30:07 |
| 66 | David | Reid | MJ | Kilkenny | 00:30:11 |
| 67 | Michael | Kelly | MJ | Offaly | 00:30:14 |
| 68 | James | Maguire | MJ | Waterford | 00:30:15 |
| 69 | Gerry | Rabbitte | MJ | Galway | 00:30:28 |
| 70 | Paul | Fahey | MJ | Galway | 00:30:32 |
| 71 | Brian | Whelan | MJ | Waterford | 00:30:37 |
| 72 | John | Donohue | MJ | Westmeath | 00:31:00 |
| 73 | Cornials | Marchell | MJ | Tipperary | 00:31:12 |
| 74 | Thomas | Phelan | MJ | Tipperary | 00:31:23 |
| 75 | Declan | Campbell | MJ | Galway | 00:31:31 |
| 76 | Dedan | Hearne | MJ | Waterford | 00:31:39 |
| 77 | Ken | Daly | MJ | Offaly | 00:31:50 |
| 78 | James | Tierney | MJ | Tipperary | 00:31:51 |
| 79 | David | Comerford | MJ | Kilkenny | 00:32:03 |
| 80 | John | Heffernan | MJ | Offaly | 00:32:07 |
| 81 | Rory | Phillips | MJ | Tipperary | 00:32:16 |
| 82 | Darren | Hanniffy | MJ | Offaly | 00:32:21 |
| 83 | P.J. | Mullaly | MJ | Offaly | 00:32:23 |
Junior Men's Team Results
| Pos | County | Pts | Scorers |
| --- | --- | --- | --- |
| 1 | Cork | 67 | 1, 3, 12, 15, 17, 19 |
| 2 | Dublin | 68 | 2, 6, 8, 14, 18, 20 |
| 3 | Galway | 213 | 10, 27, 38, 42, 43, 53 |
Archived Articles
Looking Back - 25 Years of BLE in Cork
Subscribe to Irish Runner Magazine