Sunday 12 May 2019, 12:00

Bweeng 5k Road Race
Bweeng
12 noon, Sunday 12th May 2019
This event is run under an Athletics Ireland permit/licence
Organised and hosted by Bweeng Trail Blazers AC, in association with Bweeng Community Centre

These courses were measured by John Holland, AAI National Grade Measurer
Bweeng Trailblazers 5k Road Race Flyer 2019
Bweeng Trail Blazers Facebook page
Results of Athletics Ireland Registered Events - April 2014 - May 2016 (on Old Cork Athletics website)
Results of Athletics Ireland Registered Events - May 2016 to date
Race Calendar / Fixtures List - Athletics Ireland Registered Events
Online entry is limed to 500, and opens at Midnight on Thursday January 31st 2019

Entry fee for the Bweeng 5k is €10 - or €15 if you want a Bweeng 5k Race T-Shirt
Registration/Race HQ
Race HQ is Bweeng Community Centre, on the Gloundine Road


Bweeng Community Centre Location
Bweeng Location Map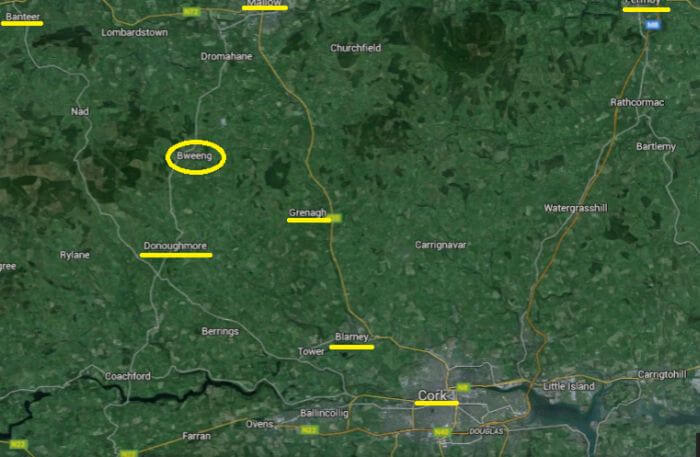 General Information
Bweeng Trail Blazers in association with the Bweeng Community centre are organising a run on May 7th 2017. Following on from the huge success of the pervious years, we have improved our event even further again this year. The event will have a chip time start and finish.
We have dramatically increased the prize fund, adding in several new categories. We are delighted to welcome SKECHERS on board as our main sponsor of this race. Along with SKECHERS, we feel we can provide a top class race that will cater for all.
There are two races available on the day with 5k run and a 10k option. Entry fee for both is amazingly €10. As well as a chip timed race we will have a DJ, you will also receive a goodie bag on the day, our famous huge spread of food and most importantly a well organised and stewarded event.
We have put an incentive in place for people to register online. Anyone who enters online before Saturday May 6th at 8pm will be entered into a draw to be in with a chance of winning one of three pairs of SKECHERS runners.

Also any club that has more than 10 entries online will also be entered into a draw with a chance to win €150 for their chosen charity. For clubs with 20members they get two entries to the draw etc, etc.
Further Information on registering for the event will be posted shorthly. You can also This email address is being protected from spambots. You need JavaScript enabled to view it. on 087-9439260, or on the Bweeng Trailblazers Facebook page
Bweeng 10k Road Race Route & Map
Both the Bweeng 5K & 10k races start approx. 500m from Race HQ. The route then heads back in the direction of the community centre, turning left, into the community centre, and completing one lap, in a clockwise direction, around the community park. After completing this lap, at the 1.2km mark, runners will turn left, and head to Bweeng Crossroads, where the route again turns left, onto the Lombardstown Road. At the 3k mark the course splits, with the 5k runners going left, at the V on the road, and the 10k runners going right.
The 10K route continues along the Lombardstown road, as far as Sean Ogs Cross (5.6K), where it turns left. Up until now, the route is a relatively flat and downhill course. After turning left, the route swings back towards Bweeng. There are some slight pulls along the next 2km, but nothing too testing. There will be a water station just after the 7k mark. At the 8.4km mark the 10s rejoins the point where the course originally split from the 5k route. There is an easy run-in to the finish, just short of the Bweeng Crossroads.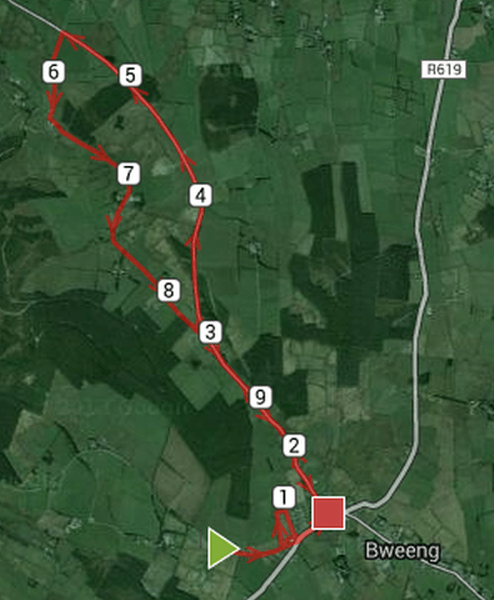 Bweeng 5k Course Map