Thursday 19 April 2018, 20:00

Ballintotis 4 Mile Road Race
Ballintotis, Castlemartyr
8pm, Thursday April 19th 2018
This course has been measured by John Walshe, Athletics Ireland National Grade Measurer
This is an Athletics Ireland registered event, organised by Ballintotis Community Council, in association with East Cork AC and Ballycotton Running Promotions
Ballintotis Community Council website

Ballycotton Running Promotions Website
Results of Athletics Ireland Registered Events - April 2014 - May 2016 (on Old Cork Athletics website)
Results of Athletics Ireland Registered Events - May 2016 to date
Race Calendar / Fixtures List - Athletics Ireland Registered Events

Results of Previous Ballintotis 4 Mile Road Races
Ballintotis Location

Ballintotis is a community lying just off the N25, Cork Waterford road, just before the village of Castlemartyr.
Ballintotis Location
Ballintotis Race HQ & Parking
Entries

Ballintotis Community Centre

If you haven't entered online - online entries will close at midnight on Monday April 17th, you can still enter on the day, in the Community Hall, adjacent to the church. Entries will be taken there on the day, from 1pm onwards on race day, Thursday April 20th, or the previous day, Wednesday 19th, between 5 and 7pm.
Entry fee is €10 (plus administration fee, entering on-line) and all finishers will get a free running buff.

Ballintotis 4 Course Details

View Course on MapMyRun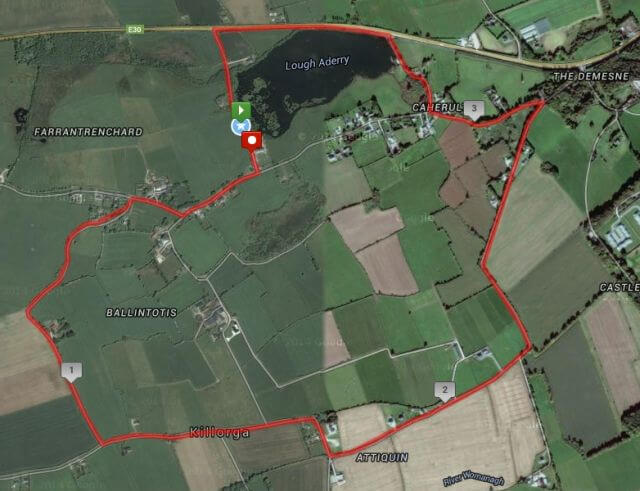 Ballintotis 4 Mile Road Race - Course Map
Course Elevation Profile


Don't be fooled by the apparent rise at the start of the course, as illustrated below - This course is essentially flat!Ballintotis 4 Mile Road Race - Course Elevation Profile
Prizes
The race offers great value for money, with a very attractive prize structure, and a full list of category prizes, as well as the opportunity to win one of the many spot prizes on offer.
Castlemartyr Resort will again sponsor the top prize of a Year's Membership for their Leisure Centre for the both Mens and Womens race winners. Trabolgan Holiday Village will again sponsor a Family Weekend Away for the both the race Mens and Womens runners up.
The race is hosted annually as a fundraiser for the continued development and upkeep of the local Community Centre. It is a joint venture between Ballintotis Area Community Council and East Cork A.C, with the help of Ballycotton Running Promotions.
James McCarthy of the host club has a remarkable record in the event, and will be bidding for his seventh consecutive triumph.


It was announced recently that McCarthy & McGrath, Main Street Midleton, will again sponsor a souvenir for all participants. Everybody who takes part will receive a free running buff.

The organisers have said that there are still several opportunities for sponsors, in various capacities. Interested companies and individuals should call 086-8778182.
Race Timing
This year the Ballintotis '4' will feature chip timing, with a timing mat located at both the start and the finish line.
After attracting a record entry of 1175 runners in 2015, Ballintotis is set to welcome a huge number of runners again this year.
4 Mile Walk
For those who might fancy something a little less taxing, the traditional '4' Mile Walk will begin at 6.30pm. The entry fee is 10 euro per person, but there is no online entry.
All queries concerning the Race and Walk should be directed to Race Directors - Sean Murphy and John Cashman, on 086-8778182