Sunday 09 April 2017, 10:30

Great Island 10 Mile Road Race and Great Island 4 Mile Road Races
Cobh
10:30am, Sunday April 9th 2017
 From Great Island 10
"We are delighted to announce that we have joined forces with Ballymore Cobh A.C. in the organising of this years 4 & 10 mile road races. With the club about to celebrate their 50th anniversary, we are very excited to have them join our race committee, and we look forward to the injection of energy that this growing vibrant club will bring with them over the coming years. It can only but benefit Ballymore Cobh A..C 's continued development while also supporting the Irish Cancer Society"
From Great Island 10 website

"CANCER IS A WORD SO POWERFUL THAT IT FORCES YOU TO STOP, FOCUS AND REALISE WHAT'S IMPORTANT IN LIFE"
"THIS IS A GREAT ROUTE FOR THOSE IN TRAINING FOR THE CORK CITY MARATHON"
"IT OFFERS THE RUNNER A BIT OF EVERYTHING"
"A GREAT COURSE, A GREAT CHALLENGE, A GREAT CAUSE"
The 'Great Island 10 Mile Road Race' is coming to the streets of Cobh on Sunday, 19th April 2017 at 10.30am, in aid of The Irish Cancer Society, with special emphasis on Palliative Care.

This event is being organised by a group of local volunteers who have lost either family or friends to Cancer.
Over the last five years this run has raised over €153,000 for the Irish Cancer Society.  If you would like to donate to this charity you can do so by contacting Eamonn Crotty, or by following the links below.

The run is open to everyone; if you don't feel you can run it then come out and walk it, or alternatively, come out and support the runners on the day and spur them on!!!!!!
Entering the Race
Anyone interested in entering can

a)    Register online at greatisland10.com

b)   Download an entry form from greatisland10.com

c)   Register on the day – If taking this option, you will need to come to the Community Centre at 8:30am on the morning of the run, where a specific area will be in place for you to pay and collect your race pack.
    Contact This email address is being protected from spambots. You need JavaScript enabled to view it. or call 0879539437

Entry fee:
€20 – Online entries
€25 – Entries on the day
Sponsorship Cards can be requested from - This email address is being protected from spambots. You need JavaScript enabled to view it.
All money collected will be donated to The Irish Cancer Society and no personal profit will be derived from this venture!!!!
All runners must be at the start line by 10.10am
Race HQ

Headquarters on the day: The Great Island Community Centre.
Shower /Swim/Steam Facility

Coral leisure Centre Cobh has kindly offered their Leisure Centre to anyone wishing to avail of a shower, swim & steam after the event for €2.  All money collected on the day will be kindly donated back to the Charity.  The Leisure Centre is in close proximity to the Community Centre.
Great Island 10 Mile Race Route information

For information on the route please visit our website www.greatisland10.com, or see below
Queries

Anyone with any queries regarding the day's events can contact Eamonn  Crotty on 087 9863805 or email This email address is being protected from spambots. You need JavaScript enabled to view it.
SO COME ON PEOPLE, LETS SHINE SOME LIGHT ON THIS DARKNESS AND UNITE TOGETHER FOR THIS GREAT CAUSE

Registration

You can enter this event in any of three ways:
Register online  €20.00, plus transaction fee
Download and Print the Entry Form (PDF file) and post it (address on form)
Enter on the day, in Race HQ - Cobh Community Centre.  Entry on the day is €25.00
Great Island Races - Locations of Starts, Finish and Race HQ

Great Island 10 Mile Road Race Route

Great Island 10 - Route Map

Route Elevation Profile

Great Island 10 Mile Road Race - Course Elevation Profile


Great Island 4

Mile Road Race
Great Island 4 Mile Road Race Route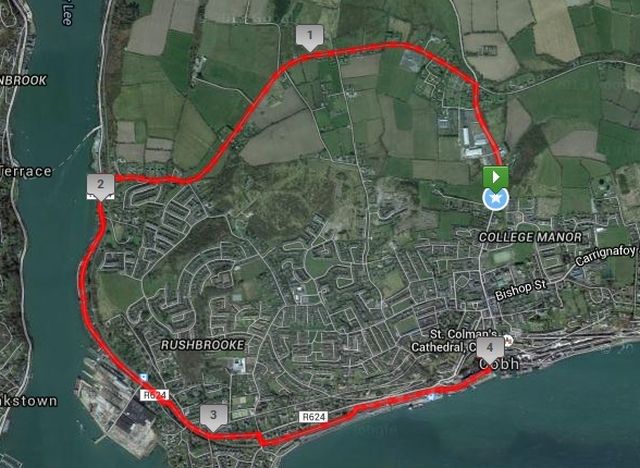 Great Island 4 - Route Map
Great Island 4

Mile Road Race - Course Elevation Profile