7th Annual CIT AC Floodlit Cross-Country

CIT, Bishopstown, 19:00, Friday December 11th 2015

Organised and hosted by CIT AC

,

, in conjunction with Cork City Schools Cross-Country League

CIT AC Facebook page
Make-a-Wish Foundation website
Make-a-Wish Foundation Facebook page
SOUND – Sufferers Of Unique Narcolepsy Disorder website
SOUND – Sufferers Of Unique Narcolepsy Disorder Facebook page
The Edge Sports website
The Edge Sports Facebook Page

Cork Athletics Homepage
Cork Athletics Facebook page


This is a truly unique event- The only one of its kind in Ireland!
"It is a great opportunity for runners to experience Cross Country running in a City environment - That's a paradox ;-))-Under lights!!"
Race Flyer - 7th Annual CIT AC Floodlit Cross-Country



This event is open to all comers. The entry fee is just €5 and the proceeds go to

CIT AC and The Make a Wish Foundation



From the CIT AC Facebook page:
"In association with The Edge Sports Shop CIT AC brings you the 7th annual CIT floodlight Cross Country. 5k for the men and 3k for the ladies.



Registration will take place upstairs in the main CIT GAA stand

from 6pm onwards. This race is perfect for both novice athletes and also the more experienced ones.



Proceeds from the race will go to CIT AC and The Make a Wish Foundation.



Refreshments and presentation of prizes will take place in the same room as registration after the races. Prizes for first 3 men and women over the line. Entry fee is just €5.



*Reminder this race is open to everyone. You do not have to be affiliated with a club/college for this event."



The course is around the perimeter of the GAA pitches on the CIT Campus, in Bishopstown, so the grass will be short(ish) and, unusually for an Irish cross-country event, should be virtually clear of mud. muck, cow-pats and many of the other usual Irish cross-country "nuances". Apart from the weather, this will be more akin to a foreign cross-country course...like Portugal, for example. It's a great opportunity for a first-timer wanting to "test the waters" of cross-country.

Course, Directions and Parking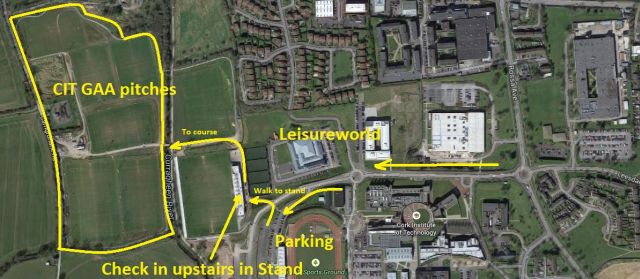 Parking
From Melbourne Road, proceed west towards the inner roundabout. Proceed straight through and take either the first or second left, parking on one of the parking-tiers behind the stand at the CIT track. From there proceed down the hill on foot to the GAA stand.

Registration
Registration is upstairs in the GAA stand, from 6pm onwards.