Cork Junior Athletes Bring Home Superb Twenty Three Medals
CORK ATHLETES SHINE AT IRISH LIFE HEALTH JUNIOR & U23 CHAMPIONSHIPS

Tullamore
Saturday 30th June & Sunday 1st July 2018
Report by Rebecca McEvoy, Pro, Cork Athletics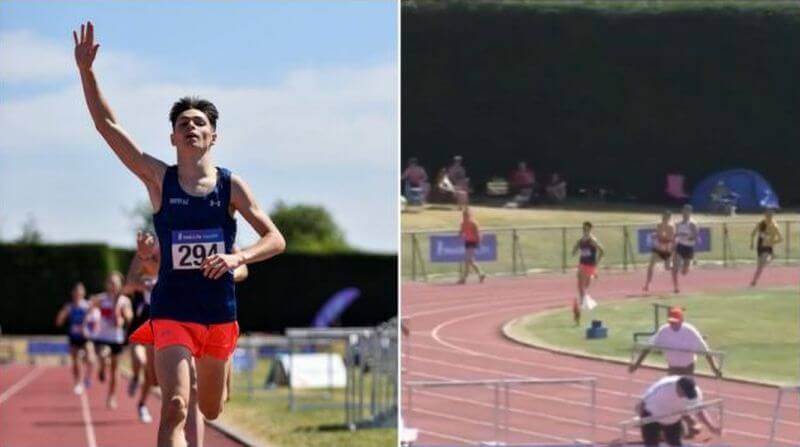 It was a great day out for Cork athletes in Tullamore, on Saturday last, at the Irish Life Health Junior & U23 Championships. Cork Junior athletes brought home a superb 23 medals in the Junior competition, with 4 golds, 8 silver and 11 bronze across track and field events.
Cork athletes showed great strength in the middle distance events, winning gold in both the men and women's 1500m races, in scorching conditions. One of the most exciting races of the day was the Junior Men's 1500m, which saw a head-to-head between Bantry AC's Darragh McIlhinney and Leevale's Charlie O'Donovan. Darragh McIlhinney ran a tactical race, coming home to win the gold in a time of 4:17.29, with Charlie O'Donovan having to settle for silver this time with 4:18.11.
Junior Men's 1500m


https://twitter.com/irishathletics/status/1013064774618411008
Darragh McElhinney of Bantry a.c. wins the junior men's 1500m in a sprint finish at the @irishlifehealth Junior & U23's in Tullamore today pic.twitter.com/Vr688kH8ua

— Athletics Ireland (@irishathletics) 30 June 2018
Stephanie Cotter of West Muskerry AC was a clear winner of the Junior Women's 1500m, in a time of 4:48.48, while Leevale's Alannah Neff just missed out on a medal, coming in fourth in a time of 4:59.08.
In the Junior Women's 800m, Sophie O'Sullivan of Ballymore Cobh AC, followed in the footsteps of her mother Sonia running 2:15.66 to finish in the silver medal position, just behind Jo Keane of Ennis Track who won the race in 2:14.49.
In the Junior Women's 5000m, Leevale's Meadhbh Moynihan finished in the bronze medal position in a time of 1:.55.07.
In the Junior Men's 3000m steeplechase, Frank O'Brien of Midleton AC ran a time of 10:25.54 to finished third against a tough field.
In the sprints, Leevale's Colin Doyle ran 22.12 in the Junior Men's 200m to claim the silver medal. Earlier in the day, Colin finished fifth in the 100m in a time of 11.06, just behind Leevale club mate Wymin Sivakumar who finished just outside the medals in fourth position in a time of 11.03.
Wymin Sivakumar had better luck in the Junior Men's triple jump, where he jumped 13.67m to win the gold medal, with an almost two metre lead over the silver medal jump. Club mate Dave McInerney won the bronze medal with a jump of 9.76m.
Emma Coffey, Carraig na bhFear AC, continued her successful run in pole vault, finishing in the bronze medal position with a clearance of 3.20m. Blarney/Inniscarra's Ciara Hickey narrowly missed out on a medal, finished fifth with a 3.10m clearance. In the Junior Women's high jump, Hannah Murphy of Leevale AC cleared a height of 1.60m to win the bronze medal.
In the throws, Leevale's Padraig O'Callaghan had a busy day, winning bronze in both the hammer, with a best of 50.92m, and the weight for distance, with a best of 7.41m.
Later in the day, Liscarroll's Vickie Cusack won a silver medal in Junior Women's weight for distance. Vickie threw a best of 5.68m to finished second in the first ever holding of this event for women at the Junior championships.
Cork Junior Women also featured among the medallists in the hurdles events, with Carraig na bhFear AC's Katie Walsh fighting off a strong field to win bronze in the 400m hurdles in a time of 1.04.03 and Leevale's Aisling Cassidy also finishing third in the 100m hurdles in 15.68.
Leevale AC finished off the day on a high, with medals across the board in the relay events. The Leevale women's 4x400m team of Alannah Neff, Aishat Onilogbo, Stephanie Bazunu and Aisling Cassidy were impressive winners in a time of 4:11.75, while the Leevale men's 4x400m team came home to finish third in 3:34.89.
Leevale again medalled in the Junior Men's 4x100m team, with Ryan O'Leary, Colin Doyle, David Okoh and Daniel Okoh having to settle for the silver medal in a time of 43.65, narrowly missing out on gold, which was won by Fingallians in 43.63. A second Leevale 4x100m men's team came in to claim the bronze. Leevale's junior women also won silver in the 4x100m event behind Naas AC, in a time of 52.10.
Also representing Cork athletes in Tullamore this Saturday was Leevale's Sam Healy. Sam won the gold medal in the U23 men's long jump, jumping just shy of the 7 metre mark to win the competition with a best of 6.94m.