Unique National Double for McGraths - Guest Article by John Walshe
Double National Medals for Ballyandreen!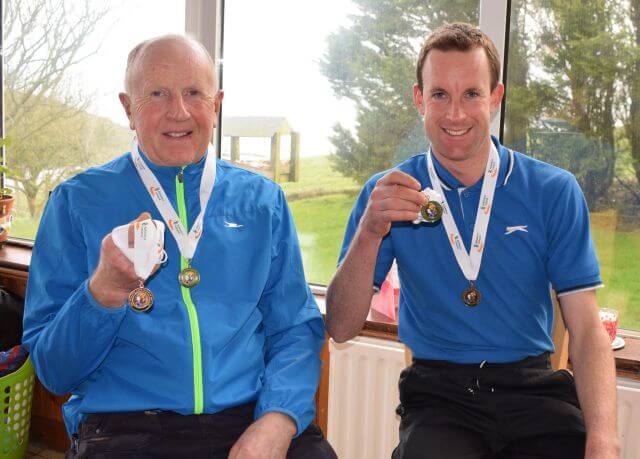 This article by, John Walshe, appeared in the February 21st 2018 issue of Midleton & Dist News
To win a National Championship medal at any level in sport is a significant achievement, but for two members of the one family to come home with a total of four National Championship medals from one day's competition is a story worth telling.
Such was the accomplishment of the Ballyandreen father-and-son combination of Phil and Sean McGrath, at last Sunday week's Irish Life Health National Masters Cross-Country Championships, which took place in Clarinbridge, in County Galway. Sean McGrath has been to forefront of Cork running for the past decade or so, be it on road, cross-country or track. He won a National Silver medal, at intermediate level, behind East Cork clubmate James McCarthy, 11 years ago. Then last summer, having reached the M35 category, Sean took the Gold medal at the National Masters Track & Field Championships, over 5,000m at Tullamore.
This winter, although he won the Munster M35 title, he has been suffering from injur, so his third place in Galway was all the more noteworthy. There was a Cork clean sweep with Paul Moloney from Mallow AC taking first, in 26:03, ahead of Alan O'Brien, of Eagle AC, 26:17, with Sean not too far behind, on 26:51. "It was a tough race; it was also my first since December. I was happy to beat Tim Twomey, Leevale AC, who was ahead of me in the county championship, I pulled away from him over the last half-lap," admitted Sean.
With the first three finishers, Cork easily won the Inter-County Championship, as they finished over 40 points clear of second placed Donegal, guaranteeing a National Gold medal for Sean, to go with his individual National Bronze medal.

If Sean McGrath needed any motivation going into his race, he certainly should have been inspired by the earlier achievement of his father Phil. While travelling to Galway, with maybe a hope of scoring on the Cork M65 team, finishing in the top three was the furthest thing from Phil's mind. Incredibly, this was his first cross-country race in over 30 years. "Back in the 1980s I ran an East Cork race in Carrignavar. After that day I said I'd never run cross-country again," he explained.
But the ability was always there. In 1973, Phil was a scoring member of the Midleton AC team, that included future Olympian Liam O'Brien, that won both the Cork County Novice and Intermediate cross-country titles. Through John Reidy at FMC, where Phil worked at the time, he started back running in the Cork BHAA races during the 1980s and in the last couple of years Phil has been a regular prize-winner on the local circuit, where he also reached his goal of breaking 20 minutes for the 5km distance.
"The course in Galway was tough, it was over two laps," said Phil. "I was watching Richard Piotrowski, who, in turn, was watching another runner from Northern Ireland, but with half the race gone I realised we weren't going anywhere, so I started chasing the leaders. I passed a number of people and, coming into the finish, I was told by Denis McCarthy I had a chance of silver but I was out on my feet at that stage, and so was delighted to get third."
First place went to Martin McEvilly, of Galway City Harriers, in 17:24, from JJ Murphy of Tinryland AC, in Carlow, in 18:13, with Phil third in 18:20. Both McEvilly and Murphy are long-time campaigners on the running scene, not alone in Ireland, but also in London where they have competed against some of the top British runners over the years.
Polish-born Piotrowski, Eagle AC - a good friend of Phil's – won the M70 category. He too was an outstanding International athlete in his younger days. Backed up by Dan Kennedy of St. Finbarr's, the Cork trio again easily won the team contest making it, like Sean, a double day of Bronze and Gold for Phil.
Reflecting on his national success, Phil says that he hasn't any plans for the year ahead – "I'm just happy to be able to go for a run," he says in his usual modest manner. But there is the British & Irish Masters Cross-Country next November where, on his current form, he would be a strong contender for an Irish vest. Sean ran for Ireland a year ago at the Antrim International so, who knows, there could be a second International in the McGrath household.
Conor, another member of the family, also runs but he has a number of years yet to go before he reaches the masters' category. However, if their sister Niamh – who was the most talented of the three at juvenile level – gets over her recurring injury problems come next winter you could see three of the McGrath family challenging for National medals.
And let's not forget wife and mother Kay, who keeps in the background but who makes sure the hungry runners are fed with best of grub, their muddy gear is washed and the moral support is there as this remarkable family continue their athletics success on cross-country, track and road at local and national level.


Related Articles

Cork Results from National Intermediate Masters and Juvenile B Cross-Country-Championships 2018

Cork Athletics Masters Novice 'B' and Juvenile Relays Cross-Country Championship Results November 2017
Cork Athletics Senior Junior and Juvenile Uneven-Age Cross-Country Championship Results October 2017