Cork Athletics Registration Figures - February 14th 2017
Record Cork Athletics Registration Figures - February 14th 2017
As of February 14th, Cork Athletics Registrations stand at 4,731, compared with the February 2016 end-of-month figure of 4,681, which augurs well for the full February figures, due in two weeks.

To date, forty five of Cork's fifty three registered clubs have registered athletes, leaving eight clubs yet to register an athlete. These clubs, and their athletes, are reminded that the insurance dispensation, whereby the 2016 insurance cover continued until the end of January last, is no longer in force - unregistered athletes are NOT covered by the Athletics Ireland insurance for any purpose whatsoever, leaving those athletes and clubs in a precarious position.

Some clubs have been very quick 'out of the starting blocks', while others are still just 'taking off theri tracksuits'

2017 Athletics Ireland Registrations are now Due

Clubs are reminded that 2017 registrations should be completed as soon as possible. There was a "grace period" of a few weeks, to allow sufficient time for re-registrations, whereby insurance cover continued, pending registration. This "grace period" does NOT extend beyond January 31st and does NOT include competition.
Therefore any athlete that remains unregistered beyond January 31st is NOT covered by Athletics Irelands insurance, for ANY purpose, training or competition.
Clubs are urged to register their athletes without further delay.
NB: The "grace period" covers official club, county, provincial and national training sessions. It does NOT cover competition. All athletes competing in Championship or representative events MUST be registered. Club Registrars are reminded that there is a new Registration System in operation.
Overall Registrations as at February 14th 2017
Bandon AC and Leevale AC head the list, as usual, by a distance, while five more clubs exceed the 200 registrations mark, and another seven clubs have over 100 registered members.
| Team name | Total |
| --- | --- |
| Bandon A.C. | 533 |
| Leevale A.C. | 482 |
| Midleton A.C. | 280 |
| Ballymore Cobh A.C. | 250 |
| Togher A.C. | 244 |
| Youghal A.C. | 234 |
| West Muskerry A.C. | 222 |
| St. Nicholas A.C. | 162 |
| Belgooly A.C. | 157 |
| St. Catherine's A.C. | 154 |
| Carraig-Na-Bhfear A.C. | 145 |
| Mallow A.C. | 124 |
| Eagle A.C. | 123 |
| North Cork A.C. | 122 |
| Clonakilty Road Runners | 98 |
| Old Abbey A.C. | 91 |
| Dromahane Road Runners A,C, | 90 |
| Aghada Running Club ARC | 89 |
| Doheny A.C. | 88 |
| Grange/Fermoy A.C. | 88 |
| St. Finbarrs A.C. | 79 |
| Ballintotis Fit4Life | 77 |
| Liscarroll A.C. | 70 |
| Bweeng Trail Blazers | 62 |
| Blarney/Inniscara A.C. | 59 |
| Riverstick/Kinsale A.C. | 59 |
| Watergrasshill A.C. | 58 |
| Tracton A.C. | 56 |
| Carrigtwohill | 53 |
| Fanahan Mc Sweeney A.C. | 49 |
| Ballincollig A.C. | 42 |
| Courcey A.C. | 42 |
| Bantry A.C. | 38 |
| Galtee Runners A.C. | 35 |
| Donoughmore A.C. | 29 |
| Buttevant R.C. | 27 |
| Skibbereen A.C. | 23 |
| Rising Sun A.C. | 22 |
| East Cork A.C. | 21 |
| Carrigaline Road Runners A.C. | 20 |
| Millstreet A.C. | 13 |
| Abbey Striders A.C. | 11 |
| Cork Varsity A.C. | 10 |
| Cork Mental Health A.C. | 2 |
| Shandrum A.C. | 1 |
| Overall Total | 4734 |
Gender Breakdown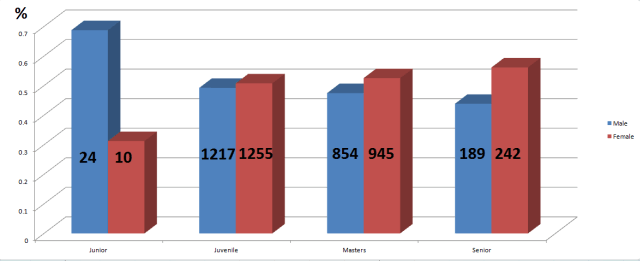 Juvenile/Junior Registrations as at February 14th 2017
As with the overall figures, Bandon AC and Leevale AC stand clear of the other
| Team name | Junior | Juvenile | Total |
| --- | --- | --- | --- |
| Bandon A.C. | 6 | 408 | 414 |
| Leevale A.C. | 12 | 309 | 321 |
| West Muskerry A.C. | 1 | 176 | 177 |
| Midleton A.C. | 0 | 145 | 145 |
| Belgooly A.C. | 1 | 132 | 133 |
| Togher A.C. | 2 | 128 | 130 |
| Carraig-Na-Bhfear A.C. | 2 | 108 | 110 |
| Ballymore Cobh A.C. | 0 | 109 | 109 |
| Youghal A.C. | 2 | 107 | 109 |
| St. Catherine's A.C. | 0 | 103 | 103 |
| North Cork A.C. | 0 | 98 | 98 |
| Clonakilty Road Runners | 0 | 88 | 88 |
| Old Abbey A.C. | 2 | 82 | 84 |
| Doheny A.C. | 0 | 80 | 80 |
| St. Nicholas A.C. | 0 | 72 | 72 |
| Liscarroll A.C. | 2 | 50 | 52 |
| Riverstick/Kinsale A.C. | 0 | 50 | 50 |
| Blarney/Inniscara A.C. | 0 | 49 | 49 |
| Fanahan Mc Sweeney A.C. | 0 | 48 | 48 |
| Courcey A.C. | 0 | 34 | 34 |
| Grange/Fermoy A.C. | 0 | 29 | 29 |
| Ballincollig A.C. | 0 | 24 | 24 |
| Bantry A.C. | 0 | 12 | 12 |
| Millstreet A.C. | 0 | 12 | 12 |
| Skibbereen A.C. | 0 | 8 | 8 |
| Abbey Striders A.C. | 0 | 4 | 4 |
| Bweeng Trail Blazers | 0 | 2 | 2 |
| Tracton A.C. | 0 | 2 | 2 |
| Ballintotis Fit4Life | 0 | 1 | 1 |
| Carrigaline Road Runners A.C. | 0 | 1 | 1 |
| Cork Varsity A.C. | 1 | 0 | 1 |
| Mallow A.C. | 1 | 0 | 1 |
| Rising Sun A.C. | 0 | 1 | 1 |
| Overall Total | 32 | 2472 | 2504 |
Senior/Master Registrations as at February 14th 2017
Leevale top the list, followed by Ballymore Cobh
| Team name | Masters | Senior | Total |
| --- | --- | --- | --- |
| Leevale A.C. | 90 | 71 | 161 |
| Ballymore Cobh A.C. | 127 | 14 | 141 |
| Midleton A.C. | 118 | 17 | 135 |
| Youghal A.C. | 107 | 18 | 125 |
| Eagle A.C. | 106 | 17 | 123 |
| Mallow A.C. | 115 | 8 | 123 |
| Bandon A.C. | 84 | 35 | 119 |
| Togher A.C. | 91 | 23 | 114 |
| Dromahane Road Runners A,C, | 62 | 28 | 90 |
| St. Nicholas A.C. | 73 | 17 | 90 |
| Aghada Running Club ARC | 78 | 11 | 89 |
| St. Finbarrs A.C. | 64 | 15 | 79 |
| Ballintotis Fit4Life | 64 | 12 | 76 |
| Bweeng Trail Blazers | 49 | 11 | 60 |
| Grange/Fermoy A.C. | 54 | 5 | 59 |
| Watergrasshill A.C. | 49 | 9 | 58 |
| Tracton A.C. | 48 | 6 | 54 |
| Carrigtwohill | 34 | 19 | 53 |
| St. Catherine's A.C. | 38 | 13 | 51 |
| West Muskerry A.C. | 37 | 8 | 45 |
| Carraig-Na-Bhfear A.C. | 29 | 6 | 35 |
| Galtee Runners A.C. | 28 | 7 | 35 |
| Donoughmore A.C. | 28 | 1 | 29 |
| Buttevant R.C. | 19 | 8 | 27 |
| Bantry A.C. | 20 | 6 | 26 |
| Belgooly A.C. | 22 | 2 | 24 |
| North Cork A.C. | 19 | 5 | 24 |
| East Cork A.C. | 13 | 8 | 21 |
| Rising Sun A.C. | 21 | 0 | 21 |
| Carrigaline Road Runners A.C. | 13 | 6 | 19 |
| Ballincollig A.C. | 17 | 1 | 18 |
| Liscarroll A.C. | 15 | 3 | 18 |
| Skibbereen A.C. | 12 | 3 | 15 |
| Blarney/Inniscara A.C. | 8 | 2 | 10 |
| Clonakilty Road Runners | 10 | 0 | 10 |
| Cork Varsity A.C. | 0 | 9 | 9 |
| Riverstick/Kinsale A.C. | 9 | 0 | 9 |
| Courcey A.C. | 8 | 0 | 8 |
| Doheny A.C. | 7 | 1 | 8 |
| Abbey Striders A.C. | 4 | 3 | 7 |
| Old Abbey A.C. | 6 | 1 | 7 |
| Cork Mental Health A.C. | 0 | 2 | 2 |
| Fanahan Mc Sweeney A.C. | 1 | 0 | 1 |
| Millstreet A.C. | 1 | 0 | 1 |
| Shandrum A.C. | 1 | 0 | 1 |
| Overall Total | 1799 | 431 | 2230 |
Masters Registration Breakdown
| Cat | Age | Total |
| --- | --- | --- |
| M1 | 35-39 | 439 |
| M2 | 40-44 | 527 |
| M3 | 45-49 | 397 |
| M4 | 50-54 | 212 |
| M5 | 55-59 | 111 |
| M6 | 60-64 | 55 |
| M7 | 65-69 | 24 |
| M8 | 70-74 | 22 |
| M9 | 75-79 | 5 |
| M10 | 80+ | 7 |