CIT and UCC Compete in IUAA National Road Relay Championships 2016
Irish Universities Athletics Association (IUAA) Road Relay Championships 2016
South Campus, NUI, Maynooth, Co. Kildare
Saturday November 19th 2016

Hosted by The National University of Ireland - Maynooth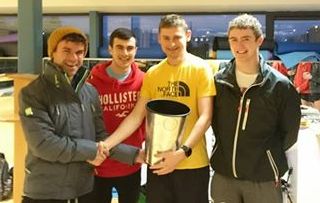 Craig Harrington, representing CIT, accepts the Munster Universities Road Relay Championships trophy, earlier this month
This is a one day Intervarsity Championship and is open to all IUAA members. The event is hosted by NUI-Maynooth Athletics Club in mid to late November each year. A post competition dinner is held at which the trophies are presented. The function is normally held in the old dining hall.
The womens event is a four leg relay, over 1-2-2-1 miles, while the mens championship is a five leg relay, over 1-2-3-2-1 miles. Each college may enter multiple teams.

The race is held in the old part of the campus, and the course is on tree lined avenues, surrounded by old buildings.
Cork Representation
Cork athletes, from a wide range of clubs, represent CIT and UCC, at tomorrow's IUAA Road Relays. CIT and UCC normally compete in Athletics Ireland events as Cork Varsities AC, but, tomorrow, they compete separately, representing their respective Colleges.
Andrea Bickerdike (Leevale AC), Jessica Neville (Leevale AC), TJ Hogan (Cork Varsities AC), Craig Harrington (Leevale AC), Ruairi Myers (Carraig Na Bhfearr AC), Zach Harrington (Cork Varsities AC), Colm Dwane (Leevale AC), Stephen Holland (Bantry AC), Seamus Rainsford (Cork Varsities AC), Iain O'Dwyer, (Leevale AC), Daniel O'Mahony (Leevale AC), Daniel Mehigan (Mallow AC) and Sean Kennedy represent CIT, while Niamh Allen (Cork Varsities AC), Louise Shanahan (Leevale AC), Liam Hennessy (Togher AC), Evan Byrne (Togher AC) and John Durcan (Togher AC) feature on UCCs first team.

Other Cork Athletes represent other Colleges, such as University of Limerick (UL), Waterford IT (WIT), etc, however details are not available at this point in time. Late note: Michelle Finn (Leevale AC) will be the star of the UL team tomorrow.

UCC Teams
Women
A Team:
Louise Shanahan (Leevale AC), Jessica Coyne (Dooneen AC), Niamh Allen (Cork Varsity AC), Orna Murray (Ferrybank AC)

B team:
Aoife Delargy (Templemore AC), Jess Bruton (Leevale AC), Carly Cooke (Cork Varsity AC), Faye Mansfield (Liscarroll AC)

C Team:
Fiona Kavanagh (An Riocht AC), Laura Sheehy, Laura Hallisey, Lia Fitzgerald
D team:
Niamh Doyle, Katie Wall, Hayley Macleod, Rachel Carey
Men
A Team:
David Kavanagh (Tralee Harriers AC), Nate Hayward, John Durcan (Togher AC), Evan Byrne (Togher AC), Liam Hennessy (Togher AC)

B Team:
John Neville (Leevale AC), Liam O'Connell (Iveragh AC), Alfie Davis (Leevale AC), Zack Anderson (Cork Varsity AC), Gary O'Sullivan (West Muskerry AC)

C Team:
Liam Ryan, Alan Ryan, Luke Kelly, Ted O'Leary, David Coleman