Rob Heffernan's Olympic Bronze Medal Presentation - November 3rd 2016
Double Full House for Rob!

City Hall, Cork
Thursday November 3rd 2016


This evening, Rob Heffernan was presented with his 2012 London Olympic 50km Walk Bronze Medal, before a full house of close to 1,000 members of the public, along with invited guests. The Bronze medal completes Rob's own 'Full House' of Medals, with European, World and now Olympic Medals all now in Rob's collection, making him one of Ireland's greatest sports stars.


Photos
Video
Cork Athletics Video 22 minute compilation
Rob Heffernan 50k Walk Olympic Bronze Medal Presentation from Webmaster - Cork Athletics on Vimeo.
Evening Echo Videos
Panel Interviews
Medal Presentation
IAAF's Athlete Profile for Rob Heffernan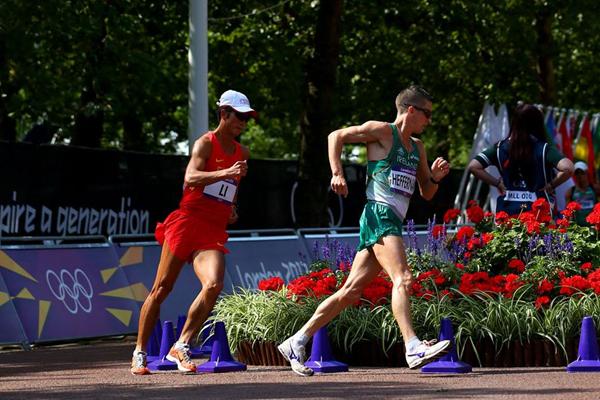 Athletics Ireland congratulate Heffernan on his long-awaited Olympic medal
Athletics Ireland would like to congratulate Robert Heffernan on being presented the Olympic bronze medal in Cork this evening for the 50km race walk from the London Games in 2012.
John Foley, CEO of Athletics Ireland, said: "I, along with all the staff in Athletics Ireland, would like to congratulate Robert on being presented the Olympic bronze medal in Cork this evening. It was a fantastic performance in London and he will finally get his just reward. This is a significant honour for the athlete, the federation and the country as a whole."
Georgina Drumm, President of Athletics Ireland, echoed the sentiments: "It's a fantastic occasion. Robert has been a fantastic servant to Irish athletics with his wonderful performances keeping the sport to the forefront of the public's mind.
"This now completes the set of European, World and Olympic medals for Robert to put him up there with one of Ireland's most successful athletes."
London 2012 Men's 50km Walk Highlights