Stephanie Cotter Retains NCAA Div II Mile Title
Stephanie Cotter Retains NCAA Div II National Mile Title
Birmingham, Alabama, USA
March 13th 2021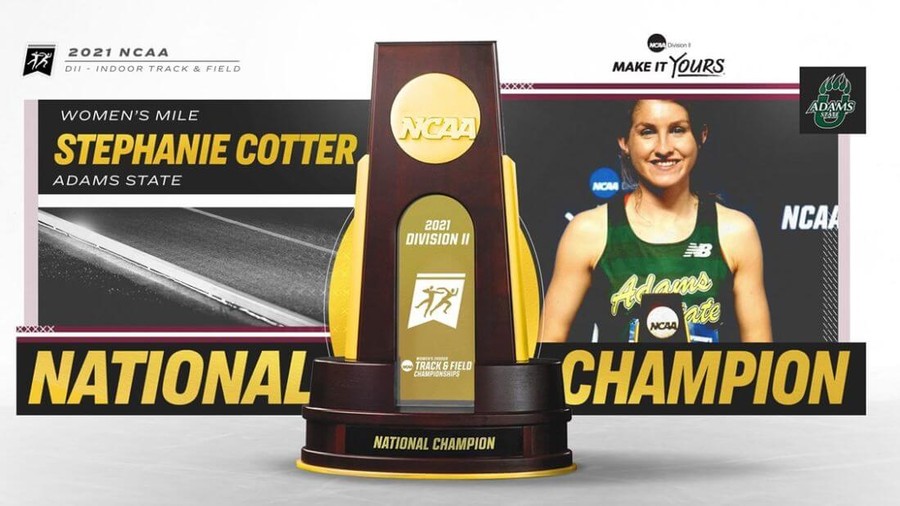 NCAA Division II Indoor Mile National Champion 2021


Stephanie Cotter coasting to victory in the NCAA Div II Women's Mile



Results of NCAA Div II Indoor Women's Mile Championship 2021
NCAA Div II Women's Mile Results 2021
NCAA Div II National Indoor Championship 2021 - Women's Mile Final from Webmaster - Cork Athletics on Vimeo.
Stephanie Cotter, Adams State University and West Muskerry AC, retained her NCAA Division II Indoor Mile crown, in Birmingham, Alabama, USA, last night, running 4:51.72. Stephanie won the event in 2019, however the 2020 edition was cancelled due to Covid-19.
Early stages of Women's Mile

The race started at a pedestrian pace, going through the first 400m in approx. 93 sec. Allied Ludge, who eventually finished fourth, then upped the pace, with Stephanie content to follow in the wake, on the inside, with Ludge taking a slightly longer pat outside. Ludge upped the pace with about 600 to go, but Stephanie, looking very comfortable throughout, stuck with her. With just over a lap to go, Stephanie changed gears decisively and went for home, leaving the field trailing in her wake. Going into the first bend on the final lap, Stephanie gave a brief glance to her left, to see if she could see/sense anyone chasing, but there was a large gap at that stage.

Stephanie continued, even easing up coming off the final bend, and literally, jogged across the line. Meantime, Hailey Steff had made a great run over the final two laps, coming from fifth place to take silver, with Ludge, who had led for much of the race, falling back to fourth.
Related Articles
Cork City Sports Athlete of the Month December 2019 - Stephanie Cotter
Stephanie Cotter - NCAA Div II Woman Athlete of the Year 2019
Stephanie Cotter Continues in Winning Way - NCAA Div II Regional 2019
Stephanie Cotter wins RMAC XC Championship and Named NCAA Athlete of the Week
Stephanie Cotter Wins NCAA Div II Outdoor 1500m Title 2019
Stephanie Cotter Wins NCAA Div II Mile Title
Stephanie Cotter Named as Rocky Mountain Athletic Conference Female Freshman of the Year 2019
Stephanie Cotter is Rocky Mountain Athletic Conference Female Freshman of the Year 2018
Stephanie Cotter Heads for Adams State
Stephanie Cotter Runs for Europe in Edinburgh International 2018
Stephanie Cotter Third in Antrim International Cross-Country 2018
Cork City Sports Athlete of the Month May 2017 Stephanie Cotter