Grace Mckenzie Jumps Big PB for 5th in Irish All-Time Long Jump - March 2021
Grace McKenzie Jumps 6.21m at South Alabama Invitational

South Alabama Invitational
Mobile, Alabama
Friday March 12th 2021
Grace Mckenzie, McNeese State University and Belgooly AC in action at the 2019 NCAA Div I Pentathlon - Photo: Michael Wade
Grace McKenzie, McNeese State University and Belgooly AC set a new McNeese state college Long Jump record at yesterday's South Alabama Invitational, in Mobile Alabama, USA, jumping 6.21m, to break Shaterica Washington's 26-year-old record, set back in 1995. Pentathlete Grace also won the 100m Hurdles in 13.95 sec, and ran 25.056 sec for 4th place in the 200m.


5th Place on Irish All-Time Women's Long Jump Standings

Grace's 6.21m jump is a big improvement of 0.18m on her previous best of 6.03m, set indoors, last year, in Houston, Texas in Feb 2020. This propels Grace from joint 19th on the Irish All-Time listings to 5th.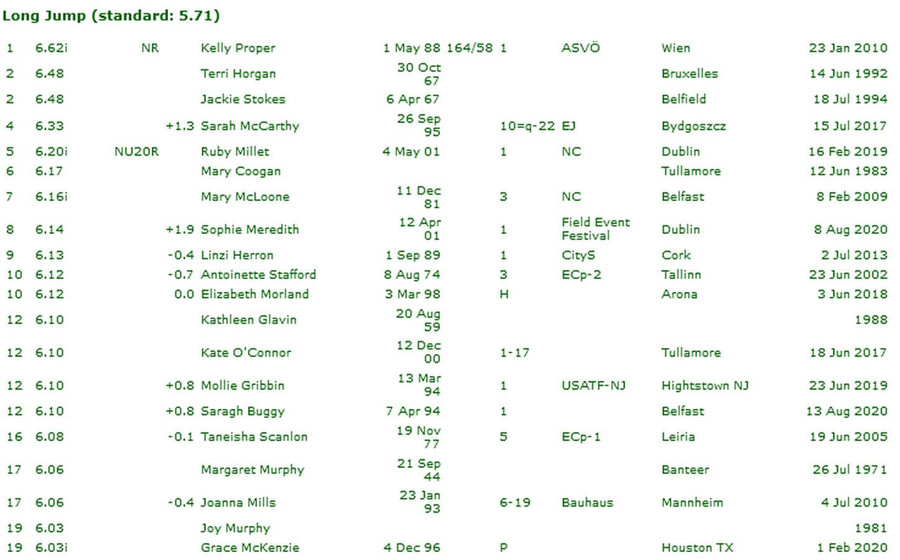 Irish Women's All-Time Long Jump Standings - March 12th 2021


"McKenzie adds to her legendary status in her McNeese career with another school record." She now holds the McNeese college outdoor records for the 400-meter hurdles, the heptathlon, and the long jump.

McKenzie said "I'm so happy with my jump". "More importantly I'm happy with the series of jumps I had. Since I compete in the heptathlon, it's important that I can get my jumps in early and secure points.

"I think what happened today was definitely a good starting point for us as a team but we have a lot of work to do and a lot more to show for what we've been doing behind the scenes."


Related Pages
Grace Mckenzie Regains Irish Pentathlon Record - March 2019
Grace McKenzie Sets New Irish Indoor Pentathlon Record
Grace McKenzie Takes Southland Conference Gold
McKenzie's Maiden 400mH and PBs for Curtin and Cronin on US College Circuit
News April 14th - Euro Qualifier for Healy as Walsh and McKenzie Honoured
Further US Collegiate Circuit Successes for McKenzie & Cronin - April 2018
US Collegiate Circuit Successes for McKenzie & Curtin
Grace McKenzie Breaks Pentathlon 4000 Barrier
Grace McKenzie Named Southland Conference Womens Track Athlete of the Week