Noelle Lenihan in Final Day Paralympic Action
North Cork AC's Noelle Lenihan Throws in Paralympic F38 Discus Final
Rio Paralympics Day 10 - Saturday September 17th 2016
Photo: Paralympics Ireland
North Cork AC's Noelle Linehan is the final Irish athlete into the arena at the 2016 Paralympics in Rio de Janeiro. Noelle throws in the F38 Final, scheduled for 9:32pm tomorrow, Saturday, night, making her Paralympic debut. Noelle is the current World Record Holder for the F38 Discus. In addition, she hold a Silver medal from the 2015 World Championships, and is the current European Champion, having won Gold in Grosetto, Italy, earlier this summer.
One might be surprised to hear that Noelle only took up discus throwing approx. two years ago, having previously concentrated on the Shot Put.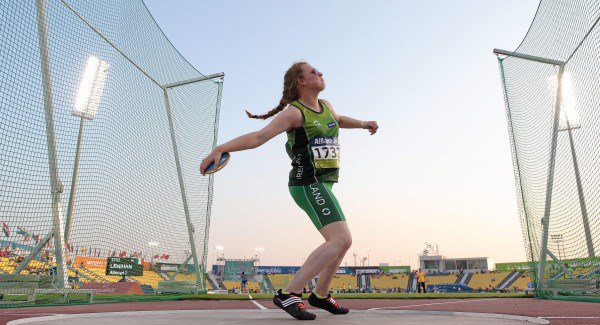 Photo: Irish Examiner
Noelle Lenihan - Cork City Sports Athlete of the Month November 2015
Noelle Linehan Interviewed by John Walshe (Ballycotton Running Promotions) and John Quigley (Cork Athletics)
Interview with Noelle Linehan - Cork City Sports Athlete of the Month October 2015 from Webmaster - Cork Athletics on Vimeo.
Women's Discus F38 Final 2015 IPC Athletics World Championships Doha