Information and Procedures - Cork Athletics County Cross-Country Championships Day 1 2020
Information and Procedures - Cork Atheltics County Cross-Country Championships Day 1 2020

Slieveroe, Riverstick
Sunday October 4th 2020
Essential Information - Please Read!

BEFORE traveling EVERY person entering the Riverstick grounds MUST complete either the Online, or PDF version of the Covid-19 Screening Form
Online Covid-19 Health Screening Form

The online form will remain live from 6am Saturday, until 9am on Sunday


Covid-19 Health Screening Form - PDF Version

If you are using the PDF verion, you must bring it with you and drop it in a collection box when entering the Riverstick grounds.


Attendance
Only athletes who have been entered, a Parent/Guardian (One Only!), 1 club coordinator [for JUVENILE events ONLY] (per race), Officials, and support personnel (medical/timing/etc) personnel may attend.


Numbers on site - 200 Maximum
As numbers onsite are limited to 200, the following measures are necessary:
There will be NO Late Entries
Athletes who are entered, but who are not running, should NOT attend, and if they do, they will be told to leave the venue

Coaches, unless acting as club coordinator, should not attend


Arrival
You should plan to arrive no earlier than the time listed in the schedule below. If you arrive before time, you will be directed past the grounds, as queuing outside, on the Riverstick-Carrigaline road, is NOT permitted


Parking
Cars should be parked facing toward the field - drive into the spot - do not reverse in. After the race, you will then drive out directly.
Parents/Guardians should remain in their cars throughout - races will start at the top of the field, in front of the parking area, with the finish also close by.

Toilet Facilities


Please do as your Mammy told you: Go BEFORE you leave home!





Due to cleaning and hygiene requirements under Covid-19, there will be no toilet facilities available.




Club Coordinators (Juvenile Races ONLY)

Each club has been asked to nominate separate coordinators for each Juvenile race. The coordinators will collect that club's Juvenile athletes and bring them to the start line, when called to do so over the Public Address. They will then collect the Juveniles after the race and escort them back to their Parent/Guardian.

Please leave the site as soon as possible after your race - The site MUST be cleared before the next race.

Medal Presentations
There will be NO medal presentations on the day. All medals will be posted to the clubs at a later date


Course Map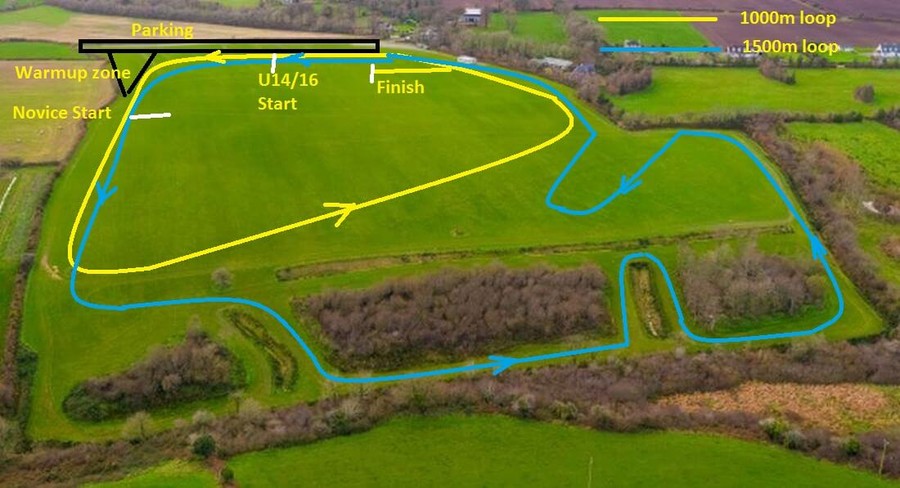 Course Map
Day 1 - Sunday October 4th
Under 14 Girls
Under 14 Boys
Under 16 Girls
Under 16 Boys
Under 23 Women
Novice Women
Under 23 Men
Novice Men
3k
3k
4k
4k
One Race - 4k
One Race - 6k
Born 2007
Born 2007
Born 2005
Born 2005
County Cross-Country Championship Entry Fees
2020 Cross-Country Entry Fees for Juveniles are €1 per individual, while adult entry fees are €5 per individual. Note the forms for Day 1 (Oct 4th) and Day 2 (Oct 11th) erroneously calculated the adult entries at €3 each.
After Day 4 (Nov 1st) each club will be billed for their total entry fees over the four County Cross-Country Championship meets
Location & Co-ordinates
The ground is 15.7 Miles from the Jack Lynch Tunnel, 12.8 Miles south of Cork City Centre, and 2.8 Miles east of Riverstick village

The LOC8 code for the grounds is WCL-86-5WN
GPS Coordinates: Latitude: 51.77715464079801 - Longitude: -8.440460764990235

Timetable/Schedule
| | | | | | | | |
| --- | --- | --- | --- | --- | --- | --- | --- |
| Time | | F14 | M14 | F16 | M16 | FNov | MNov |
| 10:00 | U14 Girls arrive & get Race No's | 10:00 | | | | | |
| 10:15 | U14 Girls warm up | 10:15 | | | | | |
| 10:30 | U14 Girls race start | 10:30 | | | | | |
| | | | | | | | |
| 10:45 | U14 Boys arrive & get race No's | | 10:45 | | | | |
| 11:00 | U14 Boys Warm up | | 11:00 | | | | |
| 11:15 | U14 Boys race start | | 11:15 | | | | |
| | | | | | | | |
| 11:30 | U16 Girls arrive & get race No's | | | 11:30 | | | |
| 11:45 | U16 Girls warm up | | | 11:45 | | | |
| 12:00 | U16 Girls race start | | | 12:00 | | | |
| | | | | | | | |
| 12:15 | U16 Boys arrive & get race No's | | | | 12:15 | | |
| 12:33 | U16 Boys warm up | | | | 12:33 | | |
| 12:45 | U6 Boys race start | | | | 12:45 | | |
| | | | | | | | |
| 13:30 | Novice Women arrive & get No's | | | | | 13:30 | |
| 14:45 | Novice Women Warm up | | | | | 13:45 | |
| 14:00 | Novice Women race start | | | | | 14:00 | |
| | | | | | | | |
| 14:30 | Novice Men arrive & get No's | | | | | | 14:30 |
| 14:45 | Novice Men Warm up | | | | | | 14:45 |
| 15:00 | Novice Men race start | | | | | | 15:00 |