Death of Riobard O'Dwyer - Eyeries and Late of Beara AC
Riobard O'Dwyer R.I.P. - Condolences
January 22nd 2020
Cork Athletics County Board extends its condolences and deepest sympathy to the family of Riobard O'Dwyer, late of Beara AC, who died recently. May he rest in peace.


From RIP.ie

The death has occurred of Riobard O'Dwyer, Eyeries Village, Beara, Cork

O'Dwyer, Eyeries Village, Beara, Co. Cork on January 22nd 2020, peacefully after a short illness, RIOBARD (former Principal Urhan N.S. and President of the Beara Board & Urhan GAA), predeceased by his beloved wife Joan, much loved father of Bobbie, Brian, Rory, Seán and daughters-in-law, Anne, Synni, Louise, Linda, and adored grandchildren, Shona, Ciara, Robert, Kevin, Laura, Ava, Lovis, Danny, Cillian and Tom, great granddaughter, Caoimhe, sister Norelene and the late Maura, brother Sean and the late Liam, sister-in-law Margaret, brother-in-law Batt (Burns). Sadly missed by his loving family, relatives, neighbours and friends.


Extract from Looking Back - 25 Years of BLE in Cork, Chapter 8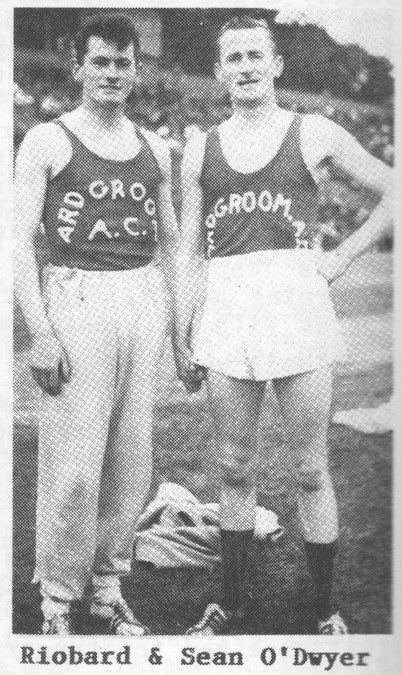 RIOBARD O'DWYER, the older of the two brothers, and another legend in this sphere of jumping. Riobard took seven National Championships in the event - five in a row, from 1952 to 1956, inclusive, and again in 1964, and 1965. From 1952 to 1965, Riobard was only twice out of the medals at National level, and that due to injury. Both sets of statistics must surely form something of a record!

Added to these National successes, were considerable triumphs at County and Regional level, and the impressive array of medals include Kerry, Cork and Wexford Championships, to add to Munster and Leinster ones. He has one memory of competing in New Ross, back in 1954, when his final phase took him clear of the pit - and the row of sods at the other end
of the sand - into the next field. That jump was a new Wexford County record - one that still stands to this day.

Once his competitive days were concluded, Riobard took up coaching and administration, with much enthusiasm. He was the National triple and long jump coach, and founded the Ireland branch of the the Kangaroo Club. In addition he can lay claim to introducing women to the event, beginning at national primary school level.

Riobard organised National women's triple jump Championships, and he coached Eileen Kelly of Beara, and Margaret Murphy of Ovens to a high level in the event.

Riobard formed Beara Athletic Club, and the club enjoyed tremendous success, especially the women's cross-country team. In one particular year, Beara AC won every Cork County Championship open to them - senior, intermediate and under age. Eileen Kelly was among the star athletes, and she secured International recognition in her very first year of competition.
Riobard remembers the 'good old days', when facilities for training and jumping were practically non-existent. Many jumping competitions were held in a field, and uneven ground conditions caused many a 'crocked' ankle.

As a motivator, Riobard has few equals anywhere in the country - it was he who introduced the author of this book to athletics - and how ironic that the author should eventually fill Riobard's role as the National triple jump coach, albeit almost two decades after Riobard eventually called it a day!
Ar dheis Dé go raibh a anam dílis

Ní bheidh a leithéid ann arís