Launch of Munster Regional Athletics Academy 2019
Munster Regional Athletics Academy 2019-2020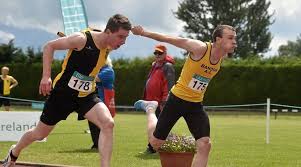 Munster Regional Development Officers and Co-Ordinators are delighted to announce the launch of their rebranded Regional Athletics Academies, formerly known as the Munster Development & Performance Squads

The Regional Athletics Academies have been designed to promote a fun and friendly atmosphere among athletes, whereby the athletes can mix socially, learn athletics, and try new events. Athletics is largely an individual sport, so these events are important outside the competition environment.

Each region will have a 'Development Squad' and 'Regional Athletics Academy', and will run for 2 hours each, with the Development Squad session being the first each day.

There will be regional overnight camps organised for those who have been attending the individual academy days. This is open only to athletes who are in the Regional Athletics Academy. The Development Squad athletes are invited to come along to squad days. Closer to the time, Regional Co-ordinators will inform athletes regarding dates and venues.

Club coaches are encouraged to attend and observe. The squad coaches will be available to interact and answer queries from club coaches who may wish to attend.

Cost of the squad is €25 per athlete, to be paid online only. In exceptional circumstances, where athletes have missed the online registration deadline, they can pay €25 in cash, or €7 per session.

Goals of the Regional Athletics Academies

• Supplement training that athletes already receive in their clubs. The Regional Academies work alongside the workshops of the National Event Coordinators.
• Focus on the needs of athletes/coaches, with emphasis on executing the fundamentals to the highest level.
• Help to maximise the potential of each athlete, with the aim of seeking continuous improvement.
• The Squads will focus mainly on the technical aspects of each event.
• Assist club coaches.
Athletes have been selected from the previous season's results (2019 age groups), from U16 - U19 age groups (top 4 in each event). All event groups are covered. All competitions including Cross-Country, Indoors, Combined Events, Schools and Track and field will be taken into consideration.

Academy VENUE
Nenagh Indoor Stadium 
Dates
| | Development Squad | Athletics Academy |
| --- | --- | --- |
| Saturday October 26th | 11am - 1 pm | 1pm-3pm |
| Saturday November 23rd | 11am - 1 pm | 1pm-3pm |
| Saturday December 14th | 11am - 1 pm | 1pm-3pm |

Development Squad Athletics Academy
Saturday 26th October 2019 11am - 1pm 1pm-3pm
Saturday 23rd November 2019 11am - 1pm 1pm-3pm
Saturday 14th December 2019 11am - 1pm 1pm-3pm

The Development Squad session will take place from 11am-1pm on each of the days, and is open to all athletes aged 12 years +
Athlete will receive a squad t-shirt, at the last session. Athletes must collect their t-shirts, or arrange to have it collected, to avoid postage costs.

The fee for the squad sessions is €5 per athlete, for each session day.
Day
Time
Events covered by the Development Squad:
Day 1
11am-1pm
Sprints, Shot, Long Jump, Javelin, Pole Vault, Middle Distance and Walks
Day 2
11am-1pm
Short Hurdles, High Jump, Pole Vault, Middle Distance and Walks
Day 3
11am-1pm
Sprints, Shot, Long Jump, Javelin, Pole Vault, Middle Distance and Walks
NB: Development Group Walks will take place each day along with the Regional Academy Walks Squad, from 1pm to 3pm

Please check in at the venue from 10:30am each day
The Munster Athletics Academy takes place from 1pm to 3pm on each day, and is by invitation only (see athletes listed below). All events will be covered.
Development Coaches
| Coach | Discipline |
| --- | --- |
| Kevin Cogley | Sprints |
| Noelle Morrissey | Short Hurdles |
| Pat Power | Long Jump |
| Martin O'Grady | High Jump |
| Dave Fratarolli | Shot Putt |
| Brian Scanlon | Javelin |
| Eamon Flanagan | Pole Vault |
| Sean Finn | Middle Distance |
For more information , contact your regional co-ordinator: This email address is being protected from spambots. You need JavaScript enabled to view it.

REGISTATION
Please register via the Munster Registration Link, on or before Thursday 24th October


Cork Athletes invited to participate in the 2019 Munster Regional Athletics Academy:
Full Munster invitation Listing on Munster Athletics release (PDF File)
| Forename | Surname | Club |
| --- | --- | --- |
| Ben | Donovan | Abbey Striders AC |
| Rachel | Lynch | Ballincollig AC |
| Dylan | Chambers | Bandon AC |
| Tristan | Chambers | Bandon AC |
| Eadaoin | Coady | Bandon AC |
| Eabha | Crowley | Bandon AC |
| Jack | Cullen | Bandon AC |
| Max | Hallahan | Bandon AC |
| Ruairi | Harrington | Bandon AC |
| Stacey | Komolafe | Bandon AC |
| Ciara | Lynch | Bandon AC |
| Lauren | McCourt | Bandon AC |
| Diarmuid | O'Connor | Bandon AC |
| Niamh | O'Donovan | Bandon AC |
| Niamh | Sugrue | Bandon AC |
| Nicola | Tuthill | Bandon AC |
| Olivia | Tuthill | Bandon AC |
| Natalia | Guerrero | Bandon Grammer |
| Sarah | Cooper | Belgooly AC |
| Philip | Halton | Belgooly AC |
| Danny | Kelly | Belgooly AC |
| Adam | Turner | Belgooly AC |
| Glory | Wenegieme | Belgooly AC |
| Justin | Equaibor | Bishopstown CS |
| Natasha | O'Keeffe | Blarney Inniscara AC |
| Emma | Akinkuolie | Carraig na BhFear AC |
| Harry | Buckley | Carraig na BhFear AC |
| Aaron | Callinan | Carraig na BhFear AC |
| Emma | Coffey | Carraig na BhFear AC |
| Orla | Coffey | Carraig na BhFear AC |
| Sarah | Constant | Carraig na BhFear AC |
| Meabh | Daly | Carraig na BhFear AC |
| Alan | Davis | Carraig na BhFear AC |
| Ciaran | Hurley | Carraig na BhFear AC |
| David | Maher | Carraig na BhFear AC |
| Lily | O'Riordan | Carraig na BhFear AC |
| Martha | Quain | Carraig na BhFear AC |
| Michelle | Ugwah | Carraig na BhFear AC |
| Alan | Kellegher | Col Phobail Beanntrai |
| Maeve | O'Neill | Doheny AC |
| Ricky | Carroll | Fanahan McSweeney AC |
| Alex | Ademola | Leevale AC |
| Reece | Ademola | Leevale AC |
| Shane | Aherne | Leevale AC |
| Una | Brice | Leevale AC |
| Conor | Callinan | Leevale AC |
| Ava | Cashman | Leevale AC |
| Aisling | Cassidy | Leevale AC |
| Elena | Collins | Leevale AC |
| Colin | Doyle | Leevale AC |
| Ryan | Duggan | Leevale AC |
| James | Ezeonu | Leevale AC |
| Abby | Fitzgerald | Leevale AC |
| Vanessa | Frawley | Leevale AC |
| Ella | Hurley | Leevale AC |
| Marc | Jones | Leevale AC |
| James | Kirkby | Leevale AC |
| Jack | McGrath | Leevale AC |
| Conor | Morey | Leevale AC |
| Helen | Moynihan | Leevale AC |
| Katie | Moynihan | Leevale AC |
| Colin | Murphy | Leevale AC |
| Hannah | Murphy | Leevale AC |
| Sean | Naughton | Leevale AC |
| Ciara | Neff | Leevale AC |
| Harry | Nevin | Leevale AC |
| Padraig | O'Callaghan | Leevale AC |
| Brendan | O'Donoghue | Leevale AC |
| Ryan | O'Leary | Leevale AC |
| Ciara | O'Mahony | Leevale AC |
| Brenda | Onoh | Leevale AC |
| Orlaith | Onoh | Leevale AC |
| Jonah | Osobase | Leevale AC |
| Cathal | Scanlon | Leevale AC |
| Ella | Scott | Leevale AC |
| Wymin | Sivakumar | Leevale AC |
| Lucy May | Sleeman | Leevale AC |
| Holly | Umeh | Leevale AC |
| Emily | Wall | Leevale AC |
| Sarah | Zia Buckley | Leevale AC |
| Joe | Ivory | Liscarroll AC |
| Aoife | O'Sullivan | Liscarroll AC |
| Sophie | Perrott | Liscarroll AC |
| Amy | Whelan | Liscarroll AC |
| Blessing | Alamu | Carraig na bhFear AC |
| Emmanuel | Alamu | Carraig na bhFear AC |
| Samuel | Judd | Midleton AC |
| Sean | Kavanagh | Midleton AC |
| Lia | O'Brien | Midleton AC |
| Sean | O'Riordan | Midleton AC |
| Leah | Parker | Midleton AC |
| Joseph | Bamidele | Nagle CC |
| Dean | McCarthy | Nagle CC |
| Donal | Ojlekhude | Nagle CC |
| Sean | Frawley | North Cork AC |
| Callum | Keating | North Cork AC |
| Megan | Lenihan | North Cork AC |
| Brian | Lynch | Old Abbey AC |
| Andrew | Collins | Skibbereen AC |
| Sarah | Morrison | St. Nicholas AC |
| James | McCarthy | West Muskerry AC |
| Kerry | Barrett | Youghal AC |
| Georgia | Connon | Youghal AC |
| Natasha | Kilgannon | Youghal AC |
| Liam | O'Leary | Youghal AC |