Rio 2016 Athletics Ireland Day 5 Report
Rio Olympics - Athletics Ireland Day 5 Report
Rio de Janeiro, Tuesday August 16th 2016
Athletics Ireland report by Feidhlim Kelly
Brilliant Barr Makes History in Rio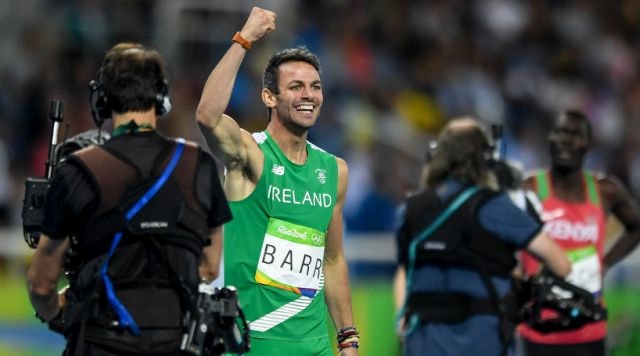 Thomas Barr (Ferrybank) became the first Irish athlete since Bob Tisdall in 1932 to make an Olympic sprint final after a breath taking performance to win his 400m Hurdles semi-final in a new national record of 48.39 seconds.
Thomas Barr Interviewed by David Gillick
"I'm shaking like a leaf. I'm delighted," said an ecstatic Barr afterwards. "I went in really relaxed and I was able to track Karsten Warholm (Norway) on my outside. I know I've a really good finish. I'm not being cocky. I was smiling coming over that last hurdle."
The Ferrybank star was in fourth place coming into the home straight but produced a sizzling finish to win his semi and go into the final as the third fastest qualifier.
"Anything is possible now," he said. "I want to thank my coach Haley Harrison and Emma Gallivan (Athletics Ireland/Sport Ireland physio) for all the physio and pushing me on. I'll rest up now and get ready for the final."
The men's 400m hurdles final takes place on Thursday (August 18) at 4pm Irish time – making it a midday start in Rio. Barr has been drawn in lane 4 for the final. Bob Tisdall also ran in the 400m Hurdles and won gold.
400m Hurdles Final
The final takes place tomorrow, Thursday, at 4pm Irish time. Barr has earned a great lane draw of Lane 4.
Pena Bows Out in Pole Vault Qualifying
Tori Pena (Finn Valley) was unable to qualify for the women's Olympic pole vault final, after finishing 14th in Group B with a best of 4.30m (August 16).
Pena had a first time clearance at 4.15m, before advancing on to 4.30m, which she cleared on her second attempt. Unfortunately she had three failures at 4.45m.
The Finn Valley athlete has had an improved season on the international stage – she was close to qualifying for the European Championships final in Amsterdam in July. Today's performance consolidated her progression. This was Pena's second Olympics, having competed in London.
To date this has been Ireland's most successful Olympics on the track since 1996, with four athletes progressing through the first round, including Sara Treacy (Dunboyne) making the women's 3,000m steeplechase final. Mark English and Ciara Mageean (both UCD) made the 800m and 1500m semi-finals respectively. Thomas Barr (Ferrybank) is bidding to qualify for the final of the 400m hurdles tonight.


Schedules:



Tuesday, August 16th, 13:30 - Rio Olympics - Athletics Day 5
Thomas Barr (Ferrybank AC) goes in the 400m Hurdles at 01:30am on Wednesday morning.
Wednesday, August 17th, 13:30 - Rio Olympics - Athletics Day 6
Ciara Everard (UCD AC) goes in Round 1 of the Women's 800m at 14:55 Irish time

Full Olympic Athletics Schedule and Timetable


Athletics Ireland Reports