13:53 5000m for Fearghal Curtin at Bryan Clay Invitational 2019
Fearghal Curtin Runs 13:53 at Bryan Clay Invitational

Azusa, California, USA

Thursday April 18th 2019
Bryan Clay Invitational Results 2019
Fearghal Curtin - Bryan Clay Invitational 5000m 2019 from Webmaster - Cork Athletics on Vimeo.
Fearghal ran 13:53.53, in the Azusa Pacific Invitational, outside Los Angeles, in the 5000m last Thursday night, coming second to Morgan McDonald, an Australian based in Wisconsin, who is the National xcountry, 3k and 5K indoor Champion, on a track with short straights and wide bends.
There was a big number of competitors in the race, and Fearghal had to do a lot of wide running, to keep an eye on the leading group - This cost him time in the race. He ran cautiously, with the aim of getting under 14 minutes, to qualify for the Regionals, in Sacramento, in late May.
Fearghal was very pleased with his performance, which is ranked in the first 7 All Time Arizona State University Rankings.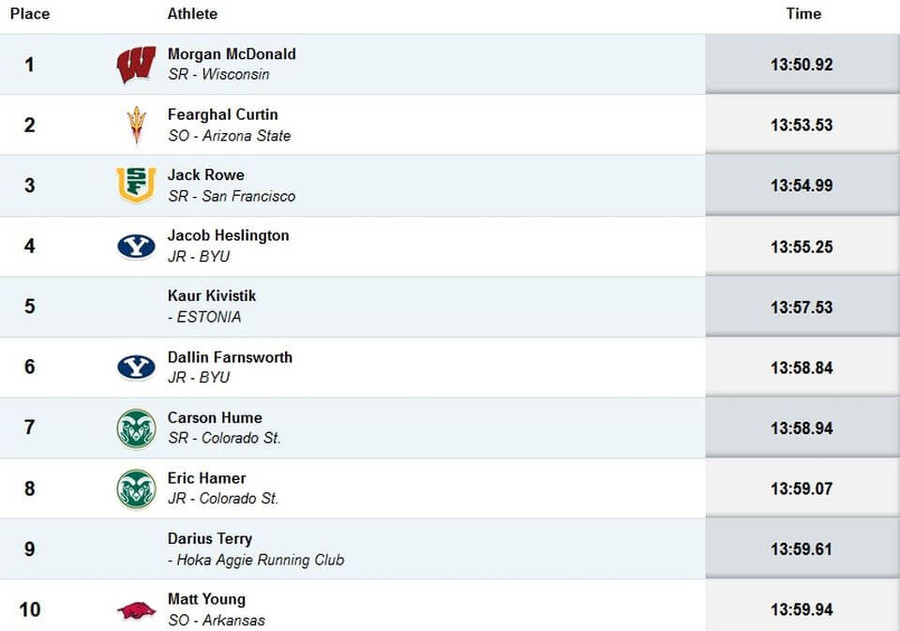 Barry Keane, Waterford AC, was also in Fearghal's race, finishing 15th, in 14:04, while Jack O'Leary, Mullingar Harriers AC, ran in a separate 5000m race at the same meet, finishing 8th, in 14:11. All three, Fearghal, Jack and Barry, now have European Under-23 5000m qualifying times. Fearghal's time is ranked in the first 7 all time in Arizona State University.


On Saturday night, Fearghal paced Heat 3 of the 1500m, and won in 3:47.9. Paddy Robb was in same race, running 3:49.


Stephanie Cotter

Overall Women's 1,500m Results


Stephanie Cotter, West Muskerry AC, was second in her 1500m heat, in a time of 4:25.21, behind Olivia Hoi, BYU, who won 1500m Heat 4, in 4:22.80.
Peter Lynch, Kilkenny City Harriers/Tulsa ran 29:29 in a 10,000m, on Friday night, qualifying him for the European Under-23's. There are now two Irish European Under-23 10,000m qualifiers: Barry Keane and Peter Lynch

Grace McKenzie

Leon Johnson NSU Invitational, Natchitoches, Louisiana - Friday April 290th 2019
Grace McKenzie, McNeese State University & Belgooly AC
Grace McKenzie, McNeese State University and Belgooly AC, continues to rewrite the McNeese State track and field record book, in numerous events. Last Friday, April 20th, the McNeese junior broke the school in the 400mH hurdles, after posting a blistering time of 59.97 seconds. It also brings Grace up to 21st position in the Irish All-Time 400mH standings


That time makes her the first Mcneese State woman to break the 60 second barrier in the 400mH, in just her fifth-time ever competing in the event. In doing so, she maintains her top ranking in the Southland Conference. In the 100mH hurdles, Grace finished first, in 14.02 sec, in the inaugural Daeshon Gordon 100-meter hurdles race, named after Daeshon Gordon, an All-American from Northwestern State, who tragically passed away last year.

Grace was also in action in the field events, where she placed second in the long jump, with a leap of 5.88m, behind US National Indoor Champion, Jasmyn Steeles, from Northwestern State.
Sam Healy
2019 Alumni Gold - Bernie Moore Track Stadium, Baton Rouge, Louisiana, Sunday April 22nd
Sam Healy, University of Louisiana, Monroe & Leevale AC, jumped 7.19m, for 4th place, in the Alumni Gold meet, in Baton Rouge, last Sunday


Related Articles
Sub-14 for Fearghal Curtin at Iowa State Classic 2019
Fearghal Curtin First Collegiate Athlete at UW Invitational 2019
Fearghal Curtin has Massive 5000m PB at Florida Relays
Big 3000m PB for Fearghal Curtin
Cork City Sports Athlete of the Month - December 2017

Fearghal Curtin's European Athletics Profile