Stephanie Cotter Named as Rocky Mountain Athletic Conference Female Freshman of the Year 2019
Stephanie Cotter is RMAC All-Conference Indoor Female Freshman of the Year

March 2019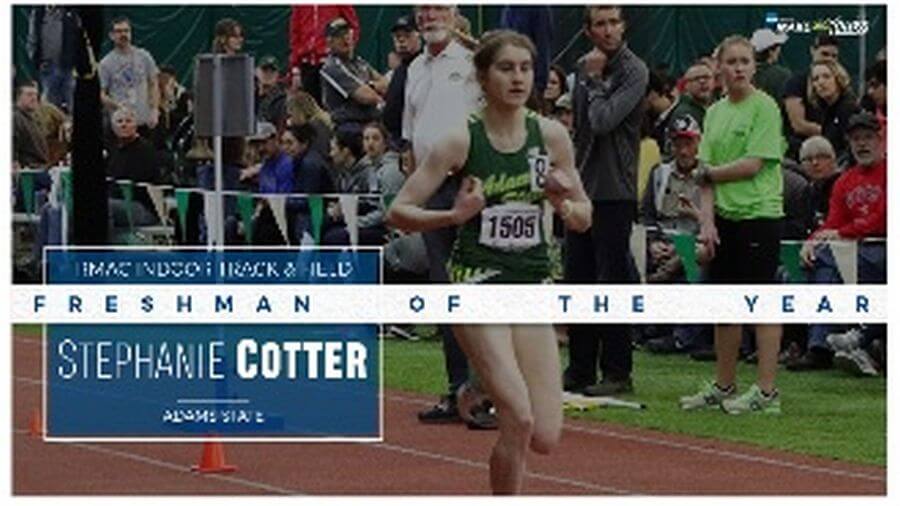 Stephanie Cotter, Adams State University and West Muskerry AC, Rocky Mountains Athletics (RMAC) Women's Indoor Freshman of the Year 2019
Following strong performances in the lead up and culminating in the recent RMAC Indoor Track & Field Championships, Stephanie Cotter, Adams State University and West Muskerry AC, has been named as the Rocky Mountains Athletics (RMAC) Women's Indoor Freshman of the Year 2019.
Stephanie started the RMAC meet with a solid Distance Medley Relay relay leg, then finished second in the mile, running a 5:03 mile (4:48 converted), and closing the meet with the fastest split of the team on the 4x4!


Last November Stephanie was named Rocky Mountain Athletic Conference Female Freshman of the Year 2018
Stephanie Cotter - Photo: Adams State University
Montage of Rocky Mountains Athletics (RMAC) Indoor Athletes of the Year 2019
Stephanie Cotter - Photo: Southern Star
NCAA Div II Indoor Championships
Pittsburgh, Kansas
Friday 8th - Saturday 9th March

Stephanie Cotter is running in Heat 1 of the mile tonight at the NCAA Conference Division II Finals, in Pittsburgh, Kansas. Stephanie is currently ranked third in the Mile, at 4:48. The first three from each heat will advance, along with the next three fastest overall, to the final, on Sathurday night. Later on tonight, Stephanie will run on the for Adams State University Distance Medley Relay team, running the third (800m) leg.
Stephanie's NCAA Race Times (GMT)
| | |
| --- | --- |
| | |
| Schedule - Friday March 8th | Schedule - Saturday March 9th |
Stephanie runs in the Women's Mile, at 9:30pm Irish time tonight, and the Women's Distance Medley Relay (Final) following at 12:40am. All going well, she will compete in the final of the Women's Mile, at 11:40pm tomorrow, Saturday, night.
Update10:40pm: Stephannie qualified, in 2nd place, from Heat 1, for tomorrow's Final, in a time of 4:52.40


Related Articles
Track & Field News from USA - March 3rd 2019
Stephanie Cotter is Rocky Mountain Athletic Conference Female Freshman of the Year 2018
Stephanie Cotter Heads for Adams State
Stephanie Cotter Runs for Europe in Edinburgh International 2018
Stephanie Cotter Third in Antrim International Cross-Country 2018
Cork City Sports Athlete of the Month May 2017 Stephanie Cotter