End of the Road Looms Large for UCC Farm
Development Announcement Marks the End of an Era at UCC Farm
Wednesday February 27th 2019
Leevale group training on the Farm - Photo: Gearóid Ó Laoi
UCC announced today, that work will begin on the new Science and Innovation Park later this year, probably in early Autumn.


Morgan Buckley, Director of Sport, UCC said that UCC will lose two pitches from the Farm, when work starts on a new science park and dental school, later this year, so there is now an urgent need for new facilities.

Sadly this marks the end of an era. UCC say that the initial development will mean the loss of two playing fields, however, it is likely that more than that will be 'out of bounds' during the construction phase, with, probably, at least the same area again being required for various construction materials, and other related items, such as spoils, and, of course, boundary fencing, site offices and access roadways.


The Farm has been a staple of athletics in Cork for many decades, being used by a host of diverse sports, from GAA, soccer and rugby, frisbee tournaments, cricket, rounders, baseball and archery, to athletics, with Munster and County Cross-Country Championships being held there. There is even a shot/hammer throwing circle on the Farm. Almost any time of day, or even night, you are likely to find one or more people running there.
Question?
Will the new facility be as accessible as the Farm?


New UCC Sporting Facility Development in Curraheen
UCC is to apply shortly for planning permission for a new sporting facility in Curraheen. So, while, the existing facility, at the Farm, looks likely to be lost in the foreseeable future, it is likely that the new facility will not be available for use for two to three years.

Reddy Architecture's Artist Impression of how the Farm will eventuall look
Extent of the Development
The University lands (Precinct 2) are located at the south east of the park. The overall area of UCC lands is 18.3 hectares and the quantitative allocation of development is 107,350m2. It is proposed to develop the Precinct 2 lands on a phased basis using best international practise for the development of science and innovation parks
Sewer System
Before any of this happens, a sewer system, which will eventually serve the whole Science and Innovation Park, must be installed. Planning permission is not required for sewer ststems.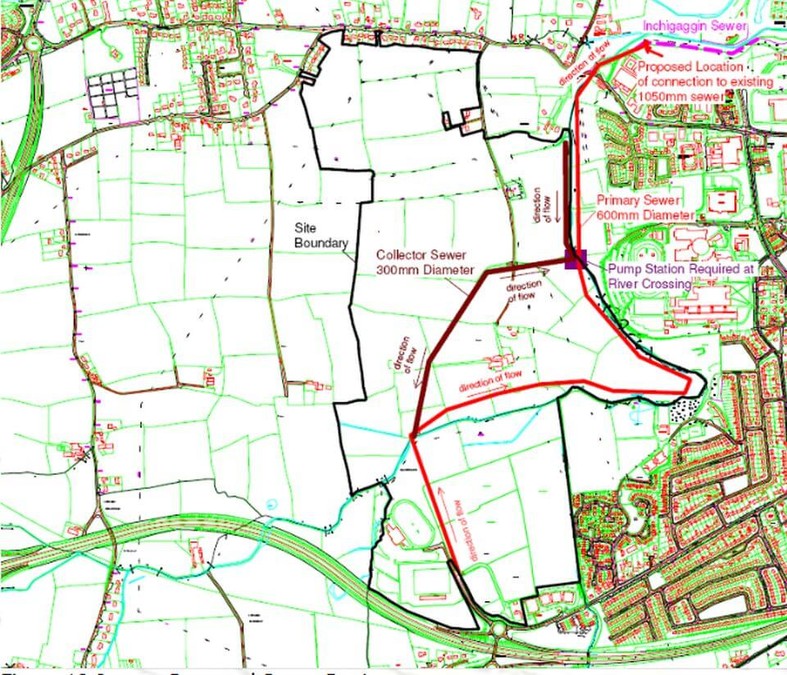 CSIP Sewer System
As can be seen above, the sewer installation, which must go in before construction starts, at least in the initial construction area. The sewer will continue towards the former Tennis Village, near to which the sewer will connect into an existing sewer system. The line of the sewer towards there means that there will be considerable disruption, if not complete loss of access, to the walkway between the Pitch & Putt club and Model Farm Road.
Today's Irish Examiner reported on the latest on UCC's plans for its playing fields in Curraheen, known as The Farm.
This morning, Wednesday February 27th, University College Cork's (UCC) launched their ambitious sports strategy, comprising a new UCC sports park, in Curraheen, sporting club and sports participation programme.
Following a six months consultation with UCC's 55 sports clubs, and wider UCC community, and the Cork sporting community, the four-year strategy was launched today.

[Webmaster's comment: The running community, whether clubs, or individuals, have been prolific users of the Farm. Indeed County Senior and Munster Cross-Country Championships have been held there.
However, with regard to "Cork sporting community" being consulted, there was no consultation with Cork Athletics County Board]

UCC plans aims to "develop a new UCC Sports Park in Curraheen" to replace its current facilities at the Farm in Cork. A new sporting club, 'Sport for Life Club - Many Tribes-One Team', will be launched to connect players, volunteers, sponsors, supporters and alumni.
Other plans include:
The launch of a new #ActiveUCC sports participation programme
A

n annual

UCC Sport Hall of Fame Day
A new line of

branded apparel

with the renowned UCC Sport Skull and Crossbones
"Sport has long been the social language and currency of the city of Cork, its county and Munster," commented Professor John O'Halloran, Deputy President, UCC. "Sport is in our bones and pride is on our chest at UCC, and we are proud to be part of such a rich sporting heritage."
"This ambitious strategy is dedicated to unlocking the power of sport and physical activity across all areas of participation, representation and achievement" commented . "Sport brings people together, and I want to thank the University community for their passion in building this strategy."


Cork County Council's Cork Science & Innovation Park Framework Masterplan (2011) - PDF File (144 Pages)