Cork City Sports July 1985 - Irish Runner Report
Irish Runner Magazine's Report on Cork City Sports July 9th 1985
Cork 800 Sports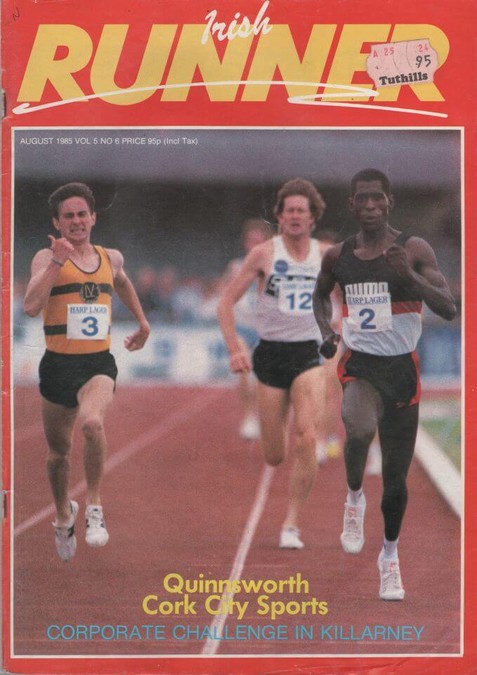 From the August 1985 Edition of Irish Runner Magazine - P8-10, Vol 5 No 6


QUINNSWORTH CORK CITY SPORTS

MAREE MASTERS MARCUS!

WORDS BY JIM DOWLING - PICTURES BY BRIAN TANSEY
The Cork 800 celebrations reached one of its zeniths in a magnificent Cork City Sports at the Mardyke on Tuesday, July 9th. In the past ten years most of our leading distance runners have come from Munster and it is appro¬priate that the province's finest city should now boast the best athletics meeting in Ireland. However, it is also ironic that Dublin, where politicians have uttered so much bland rhetoric about improving athletics in Ireland, while sharing in the limelight of the triumphs of Eamonn Coghlan and John Treacy, should nowadays be without a major athletics meeting of any sort.
One hears excuses - such as the sponsorship for such a venture being harderto raise in Dublin than in Cork - but the situation surely is also indicative of a lack of will and industry on the part of the BLE authorities in Dublin.

To return to Cork, from an Irish point of view the highlight of the night was Ray Flynn's magnificent victory in the Quinnsworth 5,000m. However, from the Yellow Pack Hammerwhich began the evening, to the Cork 800 4x400m relay which concluded the meeting, the action never flagged but skipped like a light Lee breeze from one exciting contest to another. Perhaps from a local point of view, the icing on the cake was that in a Harp Lager Mile in which Eamonn Coghlan ran like a mere shadow of his normal self, his successor emerged in the shape of Marcus O'Sullivan, a son of Cork in every sense of the term and a credit to the city of his birth.

Here was a night that brought out the best in everyone. For some it was a night of redemption. The much maligned Declan Hegarty won back his reputation by finishing second to World Record Holder Yuri Sedyk of Russia in the Hammer. He set an Irish record for the event in the process, throwing 76.40m in the fifth round. Mary Decker Slaney left an ill-judged Olympic press conference well behind, proving in¬stead to be a genial, quiet American throughout her visit and showing all her renowned courage in a magnificent finish with Kirsty McDermott in the Cork Airport 800m. Caroline O'Shea ran a great race here but her recent 'flu virus left her short of strength in the final 200m, and she just failed to beat her Irish record. Mary's win was one of many highlights for the stars and stripes. The best finish of the night came in the Imperial Hotel 800m, in which Johnny Gray held on by the slimmest of margins from his countryman John Marshall. Sydney Maree won a tremendous contest for the Harp Lager Mile, dismissing with ease the challenge of Marcus O'Sullivan who, nonetheless, staked claims to Coghlan's mantle as the King of Irish milers. However the real sensation of the race was Enda Fitzpatrick who took sixth in the magnificent time of 3 Mins 56 secs, his first sub-four minute mile and gained at the expense of Dave Taylor and Eamonn Coghlan.
Eamonn Coughlan
Sidney Maree & Marcus O'Sullivan
Mary Decker Slaney
Johnny Gray
Another Irish mile star, Ray Flynn, eventually ran away with the 5,000m. Here was a magnificent contest, with John Treacy, Tim Hutchins, Mike McLeod and Richard Mulligan all making brave sallies in the lead before Ray outshone them all.

Ray Flynn
It was not only the seniors who took the limelight. Seamus McCann of Antrim spreadeagled his field in the Junior 3,000m, Paul O'Regan won the Shandon Travel Open 400m in 47.6sees a most promising performance. Nor should one forget the girls. Monica Joyce ran the bravest of races in the Life Style 3,000m before just failing to hold Angela Tooby. Michele Walsh went close to the Irish record when winning the Rockies Fast Food 400m in 53.56, clearly indicating that her best days are stiil ahead. Lastly, in keeping with the spirit of the night, the American Johnnie Gray and the Russian Vladimir Bukov, combined with two Irishmen in the 4x400m to defeat the National squad. Of course the night would not have been complete without a win for Liam O'Brien in the Open Mile and a great night afterwards in the Imperial Hotel, only slightly marred by the delaying tactics of the doormen


Summary of Results - Cork City Sports July 9th 1985
MEN
Bank of Ireland 100m: 1, J. Leach (USA), 10.52; 2. S. Baird (Ballymena), 10.67; 3, D O'Connor (Dundrum), 10.82.
Dunloe House 200m: 1, L. Asquith (Birchfield Harriers), 20.93; 2, S. Baird, 21.22; D. O'Connor, 21.23.

Ross Foods 400m: 1, E. Forde (Barbados), 45.83; 2, E. modibedi (USA), 46.25; 3, V. Budko (Soviet Union), 46.68.

Shandon Travel Open 400m: 1, P. O'Regan (Leevale), 47.66 (Irish junior record); 2, E. Smalle (Burger- land Limerick), 48.39; 3, B. Eiffe (Crusaders), 49.11.

Imperial Hotel 800m: 1, J. Gray (USA), 1:45.56; 2, J. Marshall (do), 1:45.58; 3, J. Luiz Barbosa (Brazil), 1:46.55.

Mayfield Veg. Open Mile: 1, L. O'Brien (Midleton), 4:03.78; 2, A. Laukam (England), 4:04.07; 3, P. McGrath (Belfast), 4:04.20.

Harp Larger Mile: 1, S. Maree (US7, 3:52.14; 2, M. O'Sullivan (Leevale), 3:52.64; 3, J. Walker (New Zealand), 3:53.20.

Quinnsworth 5,000m: 1, R. Flynn (Team Kangaroo), 13:31.41; 2, M. McLeod (England), 13:33.23; 3, T. Hutchins (England), 13:33.60.

Cork 800 4 x 400m Relay: 1, President's Selection (Paddy Fitzgerald), 3:10.99; 2, Irish National Squad, 3:12.78; 3, Villanova University, 3:13.28.

Mech Con Junior 3,000m: 1, S. McCann (Antrim), 8:24.00; 2, J. Downes (Burgerland Limerick), 8:31.53; 3, E. Bergin (Leevale), 8:35.28.

BIC Ireland Pole Vault: 1, B. Olsan (USA), 5.40m; 2, T. Cattiau (France), 5.10m.

Perkin Elmer Triple Jump: 1, A. Moore (Birchfield Harriers), 16.01m; 2, L. Neill(Do.), 15.26m; 3, B. Oakes (Kilkenny City Harriers). 14.87m.

Yellow Pack Hammer: 1, Y. Sedykh (Soviet Union), 82.14m; 2, D. Hegartv (Puma A.C.), 76.40m; 3, D. Smith (Hull). 73.90m.
WOMEN
John A. Wood 100m: 1, E. Waldo (Birchfield Harriers) 12.10; 2, M. Ammond (St. Laurence O'Toole), 12.35; 3, A. Flanagan (Crusaders), 12.36.

Rockies Fast Food 400m: 1. M. Walsh (Crusaders), 53.69; 2, P. Walsh (Clonliffe Harriers), 54.21; 3, P. Ammond (Dublin City Harriers), 54.36.

Cork Airport 800m: 1, M. Decker-Slaney (USA), 1:57.68; 2, K. McDermott (Wales), 1:57.83; 3,
C. O'Shea (Crusaders), 2:00.73.

Lifestyle 3,000m: 1, A. Tooby (Wales), 8:59.68; 2, M. Joyce (Westport), 9:00.05; 3, C. Bradford (England), 9:00.21.

Irish Pension Trust High Jump: 1, J. Livermore-Simpson (Birch-field Harriers), 1.80m; 2, S. McPeake (Ballymena), 1.75m; 3, J. Boyle (Belfast), 1.75m. 4
Carey Sheehan and Partners Long Jump: 1, C. Rodidnoua (Soviet Union), 6.67m; 2, J. Livermore-Simpson, 6.15m; 3, K. Glavin (Midleton), 5.92.
Related Article
Irish Runner Magazine's Report on Cork City Sports July 1987