Course Measurer Training Courses 2019
Training Courses for Athletics Ireland National Grade Measurer Accreditation
10am - 4pm, Saturday April 13th 2019
Bantry, Co. Cork
IAAF Course participants Laying down a Calibration Course in Suva
Cork Athletics is to hold a number of one-day training courses for those interested in becoming accredited Athletics Ireland National Grade Measurers. The initial course will be held in Bantry, on Saturday next, April 13th.

The other courses will be held in various locations, in East Cork, West Cork, and North Cork, again depending on candidate availability.

There is a great need for Measurers in West Cork, in particular, however Measurers are required in all areas. Between all courses, the number of places available is dependent on our stock of Jones Counters. Currently we have five (6) counters, so the maximum number of candidates on the initial course is five, unless any of the participants has access to a Jones Counter - some people may be able to borrow a Jones counter from another Club or Measurer, for use on the day.


Course Vacancies

Currently, there are three (3) people attenfding Saturday's course. There are six (6) Jones Counters available, so there vacancies for three more candidate Measurers. Anyone interested should This email address is being protected from spambots. You need JavaScript enabled to view it. 0986261178 asap.

Course Base
Westlodge Hotel, Bantry
We will meet in the Westlodge Hotel, Bantry, where we will have our intro and set-up session, taking approx. 1 hour. Following this, we will head to Bantry Airstrip, where we will lay down a new 400m calibration course - there is already one there. After this, we will return to The Westlodge Hotel, for a short break, with sandwiches, tea & coffee, complimentary of Cork Athletics County Board.
After our break, we will head back to the calibration course and calibrate each bicycle/Jones Counter, and head out on a practical measurement. Once the practical is finished, we will recalibrate, and head back to The Westlodge Hotel, for review, further information and discussion, and 'wrap-up'
Course Essentials
Bicycle (Note: As the Jones Counter must be fitted to the front wheel, bikes with disc brakes are NOT suitable.
Bicycle spanner(s) - Required to remove front wheel & fit Jones Counter

Puncture repair kit (Just in case!)
Helmet
Hi-Viz vest
Notebook
Pen/Pencil
Calculator
Costs
These courses are FREE of charge to Registered Athletics Ireland members, however there is a charge of €120, payable to "Cork Athletics County Board" for non-Athletics Ireland members ONLY.
If participants wish to buy Jones Counters, either for themselves, or for their club, these can be bought by Athletics Ireland members, for €120 each, payable to "Athletics Ireland". The cost for non-Athletics Ireland members is €200 each, again payable to "Athletics Ireland".
Weather and Course Duration
As we will be out for most of the day, these courses are very weather dependent. For Health & Safety reasons, courses will not be held if the weather on the day is just awful, however weather can be predicted reasonably well within a few days, if not longer. The course is held over one day, generally from around 9:30/10am to 4pm(ish), and covers the theoretical and practical sides of measurement.
Course Content
| | |
| --- | --- |
| | |
| Jones Counter | Jones Counter Mounter on Wheel |
Introduction & Safety
Jones Counter Setup
Laying of Measurement Baseline
Calibration of Jones Counter
Measurement Practical
Post Measurement Recalibration
Documentation, Maps and Records
'Tips & Tricks'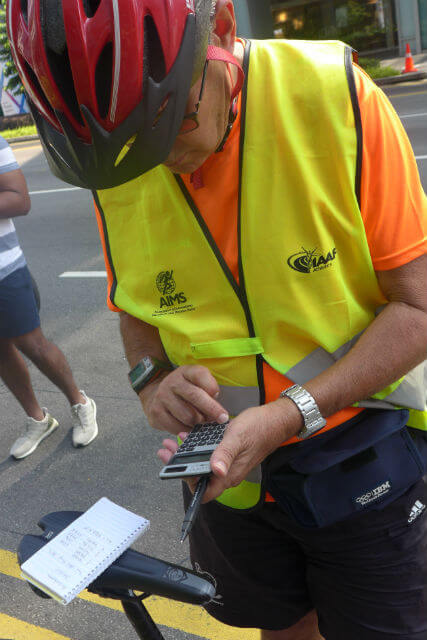 Dave Cundy, AIMS/IAAF Grade A Measurer doing his 'calcs'



Accreditation
Following successful conclusion of the course, candidates are required to submit documentation detailing at least one course measurement that they have undertaken on their own. Assuming all is satisfactory, and it invariably is, candidates then become accredited Athletics Ireland National Grade Measurers

Measurement Line - and the Racing Line - on an unrestrictyed course
Course Tutor
These courses will be delivered by John Quigley, AIMS/IAAF Grade A Measurer
John was first accredited as an Athletics Ireland National Grade Measurer, in 2002. He gained AIMS/IAAF Grade B status in 2011, where his accreditation measurement was undertaken on the London 2012 Olympic Marathon Course, under the scrutiny of Hugh Jones, AIMS Secretary, AIMS/IAAF Grade A Measurer and AIMS Administrator for Europe. John was appointed to AIMS/IAAF Grade A status in April 2018.