European Indoor Championships - Day 1 2021
European Indoor Championships 2021 - Irish Highlights from Day 1
Torun, Poland,
Friday March 5th 2021


Livestream on European Athletics Website
The European Indoor Championships will also be covered on RTÉ Player and RTÉ2, with the morning sessions on RTÉ Player. There is also coverage on BBC





Phil Healy, Bandon AC, has advanced from Heat 5 of today's opening round of the Women's 400m, with a commanding run of 52.00 secs. Unfortunately, Sharlene Mawdsley (5th Heat 7, 53.68) and Sophie Becker (3rd Heat 2, 53.31) did not progress.

Healy dominated heat 5 and claimed her place in the 400m semi-final by setting the fastest qualifying time. The Bandon AC athlete posted an impressive 'from-the-front' performance to clock 52.00 which was just one hundredth of a second outside her personal best. She will go in the semi-final later this evening (18:33pm Irish time).
Sophie Becker was in action in the second of the 400m heats and was unlucky not to progress with a 53.31 which was just outside of her personal best. The Raheny Shamrock AC athlete was in contention for the automatic qualifying places for much of the race but had to settle for 3rd place in her heat which was not enough to progress to the semi-final stage.
Sharlene Mawdsley went out hard and claimed a front ranking position at the bell in heat 7 of the 400m. The Newport AC athlete faced a tough task to make the semi-final but battled bravely to come home in 5th in a time of 53.68 which was just outside of her PB.


Womens 800m

Nadia Power was ultra-impressive in negotiating her way through round one of the 800m heats, securing her place in tomorrow's semi-final with a 2:03.16 performance. The DCH AC athlete will be back in action for the semi-final which is scheduled for 18:00pm tomorrow (Saturday 6th).

Power Qualifies from 800m Heat 5

National 800m record holder Siofra Cleirigh Buttner went in heat 3 of the 800m and looked well in contention until the final lap but was unable to reel in the eventual first three athletes home. She crossed the line in a time of 2:04.47.
Georgia Hartigan made her senior debut in heat 6 but was just run out of the top 3 qualifying spots to eventually finish 4th (2:04.74)

Evening Session:
All eyes will be on the semi-final of the Women's 400m where Phil Healy will look to make it to tomorrow's final. She is set to take to the starting blocks at 18:33pm (Irish Time – Live on RTE2).
The Men's 800 is set to start at 18:55pm where we'll see Irish 800m record holder Mark English line up with in the heats with recent rivals Cian McPhillips and John Fitzsimons.
Attention then turns to the Men's 1500m final (20:35pm Irish time) where Paul Robinson and Andrew Coscoran will go toe to toe with the elite of Europe's 1500m athletes.




Friday Evening



Saturday's Program



Womens 400m Semi-Finals


Phil Healy Qualifies for 400m Final
Phil Healy, Bandon AC has qualified for the Women's 400m Final, winning her Semi-Final in 52.41, in a photo-finish from Romanian Andrea Miklos, who was credited with the same time. Miklos came fast on the outside, and appeared to catch Phil by surprise, as Phil could be seen berating herself before the results came up on screen, obviously thinking that she had been pipped for the win. (Finishing position impacts on the lane draw for tomorrow's final)



Mens 800m Heats

English & McPhillips Qualify for Mens 800m Semi-Final
Mark English and Cian McPhillips both advanced from Heats 3 & 4 this evening, however John Fitzsimons (5th in Heat 4, 1:51.00) bowed out dropping from 3rd to 5th at the line, missing out by just 0.03 sec.
Paul Fitzsimons (far side) in blanket-finish for third place

800m Heat 4 Results
McPhillips ran an incident-free race, to finish 2nd from Heat 3, in 1:49.98
Cian McPhillips coasts across the line

800m Heat 3 Results
English made it difficult for himself, clipping the rail, when under no pressure, coming off the final bend, to finish 3rd in Heat 2, in 1:49.79
800m Heat 2 Results


Mens 1500m Final (Post Updated)

Marcin Lewandowski and Jakob Ingebrigtsen


There was a sting in the tail at the end of this race, with winner Jakob Ingebrigtsen initially being disqualified. Ingebrigtsen had taken the lead from early on, with reigning champion, Marcin Lewandowski in pursuit. Ingebrigtsen finished in 3:37.56, with Lewandowski in 3:38.06. But, with the DQ, Lewandowski was elevated to 1st. However following protest from the Norwegian Federation, he was reinstated as winner nd Champion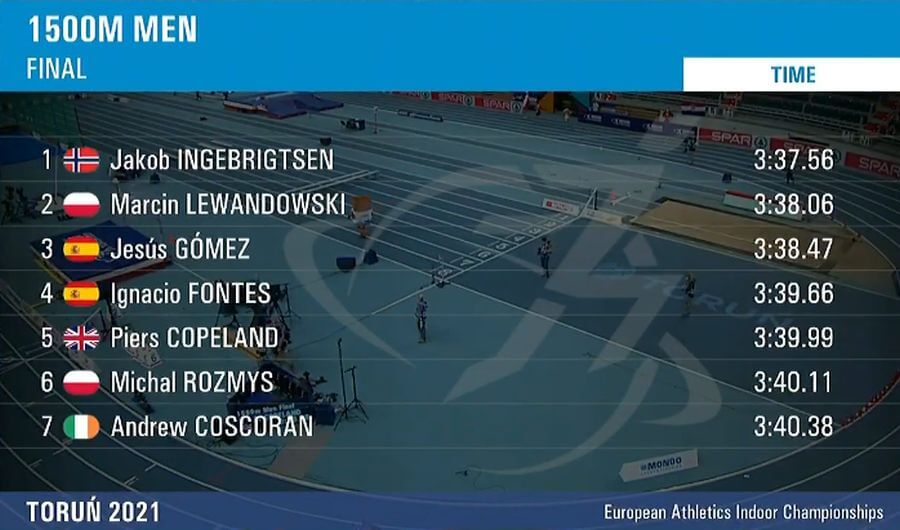 1500m results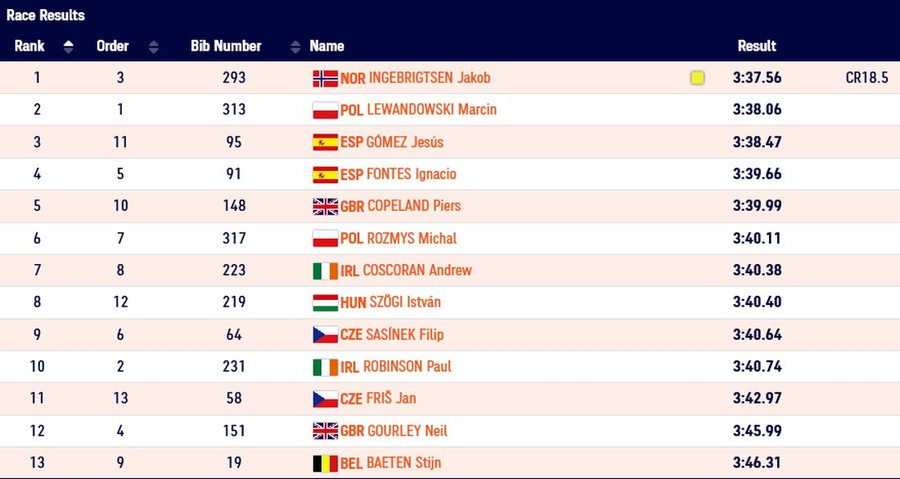 Full 1500m results


With the battle at the front, we didn't see much of the action behind, with Andrew Coscoran and Paul Robinson, just getting brief glimpses of the Irish lads in the pack.

Early stages of 1500m

Coscoran finished in 7th place, in 3:40.38, while Robinson was 10th in 3:40.74. So Ireland had two finishers in the top 10 at the 1500m final.



Paul Robinson being introduced to the media before the 1500m Final
A 'camera shy' Andrew Coscoran tries to avoid being introduced to the media before the 1500m Final
Coscoran and Robinson Progress to 1500m Final - Torun 2021
Good Day for Irish on Day 1 of European Indoor Championships

Torun, Poland
Thursday March 4th 2021
There were four Irish athletes in action on Day 1 of the European Indoor Championships, in Torun, Poland.

First into action was Michelle Finn, Leevale AC, in Heat 1 of the Women's 3000m. Michelle started prominently, leading for most of the first lap, and was well placed after 1k, reached in 3:06, but gradually drifted back in the lead pack, nevertheless she was still in the race. After that the pace wound up. Unfortunately coverage went off the race for much of the second km, showing highly interesting bits like high jumpers gesticulating to their coaches, and shot putters donning tracksuits <sigh!> When action returned to the track, Michelle had fallen several metres adrift of the lead pack, eventually finishing 9th of the 12 women, in 9:05:44, a few seconds off her 9:02.34 PB, and 16th overall in the field of 25.

Mens 1500m

The three Irish men, Andrew Coscoran, Luke McCann and Paul Robinson were all in separate heats, 2, 3 and 4 respectively.


All three gave great effort and were competitive throughout. Coscoran finished third in 3:39.00, just 0.12 sec off the second automatic qualifying spot, so had to sweat things out.

Luke McCann was next up, in Heat 2. He made much of the running, and was unfortunate to be caught up in two incidents that effectively decided his race. The first was when he was in the lead, and was passed by Ingebritsen, who cut in early, impeding McCann, causing him to chop stride and lose momentum. The second incident was on the final bend, when he was vieing for a place. He was caught form behing, causing him to lose rhythm, letting others past. He finished 5th, on equal time with 4th, in 3:41.25.
Paul Robinson went in the 4th and final heat, and was always in the first three. Coming into the final bend, he was caught by two thers, but immediately shifted gears and regained third, chasing down runner up Sasinek, but, with 3:40.07, fell just 0.03 sec short of the automatic spot.


There outcome was happy for Coscoran and Robinson though, with both qualifying on time - Ireland will have two men in tomorrow evening's 1500m Final



Fergus Meade's Analysis of 40 years of the Ballycotton 10
40 Years of the Ballycotton 10 - An Analysis by Fergus Meade

Fergus Meade (East Cork AC)
Fergus Meade, East Cork AC, compiler of the Ballycotton 10 analysis
| | | |
| --- | --- | --- |
| | | |
| John Walshe, East Cork AC - 40 Ballycotton 10's | Willie O'Mahony, Youghal AC - 39 Ballycotton 10's | Denis McCarthy, East Cork AC - 38 Ballycotton 10's |
John Hennessy's photo taken before the 37th Ballycotton 10, 2014 - Quartet about to undertake their respective 30th Ballycotton 10's

L to R: Roy Cummins, Pat Murphy, John Quigley and Donie O'Connell. Roy, John & Donie went on to complete 33 consecutive Ballycotton 10's when the event ceased in 2017

Fergus Meade's Analysis - 40 Years of the Ballycotton 10


Ballycotton 10 Results 1978 - 2017


Ballycotton 5 Results 1977 - 2017
For over 40 years, the small, picturesque fishing village of Ballycotton, in East Cork, was, literally the hub of running in Cork, and, indeed Ireland. It is also regarded as the source of the first first race series in Ireland, with the Ballycotton Summer 5 Mile Race Series. Such was the attention to detail by the organisers, throughout the life of the race, the Ballycotton 10 was regarded as 'The Touchstone' by whi, literally, all other events were judged. It was also voted as the 'Best Race in Britain & Ireland'. High standards indeed"

Fergus Meade's Analysis

Fergus Meade, East Cork AC has compiled a detailed 116 page analysis of the 40 editions of the Ballycotton 10, covering the period 1978 - 2017, covering such topics as Fastest Times, Club Rivalries, Best Times per Club, Top 100's, and number of Ballycotton's completed.
The analysis is a treasure trove of information, but, as Fergus points out in the document, difficulties are encountered when people, as they often do, join, or change clubs. Some people even change names - usually after getting married, or separating. Quite a few changed to Irish format, or changed to English ...and then there are all the various spelling mistakes. The area where these all had the greatest effect is in the Number of 10's Completed, and to accurately compile the Number of 10's Completed, one would need to know exactly who everyone was and when they transferred/joined clubs - an absolutely impossible task.
Fergus has more work planned, as has Cork Athletics.
Sonia O'Sullivan Address to National Coaching Forum - September 1999
FAITH, TRUST,

AND CLARITY

National Coaching Forum, NCTC, Limerick
September 1999

This is the text of an address delivered by Sonia O'Sullivan in September to the National Coaching Forum at the NCTC, Limerick


This article was published in The Irish Runner, Vol 19, No 5, P 44-45, October/November 1999


Text of Sonia O'Sullivan's address to the National Coaching Forum, September 1999


Printed in The Irish Runner, Vol 19, No 5, P 44-45, October/November 1999
I'm going to talk to you tonight a little bit about the relationship between a coach and an athlete, and how this progresses throughout the years and career of an athlete.
The coaching role tends to vary enormously from athlete to athlete and from sport to sport, and the main reason for that is that different athletes have different requirements. The needs of the athlete also tend to change.
The relationship between coach and athlete tends to be very personal, and as the needs of the athlete change, it can be difficult to move from one coach to another. I've noticed with a lot of other athletes is that they tend not to change coaches when it's time to do so, but it's hard to tell the coach you want to move on - it's a bit like breaking off a relationship with a boyfriend or girlfriend.
To get the most out of an athlete, the coach has to know that athlete very well. Initially, if you're a young athlete, the coach may be just looking after your gear during a race and telling you where to get the bus. He (she) tells you to show on Tuesday and Thursday and do a few laps of the field and it will be good for you. But you don't really understand the training at that age of ten or twelve - you just go along with it as a bit of fun and games.
I always remember the Vocational School field and the little doorway that was our changing area. It was fine when it was dry, but when it was wet you'd be looking for shelter. We'd go off and do a few exercises and some relays. You didn't realise you had a coach, and you didn't see it as any organised training either.
I remember at the end of training we used to play scotch with a tennis ball - that was our warmdown. But I think we did more running in that game than in the training session. The days in between I would run back and forth to school, just like the Kenyans.
When you're young you can win races without thinking, but at some point you realise you have to maximise your talent and then you know you need to train a little harder. When I was 1 5 I had won a few cross-country races in Cork and been up to Mosney for the Community Games Finals (even if I didn't pick up any medals).

Trust and honesty are the foundations for any good coach-athlete relationship. The athlete must believe that what he (she) is being told is the right thing to do.

I'd heard about this coach in Cobh, Sean Kennedy, and horror stories about how he would make you run up the hills behind Pairc Ui Chonaill. So I rang him up and asked for a training programme, but he said we'd have to meet and have a chat. Then he decided to pick out a few races and prepare me to run them, and that was my first real experience of having a coach and preparing myself for races.
It wasn't just him telling me what to do - I also had to trust in him. He made people work hard and cracked the whip a bit, and so I got this confidence that I would become a better athlete.
At that stage I was watching a lot of athletics on TV, and seeing the likes of Steve Cram and Sebastian Coe in Oslo and wanting to get there myself. So Sean drew up this programme, and even if he couldn't come to all the sessions, he'd drop them in the letterbox on his way to work.
It was 20 times 200m and hills on Saturday. It got me understanding training that bit more and that I was doing things for a reason. That was when I learnt too that I had to talk to the coach - that he cannot just stand there and give orders. Athletes are not computers - you have to be able to talk to your coach.
When I started to race internationally, I remember sitting in hotels and at meetings and watching other athletes and what they were doing in terms of eating, warming up, changing their shoes, and all that.
At that stage you start to question whether your coach is doing all the right things, and I suppose I started to learn more myself by being away from the coach. When you come back it's hard to explain what you've picked up, and that can be a breaking away process in some ways.
You also question whether you really need a coach at all. I remember Douglas Wakihuri, the world marathon champion, saying he needed a coach because 'I can see my front but I can't see my back'. The coach can look at you from the outside.
Trust and honesty are the foundations for any good coach-athlete relationship. The athlete must believe that what he (she) is being told is the right thing to do. Right now I have that total faith in my coach, Alan Storey, but it took quite a while to build up that trust. He was telling me to do sessions that seemed a lot easier than what I'd done before - and for a while you're comparing stuff with what went before.
Now I'm more relaxed about the training, but there was a period in between when I had to adjust. One day I was running around Bushy Park (London) and Nick was with me on the bike. I was supposed to be doing three minutes hard and then easy, but I think I ran a world record for a lap of Bushy Park.
Alan explained why it was important to train at different paces. I thought I knew everything, but there was more I needed to learn - we talked a lot and I learnt a lot. Many coaches have the knowledge of psychology and physiology that will help you improve. But you have to be open to that knowledge - and the athlete has to have an input also.
I was lucky last year that I won the championship races I wanted to win. But there were plenty of races where things went wrong. I had to really convince myself that the smaller races didn't matter and were just stepping stones. I also needed Alan's reassurance that that was so.
Towards the end of last year, things changed for me again - I got pregnant. Then I had to think about running for two people, and one of the hardest calls I had to make was to tell Alan. I told him about the baby and he stood back and said okay, this is another area. Then he called me back and said he'd been at the bookshop and the library, and we'd work away and see how things panned out. It was another coaching area that we both had to adapt to, but it was wonderful that he was able to guide me through the past ten months.
Things have worked out great. But I've realised I also need a coach who has baby-sitting skills - I haven't tested him on that yet. Still, the relationship is ideal in that we communicate really well. We have trust, honesty, and belief - and that's the foundation of the relationship between a coach and an athlete.
Massive Boost for Athletics in North Cork as Mallow Track Planning Application Approved
Mallow Track Gets Planning Go-Ahead
Mallow
Friday February 19th 2021
Mallow AC Members


Athletics in North Cork, and Mallow in particular, received a massive boost yesterday, when planning, by Cork ETB, for a new 8 Lane Track, and ancilliary facilities, received final planning approval. Cork County Council are providing the land, and will be owners of the complex. The initial application was received on 28th February 2020, so, effectively the process took 12 months to complete.

Current grant supports prioritise applications from multi-sport and educational institutions, so the Mallow application, made by Cork ETB, 'ticked all the boxes'.

The facility will be welcomed by all clubs in the North Cork Area, and well beyond, as it is the first full sized track in the county, outside of the Mardyke and CIT tracks, both in Cork City. Travel from North Cork, to either city tracks, was problematic at the best of times - this development means that clubs might now only need, say 30 minutes, travel each way for training, whereas, until now, a trip to either of the city tracks might need considerably more time, due to traffic log-jams along the way.


Track Management
Management of the Track has yet to be finalised, however one would hope that the club might be asked to take lead role in track operation.

The progressive Mallow club has been one of the largest clubs in Cork in recent years, and has already enjoyed much success at County, Provincial and National level, so this venture will, hopefully, see the club spring further forward.




Development
The development will consist of:
(a) construction of a 98m x 63m grass pitch,
(b) provision of a 400m eight lane running track,
(c) construction of a building to provide changing facilities,
(d) provision of 40 car and 2 bus parking spaces,
(e) widening of Sexton's Boreen,
(f) importation of clean, natural soil to grade the field,
(g) installation of floodlights, and
(h) diversion of water main and associated site works. The Environmental Impact Assessment Report / Natural Impact Statement will be submitted to the Planning Authority with the application.
Mallow Track Development
Mallow Track Planning Approval



Davis College and Mallow Track Locations
Davis College Extension
Planned Track Location


Athletics Meets - Weekend February 21st 2021
Athletics Ireland Micro-Meet Heads T&F Action This Weekend - Sun Feb 21st 2021
Livestreams
Unfortunately, more and more livestreams are broadcast via subscription services, or behind a paywall, while others are are only available in certain countries, as they are geoblocked.

If you find that a livestream is restricted or blocked, try Googling the meet, and you may find a working link elsewhere. For GeoBlocked streams, you should be able to get the stgream via a VPN (Virtual Private Network). [NB: If you download a VPN, please note that there are many free VPN's available, but 'There's no such thing as a free dinner', and, very often, these come bundled with unwanted bloatware, or even malware, so, please ensure that you have a good firewall and antivirus loaded. You may be better advised to invest in a reputable commercial VPN]


Athletics Ireland Elite Micro-Meet

Abbotstown, Dublin
Sat 20th & Sun 21st 2021
Athletics Ireland Micro-Meet Indoor T&F Meet - Day 1


Saturday Morning Session (11:40am)
Saturday Afternoon Session (16:00pm)
Athletics Ireland Micro-Meet Indoor T&F Meet - Day 2
Sunday Morning Session (11:30am)

Sunday Afternoon Session (15:05pm)


French Indoor Championship

Miramas, Bouches-du-Rhone, France

February 19th - 21st


Livestream also on Facebook
German Indoor Championships
Dortmund, Germany, Feb 20th-21st


Dutch Indoor Championships
Apeldoorn, Netherlands, Feb 20th
Polish Indoor Championships
Torun, Feb 20th-21st



Spanish Indoor Championships
Madrid, Feb 19th - 21st



Livestream


Swedish Indoor Championships

Malmo, Sweden, Feb 19th - 21st
American Track League - Fayetteville #4
Feb 21st, Randal Tyson Track Center, Fayetteville, Arkansas, USA

Livestream (ESPN - Subscription may be required)
Note: Extreme weather conditions across large tracts of the US have put this, and many other meets, under threat

23/02/2021 Aarhus Indoor Gala Denmark
World Athletics Gold - Villa de Madrid



Spain 24/02/2021


Will be Streamed live on World Athletics



Serbian Open Indoor Meeting
Serbia Feb 24th

Phil Healy goes in Torun 2021 Day 1 Morning Session - Fri March 5th
Phil Healy Among Six Irish Women in Action This Morning
European Indoor Championships
Torun, Poland
Friday March 5th 2021
Coverage

Livestream on European Athletics
European athletics livestream is geo-restricted (because RTE have the rights for Ireland), but you nay be able to get it via a VPN
LIVE on BBC
Live on RTE Player
Irish Athletes -Morning Schedule

10:30am - Sophie Becker - Women's 400m heats
10:54am - Phil Healy - Women's 400m heats
Phil Healy & Coach Shane McCormack
11:10am - Sharlene Mawdsley - Women's 400m heats
12:16pm - Síofra Cléirigh-Büttner - Women's 800m heats
12:32pm - Nadia Power - Women's 800m heats

12:40pm: Georgie Hartigan - Women's 800m heats
Darragh McElhinney Out of European Indoor Championships - Torun 2021
Darragh McElhinney Withdraws from Euro Indoor Championships on Medical Grounds


Sadly, following quickly on Ciara Mageean's withdrawal from the Championships, Ireland's team was been further weakened by Darragh McElhinney's forced withdrawal.

Earlier today, Darragh, from Glengarriff, but running with his college club, UCD AC, posted on Instagram: "Unfortunately I've had to withdraw from the European Championships after getting a 'weak positive' COVID test. Despite several negative tests either side of this one, protocol is protocol so I will have to sit this one out.

Best of luck to all the Irish athletes competing."
For medical reasons, Darragh McElhinney has withdrawn from the Irish team set to compete at the European Indoor Championships in Torun (March 4th – 7th).
Darragh is disappointed not be lining up in Poland on the back of his fantastic early season form, but he is now focusing his attention on preparing for the upcoming outdoor season.
Ciara Mageean has withdrawn from the Irish team set to compete at the European Indoor Championships in Torun (March 4th – 7th).
While disappointed not be joining her teammates in travelling to Poland later this week, Ciara and her coach Steve Vernon have made the decision with optimal preparation for the forthcoming Olympic Games in Tokyo in mind.


Livestream on European Athletics Website

European Athletics TV


The European Indoor Championships will also be covered on RTÉ Player and RTÉ2, with the morning sessions RTÉ Player

Livestream - World Athletics Indoor Tour Gold Meet - Villa de Madrid - February 2021
World Athletics Indoor Tour Gold Final Meet 2021
Madrid, Spain
Wednesday February 24th 2021
The 2 hour:05 minute meet will be streamed on the World Athletics YouTube channel and Facebook page, starting 16:10 GMT today. It will also be covered in full on TG4 television


Startlist, Timetable & Results

Sarah Lavin is off at 4:08pm in Race 2 of the Women's 60m, Louise Shanahan (Leevale AC) and Nadia Power are on track at 4:35pm, in the Women's 800m, Leon Reid is in the men's 60m at 4:53pm, and Andrew Coscoran goes in the 1500m at 5:57pm. Coverage on TG4 begins at 3:55pm
Louise Shanahan, Leevale-AC competes in the Women's 800m
Startlist - Women's 800m

Startlist - Men's 60m
Startlist - Women's 60m
Startlist - Men's 1500m
Four Cork Athletes on Strong Irish Squad for European Indoors - March 2021
Strong Cork Representation for European IndoorChampionships

Torún, Poland

March 5th - 7th 2021


| | | | |
| --- | --- | --- | --- |
| | | | |
| Phil Healy, Bandon AC | Joan Healy, Leevale AC | Michelle Finn, Leevale AC | Darragh McElhinney, UCD AC |
Three athletes with Cork Clubs, sisters Phil Healy (Bandon AC) and Joan Healy (Leevale AC), along with Michelle Finn (Leevale AC) are joined by Glengarriff man, Darragh McElhinney, formerly with Bantry AC but now running with his college club, UCD AC

There had also been high hopes that another Leevale athlete, Louise Shanahan might have booked her place with two big 800m performances in the lead up, including a 2:01.67 run in yesterday's AAI Micro-Meet in Dublin. However it appears that the selection panel opted strictly for times, and when Siofra Cleirigh-Buttner (DSD AC) regained her Irish record at the eleventh-hour, with a 2:00.58 performance, at Round 4 of the American Track League, in Fayetteville, Arkansas, USA late last night, just before the qualification deadline window closed, the die was set.

Nevertheless, Shanahan's long-term goal has been the 2024 Paris Olympics, while she continues her Ph. D. at Cambridge University, her progress suggests that she will be in contention for a place in Paris.
Irish Squad for Torún
| Athlete | Event | Club | Coach |
| --- | --- | --- | --- |
| Leon Reid | 60m | Menapians AC | James Hillier |
| Israel Olatunde | 60m | UCD AC | Daniel Kilgallon |
| Dean Adams | 60m | Ballymena & Antrim AC | Alan Kennedy |
| Ciara Neville | 60m | Emerald AC | Noelle Morrissey |
| Joan Healy | 60m | Leevale AC | Alan Mahoney |
| Molly Scott | 60m | SLOT AC | Deirdre Scott |
| Phil Healy | 400m | Bandon AC | Shane McCormack |
| Sophie Becker | 400m | Raheny Shamrock AC | Jeremy Lyons |
| Sharlene Mawdsley | 400m | Newport AC | Gary Ryan |
| Mark English | 800m | Finn Valley AC | Feidhlim Kelly |
| Cian McPhillips | 800m | Longford AC | Joe Ryan |
| John Fitzsimons | 800m | Finn Valley AC | Joe Ryan |
| Nadia Power | 800m | Dublin City Harriers AC | Enda Fitzpatrick |
| Siofra Cleirigh Buttner | 800m | Dundrum South Dublin AC | Mark Coogan |
| Georole Hartigan | 800m | Dundrum South Dublin AC | Bev Hartigan |
| Andrew Coscoran | 1500m | Star of the Sea AC | Feidhhm Kelly |
| Paul Robinson | 1500m | St Coca's AC | Nick Bideau |
| Luke McCann | 1500m | U.C.D. AC | Clarke McCann |
| Ciara Mageean | 1500m | City of Lisburn AC | Steve Vernon |
| John Travers | 3000m | Donore Harriers | Alan McCormack |
| Sean Tobin | 3000m | Clonmel AC | Feidhlim Kelly |
| Darragh McElhinney | 3000m | U.C.D. AC | Emmett Dunieavy |
| Michelle Finn | 3000m | Leevale AC | Feidhlim Kelly |
| Sarah Lavin | 60mH | Emerald AC | Noelle Morrissey |
Paul McNamara, Athletics Ireland High Performance Director, stated:
"It has been a remarkable indoor season so far in 2021, for many reasons, and this is reflected in both the size and quality of the team travelling to Poland. Despite higher qualification standards and fewer opportunities to compete, Irish athletes nailed their opportunity when it presented itself, most notably this past weekend at the Irish Life Health Elite Micro-Meet, and we now have an unprecedented 24 athletes who have earned selection for the 2021 European Athletics Indoor Championships, with many more who have posted qualification standards missing out due to the three athletes per event limit".



Second Place Finish for Fearghal Curtin in Arizona Cross-Country - February 2021
Second Place for Fearghal Curtin in Dave Murray Invitational



Rolling Hills Golf Club, Tucson, Arizona, USA
Friday February 19th 2021

Fearghal Curtin, Arizona State University & Youghal AC

With much of the US suffering from severe weather, extreme cold conditions, and many parts under a heavy blanket of snow, with many athletics meets in jeopardy, Fearghal Curtin, Arizona State and Youghal AC, ran the 8k Dave Murray Invitational Cross-Country in contrasting conditions with sunny weather and 19C.
Fearghal was in third place at the first split, moving up to second place for the rest of the race, finishing in 24:36.6, behind winner Victor Ortiz-Rivera (24:23.6), from the host University.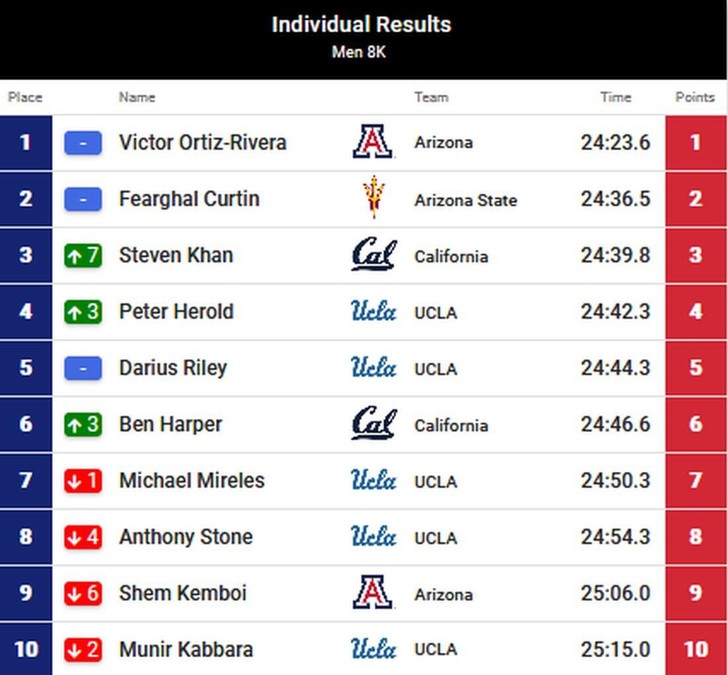 Individual Results

Splits
Fearghal Curtin, Arizona State and Youghal AC

800m European Indoor Standard for Louise Shanahan - February 2021
Louise Shanahan, Leevale AC runs 2:03.52

Indoor

800m

Bryggen Sports Invitational, Manchester
Saturday 13th February 2021

Louise Shanahan, Leevale AC


Louise Shanahan ran 2:03.52, behind Ellie Baker (UK), who ran an indoor PB of 2:02.73, with Ireland duo Katie Kirk third in 2:04.49 and Ciara Mageean fourth in 2:04.40. Shanahan now has achieved the Athletics Ireland 800m qualifying standard of 2:03.85.
Kirk was inside the European Athletics standard of 2:05.50, but fell short of the higher standard stipulated by Athletics Ireland. Mageean has already achieved the mark, by virtue of her outdoor 800m Irish record of 1:59.69, set last summer. Mageean put her slight dip in form down to her reaction to the recent unexpected death of her coach Jerry Kiernan, which she said, understandably, had taken "more from me than I anticipated"


Iseult O'Donnell, with 2:03.27, also makes 800m Time



Meeting Val d'Oise, Eaubonne, France - Saturday Feb 13th

Elsewhere, at the Meeting Val d'Oise, Eaubonne, France, Iseult O'Donnell won the women's 800m, in 2:03.27, to also achieve the qualification standard.
800m 1 Iseult O'Donnell (irl) 2:03.27; 2 Charlotte Mouchet 2:04.18; 3 Narimane Amara (alg) 2:06.31; 4 Sara Benfares 2:06.32; 5 Meriem Sahnoune 2:06.74


And....Nadia Power also Makes Mark, with 2:02.83

IFAM (Flanders), Gent Belgium, Saturday Feb 13th

Nadia Power, with 2:02.83, stormed to victory in the 800m at the IFAM meeting in Gent, Belgium today, and had a margin of almost a second to spare on Tanja Spill (Germany). Claire Mooney was 6th, in 2:06.79

800m Women 1 Nadia Power (irl) 2:02.83; 2 Tanja Spill (ger) 2:03.75; 3 Elena Bello (ita) 2:03.91; 4 Mirte Fannes 2:04.62; 5 Diana Mezulianiková (cze) 2:04.76; 6 Claire Mooney (irl) 2:06.79

400m Men Vladimir Aceti (ita) 46.77 1h1; Samuel García (esp) 46.90 1h2; Robert Parge (rou) 47.26 2h2; Alexander Doom 47.32 3h2; Christian Iguacel 47.39 4h2; Yousef Karam (kuw) 47.53 2h1; Dylan Borlée 48.04 3h1; Luke Lennon-Ford (irl) 48.48 4h1

400m Women Andrea Miklos (rou) 52.54 1h3; Camille Laus 53.54 2h3; Imke Vervaert 53.65 3h3; Hanne Maudens 53.95 1h2; Sara Slott-Petersen (den) 54.03; Paulien Couckuyt 54.44 3h2; Margo Van Puyvelde 54.47 4h2; Sharlene Mawdsley (irl) 54.86 1h1

Womens 800m

More videos from IFAM Meet



And Today's action isn't over yet!
Siofra Clerigh-Buttner is up next tonight, in the 1500m at the New Balance Indoor Grand Prix, in the USA


4:09.67 PB fror Clerigh-Buttner in Women's 1500m, placing her second on the Irish All-Time 1500m Indoor listings, behind Ciara Mageean (4:06.42)



Women's 1500m Results



800m European Indoors Selection Quandry
This all leaves Irish selectors with the problem of deciding who goes to the European indoor Championships, which will be held in Torún, Poland, from March 5th to 7th. Ireland, as with all the other countries, can select four (4) athletes to go to the Championships, but only three (3) may run. Ireland has four qualifiers to date, with several more 'knocking on the door'. It's a great position for Ireland to be in, but it surely means that someone who, in spite of all the training and competition hurdles due to the pandemic, has achieved these high standard, will nevertheless be disappointed.
Laura Nicholson, Temple University & Bandon AC Runs 10:05.70
H-Town Speed City Series - Meet III - Saturday Feb 13, 2021
Womens 3000m Results
No Irish at CMCM Meet
Other Irish in action during week
Kingston, Rhode Island, USA, Thurs Feb 11th
3.000m 1 Lilly Tuck 9:30.10; 2 Laura Mooney (irl) 9.49.94; ... 4 Orla O'Connor (irl) 10:08.13

Meeting de l'Eure - Sunday Feb 14th


Val de Reiul, Normandy, France


4:15.23 1500m PB for Michelle Finn

Michelle Finn, Leevale AC, ran a 4:15.23 PB to win the women's 1500m at the Meeting de l'Eure, in Normandy, France today. Michelle had a 10 second margin over Frenchwoman Flavie Renouard. Michelle's time brings her up to 14th on the All-Time Irish women's indoor 1500m standings.
Mens 1500m
Later, Togher AC's Liam Harris ran 3:56.31, behind winner Brian Fay, who ran a 3:41.73 PB, followed by Luke McCann, in 3:42.03, with the pair making all the running during the race.