Results Summary from National Senior T&F Championships Day 1 2020
Titles for Tuthill, Finn and Howard

Athletics Ireland National Senior T&F Championships 2

020 - Day 1

Morton Stadium, Santry, Dublin

Saturday August 22nd 2020
National Champions! - Bandon AC duo Nicola Tuthill and Shane Howard
Results of Athletics Ireland Registered Events - May 2016 to date
Race Calendar / Fixtures List - Athletics Ireland Registered Events

Although conditions were tough today, with strong winds and several heavy showers, Cork Athletes came to the fore with Gold medals for Nicola Tuthill (Bandon AC), in the women's Hammer, Michelle Finn (Leevale AC), in the women's 5000m and Shane Howard (Bandon AC), in the Men's Long Jump, while Leevale AC's Padraig Harrington had a double celebration, with Silver in the U23 Men's Weight for Height, along with Bronze in the U23 Men's Hammer. Sinead O'Connor, Leevale AC, took the runner-up spot in the women's 5000m, behind Michelle Finn, with a strong final 300m. Meghan Moynihan, West Muskerry AC, took Bronze in the women's Hammer.



The stand-out performance came from Nicola Tuthill Nicola (Bandon), who smashed her PB when wining the women's hammer with an Irish U18 record throw of 60.04m, to become the sixth Irish woman over 60m. This is also the second longest throw in the world this year by an U18 woman.
Other notable Cork performances today came from Michelle Finn, who turned out (again!) this evening to qualify for the 1500m final along with clubmate Annette Quaid. Grainne Moynihan, West Muskerry AC, qualified for the 400m, Katie Walsh, Carraig na bhFear AC, qualified from the 400mH, while Doheny AC's Joe Warne came through from the 1500m heats, and Darragh McElhinney, UCD AC and formerly of Bantry AC, won his 500om heat.

Howard, young hammer throwers and Finn to the fore
Wild conditions didn't hamper an excellent first day of competition at the Irish Life Health National Athletics Senior and U23 Championships in Morton Stadium today, August 22nd.
The men's and women's hammer got the day off to a good start with up-and-coming athletes Brendan O'Donnell (Lifford Strabane) and Nicola Tuthill (Bandon), throwing an Irish U18 record, winning their first senior titles.
Full results of Day 1 are on Athletics Ireland website, with interviews on the Athletics Ireland Facebook page. You can watch the action on the Athletics Ireland YouTube Channel.
Follow Athletics Ireland on Facebook and Twitter to get up to date information and viewing links.
Nicola Tuthill (Bandon) marked herself out as a potential star for the future when she smashed her personal best to win the women's hammer with 60.04m in an Irish U18 record. The 17-year-old became the sixth Irish woman over 60m and in doing so bagged her first national senior title. It was also the second longest throw in the world by an U18 this year.
Ciara Sheehy (Emerald) won the battle for the silver with 49.37m from Megan Moynihan (West Muskerry) who was third with a best of 48.80m.
Brendan O'Donnell (Lifford Strabane) surprised even himself to win the senior men's hammer title with a 4m personal best with 64.62m. O'Donnell won the U23 title alongside it in a competition he thought would be leading more to a peak in the Ulster championships in a few weeks time. He was more than pleasantly surprised though as Adam King (Iveragh) was second with 63.98m and Simon Galligan (Clonliffe Harriers) was third with 62.28m.
Saragh Buggy (St Abban's) won with the only legal jump of the day in the women's long jump with a personal best of 6.09m. The triple jump specialist had won the title two years ago and goes into next weekend with double gold now firmly on her mind.
Sophie Meredith (St Mary's Limerick) just edged silver with a best leap of 5.96m – 2cm better than Sarah McCarthy's (Mid Sutton) best of 5.94m. It proved to be a very good competition with a difficult tail wind gusting up to 4m plus.
Shane Howard (Bandon) retained the men's long jump title with a good leap of 7.44m to beat Adam McMullen (Crusaders) with 7.31m and Ben Fisher (City of Lisburn) was third, and first U23, with 7.24m. Howard echoed many in delight at getting to compete in the championships in what has been an understandably confusing and challenging year.
On the track, Michelle Finn (Leevale) comfortably won the women's 5,000m in 16:37.49 from her clubmate Sinead O'Connor who had a good kick for second in 16:47.40. Claire Fagan (Mullingar Harriers) won the U23 title along with senior bronze in 16:48.26.
Sean Breathnach (Galway City Harriers) won the senior men's weight for height (50lbs) with 4.60m and just missed out on a new national record with good attempts at 4.95m. The wet and windy conditions certainly didn't help his efforts.
Sean Mockler (Moycarkey Coolcroo) came back from his fourth place in the men's hammer to win the U23 35lbs weight for height with 5.00m.
The other finals on day one saw Holly Brennan (Cilles AC) win the U20 women's 5,000m in 18:15.64 while Michael Morgan (Sligo) produced a good last lap to win the U20 men's race in 15:56.22.
There were no major casualties for tomorrow's finals in the 400m, 400m hurdles, 1500m, and men's 5,000m.

Main results
Irish Life Health National Senior & U23 Athletics Championships Day 1, Morton Stadium
Women
5,000m
Michelle Finn (Leevale) 16:37.49, 2. Sinead O'Connor (Leevale) 16:47.40, 3. Claire Fagan U23 (Mullingar Harriers) 16:48.26
U20 5,000m
Holly Brennan (Cilles AC) 18:15.64, 2. Celine Gavin (Celtic DCH) 18:19.47, 3. Aoife Coffey (Lucan Harriers) 18:29.47
Long Jump
Saragh Buggy (St Abban's) 6.09m, 2. Sophie Meredith (St Mary's Limerick) 5.96m, 3. Sarah McCarthy (Mid Sutton) 5.94m
Hammer
Nicola Tuthill (Bandon) 60.04m, 2. Ciara Sheehy (Emerald) 49.37m, 3. Megan Moynihan (West Muskerry) 48.80m
Men
U20 5,000m
Michael Morgan (Sligo) 15:56.22, 2. Aaron Smith (Cilles) 15:58.05, 3. James Hyland (Raheny Shamrock) 15:59.51
Long jump
Shane Howard (Bandon) 7.44m, 2. Adam McMullen (Crusaders) 7.31m, 3. Ben Fisher U23 (City of Lisburn) 7.24m
Hammer
Brendan O'Donnelly U23 (Lifford Strabane) 64.62m, 2. Adam King (Iveragh AC) 63.98m, 3. Simon Galligan (Clonliffe Harriers) 62.28m
Weight for Height 50lbs
Sean Breathnach (Galway City Harriers) 4.60m, 2. John Dwyer (Templemore) 4.00m, 3. Damian Crawford (Lifford Strabane) 3.20m
U23 Weight for Height 35lbs
Sean Mockler (Moycarkey Coolcroo) 5.00m, 2. Padraig O'Callaghan (Leevale) 4.40m, 3. Darryl Crawford (Lifford Strabane) 4.00m
Mens 400mH Heat 1
Mens 1500m Heat 1

Mens 1500m Heat 3

Mens 1500m Heat 4
Mens 400m Heat 2
Mens 400m Heat 4
Mens 400m Heat 5

Mens 5000m Heat 1
Mens 5000m Heat 2

Mens 5000m Heat 3


Mens Hammer Final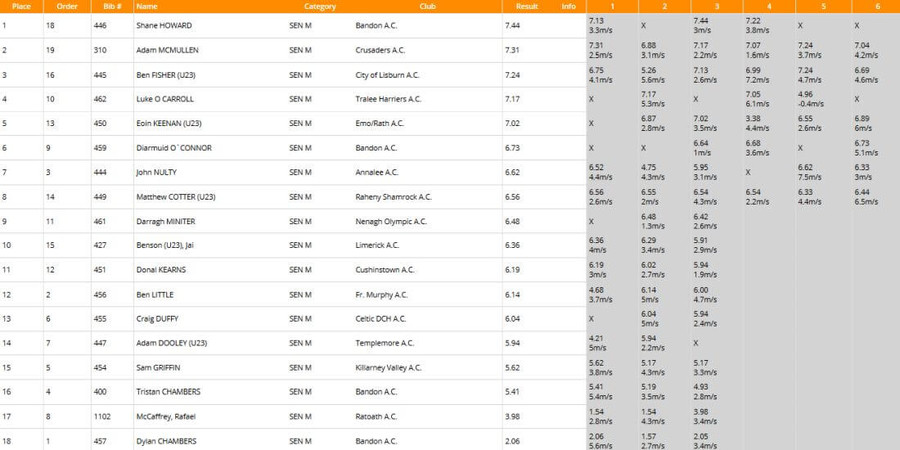 Mens Long Jump Final
U23 Men Weight for Height Final
Womens 400m
Womens 400mH Heat 2
Women's 1500m Heat 2
Womens 1500m Heat 3
Womens 5000m Final
Womens Hammer Final