Munster Universities Road Relay Results - November 2018
Results of 8th Annual Munster Universities Athletic Association Road Relay Championships

2018
CIT, Cork

Thursday November 8th 2018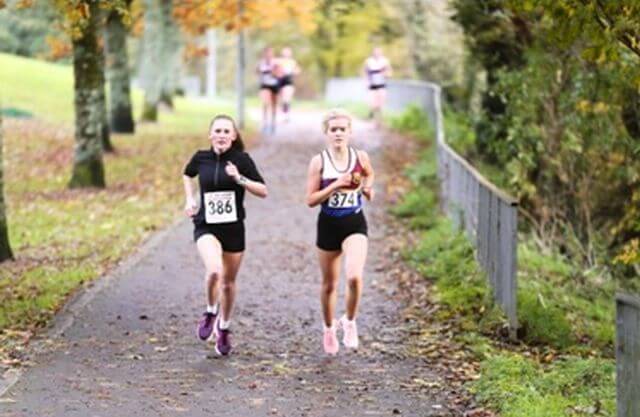 Katie Walsh (Carraig na bhFear AC & CIT) battles it out with Courtney McGuire (UL) towards the end of the 2km leg
An Athletics Ireland registered event

Organised and Hosted by CIT AC

Results of Athletics Ireland Registered Events - April 2014 - May 2016 (on Old Cork Athletics website)
Results of Athletics Ireland Registered Events - May 2016 to date
Race Calendar / Fixtures List - Athletics Ireland Registered Events
Cork Athletics Race Calendar
Comprehensive Calendar of Registered Athletics Ireland events in Cork
Leaderboard for Registered Athletics Ireland Road Races in Cork - September 2018
Previous Results
Munster Universities Road Relay Championships 2017
Munster Universities Road Relay Championships 2016
Munster Universities Road Relay Championships 2015
Report by Ian O'Sullivan
WIT Women and UL Men dominate the 8th edition of the Munster Universities Road Relay Championships
Taking place in picturesque settings beside the Curraheen river, and adjacent to the CIT campus, this year's Munster Universities Road Relay Championships, the 8th instalment, threw up two very exciting races.
With teams of three runners covering legs of 2km, 1km and 3km, this event provides an ideal opportunity for the Munster Universities to fine-tune their preparations for the forthcoming IUAA Intervarsity Road Relay Championships, which take place, as always, at Maynooth University, on Saturday November 17th. This year teams from IT Carlow were again welcome guests, with UCC again unfortunately unable to field teams.

WIT led the women's race from gun to tape, with Orla O'Connor (2km, 7:03) and Sally Forristal (3km, 10:51)) recording the fastest legs of the day. Ably backed up by Mollie Hutchinson, this is WIT's first time to win this event since its inception in 2011. Reversing their finishing positions from 2017, UL finished in second place, with IT Carlow third. As she did last year, IT Carlow's Eimear Loughlin recorded the fastest 1km leg of the day (3:35).

The men's race was a much tighter affair, with UL A, UL B and IT Carlow's teams swapping the lead continually throughout, before UL's B team finally prevailed. The gap between first and third place was only three seconds, with UL A just about holding off IT Carlow's fast finishing John FitzSimons, for second place. The fastest 3km leg (9:04) accolade will be some consolation for FitzSimons. Stephen Holland of the host club recorded the fastest 1km split of the day (2:46), with UL's Robert Hewison the only athlete over 2km (5:58) to dip under the 6 minute barrier.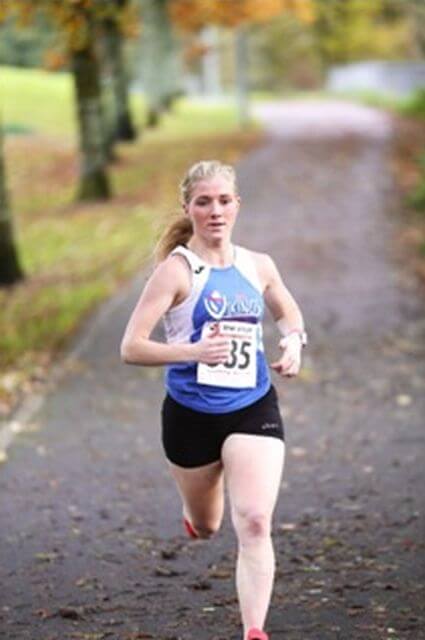 Sally Forristal (WIT) on her way to victory
Isobel Oaks (IT Carlow) enjoying the picturesque surroundings!

Robert Hewison (UL) showing the rest of the field a clean pair of heels early on in the 2km leg
Stephen Holland (Cork Track Club and CIT), the fastest man of the day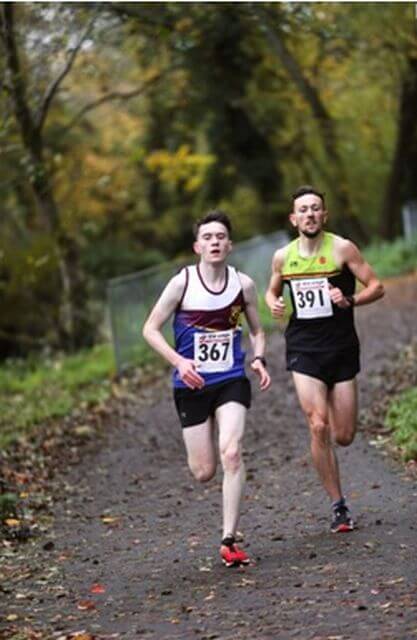 The battle for victory between Damian Madigan (UL) and John FitzSimons (IT Carlow)
Photos: Gearoid O Laoi
Results of Munster Colleges Road Relays 2018
Results courtesy of CIT AC
Relays Format
| Format: | Teams of 3 |
| --- | --- |
| Leg 1 | 2km |
| Leg 2 | 1km |
| Leg 3 | 3km |
Women's Results
| Pos | Team | Leg | Athlete | Time | 1km Split | Leg Split |
| --- | --- | --- | --- | --- | --- | --- |
| 1 | WIT-A | 1 | Orla O'Connor | 00:03:27 | 00:03:27 | |
| | WIT-A | 1 | Orla O'Connor | 00:07:03 | 00:03:36 | 00:07:03 |
| | WIT-A | 2 | Mollie Hutchinson | 00:10:39 | 00:03:36 | 00:03:36 |
| | WIT-A | 3 | Sally Forristal | 00:14:02 | 00:03:23 | |
| | WIT-A | 3 | Sally Forristal | 00:17:50 | 00:03:48 | |
| | WIT-A | 3 | Sally Forristal | 00:21:30 | 00:03:40 | 00:10:51 |
| 2 | UL-A | 1 | Courtney McGuire | 00:03:57 | 00:03:57 | |
| | UL-A | 1 | Courtney McGuire | 00:07:58 | 00:04:01 | 00:07:58 |
| | UL-A | 2 | Natalie Groszka | 00:11:34 | 00:03:36 | 00:03:36 |
| | UL-A | 3 | Aine O'Farrell | 00:15:02 | 00:03:28 | |
| | UL-A | 3 | Aine O'Farrell | 00:18:58 | 00:03:56 | |
| | UL-A | 3 | Aine O'Farrell | 00:22:47 | 00:03:49 | 00:11:13 |
| 3 | ITCar-A | 1 | Emma Geary | 00:04:04 | 00:04:04 | |
| | ITCar-A | 1 | Emma Geary | 00:08:18 | 00:04:14 | 00:08:18 |
| | ITCar-A | 2 | Eimear Loughlin | 00:11:53 | 00:03:35 | 00:03:35 |
| | ITCAr-A | 3 | Isobel Oaks | 00:15:22 | 00:03:29 | |
| | ITCAr-A | 3 | Isobel Oaks | 00:19:16 | 00:03:54 | |
| | ITCAr-A | 3 | Isobel Oaks | 00:23:03 | 00:03:47 | 00:11:10 |
| 4 | UL-B | 1 | Amy Walsh | 00:03:58 | 00:03:58 | |
| | UL-B | 1 | Amy Walsh | 00:08:19 | 00:04:21 | 00:08:19 |
| | UL-B | 2 | Norah O'Brien | 00:12:16 | 00:03:57 | 00:03:57 |
| | UL-B | 3 | Ciara O'Neill | 00:16:16 | 00:04:00 | |
| | UL-B | 3 | Ciara O'Neill | 00:20:35 | 00:04:19 | |
| | UL-B | 3 | Ciara O'Neill | 00:24:44 | 00:04:09 | 00:12:28 |
| 5 | UL-C | 1 | Aoife Greene | 00:03:58 | 00:03:58 | |
| | UL-C | 1 | Aoife Greene | 00:08:35 | 00:04:37 | 00:08:35 |
| | UL-C | 1 | Aoife Greene | 00:13:22 | 00:04:47 | 00:04:47 |
| | UL-C | 3 | Kelly Fitzgerald | 00:17:07 | 00:03:45 | |
| | UL-C | 3 | Kelly Fitzgerald | 00:21:15 | 00:04:08 | |
| | UL-C | 3 | Kelly Fitzgerald | 00:25:12 | 00:03:57 | 00:11:50 |
| 6 | CIT-A | 1 | Katie Walsh | 00:03:57 | 00:03:57 | |
| | CIT-A | 1 | Katie Walsh | 00:07:50 | 00:03:53 | 00:07:50 |
| | CIT-A | 2 | Mikaela Mulcahy | 00:12:31 | 00:04:41 | 00:04:41 |
| | CIT-A | 3 | Meg Ryan | 00:17:03 | 00:04:32 | |
| | CIT-A | 3 | Meg Ryan | 00:22:31 | 00:05:28 | |
| | CIT-A | 3 | Meg Ryan | 00:28:08 | 00:05:37 | 00:15:37 |
Womens Team Results
| | | | |
| --- | --- | --- | --- |
| Pos | College | Team | Time |
| 1 | WIT | A | 21:30 |
| 2 | UL | A | 22:47 |
| 3 | ITCarlow | A | 23:03 |
| 4 | UL | B | 24:44 |
| 5 | UL | C | 25:12 |
| 6 | CIT | A | 28:08 |
Men's Results
| Pos | Leg | Athlete | 1km Split | Leg Split | Time |
| --- | --- | --- | --- | --- | --- |
| 1 | 1 | Jerimiah Sheehan | 00:03:01 | | 00:03:01 |
| | 1 | Jerimiah Sheehan | 00:03:04 | 00:06:05 | 00:06:05 |
| | 2 | Darragh Kelly | 00:02:59 | 00:02:59 | 00:09:04 |
| | 3 | Damian Madigan | 00:02:59 | | 00:12:03 |
| | 3 | Damian Madigan | 00:03:14 | | 00:15:17 |
| | 3 | Damian Madigan | 00:02:53 | 00:09:06 | 00:18:10 |
| 2 | 1 | Rob Hewison | 00:03:00 | | 00:03:00 |
| | 1 | Rob Hewison | 00:02:58 | 00:05:58 | 00:05:58 |
| | 2 | Jamie McCarthy | 00:02:49 | 00:02:49 | 00:08:47 |
| | 3 | Matthew XYZ | 00:03:04 | | 00:11:51 |
| | 3 | Matthew XYZ | 00:03:19 | | 00:15:10 |
| | 3 | Matthew XYZ | 00:03:02 | 00:09:25 | 00:18:12 |
| 3 | 1 | Gary Cantwell | 00:03:02 | | 00:03:02 |
| | 1 | Gary Cantwell | 00:03:09 | 00:06:11 | 00:06:11 |
| | 2 | Danny Lawlor | 00:02:58 | 00:02:58 | 00:09:09 |
| | 3 | John FitzSimons | 00:02:55 | | 00:12:04 |
| | 3 | John FitzSimons | 00:03:14 | | 00:15:18 |
| | 3 | John FitzSimons | 00:02:55 | 00:09:04 | 00:18:13 |
| 4 | 1 | Zach Harrington | 00:03:06 | | 00:03:06 |
| | 1 | Zach Harrington | 00:03:16 | 00:06:22 | 00:06:22 |
| | 2 | Stephen Holland | 00:02:46 | 00:02:46 | 00:09:08 |
| | 3 | Abdirahman Mahamed Issak | 00:03:00 | | 00:12:08 |
| | 3 | Abdirahman Mahamed Issak | 00:03:24 | | 00:15:32 |
| | 3 | Abdirahman Mahamed Issak | 00:03:25 | 00:09:49 | 00:18:57 |
| 5 | 1 | Cormac Downes | 00:03:19 | | 00:03:19 |
| | 1 | Cormac Downes | 00:03:25 | 00:06:44 | 00:06:44 |
| | 2 | Sean Donohoe | 00:02:56 | 00:02:56 | 00:09:40 |
| | 3 | Eoin O'Connor | 00:03:02 | | 00:12:42 |
| | 3 | Eoin O'Connor | 00:03:25 | | 00:16:07 |
| | 3 | Eoin O'Connor | 00:03:16 | 00:09:43 | 00:19:23 |
| 6 | 1 | Luis Sanchez Serrano | 00:03:05 | | 00:03:05 |
| | 1 | Luis Sanchez Serrano | 00:03:18 | 00:06:23 | 00:06:23 |
| | 2 | Billy Ryan | 00:03:09 | 00:03:09 | 00:09:32 |
| | 3 | James Murray Good | 00:02:59 | | 00:12:31 |
| | 3 | James Murray Good | 00:03:28 | | 00:15:59 |
| | 3 | James Murray Good | 00:03:27 | 00:09:54 | 00:19:26 |
| 7 | 1 | Cillian Kearney | 00:03:22 | | 00:03:22 |
| | 1 | Cillian Kearney | 00:03:23 | 00:06:45 | 00:06:45 |
| | 2 | Colm Dwane | 00:03:18 | 00:03:18 | 00:10:03 |
| | 3 | Craig Harrington | 00:03:14 | | 00:13:17 |
| | 3 | Craig Harrington | 00:03:37 | | 00:16:54 |
| | 3 | Craig Harrington | 00:03:32 | 00:10:23 | 00:20:26 |
| 8 | 1 | Vincent Carroll | 00:03:23 | | 00:03:23 |
| | 1 | Vincent Carroll | 00:03:42 | 00:07:05 | 00:07:05 |
| | 2 | Thomas Breen | 00:03:15 | 00:03:15 | 00:10:20 |
| | 3 | Cormac Kelly | 00:03:15 | | 00:13:35 |
| | 3 | Cormac Kelly | 00:03:38 | | 00:17:13 |
| | 3 | Cormac Kelly | 00:03:53 | 00:10:46 | 00:21:06 |
| 9 | 1 | James Connolly | 00:03:23 | | 00:03:23 |
| | 1 | James Connolly | 00:03:29 | 00:06:52 | 00:06:52 |
| | 2 | Seamus Rainsford | 00:03:11 | 00:03:11 | 00:10:03 |
| | 3 | Sean Kennedy | 00:03:20 | | 00:13:23 |
| | 3 | Sean Kennedy | 00:04:00 | | 00:17:23 |
| | 3 | Sean Kennedy | 00:03:58 | 00:11:18 | 00:21:21 |
| 10 | 1 | Sean Fouhy | 00:03:19 | | 00:03:19 |
| | 1 | Sean Fouhy | 00:03:28 | 00:06:47 | 00:06:47 |
| | 2 | Dylan Manning | 00:03:54 | 00:03:54 | 00:10:41 |
| | 3 | Shane Feeney | 00:03:44 | | 00:14:25 |
| | 3 | Shane Feeney | 00:04:15 | | 00:18:40 |
| | 3 | Shane Feeney | 00:03:50 | 00:11:49 | 00:22:30 |
| - | 1 | Camille Ferre | 00:03:20 | | 00:03:20 |
| | 1 | Camille Ferre | 00:03:28 | 00:06:48 | 00:06:48 |
Mens Team Results
| | | | |
| --- | --- | --- | --- |
| Pos | College | Team | Time |
| 1 | UL | B | 18:10 |
| 2 | UL | A | 18:12 |
| 3 | ITCarlow | A | 18:13 |
| 4 | CIT | A | 18:57 |
| 5 | WIT | A | 19:23 |
| 6 | CIT | B | 19:26 |
| 7 | CIT | C | 20:26 |
| 8 | ITCarlow | B | 21:06 |
| 9 | CIT | D | 21:21 |
| 10 | CIT | E | 22:30 |