Cork Results from National Novice and Uneven-Age Cross-Country-Championships 2016s
Summary of Cork Performances from Irish Life Health National Novice and Uneven-Age Cross-Country-Championships 2016

Dundalk IT, Dundalk, Co. Louth,
Sunday December 11th 2016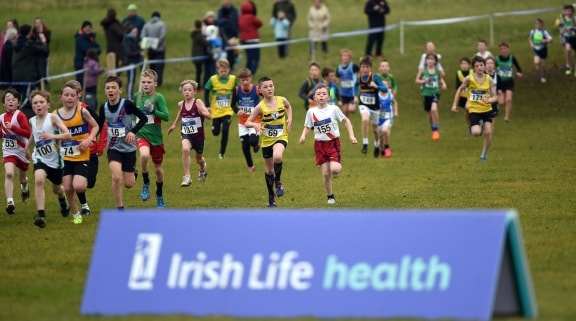 Full Results and Report on Athletics Ireland website
National Novice Cross-Country-Championships
Michelle Kenny leads Leevale AC to Novice Silver, with Rosaleen MacKeown, (23rd), Andrea Bickerdyke, (25th) and Orla Hayes (60th), while Cork take County Silver, with Michelle Kenny (5th), Sinead Kevany, Midleton AC (17th), Rosaleen MacKeown, Leevale AC (23rd) and Andrea Bickerdyke, Leevale AC (25th).
Full Results Novice Women Novice Men
National Under 19 Cross-Country-Championships
Gold for West Muskerry AC's Stephanie Cotter, in Girls Under 19.
National Under 17 Cross-Country-Championships
Damiam Madigan, North Cork AC, takes Bronze in Boys Under 17.
Bronze for Cork Under 17 Girls; Laura Nicholson, Bandon AC, (6th), Laura Hayes, St Catherine's AC. (23rd), Caoimhe O'Leary, Milstreet AC (38th), Caitlin Hurley, West Muskerry AC (50th), Tamzin Muldowney, Midleton AC (53rd) and Jennifer Cotter, West Muskerry AC (55th)
National Under 15 Cross-Country-Championships
Tommie Moloney, Leevale AC, took Silver in the Under 15 Boys, while Cork took Team Bronze with Tommie Moloney (2nd), Daire O'Sullivan, Carraig na bhFear AC(9th), Eoin Redmond, Leevale AC (28th), Eoghan Heaney, Leevale AC (32nd), Tadghg Maurice Manning, West Muskerry AC (36th) and Paul Hartnett, Midleton AC (37th)
Under 15 Girls Gold for Cork: Shannon Cotter, West Muskerry AC (8th), Sarah Morrison, St Nicholas AC (16th), Lucy O'Keeffe, Youghal AC (18th), Meghan Carr, , St Catherine's AC (20th), Jane Buckely, Bandon AC (23rd) and Mallaidh O'Neill, Skibbereen AC (28th)
National Under 13 Cross-Country-Championships
Emma Landers, Youghal AC took individual Bronze in Girls Under 13, and led Youghal to Club team Gold and Cork to County Team Gold. Youghal: Emma Landers (3rd), Avril Cashman (16th), Eva Murphy (24th) and Avril Millerick (25th). Cork Girls Under 13: Emma Landers (3rd), Maeve O'Neill, Doheny AC (10th), Kate Redmond, Leevale AC (13th). Avril Cashman (16th), Eva Murphy (24th) and Avril Millerick (25th)

National Under 11 Cross-Country-Championships
Silver for Bandon AC's Amy McCarthy in Under 11 Girls, while leading Cork to Team Gold: Amy McCarthy, Ava Fitzgerald, Carraig na bhFear AC (9th), Sorcha Kilgannon, Youghal AC (10th), Amy Buckley, Riverstick/Kinsale AC (22nd), Leah Dunne, Carraig na bhFear AC (24th) and Isabelle Nestor, Midleton AC (26th)