Report and Results of Human Race 5k - August 1991
Report & Results - Human Race

Barraduff, Co. Kerry

Sunday August 4th 1991
Noel Berkeley (winner), John Downes, Paul O'Callaghan and Gerry O'Reilly cut out the pace


The Human Race - Killarney - 4 August
By Michael O'Mahoney

Ronnie Delaney, Olympic Champion, displayed a degree of courage and agility in his somewhat perilous task of sending over 300 participants on their journey towards the finish of the 1991 Human Race.

From the gun, the pace was fast and furious. Out front Gerry O'Reilly (Metro), Noel Berkeley (DSD), John Downes (West Limerick), Paul O'Callaghan (Wolverhamption/ Bilston AC), Noel Richardson (Limerick AC) pushed each other to the limit. Berkeley, fresh from his excellent performances in the World Student Games, had to fight all the way as John Downes (National Cross Country Champion), Gerry O'Reilly and Paul O'Callaghan took turns to try and break last year's Human Race champion and record holder, but in the end Berkeley proved too tough and sprinted all the way to the line with just two seconds to spare over Gerry O'Reilly who was making a comeback after illness. A further eight seconds adrift was Downes, closely followed by O'Callaghan who has recently returned to competition after two knee operations. Paul achieved the qualifying time for the Seoul Olympics in 1988 at 5000 metres in a time of 13:29. In 5th place was national 10,000 metres champion Noel Richardson and Seamus Hynes of Treaty Track Club was in sixth.

The ladies race was also very competitive. First over the line was Roisin Smyth (DCH) 15:59, who recently competed in Tokyo at the World Track & Field championships. In second place was Valerie Vaughan (Blarney AC) who improved on her PB by more than 20 seconds, with the stylish Niamh Murphy of Westport AC in third position. Evening Press Mini Marathon winner Catherine Smith (DCH) was fourth, Connie Kelly (Blackrock) was 5th and Niamh O'Sullivan (Leevale) 6th. A second later came Melanie Sye (USA), followed by Edwina Foley (Limerick AC), Joan Hough (St. Finbarr's) and Liz Bullen (Dungarvan AC). Willie London won the tricycle section in a time of 12:18 and the first cleric was Fr. John Walsh of Treaty Track Club in a time of 16:08.

The prizes were presented by none other than Frank O'Mara.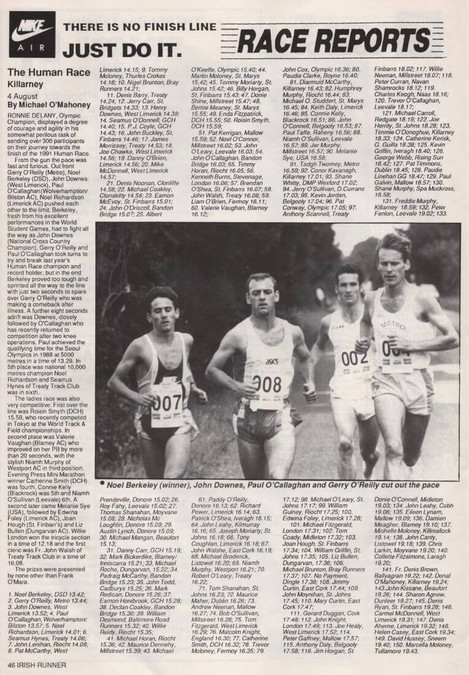 Report - Irish Runner October/November 1991, Vol 11, No7, P46


Download Race Report - Irish Runner October/November 1991, Vol 11, No7, P46 - PDF File
Results of Human Race 5k, Barraduff, August 1991
| Pos | Forename | Surname | Cat | Club | Time |
| --- | --- | --- | --- | --- | --- |
| 1 | Noel | Berkeley | M | DSD | 00:13:42 |
| 2 | Gerry | O'Reilly | M | Metro | 00:13:44 |
| 3 | John | Downes | M | West Limerick | 00:13:52 |
| 4 | Paul | O'Callaghan | M | Wolverhampton/Bilston | 00:13:57 |
| 5 | Noel | Richardson | M | Limerick | 00:14:01 |
| 6 | Seamus | Hynes | M | Treaty | 00:14:06 |
| 7 | John | Lenihan | M | Riocht | 00:14:08 |
| 8 | Pat | McCarthy | M | West Limerick | 00:14:15 |
| 9 | Tommy | Moloney | M | Thurles Crokes | 00:14:18 |
| 10 | Nigel | Brunton | M | Bray Runners | 00:14:21 |
| 11 | Denis | Barry | M | Treaty | 00:14:24 |
| 12 | Jerry | Carr | M | St. Bridgets | 00:14:33 |
| 13 | Henry | Downes | M | West Limerick | 00:14:38 |
| 14 | Seamus | O'Donnell | M | GCH | 00:14:40 |
| 15 | P.J. | Coyle | M | GCH | 00:14:43 |
| 16 | John | Buckley | M | St. Finbarrs | 00:14:46 |
| 17 | James | Morrissey | M | Treaty | 00:14:53 |
| 18 | Joe | Chawke | M | West Limerick | 00:14:56 |
| 19 | Danny | O'Brien | M | Limerick | 00:14:56 |
| 20 | Mike | McDonnell | M | West Limerick | 00:14:57 |
| 21 | Denis | Noonan | M | Clonliffe | 00:14:58 |
| 22 | Michael | Coakley | M | Clonakilty | 00:14:58 |
| 23 | Eamon | McEvoy | M | St. Finbarrs | 00:15:01 |
| 24 | John | O'Driscoll | M | Bandon Bridge | 00:15:09 |
| 25 | Albert | Prendeville | M | Donore | 00:15:02 |
| 26 | Roy | Fahy | M | Leevale | 00:15:02 |
| 27 | Thomas | Shanahan | M | Moyvane | 00:15:08 |
| 28 | Nicholas | McLoughlin | M | Donore | 00:15:09 |
| 29 | Austin | Lynch | M | Donore | 00:15:09 |
| 30 | Michael | Mangan | M | Beaufort | 00:15:13 |
| 31 | Danny | Carr | M | GCH | 00:15:19 |
| 32 | Mark | Bickerdike | M | Blarney/ Inniscarra | 00:15:21 |
| 33 | Michael | Roche | M | Dungarvan, | 00:15:22 |
| 34 | Padraig | McCarthy | M | Bandon Bridge | 00:15:23 |
| 35 | John | Todd | M | Cadburys | 00:15:25 |
| 36 | Mark | Redican | M | Donore | 00:15:26 |
| 37 | Eamon | Honibrook | M | GCH | 00:15:28 |
| 38 | Declan | Coakley | M | Bandon Bridge | 00:15:30 |
| 39 | William | Desmond | M | Baltimore Road Runners | 00:15:32 |
| 40 | Willie | Reidy | M | Riocht | 00:15:35 |
| 41 | Michael | Horan | M | Riocht | 00:15:36 |
| 42 | Maurice | Dennehy | M | Millstreet | 00:15:39 |
| 43 | Michael | O'Keeffe | M | Olympic | 00:15:40 |
| 44 | Martin | Moloney | M | St. Marys | 00:15:42 |
| 45 | Tommy | Moriarty | M | St. Johns | 00:15:42 |
| 46 | Billy | Horgan | M | St. Finbarrs | 00:15:43 |
| 47 | Donie | Shine | M | Millstreet | 00:15:47 |
| 48 | Bernie | Meaney | M | St. Marys | 00:15:55 |
| 49 | Enda | Fitzpatrick | M | DCH | 00:15:55 |
| 50 | Roisin | Smyth | M | DCH | 00:15:59 |
| 51 | Pat | Kerrigan | M | Mallow | 00:15:59 |
| 52 | Noel | O'Connor | M | Millstreet | 00:16:02 |
| 53 | John | O'Leary | M | Leevale | 00:16:03 |
| 54 | John | O'Callaghan | M | Bandon Bridge | 00:16:03 |
| 55 | Timmy | Horan | M | Riocht | 00:16:05 |
| 56 | Kenneth | Burns | M | Stevenage, London | 00:16:06 |
| 57 | Brendan | O'Shea | M | St. Finbarrs | 00:16:07 |
| 58 | John | Walsh | M | Treaty | 00:16:08 |
| 59 | Liam | O'Brien | M | Fermoy | 00:16:11 |
| 60 | Valerie | Vaughan | F | Blarney | 00:16:12 |
| 61 | Paddy | O'Reilly | M | Donore | 00:16:13 |
| 62 | Richard | Power | M | Limerick | 00:16:14 |
| 63 | Patrick | O'Shea | M | Iveragh | 00:16:15 |
| 64 | John | Leahy | M | Kilmurray | 00:16:16 |
| 65 | Joseph | Moriarty | M | St. Johns | 00:16:18 |
| 66 | Tony | Coughlan | M | Limerick | 00:16:18 |
| 67 | John | Walshe | M | East Cork | 00:16:19 |
| 68 | Michael | Broderick | M | Listowel | 00:16:20 |
| 69 | Niamh | Murphy | F | Westport | 00:16:21 |
| 70 | Robert | O'Leary | M | Treaty | 00:16:22 |
| 71 | Tom | Shanahan | M | St. Johns | 00:16:23 |
| 72 | Maurice | Maher | M | Dublin | 00:16:26 |
| 73 | Andrew | Neenan | M | Mallow | 00:16:27 |
| 74 | Bob | O'Sullivan | M | Millstreet | 00:16:28 |
| 75 | Tom | Fitzgerald | M | West Limerick | 00:16:29 |
| 76 | Malcolm | Knight | M | England | 00:16:30 |
| 77 | Catherine | Smith | F | DCH | 00:16:32 |
| 78 | Trevor | Moloney | M | Fermoy | 00:16:35 |
| 79 | John | Cox | M | Olympic | 00:16:36 |
| 80 | Paudie | Clarke | M | Boyne | 00:16:40 |
| 81 | Diarmuid | McCarthy | M | Killarney | 00:16:43 |
| 82 | Humphrey | Murphy | M | Riocht | 00:16:44 |
| 83 | Michael O. | Studdert | M | St. Marys | 00:16:45 |
| 84 | Keith | Daly | M | Limerick | 00:16:46 |
| 85 | Connie | Kelly | F | Blackrock | 00:16:51 |
| 86 | John | O'Connell | M | Belgooly | 00:16:53 |
| 87 | Paul | Taffe | M | Raheny | 00:16:56 |
| 88 | Niamh | O'Sullivan | F | Leevale | 00:16:57 |
| 89 | Jer | Murphy | M | Millstreet | 00:16:57 |
| 90 | Melanie | Sye | F | USA | 00:16:58 |
| 91 | Tadgh | Twomey | M | Metro | 00:16:59 |
| 92 | Conor | Kavanagh | M | Killarney | 00:17:01 |
| 93 | Shane | Whitty | M | DMP Wexford | 00:17:02 |
| 94 | Jerry | O'Sullivan | M | Desmond Currans | 00:17:03 |
| 95 | Kevin | Jordan | M | Belgooly | 00:17:04 |
| 96 | Pat | Conway | M | Olympic | 00:17:05 |
| 97 | Anthony | Scannell | M | Treaty | 00:17:12 |
| 98 | Michael | O'Leary | M | St. Johns | 00:17:17 |
| 99 | William | Guiney | M | Riocht | 00:17:25 |
| 100 | Edwina | Foley | F | Limerick | 00:17:28 |
| 101 | Michael | Fitzgerald | M | London | 00:17:31 |
| 102 | Tom | Coady | M | Midleton | 00:17:32 |
| 103 | Joan | Hough | F | St. Finbarrs | 00:17:34 |
| 104 | William | Griffin | M | St. Johns | 00:17:35 |
| 105 | Liz | Bullen | F | Dungarvan, | 00:17:36 |
| 106 | Michael | Brunton | M | Bray Runners | 00:17:37 |
| 107 | No | Payment | M | Dingle | 00:17:38 |
| 108 | Jimmy | Curtin | M | East Cork | 00:17:44 |
| 109 | John | Moynihan | M | St. Johns | 00:17:45 |
| 110 | Mary | Curtin | F | East Cork | 00:17:47 |
| 111 | Gerard | Duggan | M | Cork | 00:17:48 |
| 112 | John | Knight | M | London | 00:17:49 |
| 113 | Joe | Healy | M | West Limerick | 00:17:52 |
| 114 | Peter | Gaffney | M | Mallow | 00:17:57 |
| 115 | Anthony | Daly | M | Belgooly | 00:17:58 |
| 116 | Jim | Horgan | M | St. Finbarrs | 00:18:02 |
| 117 | Willie | Neenan | M | Millstreet | 00:18:07 |
| 118 | Peter | Curran | M | Navan Shamrocks | 00:18:12 |
| 119 | Charles | Keogh | M | Naas | 00:18:16 |
| 120 | Trevor | O'Callaghan | M | Leevale | 00:18:17 |
| 121 | Michael | Carroll | M | Redgate | 00:18:19 |
| 122 | Joe | Herrity | M | St. Johns | 00:18:28 |
| 123 | Timmie | O'Donoghue | M | Killarney | 00:18:33 |
| 124 | Catherine | Kerisk | F | G. Guilla | 00:18:38 |
| 125 | Kevin | Griffin | M | Iveragh | 00:18:40 |
| 126 | George | Webb | M | Rising Sun | 00:18:42 |
| 127 | Pat | Timmons | M | Dublin | 00:18:45 |
| 128 | Paudie | Linehan | M | GG | 00:18:47 |
| 129 | Paul | Galvin | M | Mallow | 00:18:57 |
| 130 | Shane | Murphy | M | Spa Muckross | 00:18:58 |
| 131 | Freddie | Murphy | M | Killarney | 00:18:59 |
| 132 | Peter | Fenlon | M | Leevale | 00:19:02 |
| 133 | Donie | O'Connell | M | Midleton | 00:19:03 |
| 134 | John | Leahy | M | Cobh | 00:19:06 |
| 135 | Eileen | Lynam | F | Mallow | 00:19:09 |
| 136 | Damien | Meagher | M | Blarney | 00:19:10 |
| 137 | Michelle | Moloney | F | Killmallock | 00:19:14 |
| 138 | John | Canty | M | Listowel | 00:19:18 |
| 139 | Chris | Larkin | M | Moyvane | 00:19:20 |
| 140 | Collette | Fitzsimons | F | Laragh | 00:19:20 |
| 141 | Fr. Denis | Brown | M | Ballyagran | 00:19:22 |
| 142 | Donal | O'Mahoney | M | Killarney | 00:19:24 |
| 143 | John | Kissane | M | Beaufort | 00:19:26 |
| 144 | Sharon | Agnew | F | Dunleer | 00:19:27 |
| 145 | Denis | Ryan | M | St. Finbarrs | 00:19:28 |
| 146 | Carmel | McDonnell | F | West Limerick | 00:19:31 |
| 147 | Denis | Aherne | M | Limerick | 00:19:32 |
| 148 | Helen | Casey | F | East Cork | 00:19:34 |
| 149 | David | Hussey | M | Sneem | 00:19:40 |
| 150 | Marcella | Moloney | F | Tullamore | 00:19:43 |
Archived Articles
Looking Back - 25 Years of BLE in Cork
Subscribe to Irish Runner Magazine