Results of Carrigaline 10k - May 1985
Carrigaline Striders 10k Road Race Results 1985

Carrigaline

Sunday May 12th 1985


Early stages of Carrigaline 10k 1985
A BLE Permitted event
Organised and hosted by Carrigaline Striders AC

Results of Athletics Ireland Registered Events - April 2014 - May 2016 (on Old Cork Athletics website)
Results of Athletics Ireland Registered Events - May 2016 to date
Race Calendar / Fixtures List - Athletics Ireland Registered Events
Cork Athletics Race Calendar
Comprehensive Calendar of Registered Athletics Ireland events in Cork

CARRIGALINE 10k ROAD RACE 12.5.'85

Marathon Magazine, June 1985 - Vol 23, No 5, P46 (PDF File)
Marathon Magazine, June 1985 - Vol 23, No 5, P46


Race winner Ricky Burke, St. Finbarr's AC, crosses the finish line
The Carrigaline 10k Road Race, held on Sunday, May 12th, was won in fine style by Rickie Burke of St. Finbarr's. His time of 30:43 gave him a 15-second advantage over team-mate John Buckley, with Michael Carey of Leevale taking third place.
St. Finbarr's domination of the race extended to the ladies' event also, where they captured all the honours, with Catherine Hourihane winning handsomely in 36:10 from Marion Lyons and Joan Hough. As if just to emphasise the "Barrs" supremacy, Rose Crockett filled out the fourth place, and the ladies joined the men in taking the team honours.


First 5 Men: Ricky Burke, John Buckley, Michael Carey, Michael Griffin & Gene mealy
Eric Crockett, St Finbarr's AC,9th

| | | |
| --- | --- | --- |
| | | |
| Catherine Houihan, St .Finbarr's AC, 1st | Marion Lyons, St .Finbarr's AC, 2nd | Joan Hough, St .Finbarr's AC, 3rd |

Run in bright sunshine, on a very flat out and back course, the event provided many athletes with personal best times for the distance, and 157 athletes completed the event, to collect their specially commissioned pottery plaques. Burke and Buckley led the field to the turn at halfway, and, at about 6k, Rickie began to open up a gap that he was never to relinquish, holding on to finish without any undue pressure. Derry O'Driscoll ran yet another fine race to finish 10th overall, and took the over 40's vets' race.
Caroline Healy - First Carrigaline Woman


The promoting club, Carrigaline Striders, would like to thank all the runners who turned out to support this, their first road race, and look forward to the repeat event next year, when, hopefully, an even bigger field will turn out to attempt to take the Carrigaline Sports Shop Perpetual Trophy from this year's winner.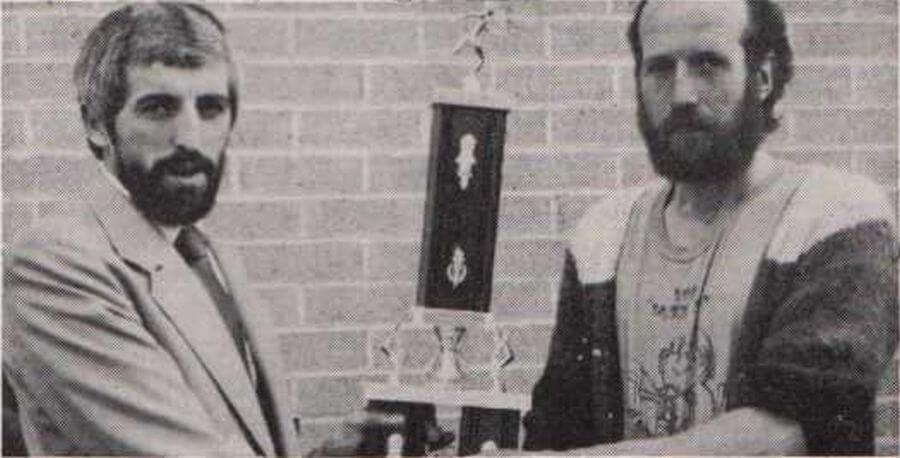 Ricky Burke, St. Finbarr's AC being presented with the Carrigaline Sports Shop Perpetual Trophy

Results of Carrigaline Striders 10k 1985

First 100 (of 157 finishers)

| Pos | Forename | Surname | Cat | Club | Time | Notes |
| --- | --- | --- | --- | --- | --- | --- |
| 1 | Ricky | Burke | M | St Finbarr's AC | 0:30:43 | |
| 2 | John | Buckley | M | St Finbarr's AC | 0:30:58 | |
| 3 | MicHael | Carey | M | Leevale AC | 0:31:38 | |
| 4 | Michael | Griffin | M | St. Nicholas AC | 0:31:47 | |
| 5 | Gene | Mealy | M | Leevale AC | 0:31:58 | |
| 6 | Pat | Kerrigan | M | Mallow AC | 0:32:27 | |
| 6 | Sean | Harte | M | St Finbarr's AC | 0:32:14 | |
| 7 | Pat | Duffy | M | Ajax AC | 0:32:27 | |
| 9 | Eric | Crockett | M | St Finbarr's AC | 0:32:38 | |
| 10 | Derry | O'Driscoll | M40 | St Finbarr's AC | 0:33:29 | |
| 11 | Stephen | Murray | M | Riverstick AC | 0:33:32 | |
| 12 | John | Walshe | M | Midleton AC | 0:34:03 | |
| 13 | John | O'Leary | M45 | Leevale AC | 0:34:02 | |
| 14 | A.N. | Other | M | | 0:34:20 | |
| 15 | James | Collins | M | Bandon Bridge AC | 0:34:44 | |
| 16 | Flor | O'Leary | M50 | St Finbarr's AC | 0:34:45 | |
| 17 | Tom | Owens | M | St. Nicholas AC | 0:34:58 | |
| 18 | Ted | Linehan | M | Carrigaline Striders | 0:35:18 | |
| 19 | Mark | Bickerdike | M | Bandon AC | 0:35:32 | |
| 20 | Frank | Linehan | M | Carrigaline Striders | 0:35:42 | |
| 21 | Eddie | Noonan | M | | 0:35:48 | |
| 22 | John | O'Driscoll | M | Bandon Bridge AC | 0:35:54 | |
| 23 | Kevin | Burke | M | Riverstick AC | 0:36:03 | |
| 24 | Catherine | Hourihan | F | St Finbarr's AC | 0:36:10 | 1st Lady |
| 25 | Tom | Curtin | M | Riverstick AC | 0:36:18 | |
| 26 | John | O'Connell | M | | 0:36:19 | |
| 27 | Jerry | Taylor | M | | 0:36:36 | |
| 28 | Bob | Anglim | M | Irish Navy | 0:36:41 | |
| 29 | Paul | Roche | M | Riverstick AC | 0:36:41 | |
| 30 | Dick | O'Brien | M | St. Nicholas AC | 0:36:51 | |
| 31 | Luke | Philpott | M | | 0:36:53 | |
| 32 | Tony | Flanagan | M | Leevale AC | 0:36:55 | |
| 33 | Kenneth | Wynman | M | Leevale AC | 0:37:06 | |
| 34 | George | Webb | M | Rising Sun AC | 0:37:07 | |
| 35 | Tom | Ryan | M | Riverstick AC | 0:37:10 | |
| 36 | Tom | Scriven | M | Riverstick AC | 0:37:15 | |
| 37 | Marion | Lyons | F | St. Finbarr's AC | 0:37:19 | 2nd Lady |
| 38 | Joe | Breen | M | Riverstick AC | 0:37:21 | |
| 39 | Joan | Hough | F | St. Finbarr's AC | 0:37:28 | 3rd Lady |
| 40 | Eddie | Murphy | M | St. Finbarr's AC | 0:37:32 | |
| 41 | Wiliam | Burke | M | Rising Sun AC | 0:37:33 | |
| 42 | Denis | Carroll | M | | 0:37:49 | |
| 43 | John | Day | M | | 0:37:50 | |
| 44 | Humphrey | Kerins | M | St. Finbarr's AC | 0:37:52 | |
| 45 | Michael | O'Donovan | M | Carrigaline Striders | 0:37:53 | |
| 46 | Mossy | O'Donoghue | M | Riverstick AC | 0:38:12 | |
| 47 | Donal | Webb | M | Rising Sun AC | 0:38:18 | |
| 48 | Ken | O'Day | M | Riverstick AC | 0:38:43 | |
| 49 | Jerry | Linehan | M | Carrigaline Striders | 0:38:53 | |
| 50 | Joe | Tully | M | Carrigaline Striders | 0:39:00 | |
| 51 | Pat | O'Brien | M | | 0:39:09 | |
| 52 | John | Copithorne | M | Riverstick AC | 0:39:15 | |
| 53 | John | Murphy | M | St. Finbarr's AC | 0:39:16 | |
| 54 | Rose | Crockett | F | St. Finbarr's AC | 0:39:24 | 4th Lady |
| 55 | Rev. Fr. | Kidney, S.M.A. | M | | 0:39:32 | |
| 56 | Mary | Murphy | F | Mallow AC | 0:39:41 | 5th Lady |
| 57 | Angela | Murphy | F | Riverstick AC | 0:39:52 | 6th Lady |
| 58 | Barty | O'Sullivan | M | St. Finbarr's A.C | 0:39:58 | |
| 59 | Niall | Cronin | M | Millstreet AC | 0:40:08 | |
| 60 | Brendan | Hegarty | M | | 0:40:19 | |
| 61 | Roy | Cummins | M | Fords AC | 0:40:21 | |
| 62 | Neily | O'Leary | M | | 0:40:24 | |
| 63 | Helen | Geaney | F | Leevale AC | 0:40:48 | 7th Lady |
| 64 | Liam | Fleming | M | | 0:40:57 | |
| 65 | Paddy | Gyves | M | | 0:40:59 | |
| 66 | Frank | Norberg | M | Fords AC | 0:41:34 | |
| 69 | Finbarr | Noonan | M | | 0:41:42 | |
| 70 | Jeremy | Duignan | M | | 0:41:46 | |
| 71 | Barry | Peelo | M | | 0:41:51 | |
| 72 | John | Collins | M | Bandon Bridge AC | 0:41:53 | |
| 73 | Austin | Murphy | M | St Finbarr's AC | 0:41:54 | |
| 74 | Patnck | Daly | M | St Finbarr's AC | 0:42:01 | |
| 75 | Patrick | O'Shea | M | | 0:42:05 | |
| 76 | Michael | O'Callaghan | M | St. Finbarr's AC. | 0:42:10 | |
| 77 | John | Mulcahy | M | | 0:42:12 | |
| 78 | Janet | Burke | F | Riverstick AC | 0:42:14 | 8th Lady |
| 79 | Kathleen | Looney | F40 | | 0:42:20 | 9th Lady |
| 80 | Joe | O'Mahoney | M | | 0:42:23 | |
| 81 | Finbarr | Hegarty | M | St. Finbarr's AC | 0:42:23 | |
| 82 | Michael | Cotter | M | | 0:42:33 | |
| 83 | John | Murray | M | Carrigaline Striders | 0:42:50 | |
| 84 | Mary | Carey | F | Leevale AC | 0:42:52 | 10th Lady |
| 85 | Catherine | Matthes | F | | 0:42:56 | |
| 86 | Bill | Sherman | M | | 0:43:01 | |
| 87 | Joe | Hogan | M | | 0:43:22 | |
| 88 | Bill | Pittaway | M55 | Irish Steel | 0:43:52 | |
| 89 | Caroline, | Healy | F | Carrigaline Striders | 0:44:12 | |
| 90 | Matt | McCormack | M | | 0:44:25 | |
| 91 | Stephen | Webb | M | Bandon Bridge A.C | 0:44:25 | |
| 92 | Rose | Foley | F | | 0:44:38 | |
| 93 | Jo | Bradfield | F | Riverstick AC | 0:44:44 | |
| 94 | Derry | Herlihy | M | | 0:44:53 | |
| 95 | Donal | McEnery | M | | 0:45:04 | |
| 96 | Jerry | O'Shea | M | | 0:45:07 | |
| 97 | Majella | Drinan | F | | 0:45:13 | |
| 98 | Marie | Morely | F | Riverstick | 0:45:19 | |
| 99 | Michael | Glavin | M | | 0:45:19 | |
| 100 | Vere | Ludgate | M | Ludgate & O'Keeffe Sport | 0:45:22 | |
Teams





Men
| | | |
| --- | --- | --- |
| Pos | Club | Pts |
| 1 | St Finbarr's AC | 9 |
| 2 | Leevale AC | 20 |

Women
| | | |
| --- | --- | --- |
| Pos | Club | Pts |
| 1 | St Finbarr's AC | 6 |