Irish Runner Report - adidas-BLE Womens 10k Race 2 - January 1984
Anne Murphy takes adidas/B.L.E. 10K
adidas/B.L.E. WOMEN'S 10K, JANUARY 1984

Lee Road, Cork
January 1984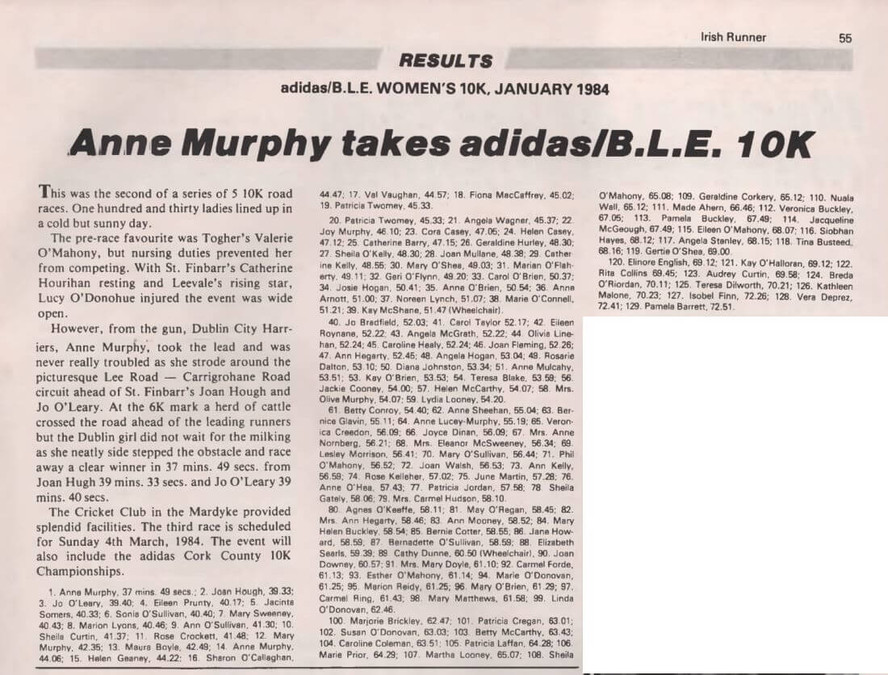 Report & Results - Irish Runner Magazine - Vol 4, No 2, P55

Irish Runner Magazine - Vol 4, No 2, P55

Download Article (PDF File)
Results of Athletics Ireland Registered Events - April 2014 - May 2016 (on Old Cork Athletics website)
Results of Athletics Ireland Registered Events - May 2016 to date
Race Calendar / Fixtures List - Athletics Ireland Registered Events
Cork Athletics Race Calendar
Comprehensive Calendar of Registered Athletics Ireland events in Cork


Report - Irish Runner Magazine - Vol 4, No 2, P55
This was the second of a series of 5 10K road races. One hundred and thirty ladies lined up in a cold but sunny day.
The pre-race favourite was Togher's Valerie O'Mahony, but nursing duties prevented her from competing. With St. Finbarr's Catherine Hourihan resting, and Leevale's rising star, Lucy O'Donohue injured the event was wide open.

However, from the gun, Dublin City Harriers, Anne Murphy, took the lead and was never really troubled as she strode around the picturesque Lee Road — Carrigrohane Road circuit ahead of St. Finbarr's Joan Hough and Jo O'Leary. At the 6K mark a herd of cattle crossed the road ahead of the leading runners but the Dublin girl did not wait for the milking as she neatly side stepped the obstacle and race away a clear winner in 37 mins. 49 secs, from Joan Hugh 39 mins. 33 secs, and Jo O'Leary 39 mins. 40 secs.

The Cricket Club in the Mardyke provided splendid facilities. The third race is scheduled for Sunday 4th March, 1984. The event will also include the adidas Cork County 10K Championships.

Editorial Note: In 6th place, 14 year old Sonia O'Sullivan ran 40:40
Results of adidas/B.L.E. WOMEN'S 10K, JANUARY 1984
| Pos | Forename | Surname | Cat | Club | Time |
| --- | --- | --- | --- | --- | --- |
| 1 | Anne | Murphy | F | DCH | 0:37:49 |
| 2 | Joan | Hough | F | St Finbarrs | 0:39:33 |
| 3 | Jo | O'Leary | F | St Finbarrs | 0:39:40 |
| 4 | Eileen | Prunty | F | Leevale | 0:40:17 |
| 5 | Jacinta | Somers | F | | 0:40:33 |
| 6 | Sonia | O'Sullivan | F | Ballymore-Cobh | 0:40:40 |
| 7 | Mary | Sweeney | F | St Finbarrs | 0:40:43 |
| 8 | Marion | Lyons | F | St Finbarrs | 0:40:46 |
| 9 | Ann | O'Sullivan | F | | 0:41:30 |
| 10 | Sheila | Curtin | F | North Cork | 0:41:37 |
| 11 | Rose | Crockett | F | St Finbarrs | 0:41:48 |
| 12 | Mary | Murphy | F | Mallow | 0:42:35 |
| 13 | Maura | Boyle | F | | 0:42:49 |
| 14 | Anne | Murphy | F | | 0:44:06 |
| 15 | Helen | Geaney | F | Leevale | 0:44:22 |
| 16 | Sharon | O'Callaghan | F | Leevale | 0:44:47 |
| 17 | Val | Vaughan | F | Blarney | 0:44:57 |
| 18 | Fiona | MacCaffrey | F | | 0:45:02 |
| 19 | Patricia | Twomey | F | Leevale | 0:45:33 |
| 20 | Angela | Wagner | F | St Finbarrs | 0:45:37 |
| 21 | Joy | Murphy | F | | 0:46:10 |
| 22 | Cora | Casey | F | | 0:47:05 |
| 23 | Helen | Casey | F | Midleton | 0:47:12 |
| 24 | Catherine | Barry | F | | 0:47:15 |
| 25 | Geraldine | Hurley | F | | 0:48:30 |
| 26 | Sheila | O'Kelly | F | | 0:48:30 |
| 27 | Joan | Mullane | F | | 0:48:38 |
| 28 | Catherine | Kelly | F | | 0:48:55 |
| 29 | Mary | O'Shea | F | | 0:49:03 |
| 30 | Marian | O'Flaherty | F | | 0:49:11 |
| 31 | Geri | O'Flynn | F | | 0:49:20 |
| 32 | Carol | O'Brien | F | | 0:50:37 |
| 33 | Josie | Hogan | F | | 0:50:41 |
| 34 | Anne | O'Brien | F | | 0:50:54 |
| 35 | Anne | Arnott | F | | 0:51:00 |
| 36 | Noreen | Lynch | F | | 0:51:07 |
| 37 | Marie | O'Connell | F | | 0:51:21 |
| 38 | Kay | McShane | FWCh | | 0:51:47 |
| 39 | Jo | Bradfield | F | | 0:52:03 |
| 40 | Carol | Taylor | F | | 0:52:17 |
| 41 | Eileen | Roynane | F | | 0:52:22 |
| 42 | Angela | McGrath | F | | 0:52:22 |
| 43 | Olivia | Linehan | F | | 0:52:24 |
| 44 | Caroline | Healy | F | | 0:52:24 |
| 45 | Joan | Fleming | F | | 0:52:26 |
| 46 | Ann | Hegarty | F | | 0:52:45 |
| 47 | Angela | Hogan | F | | 0:53:04 |
| 48 | Rosarie | Dalton | F | | 0:53:10 |
| 49 | Diana | Johnston | F | | 0:53:34 |
| 50 | Anne | Mulcahy | F | | 0:53:51 |
| 51 | Kay | O'Brien | F | | 0:53:53 |
| 52 | Teresa | Blake | F | | 0:53:59 |
| 53 | Jackie | Cooney | F | | 0:54:00 |
| 54 | Helen | McCarthy | F | | 0:54:07 |
| 55 | Mrs. Olive | Murphy | F | | 0:54:07 |
| 56 | Lydia | Looney | F | | 0:54:20 |
| 57 | Betty | Conroy | F | | 0:54:40 |
| 58 | Anne | Sheehan | F | | 0:55:04 |
| 59 | Bernice | Glavin | F | | 0:55:11 |
| 60 | Anne | Lucey-Murphy | F | | 0:55:19 |
| 61 | Veronica | Creedon | F | | 0:56:09 |
| 62 | Joyce | Dinan | F | | 0:56:09 |
| 63 | Mrs. Anne | Nornberg | F | | 0:56:21 |
| 64 | Mrs. Eleanor | McSweeney | F | | 0:56:34 |
| 65 | Lesley | Morrison | F | | 0:56:41 |
| 66 | Mary | O'Sullivan | F | | 0:56:44 |
| 67 | Phil | O'Mahony | F | | 0:56:52 |
| 68 | Joan | Walsh | F | | 0:56:53 |
| 69 | Ann | Kelly | F | | 0:56:59 |
| 70 | Rose | Kelleher | F | | 0:57:02 |
| 71 | June | Martin | F | | 0:57:28 |
| 72 | Anne | O'Hea | F | | 0:57:43 |
| 73 | Patricia | Jordan | F | | 0:57:58 |
| 74 | Sheila | Gately | F | | 0:58:06 |
| 75 | Mrs. Carmel | Hudson | F | | 0:58:10 |
| 76 | Agnes | O'Keeffe | F | | 0:58:11 |
| 77 | May | O'Regan | F | | 0:58:45 |
| 78 | Mrs. Ann | Hegarty | F | | 0:58:46 |
| 79 | Ann | Mooney | F | | 0:58:52 |
| 80 | Mary Helen | Buckley | F | | 0:58:54 |
| 81 | Bernie | Cotter | F | | 0:58:55 |
| 82 | Jane | Howard | F | | 0:58:59 |
| 83 | Bernadette | O'Sullivan | F | | 0:58:59 |
| 84 | Elizabeth | Searls | F | | 0:59:39 |
| 85 | Cathy | Dunne | FWCh | | 1:00:05 |
| 86 | Joan | Downey | F | | 1:00:57 |
| 87 | Mrs. Mary | Doyle | F | | 1:01:10 |
| 88 | Carmel | Forde | F | | 1:01:13 |
| 89 | Esther | O'Mahony | F | | 1:01:14 |
| 90 | Marie | O'Donovan | F | | 1:01:25 |
| 91 | Marion | Reidy | F | | 1:01:25 |
| 92 | Mary | O'Brien | F | | 1:01:29 |
| 93 | Carmel | Ring | F | | 1:01:43 |
| 94 | Mary | Matthews | F | | 1:01:58 |
| 95 | Linda | O'Donovan | F | | 1:02:46 |
| 96 | Marjorie | Brickley | F | | 1:02:47 |
| 97 | Patricia | Cregan | F | | 1:03:01 |
| 98 | Susan | O'Donovan | F | | 1:03:03 |
| 99 | Betty | McCarthy | F | | 1:03:43 |
| 100 | Caroline | Coleman | F | | 1:03:51 |
| 101 | Patricia | Laffan | F | | 1:04:28 |
| 102 | Marie | Prior | F | | 1:04:29 |
| 103 | Martha | Looney | F | | 1:05:07 |
| 104 | Sheila | O'Mahony | F | | 1:05:08 |
| 105 | Geraldine | Corkery | F | | 1:05:12 |
| 106 | Nuala | Wall | F | | 1:05:12 |
| 107 | Made | Ahern | F | | 1:06:46 |
| 108 | Veronica | Buckley | F | | 1:07:05 |
| 109 | Pamela | Buckley | F | | 1:07:49 |
| 110 | Jacqueline | McGeough | F | | 1:07:49 |
| 111 | Eileen | O'Mahony | F | | 1:08:07 |
| 112 | Siobhan | Hayes | F | | 1:08:12 |
| 113 | Angela | Stanley | F | | 1:08:15 |
| 114 | Tina | Busteed | F | | 1:08:16 |
| 115 | Gertie | O'Shea | F | | 1:09:00 |
| 116 | Elinore | English | F | | 1:09:12 |
| 117 | Kay | O'Halloran | F | | 1:09:12 |
| 118 | Rita | Collins | F | | 1:09:45 |
| 119 | Audrey | Curtin | F | | 1:09:58 |
| 120 | Breda | O'Riordan | F | | 1:10:11 |
| 121 | Teresa | Dilworth | F | | 1:10:21 |
| 122 | Kathleen | Malone | F | | 1:10:23 |
| 123 | Isobel | Finn | F | | 1:12:26 |
| 124 | Vera | Deprez | F | | 1:12:41 |
| 125 | Pamela | Barrett | F | | 1:12:51 |
Related Articles
Irish Runner Magazine Archives


Subscribe to Irish Runner Magazine