Crosshaven 10 Mile Results - May 1983
Results of Crosshaven 10 1983

Crosshaven

Sunday, May 22nd 1983

A BLE registered event

Organised and Hosted by Crosshaven GAA Club
.....with Con Murphy in the background


The Crosshaven 10 was held in 1982, 83 and 84, and was sponsored by adidas, and was in aid of Crosshaven GAA club and the Cork Examiner report referred to it as a "Mini-Marathon"


Results of Athletics Ireland Registered Events - April 2014 - May 2016 (on Old Cork Athletics website)
Results of Athletics Ireland Registered Events - May 2016 to date
Race Calendar / Fixtures List - Athletics Ireland Registered Events
Cork Athletics Race Calendar
Comprehensive Calendar of Registered Athletics Ireland events in Cork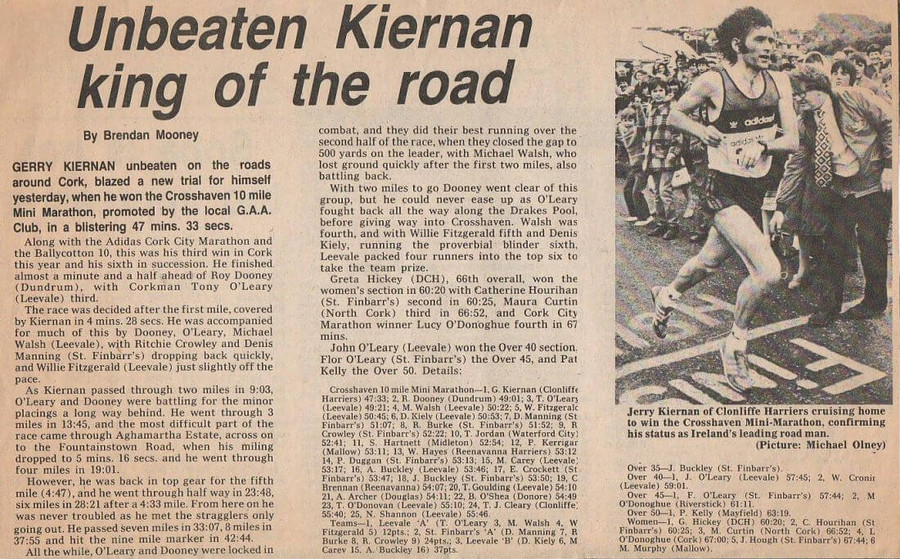 press cutting courtesy of John Walshe

Crosshaven 10 Mile Mini Marathon — Unbeaten Kiernan king of the road
Cork Examiner Report By Brendan Mooney

GERRY KIERNAN unbeaten on the roads around Cork, blazed a new trial for himself yesterday, when he won the Crosshaven 10 mile Mini Marathon, promoted by the local G.A.A. Club, in a blistering 47 mins. 33 secs.
Along with the Adidas Cork City Marathon and the Ballycotton 10, this was his third win in Cork this year and his sixth in succession. He finished almost a minute and a half ahead of Roy Dooney (Dundrum), with Corkman Tony O'Leary (Leevale) third.
The race was decided after the first mile, covered by Kiernan in 4 mins. 28 secs. He was accompanied for much of this by Dooney, O'Leary, Michael Walsh (Leevale), with Ritchie Crowley and Denis Manning (St. Finbarr's) dropping back quickly, and Willie Fitzgerald (Leevale) just slightly off the pace.
As Kiernan passed through two miles in 9:03, O'Leary and Dooney were battling for the minor placings a long way behind. He went through 3 miles in 13:45, and the most difficult part of the race came through Aghamartha Estate, across on to the Fountainstown Road, when his miling dropped to 5 mins. 16 secs, and he went through four miles in 19:01.

However, he was back in top gear for the fifth mile (4:47), and he went through half way in 23:48, six miles in 28:21 after a 4:33 mile. From here on he was never troubled as he met the stragglers only going out. He passed seven miles in 33:07, 8 miles in 37:55 and hit the nine mile marker in 42:44.
All the while, O'Leary and Dooney were locked in combat, and they did their best running over the second half of the race, when they closed the gap to 500 yards on the leader, with Michael Walsh, who lost ground quickly after the first two miles, also battling back.
With two miles to go Dooney went clear of this group, but he could never ease up as O'Leary fought back all the way along the Drakes Pool, before giving way into Crosshaven. Walsh was fourth, and with Willie Fitzgerald fifth and Denis Kiely, running the proverbial blinder sixth, Leevale packed four runners into the top six to take the team prize.
Greta Hickey (DCH), 66th overall, won the women's section in 60:20 with Catherine Hourihan (St. Finbarr's) second in 60:25, Maura Curtin (North Cork) third in 66:52, and Cork City Marathon winner Lucy O'Donoghue fourth in 67 mins.

John O'Leary (Leevale) won the Over 40 section. Flor O'Leary (St. Finbarr's) the Over 45, and Pat Kelly the Over 50.

Start of Crosshaven 10 1983 (courtesy of Carrigaline Memories). Jerry Kiernan, on far right, lays down the gauntlet for the field!
Tony O'Leary directly behind him, with Micheal Walsh on Tony's left shoulder, while denis Manning (partly hidden) is behind Tony's right shoulder. Ricky Burke, in the then Barrs orange colours, is towards left, with Roy Dooney (Dundrum, Dublin) beside him in white top. Richie Crowley is just behing Ricky (just above his head in photo)
Results of Crosshaven 10 Mile 1983



| Pos | Forename | Surname | Cat | Club | Time |
| --- | --- | --- | --- | --- | --- |
| 1 | Gerry | Kiernan | M | Clonliffe Harriers | 0:47:33 |
| 2 | Roy | Dooney | M | Dundrum | 0:49:01 |
| 3 | Tony | O'Leary | M | Leevale | 0:49:21 |
| 4 | Micheal | Walsh | M | Leevale | 0:50:22 |
| 5 | Willie | Fitzgerald | M | Leevale | 0:50:45 |
| 6 | Denis | Kiely | M | Leevale | 0:50:53 |
| 7 | Denis | Manning | M | St Finbarr's | 0:51:07 |
| 8 | Ricky | Burke | M | St. Finbarr's | 0:51:52 |
| 9 | Richard | Crowley | M | St. Finbarr's | 0:52:22 |
| 10 | Tommy | Jordan | M | Waterford City | 0:52:41 |
| 11 | Seamus | Hartnett | M | Midleton | 0:52:54 |
| 12 | Pat | Kerrigan | M | Mallow | 0:53:11 |
| 13 | Willie | Hayes | M | Reeenvanna Harriers | 0:53:12 |
| 14 | Pat | Duggan | M | St. Finbarr's | 0:53:13 |
| 15 | Michael | Carey | M | Leevale | 0:53:17 |
| 16 | Aidan | Buckley | M | Leevale | 0:53:46 |
| 17 | Eric | Crockett | M | St Finbarr's | 0:53:47 |
| 18 | John | Buckley | M35 | St. Finbarr's | 0:53:50 |
| 19 | C | Brennan | M | Reenavanna | 0:54:07 |
| 20 | Tim | Goulding | M | Leevale | 0:54:10 |
| 21 | Anthony | Archer | M | Douglas | 0:54:11 |
| 22 | Brendan | O'Shea | M | Donore | 0:54:49 |
| 23 | Tim | O'Donovan | M | Leevale | 0:55:10 |
| 24 | T.J. | Cleary | M | Clonliffe | 0:55:40 |
| 25 | Noel | Shannon | M | Leevale | 0:55:46 |
| 26 | John | Walshe | M | Midleton | 0:55:53 |
Women
| Pos | Forename | Surname | Cat | Club | Time |
| --- | --- | --- | --- | --- | --- |
| 1 | Gretta | Hickey | F | DCH | 1:00:20 |
| 2 | Catherine | Hourihan | F | St Finbarr's | 1:00:25 |
| 3 | Maura | Curtin | F | North Cork | 1:06:52 |
| 4 | Lucy | O'Donoghue | F | Cork | 1:07:00 |
| 5 | Joan | Hough | F | St. Finbarr's | 1:07:44 |
| 6 | Mary | Murphy | F | Mallow | |
Teams
Pos
Team
1
Leevale 'A'
12pts
3
Tony
O'Leary
4
Michael
Walsh
5
Willie
Fitzgerald
2
St. Finbarr's 'A'
24pts
7
Denis
Manning
8
Ricky
Burke
9
Richie
Crowley
3
Leevale 'B'
37pts
6
Denis
Kiely
15
Michael
Carey
16
Aidan
Buckley
Veterans
M35
Pos
Forename
Surname
Cat
Club
Time
1
John
Buckley
M35
St Finbarr's
0:53:50
M40
Pos
Forename
Surname
Cat
Club
Time
1
John
O'Leary
M40
Leevale
0:57:45
2
Willie
Cronin
M40
Leevale
0:59:01
M45
Pos
Forename
Surname
Cat
Club
Time
1
Flor
O'Leary
M45
St Finbarr's
0:57:44
2
Mossie
O'Donoghue
M45
Riverstick
1:01:11
M50
Pos
Forename
Surname
Cat
Club
Time
1
P.
Kelly
M50
Mayfield
1:03:19