Friday 27 May 2022, 20:00

Ballymacoda 4 Mile Road Race 2022
Ballymacoda

8pm, Friday May 27th 2022


This event is run under an Athletics Ireland permit/licence
Organised and hosted by Kilcredan NS Parents Association, in association with Youghal AC

This course was measured by John Walshe, Athletics Ireland National Grade Measurer
Note: This race replaces the previous annual Kilcredcan 5k
Ballymacoda 4 Mile Road Race Results - May 2018
Youghal AC Facebook page (Closed group - join group to message & comment)
Results of Athletics Ireland Registered Events - April 2014 - May 2016 (on Old Cork Athletics website)
Results of Athletics Ireland Registered Events - May 2016 to date
Race Calendar / Fixtures List - Athletics Ireland Registered Events
Pat and Louise O'Donovan of Safetytechfire Ltd, are sponsoring this years race
Help Wanted!
The race organisers have asked for assistance in various areas such as stewards, catering and spot prizes. All contributions of any kind will be greatly appreciated. If you are in a position to help in any of these areas please contact Kilcredan school, or text or phone 086 8563762
Location
From Cork: Take R633 on Cork side of Castlemartyr - the route will be sign-posted
From Youghal: Take R633 - the route will be sign-posted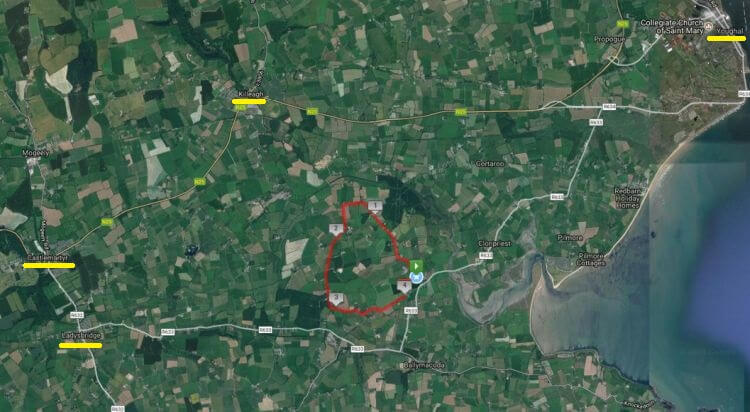 Route
Course Elevation Profile
Top
Ella Dempsey



"ALL FUNDS RAISED ARE GOING TOWARDS ELLA'S TREATMENT"
On Friday, May 17th at 8pm the Ballymacoda 4 mile will be held in the sports field at Ahavine, Ballymacoda, Co Cork.
We invite all members of the community to come out and walk, or run, our race, as all of the proceeds will be donated to Ella's treatment fund.
All children who complete the walk will get a medal. There's also a free draw, for a €300 Irish Ferries voucher, that all walkers will be entered into.
Runners on the night will get a free running buff. There will also be plenty of after race refreshments!
We hope to see you all in Ballymacoda on May 17th.

Please read Ella's story below here. We would like to thank Ella's mum and Dad for sending us their story:
This is our amazing daughter Ella, she is 8 years old, and loves to be dancing, singing, playing Camogie, soccer and horse riding! She's such a bubbly little person.
Summer 2018 was back and forth to the hospital, with pains in her hip, which progressed to a lump, and unfortunately like so many, was misdiagnosed with growing pains!
It wasn't till she was reeling in pain, and rushed to hospital in an ambulance, and after scans, that she was diagnosed with Ewing Sarcoma.
It's hard to explain the feeling that goes through you when you're told this life changing news. September was a blur. The initial aim was to control the pain. It was horrific being by her side, and unable to do anything. Thankfully, after a dose of chemo, the lump shrunk enough to relieve her sciatic nerve.
Here we are now, just about to start round 14 of 18, and about to head to Germany, for Proton Beam Therapy, and to finish with surgery in Birmingham, after that.
Ella has been through so much, and still has a lot remaining to do, but she keeps smiling, cracking jokes, and making us all laugh!
Her two brothers Josh and Sean are brilliant at keeping her laughing too.
We take each day as it comes, making sure we are having as much fun as possible along the way, her nurses and doctors at both Crumlin and The Mercy Hospitals are incredible. They make hospital trips a fun experience, as best they can.
At the beginning of treatment, we were told there will be chemo, radiotherapy and surgery.
When we were told that we could travel to Germany for Proton Therapy, we grabbed it with both hands.
In the coming weeks, Ella will be travelling to Germany to begin her treatment.
Thank you so much,
Tony & Amy, Josh Sean and Ella Dempsey