Sunday 20 February 2022, 11:00

33rd Tommy Ryan Memorial Carrigaline 5 2022



Carrigaline

11:00am, Sunday Feb 20th 2022
Organised and hosted by Eagle AC
This event is run under an Athletics Ireland permit/licence
This course was measured by John Quigley AIMS/IAAF Grade A Measurer


Carrigaline 5 Flyer 2022
Register for Carrigaline 5 2022
Registration is entirely online this year, with NO ENTRY ON THE DAY Closing date for registrations is 10am Monday next, February 14th. Race Numbers will be posted out to all participants
The Edge Sports Shop, sponsors of the Eagle AC Carrigaline 5
Register for Carrigaline 5 2022
Sponsorship
The event is sponsored by The Edge Sports Shop
Charity Donation
€2 from every entry will be donated to Carrigaline Meals-on-Wheels, and Carrigaline Community Drugs Initiative


Refreshments
Notice from Eagle AC

"In light of covid precautions this year we will not have any provision for registrations on the morning of the race in the Carrigaline Community Hall and we are encouraging participants to go directly to the start line. Water, bananas & bars will then be provided at the finish line as we felt that catering was not really appropriate as yet"

Location
Carrigaline, Co Cork
Eagle AC Carrigaline 5 Road Race - Location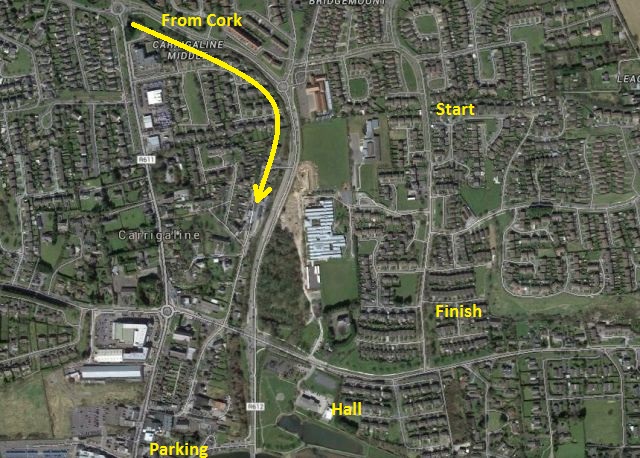 Location of Parking & Registration

The Main Parking area is adjacent to the Community Centre in Carrigaline. It will be signposted, with stewards directing race traffic. Race HQ, Carrigaline Community Centre is just a short walk from the car park


Route
Following completion of road works, leading to the re-routing of the last Carrigaline 5, the course reverts to the traditional one used for the previous 10 years or so, with the start line in Waterpark housing estate, close to Bridgemount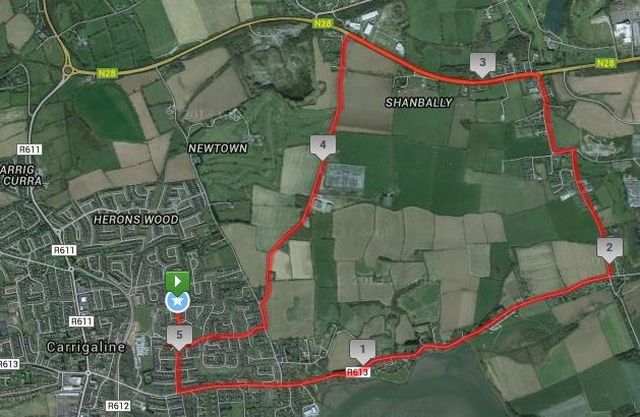 The Start is approx. half a Mile from the hall, will the finish is approx. 0.25 Miles from the hall


Mile 1: Largely downhill - a Fast Mile!

Mile 2: Largely flat, with a few short drags

Mile 3: Long drag, with a short drop before climbing again to the 3 mile mark

Mile 4: Starts with a good downslope section of over half a mile, making for good running. After the turn, there is another climb, followed by yet another fast downslope section

Mile 5: The downslope section continues for approx. 1/4 mile and is followed by the final hill. After this it levels out, until entering Waterpark Estate again. Waterpark is largely concrete, but downslope all the way

Route Elevation Profile

Eagle AC Carrigaline 5 Mile Road Race - Course Elevation Profile